In this week's Cafe Focus we travel to the suburb of Boston, Bellville just outside Cape Town to a thriving local cafe and roastery that keeps getting stronger as the years go by...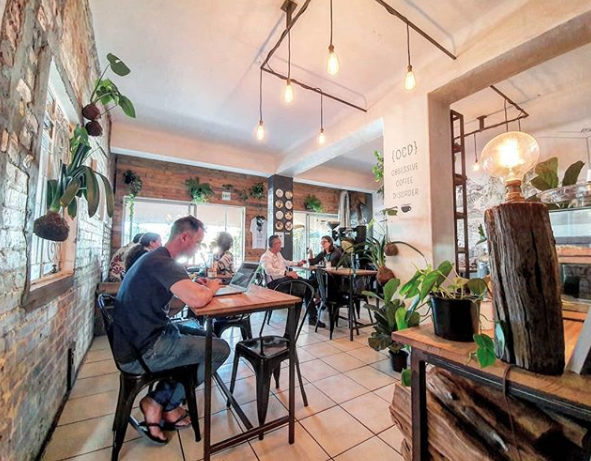 Boston Coffee
Corner Cleveland street and 12th Avenue, Boston, Bellville, 7550, Western Cape
---
---
So, for a start, who makes up the core Boston Coffee team?
My self Pieter Smit, is the Owner, Founder , Barista and Roaster , and pretty much every thing else the business requires to keep on doing what we doing .
I work every day alongside my Team of friends and Baristas who once all use to be clients first - even on there of days they just cant stay away :) We all hangout together - Surf together - Go camping etc. So it's more than just the norm of owner and staff.
Baristas we have:
Yusiry Abrahams - Yush - Barista & Roaster
Francois Roodt - Faf - Barista and also runs our Mobile side of Boston Coffee
Tiaan van Heerden - T-man, Barista and pretty much the only guy who can reach and stock our top shelves
Herdo Nagel - Herds - Barista and Our in house photographer
Micheal Mhalangu - Nev - Barista and Straight out of Zim
Clement
How did you come to open a beautiful cafe and roastery in Bellville?
Boston Coffee first open its doors in 2014. In 2014 I was still running a mobile carwash business and my wife wanted to re open a beauty salon after we closed hers down to welcome our first son into the world. We moved to Boston Bellville in that time and on a beautiful day here in Cape Town "as any other day here" we took our baby boy around the neighbourhood for a stroll and spotted guys busy renovating a double garage of flats above into a small space. We made contact with the owners and shared the idea of a Beauty Salon. Their response: "We have 36 interested parties for the space already - From a biltong shop, Tattoo Parlour, Hair salon - Dress boutique etc!" But it's just not what they were planning for the space - nor is a beauty salon. That coming weekend I had an event on at our Local Church - Hillsong Church Cape Town where I was a youth leader and also served in the Cafe as a Barista on Sundays. On the First evening of the Event called Encounter Conference - a guy came to me started talking and said - Bro , you need to open a coffee shop! About 10min later - Same thing - another guy walked up to me and said - Man , You need to open up a Coffee shop! Flip - random, right?! That evening I got home , wanting to tell my wife what happened - and before I could say - She said , "My love - a Salon one side and a Small coffee shop next door , thats what i feel we need to do?" Well , we mailed the Landlords , shared the idea, they caved and we GOT THE SPACE ! One Month later - We opened the Beauty Salon and Boston Coffee next to each other.
Getting a bit more serious, I closed the doors for a week, et up with Bilbo Steyn at Origin Coffee, did a full professional Barista Course , met Mike McDonald , connected with him and then started serving their beans as well in our shop. I worked in Boston Coffee alone for the first year, making Coffee and building relationships - we just grew and grew and grew some more. How? Good Coffee and real relationships - I employed my first Barista in 2015 - Yush , we grew some more and we needed some more space, so we took over the beauty salon.
Having the passion I had for Coffee I wanted to start roasting my own beans. My brother who is a tool maker as well as a friend Danie, we all came together and built our first little roaster. "Mr Burns" (hahaha). It was proper handcrafted coffee - and the best way to learn to roast, it also cost a lot of school fees. I had no way of seeng what was going on inside or how far the beans were in the roasting process- I learned to fully rely on my senses - smell & sound. We then started only using and selling our own beans. Three years later - it now makes us appreciate our bigger roaster that has all the goodies and so much more. But we still have Mr Burns :)
The rest of the boys all came along at the right time as the shop grew and we needed more hands.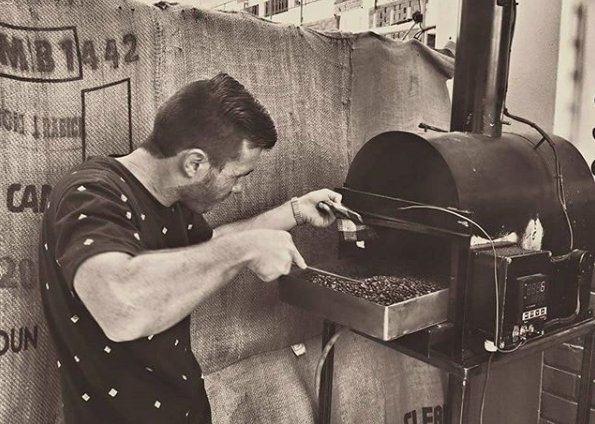 What is your favourite thing about owning a cafe?
Coffee - The most important for sure, having a beautiful cup of coffee and being able to share that with people - Making it for them how they want to receive it - asking the question, if they are having milk-based coffee - How warm do you enjoy the milk , or if it's an Americano - how much milk do you want in. We are not fussy we just want to give them the best coffee we can give and actually not wasting any efforts of the hands that touched the green beans before we received them.
Our space is a space where people come in as clients and leave as friends. When they come they have to order at the counter - thats our first connection point and opportunity to make friends. People come in to hang with us - Grab their favourite cup and a morsige Sourdough toasted Sandwich - soak up the vibe , sit back relax , chat , connect- Play board games. We don't do internet- we have High Fives , a HiFi and NO WIFI! People come here to break away from the world routines. Take a breath of some #altydvars and head out. We genuinely love what we do and who we do it for.
What is your approach/philosophy to running a successful business?
Do what you do for the ones you do it for and do it in the best way you can or as you will do it for yourself or how you would like it to be done for you. Then all the other things will come with the success of that focus
Tell us about some of your favourite regulars?
We honestly can't just name a few as we have 100' 1000's - We try our best to remember everyone , find out there names , what they do etc - it's a big family.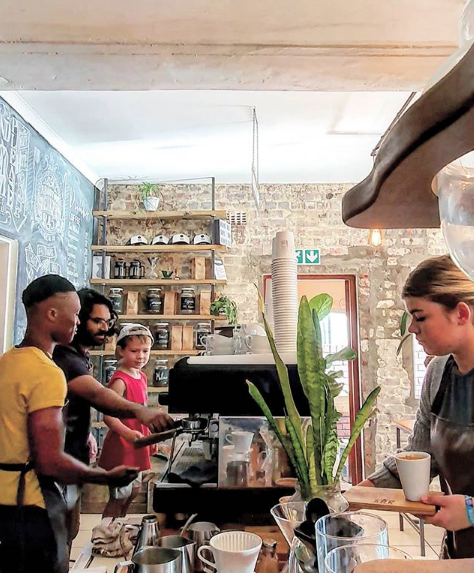 Can you tell us one of the best highlights you've experienced on this journey?
PEOPLE
"I've been all over the world & this is the Fx*-% best coffee I've ever tasted", goes on and buys a bag of every single blend and single origin we have available in the shop.
Our best highlight is everyday getting to work in shorts and plakkies and sharing what we do with the best people.
What is your favourite menu item at the cafe at the moment?
On these hot summer days - a beautiful Papua New Guinea Cold-drip on ice or a Japanese Pourover with a Chicken Mayo with Danish Feta and Jalepenos on Toasted Sourdough!