Blame Canada!
Meet Cole Torode, he's Canadian and he's awesome.
When we think of Canada we think of freezing weather, uber friendly people and top coffee professionals who always wow us in competition (and for the fans, South Park, as noted in the title!). The top coffee professionals also do happen to be uber friendly and the coffee certainly helps with the chilly climate. The last couple of years, Cole Torode of Rosso Coffee Roasters in Calgary, Alberta has represented Canada at the World Barista Championships and managed to place in the Top 6 both times. That is no mean feat! Cole had the opportunity to visit Johannesburg earlier this year and we were able to connect and pick his brain about all things coffee.
Interview by Melanie Winter
---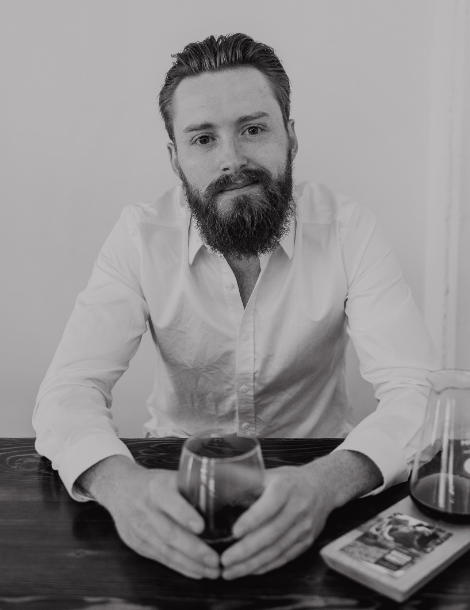 How did you fall in love with coffee? Was it love at first sight or did it grow on you over time?
For me, the love and appreciation for coffee came after working in the industry. I needed a job at the time as my life plans had fallen through and I just so happened to get a job working as a barista. Shortly after, I heard there were barista competitions and being a competitive guy, I decided to try my hand at it. Through the learning and understanding I took on, I became incredibly fascinated and ten years later, I still compete, still learn and still find it incredibly fascinating each and every day.
David Crosby, your brother, is the founder of Rosso Coffee, starting way back in 2007. What inspired him to get into the coffee industry?
Similar to my story, David was in need of a job. He graduated university and came back to Calgary at a time that was tough in the city and thus, finding a finance job was not realistic. He had previously worked at a handful of coffee shops during university and realized that Calgary was maybe lacking in its overall coffee scene. He jumped in with two feet, opened the first location in a charming neighbourhood called Ramsay and was the only employee for the first six months - barista, baker, chef, dish washer, you name it, Dave was that guy.
Rosso Coffee has organically grown from cafe to roaster to green bean sourcer to multiple cafés and supplying multiple wholesale clients, did you ever think this is where the company would be in 2019? And what did it take to scale the business so you could shift focus to the supply chain?
Scaling the business has been challenging and rewarding. We've never had a huge budget for anything and we've thankfully never taken on debt, so we've got to where we are today bootstrapping the business. Honestly, I think every year, we surprise ourselves when we look back on where we're at. We've always had a full commitment sort of attitude when it comes to new endeavours and we're always willing to put in the time to make sure we get across the finish line.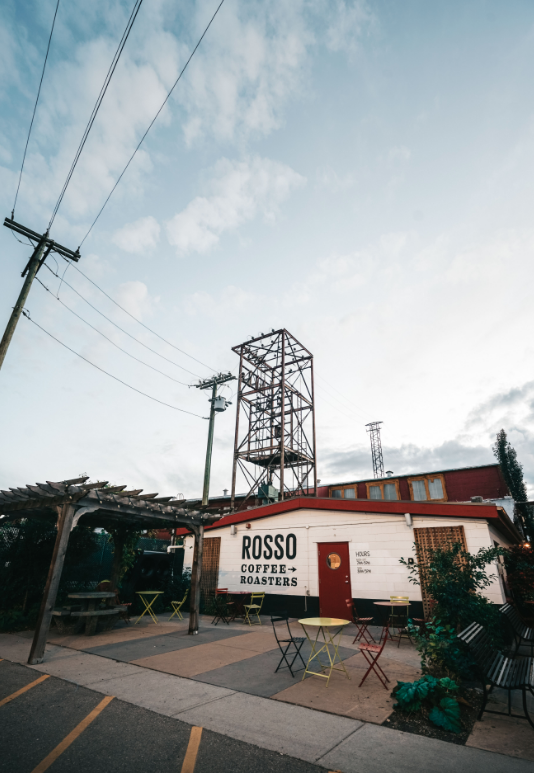 Photo by Brandon Paton
There is a strong entrepreneurial culture here in South Africa, can you tell us a bit about what it is like to partner with your brother? Do you have any advice on choosing business partners and how to manage these relationships?
So, I'm actually partnered with my brother and his girlfriend Jessie. They met in the early days at Rosso - she was a frequent latte drinker who asked Dave out because Dave was too worried to lose a client should she say no… HA. Working with the two of them is great, though it can be challenging as I know they go home and discuss things after the working day and often formulate answers to things before I get an opportunity to. On the positive side, we all fulfil different gaps in the business and now we're able to each champion our own aspect at Rosso. So Jessie is most involved in HR and the cafes, Dave is on finances and logistics, I'm taking on the coffee quality control and sourcing, as well as our online platforms.
How did travelling to origin change your perspective on coffee?
I think, far beyond coffee, it changed my perspective on the world. I'm privileged to live in a country like Canada and I didn't necessarily understand what existed beyond our borders. Visiting coffee producers in hyper-rural areas in countries like Myanmar, Burundi, Guatemala, and others, gives me desire to create change. For me, I want to use the platform of specialty coffee to make positive impacts on the lives of people in these countries and beyond.
Coffee is one of the largest industries in the world, it's present in every country, either production or consumption, and it's continually suffocated by large corporations who are smothering small producers. Buying practices need to change on many fronts, but I believe that starts with coffee buyers like myself, traveling to meet the people behind the coffee. If we put humanity to the product, perhaps we can influence the consumer to purchase coffees that are traceable to a specific producer or cooperative or washing station. Labelling a coffee as the country it's produced in just isn't enough anymore.
Imagine I went in to purchase wine and my options were South Africa White or South Africa Red. Well, that's just not enough for me and shouldn't be enough for others. I want to know it's from Stellenbosch or Paarl and if it's a Pinotage or a Chenin Blanc - that gives me context, traceability and an expectation. Whether I know what those things mean as a client or not, it gives me something to learn about should I be interested. Let's do our best to share as much info as we can about the coffees were serving to strike interest in our clients. Traceability is what will change our industry for the better. It's what will impact the humanity behind the coffees we serve the most. It's the thing that will separate specialty coffee from the commodity giants.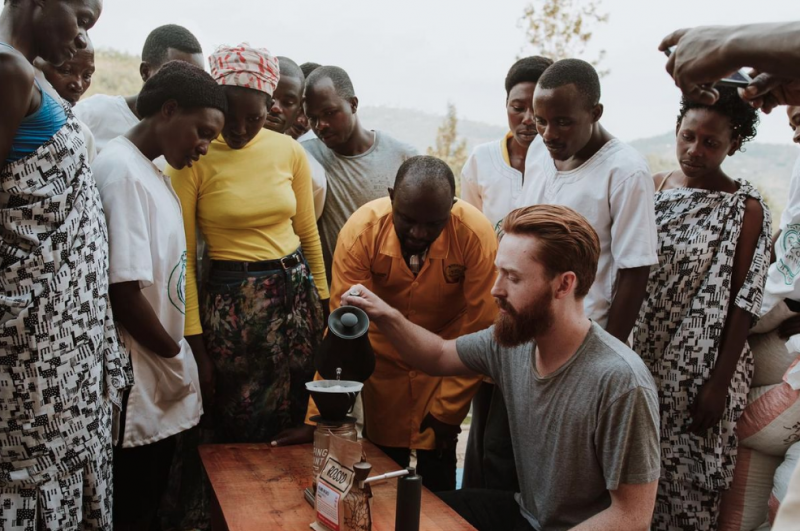 Can you tell us about your most memorable cup of coffee?
The most memorable coffee I've ever had was in the Semi-finals of the World Barista Championship in 2018. I was was playing with ratios for the blend I was serving, using Gesha and Sidra from La Palma y El Tucan. During my dial session in the morning, prior to my competition time, I hit an extraction at such a magical point that I swear the clouds in the sky opened up and the stairway to heaven came to me. It was so vibrant and vivid. It's really a shame it wasn't the same experience the next day in the finals, hehe.
What are the issues you face as an industry in Canada?
One of our challenges here is getting the general population to better understand and appreciate coffee. Our industry is dominated by big chains that sell 500ml and larger coffee drinks for dirt cheap. So our clients want quantity and often give us grief on pricing. In that interaction it's hard to say "well we're paying $4.00USD(R58,50)/lb FOB (FOB stands for Free on Board, which means this is the price of the coffee ready for export) for this coffee, we've been working with the producer for X number of years, plus we pay a living wage to our baristas and rent for this location isn't cheap and the Canadian dollar has dramatically fallen in the past few years and therefore it's actually really great value!" So that's one challenge we have, but I imagine that's Global. How do we as an industry charge prices that actually justify what a coffee should cost?
For visitors who love coffee, which city in Canada do you recommend as the coffee capital and what are your favourite coffee spaces there?
Well I'm based in Calgary and I'd argue that it's the spot to visit. I'm a huge advocate of the city and think it's wildly overlooked. If you're a fan of coffee, we have a great scene here with some globally renowned roasters and some incredibly sophisticated cafes. We're also an hour drive from the Rocky Mountains and some of the best hiking, skiing, outdoorsy sort of stuff that us coffee nerds all seem to enjoy. So I'd advocate to come to Calgary, though each of the major cities in Canada is starting to really push the coffee scene. I'm proud to live here and happy to be a part of the burgeoning specialty coffee industry.
Ed's Note: Calgary is also home to Phil&Sebastian Roasters and Monogram Coffee which have also produced award winning coffees and baristas. So, it seems Calgary is certainly an incredible coffee destination!
This will be your 10th year competing (jury's still out as to whether it will be your last!), what are the ways in which you think competition has moulded your career in coffee and how you do you think it benefits young baristas?
I honestly believe I owe everything in my coffee career to competition. If it weren't for the platform of barista competition, I'm not sure I would have ever been as motivated to learn about coffee, or to get into roasting, to do my Q Grader, to start sourcing, or experimenting. I think competition gives you a platform and template to master and understand the craft of coffee. In the early years, not only did I improve and hone in on my skills, but the baristas I was working with on the day-to-day also learned through osmosis. In these later years, I keep coming back to it because it gives me a platform to extend my creativity within coffee as far as I can. It gives me a voice and hopefully that voice inspires young and aspiring baristas.
Pretty sincere this year will be my last. I think retiring at 10 is a nice clean number. Getting the opportunity to compete in Melbourne would be amazing, as I actually wanted to travel to and live in Australia prior to getting a job in coffee. It's now the only continent I have not visited. So I'd love to go full circle and have my last year of competition take me where I wanted to go prior to knowing competition existed. After that, I'd love to coach and work with other baristas to compete and get more involved in planning competitions with SCA Canada.
As mentioned above, you've been competing for many years, what changed in your performance from one year to the next that took you to WBC in 2018? And what did you learn at your first WBC that got you back to the world stage in 2019?
The first year I competed at WBC I wasn't ready for the emotional rollercoaster that came with the three sequential days of competition. I had three weeks to build a routine from winning my National competition, running out of the coffee I used, and starting from scratch. This year, I went into my National competition with a routine that was built for Worlds. So my perspective and way to prepare changed from one year to the next. I think too, the first year I went in and felt intimidated by nearly everything around me - it was overwhelming. In Boston, I just zoned everything out and stayed in my own head space. I honestly didn't even walk through the exhibition in Boston.
What were your impressions of SA coffee culture (at least from within the confines of the Coffee&Chocolate Show, haha!)
I really enjoyed my time in South Africa getting to know a small portion of the scene. It was quick and I wish I had more time to see the rest of the country and get to know more cafes and more baristas. Overall I was impressed with Johannesburg and enjoyed getting to watch some of the regional competition at the Coffee and Chocolate Show. Just like other countries, it appears as if there's a group of people pushing the scene forward and I think that's so exciting to see. I know some people were commenting to me that South Africa is way behind with the world of specialty coffee, but I really don't think that's the case. It takes some time to change habits, create more appreciation and push people out of their comfort zone. We have a lot of the same struggles here in Canada. We just all need to keep a smile on our face, serve the best coffees we can and not allow any compromises in what we're doing.