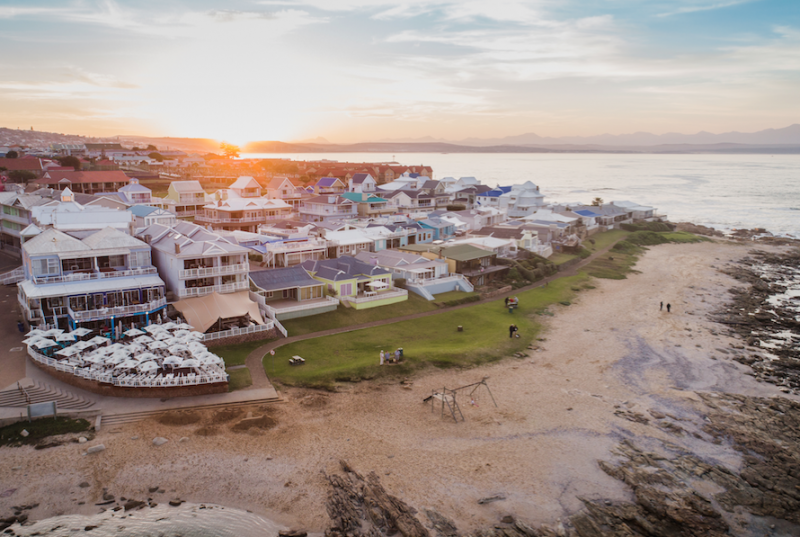 There is something unexpected nestled in the small harbour town of Mossel Bay: a sophisticated and well-established coffee scene. Visitors to this Garden Route town are spoilt for choice when it comes to sourcing their caffeine fix…Each café offers something unique which means there is something for every coffee-lover in Mossel Bay.
Words by Hannah Coogans, Africa Media
---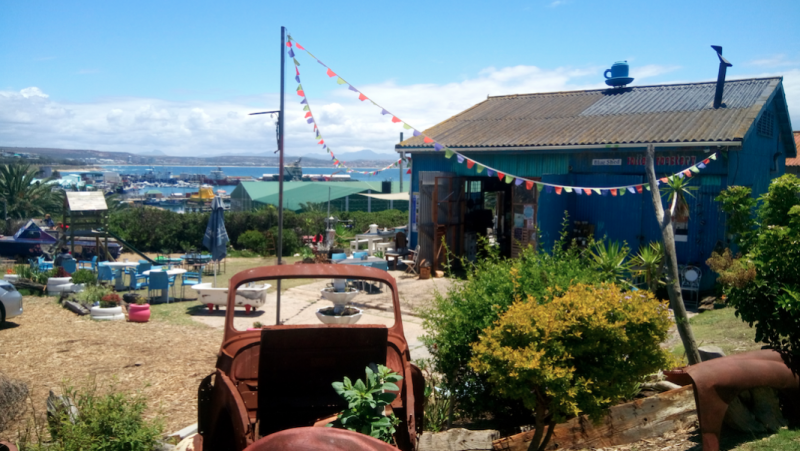 THE BLUE SHED COFFEE ROASTERY
The Blue Shed Coffee Roastery is conveniently perched on the hill of Bland Street. As the name suggests, this quirky coffee shop is housed in a blue shed surrounded by run-down vintage cars. The old car yard motif is matched by eclectic décor inside, including big cosy sofas, retro posters, old books, a vintage jukebox and mismatched chairs.
THE COFFEE:
The Blue Shed serves an array of coffees, offering the basics such as americanos, lattes and cappuccinos. You can also choose to buy your beans here, with 13 varieties from all over the world to choose from. The café roasts its own beans and sources mainly Indian, Indonesian and Tanzanian beans.
CROWD FAVOURITES:
The owner, Sandeep Virdee, recommends a slice of chocolate mousse cake to accompany the popular Tanzanian beans.
WHAT MAKES THIS CAFÉ A MUST-VISIT:
The Blue Shed is a great spot for uncomplicated but high-quality coffee in a unique, rustic setting with a view of the beautiful Mossel Bay harbour.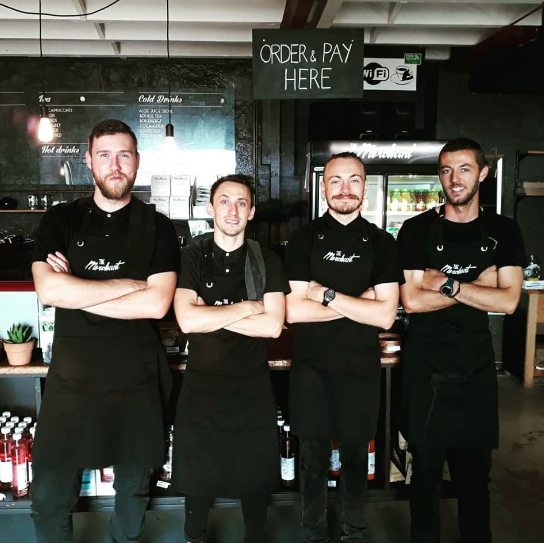 Photo from The Merchant
THE MERCHANT
Another trendy spot in Mossel Bay is 'The Merchant'. Formerly a mechanic shop, this café has a minimalist interior with artwork by local graphic artist and co-owner Sammy Sheppard, as well as seriously good coffee. Her art, as well as beautiful prints by other artists, is also available to buy in the corner of the shop's ground floor. The top floor lounge is ideal for those seeking a quieter nook to sip their coffee.
THE COFFEE:
The house blend comes from Brothers Coffee, a local roastery in the Groot Brakrivier area. This brand actually scored highest in South Africa in the 'A Shot in the Dark' competition earlier this year. The Merchant is the only café using their Ankole blend, a medium to dark roast with chocolate and maple syrup notes as well as fruity citrus flavours.
CROWD FAVOURITES:
Flat whites are the go-to order. However, coffee connoisseurs can also enjoy 'The Merchant Special' which is a tall cortado. The LCHF breakfast option is a popular menu choice consisting of perfectly poached eggs, bacon, tomatoes and a rich hollandaise sauce. If you're looking for a sweet treat, the chocolate croissants are also a crowd pleaser.
WHAT MAKES THIS CAFÉ A MUST-VISIT:
The café has organic roots: the owners, Donovan and Sammy Sheppard, had no prior knowledge of coffee before starting the café. The Merchant has since grown and evolved to suit their clientele's wants and needs. They now offer options for customers following a banting diet, almond milk for vegans and locally brewed kombucha. The Merchant also try to educate their customers about good coffee because they want everyone to appreciate coffee as they do. The baristas here are friendly and knowledgeable, and they are more than happy to recommend a coffee or item from their menu.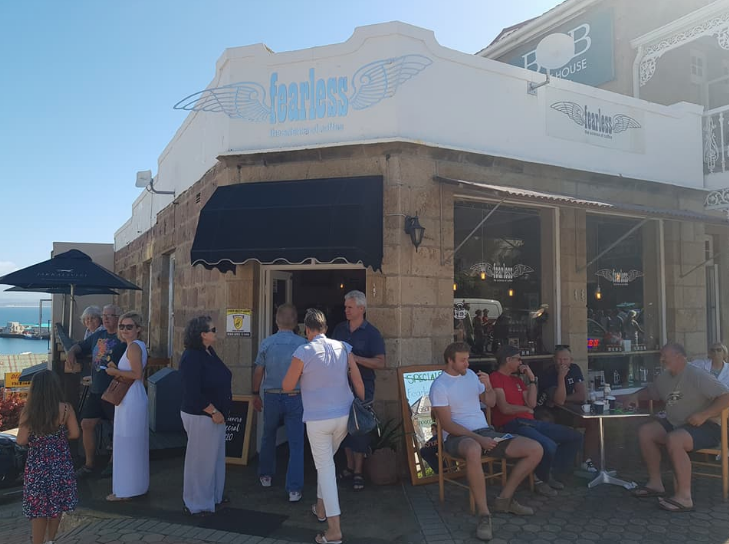 FEARLESS
Fearless is the next stop for a quality coffee. Recognisable by its distinct angel wing logo, this café is owned by the innovative business-woman Loretta de Moor. Fearless can be found near the centre of town on the corner of Marsh Street and Mitchell Street (opposite the old town post office). Their witty slogan attests to their local appeal; 'Our coffee brand is world famous…. Locally'.
THE COFFEE:
There are many blends available here, including dark, rich Malawian blends, a smooth Brazilian and a special 'Heritage' blend inspired by the building's history and status as a Blue Shield Heritage Site. Each blend offers something slightly different, however the overall notes of the coffees are nutty and earthy.
CROWD FAVOURITES:
The most popular coffee is the latte, but the café is unique in offering coffee brewed in different ways. As far as food is concerned, the Fearless Favourite sandwich with caramelised onion, bacon, feta and avocado comes recommended.
WHAT MAKES THIS CAFÉ A MUST-VISIT:
Fearless prides itself on offering more and prioritising the 'science of coffee'. You can order coffee brewed using different techniques, from French press and Chemex to Aeropress. The owner, Loretta, also believes that 'love conquers all fear' and makes sure that everything in the the caféis made and served with love..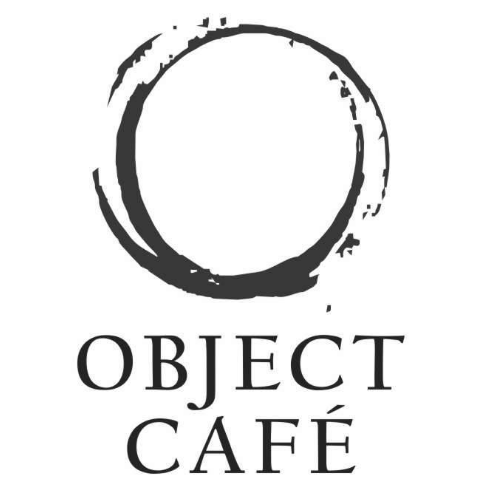 OBJECT CAFÉ
Object café is fairly new to the coffee scene in Mossel Bay. It opened in November 2018, but its client base has grown considerably since then. It is also located on the main road, Marsh Street, and near the centre of town. The relaxed interior is spacious, making it ideal for larger groups. The places at each table are laid with food magazines instead of place-mats, so reading material is provided to accompany the good coffee. Their kitchen, across from the coffee counter, is open to the public and they even invite customers to go and greet the chefs at work. If you fancy a light bite, there are cakes, salads and an all-day breakfast menu to choose from.
THE COFFEE:
The house blend is sourced from 'Beans for Africa', which is a strong, earthy coffee that can be enjoyed black. Each cup comes with a sweet treat: a coconut date ball that compliments the coffee.
CROWD FAVOURITES:
The cappuccino is the most popular brew, while chai tea is also a crowd favourite. The quiches come highly recommended, as they are made fresh daily and the café offers new variations every day.
WHAT MAKES THIS CAFÉ A MUST-VISIT:
Everything at Object Café is handmade on site daily, in a kitchen that customers can wander through and take a look as their meals are being prepared.
THE COFFEE CLUB
Though also in the main street, the Coffee Club is a little further away from the hustle and bustle of Mossel Bay's centre - perfect for enjoying a cup of joe in a quieter peaceful garden setting. This place is known for their homemade cakes that tempt customers from the fridge to their right as soon as they walk in.
THE COFFEE:
Like many cafes on the Garden Route, the Coffee Club sources their blend from local coffee roaster Aharon Baruch, creator and owner of Baruch's Coffee. This high-quality coffee is made from 100% Arabica beans and comes in a light roast espresso blend. The beans offer a rich, citrus-flavoured coffee that compliments any of the café's cakes.
CROWD FAVOURITES:
Cappuccinos are the coffee of choice here. The café also serves more substantial meals, and the seafood basket has the staff's seal of approval. This includes mussels (Mossel Bay's namesake), calamari, fish nuggets and fries.
WHAT MAKES THIS CAFÉ A MUST-VISIT:
Undetectable from the entrance, this café is more spacious than it appears. It has many seating areas to choose from: a secluded garden, a more private back area - ideal for small functions - and a comfortable alcove inside. So many different locations to enjoy your coffee.
These are just five of Mossel Bay's cafés , though they are by no means the only choices. Each spot is unique, but one thing that is common amongst them all is great service. Wherever you choose your brew, the friendly local staff are always a highlight. The baristas are always eager to chat and give suggestions on what to do in the area. Mossel Bay is an up and coming coffee lover's paradise.