An adventurer at heart, the inventor of the Ella cappuccino mélange leads an adrenaline-filled life. Neil Hellmann's adventures have taken him across the world, from flying missions into the African Savanna, to climbing mountains, rafting rivers, and HALO (High Altitude, Low Open parachute) jumping out of airplanes at 30,000 feet. His adventures often take him far away from the conveniences of modern life, and one night, while lying under the stars, Neil was determined to invent a cappuccino of premium quality that could be enjoyed wherever his travels and adventures took him.
If you've ever found yourself wishing for barista-quality cappuccino when you're nowhere near a coffee shop, Ella is here to grant you your wish. A convenience capsule made from real espresso and low fat milk, Ella provides a cappuccino anywhere, as long as you have hot water on hand. We chatted to Neil Hellmann, the brains behind this innovative coffee solution, to find out more…
What is Ella Cappuccino's 'origin story'?
"I wanted to create a cappuccino of barista quality, instantly, without having to use a Nespresso machine, while also cutting out the consuming process of frothing or simply having to leave the house. It also had to be preservative free with no artificial additives and most importantly, significantly more environmentally friendly than the coffee pods which we're accustomed to."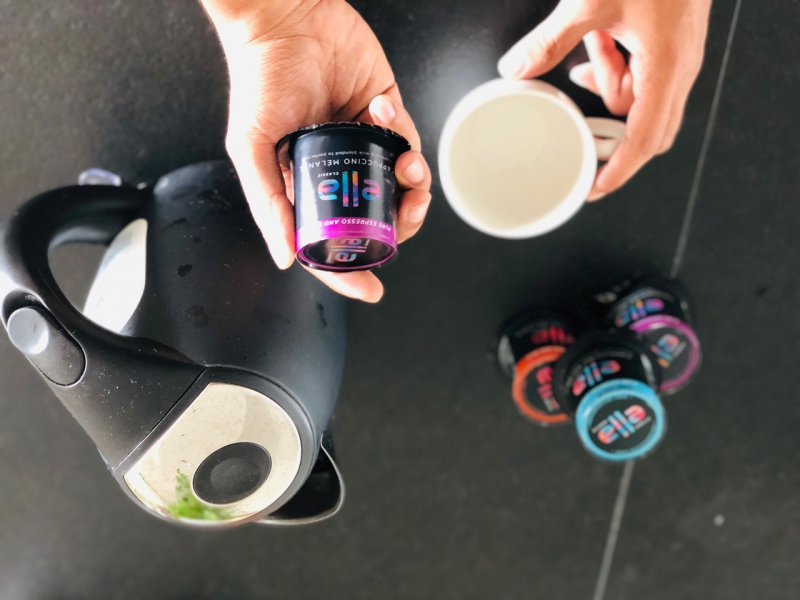 How does the Ella cappuccino work?
"A mélange is often compared to a latte and cappuccino, but some characterise it as the blend of the two. We use only the best dark roasted beans to create this instant Ella Cappuccino Mélange – made with REAL liquid espresso and low fat milk. You can enjoy an Ella with the following simple steps:
Shake the capsule for 20 seconds
Remove the seal and pour into a cup or mug
Fill the empty Ella capsule with boiling hot water
Then pour the hot water from the Ella capsule into your cup … voila!
It's as good as you make it! So, get creative and be your own barista."
How did you come up with the idea for a convenience cappuccino?
"Most of us start each day and wrap up every evening with a delicious cappuccino. So, the question was, how could I have a cappuccino of the finest quality, instantly, on the go or while away from the conveniences of modern life. The idea came to me one evening under the stars, while on another adventure away from home. I was determined to invent a cappuccino of premium quality that could be enjoyed wherever I travel."
How long did it take you to make the idea a reality?
"It took me four years alongside my trusted team to come up with our current formula. We are always open to evolving Ella, whether it's the packaging design, fragrant aroma, or taste. There's truly nothing like this product and we've only just started knocking on the future possibilities as we evolve as a brand."
Why the name "Ella"?
"During my time working in the business world, I rubbed shoulders with a lot of ad agencies and branding companies. Drawing from this experience, I knew that the best ideas are simple and with a brand like Ella, it needed to come from the heart, so there was no more eloquent route to take other than to name it after my wife, Ellie."
Why is it important to you that Ella coffee is preservative free, with no artificial colourants or flavourants, and as environmentally friendly as possible?
"With the current and much needed focus on a holistic health-based lifestyle, it's important that we pay attention to what we put into our bodies and the environment. We're living in time where the environment needs us more than ever. Most traditional capsules can't be recycled easily because they're often made of a mixture of plastic and aluminium. This, combined with the dregs of organic waste from unused ground coffee sitting in the bottom of the pod makes them difficult to process in standard municipal recycling plants. We wanted to make sure that we ticked all the right boxes. Ella's convenience and recyclable packaging has truly been designed as a cappuccino for the future!"
What has been the highlight of your whole journey launching Ella?
"Each step in this journey has been absolutely thrilling! However, even in this short time of perfecting our premium cappuccino, Ella already has two awards in the bag! We won GOLD at the Propak Gold Awards for best packaging design in the non-alcoholic beverage section. We also won silver for overall in best rigid plastics. We are so ecstatic about this achievement considering all the big guys with we ran against: Nestlé, Coke, Pepsi, Ciro coffee, Parmalat etc. This is only just the beginning!"
Where can people find Ella cappuccino?
"We are available at select Checkers in the Western Cape, as well as Spar outlets, and we're in the process of listing with Pick 'n Pay. You can also shop directly from our website."