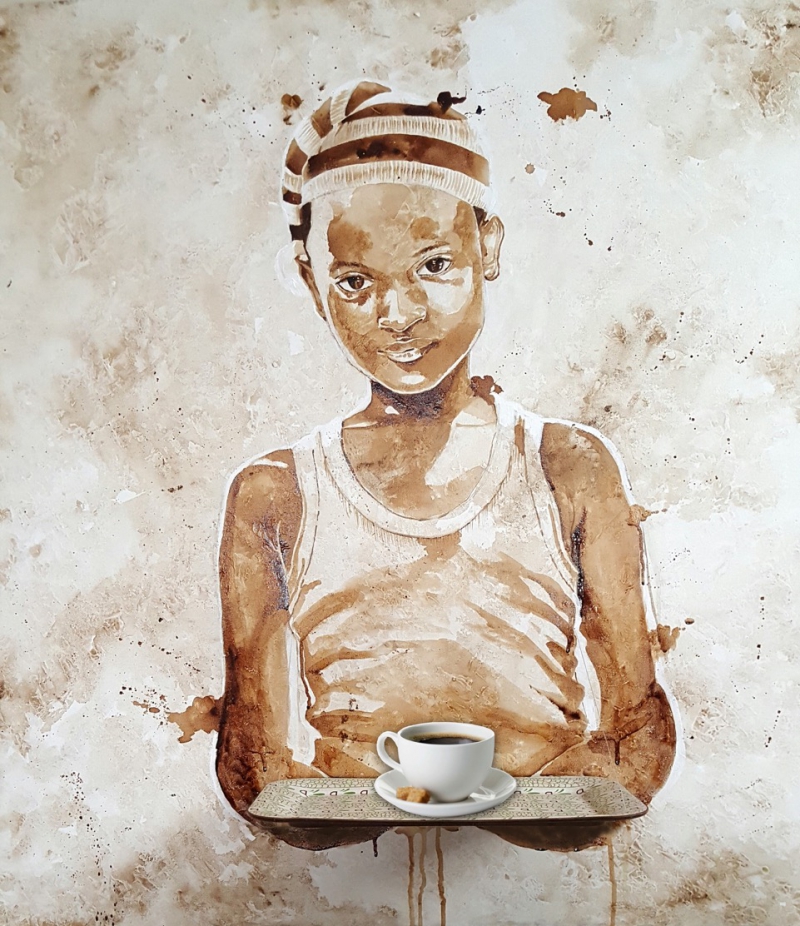 'A Cup of Truce' - series
Ekene Ngige has always been interested in art, and in his Lagos-based studio in Nigeria, he is creating works of art using a very unique medium: coffee stains. The result of a happy accident, Ngige's coffee paintings sell for around €200, and tackle societal issues like inequality and terrorism. We chatted to Ekene Ngige to find out more about his coffee-inspired work…
---
How did you get into art as a career?
"I had the talent to draw as a little boy; I always wanted to be a professional artist and cartoon animator. I admired Leonardo da Vinci and Michelangelo's works. I also had an elder brother I looked up to in drawing comic books. I couldn't separate myself from my talent so I chased my dream."
What gave you the idea to start painting with coffee?
"It started in a strategic meeting where I spilled my coffee. It created a fine brown map on my paper that I fell in love with. It looked like watercolour but a bit different. The gold brownish colour and the gloss texture were something I needed to see on a full painting, so I tried it on watercolour paper the moment I got back to my studio and I just loved the outcome. It's not so different from working with watercolours – same approach. I went further to experiment on canvas and it was amazing and has been my first love amongst my favourite mediums."
What's your coffee of choice when it comes to drinking it?
Cappuccino and espresso.
How do you choose your subject matter?
"I choose my subject matter with what's currently happening around me. Events that are positively and negatively affecting society. Recently there's been too much hate and violence in the world. My country, Nigeria, has suffered violence from terrorism and ethnic war. So, I needed to pass more messages about love and peace and there's no better way for me to do that than with my artworks. I try as much as possible to make this message beautiful enough for hearts to connect with and see the beauty in having a peaceful and joyful environment. Poverty has never been my subject matter but mostly victims of war, racial inequality, terrorist attacks, child abuse and gender inequality."
Tell us about your favourite pieces? What inspired them?
"My favourite piece is 'The Coffee Break'. It's a 4x6 ft. coffee on canvas. It depicts some of the major controversial world leaders. Queen Elizabeth II of England hosts them to a coffee date. The coffee break signifies a moment of peace between all these leaders and basically the world – a moment when our leaders have put their differences aside to peacefully discuss a better future for the world. The painting is calling for everyone to exercise a coffee break from hate and make peace with themselves and their neighbors. We should learn to accept everyone no matter the color, tribe or religion. We are from one source.
'The Cup of Truce' series are also my favourites. They depict victims of terrorism, ethnic war and religious war holding a tray with a coffee cup installed on it. The Cup symbolises peace. These victims are serving a cup of coffee to the perpetrators asking them to take a coffee break from their crimes."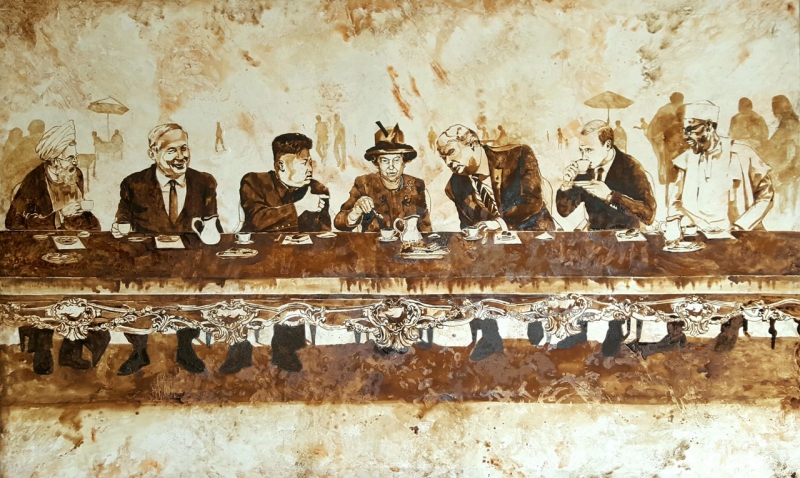 'The Coffee Break'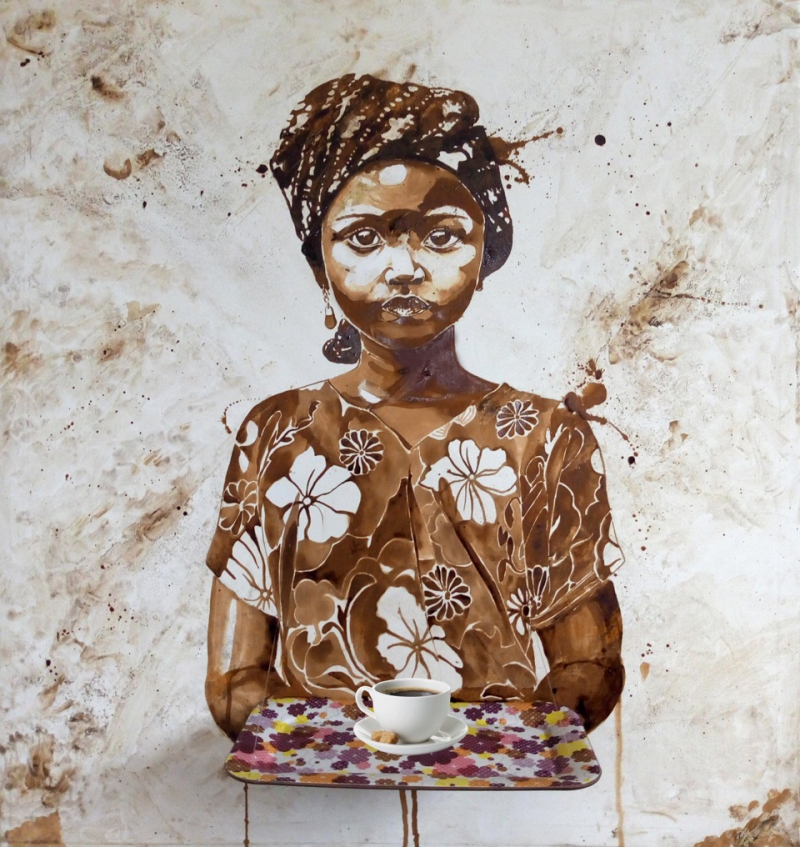 'A Cup of Truce' - series
Your work often speaks to peace?
"The coffee cup and coffee beans are symbols of peace in my coffee break series. Coffee originated from Africa and is still as black and as strong as Africa due to its high rate of caffeine. Africa is peaceful and would like to make peace as the region that lacks it within, and share this peace around the world."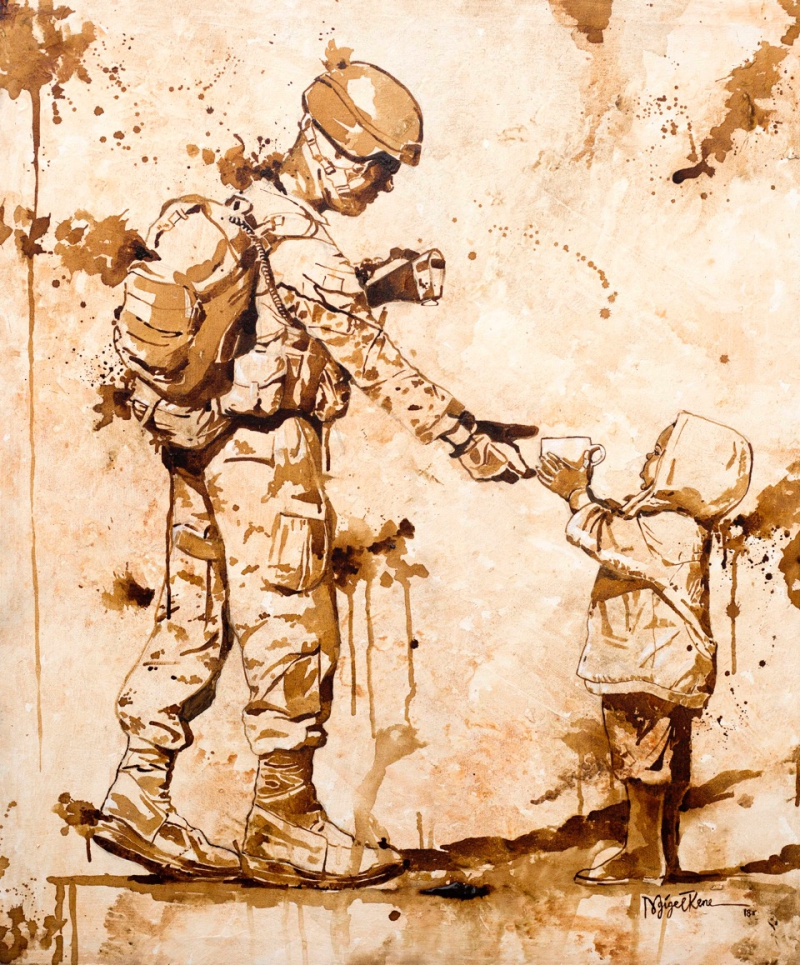 'Peace Offering'
What's been the highlight of your 'coffee meets art' journey?
"The love and appreciation of my art last year from the media and fans around the world, especially the BBC News reports – it's been overwhelming. Clients visit me from Europe to buy an art piece, which is wonderful, and I love all my clients and fans."
What keeps you motivated?
"Due to my physical challenge (overcoming a bout of polio as a young child), people really worried about my future when I was little. They wondered how I would cope. Even my parents wanted me to be a medical doctor so I could take proper care of myself. But I was born to be an artist and I fought hard to live to be who I am today. God brought me this far and will take me further. With faith in him and consistency in what I do, I will get to where I want to be. So, for all those who think the government, society or whatever physical condition is a hindrance to their success in life, my advice for you is to continue enjoying what you do best and believe in God. Your sunny days will definitely come – only you can stop you."
Follow Ekene Ngige on Instagram to check out more of his beautiful coffee paintings and other incredible artwork.