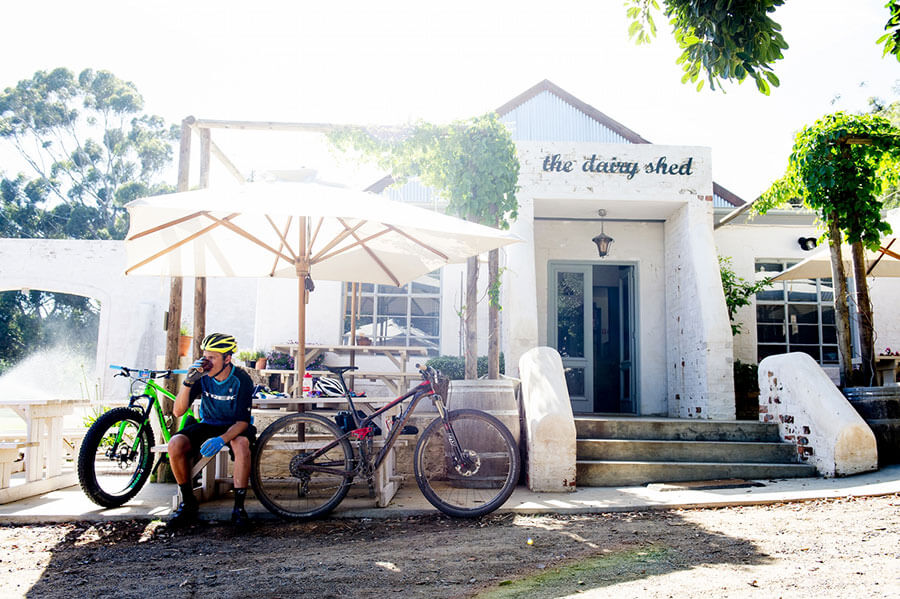 Words: Jazz Kuschke
Photos: Kolesky/Nikon/Lexar
Originally published in Issue 15 of The Coffee Magazine

---
The 'coffee ride' is more than a mountain-biking tradition. It is key part of the culture of what is a lifestyle rather than a sport, really. "The intricate relationship coffee has with cycling," explains James Reid, who wears the stripes of South African titles in both cross-country and marathon disciplines, "is deeply rooted in the ability of caffeine to improve your energy levels and mental alertness before and during a ride."
Cyclists are a technical, particular bunch. And they're as picky about their coffee as they are about their photochromic eyewear, sock length or the pressure to which their tyres are pumped. Not many a ride is started without – at the very least – a single shot of freshly brewed espresso. Few are finished without a café stop. (Standing their carbon steed at just the right angle to show its best features at the curb-side table is all important, of course). Hard to believe then that caffeine (otherwise known as: 3G6A5W338E) was on the Olympic banned substance list less than 30 years ago. A recent study suggests up to three quarters of the world's elite athletes use it for its benefits. Many go as far as to travel with their own coffee machines. However, to assume its ergogenic properties (enhances speed and stamina) is the sole reason for the love affair, would be to misunderstand the relationship.
"It becomes a destination thing," muses Reid. "When you live in a beautiful place like Stellenbosch or Cape Town, it represents the break between monotony and a 'pick-me-up' that inevitably becomes habitual," he says, highlighting how many mountain-biking destinations and trail parks now have 'home' coffee shops, places such as The Dairy Shed at Contermanskloof (pictured above).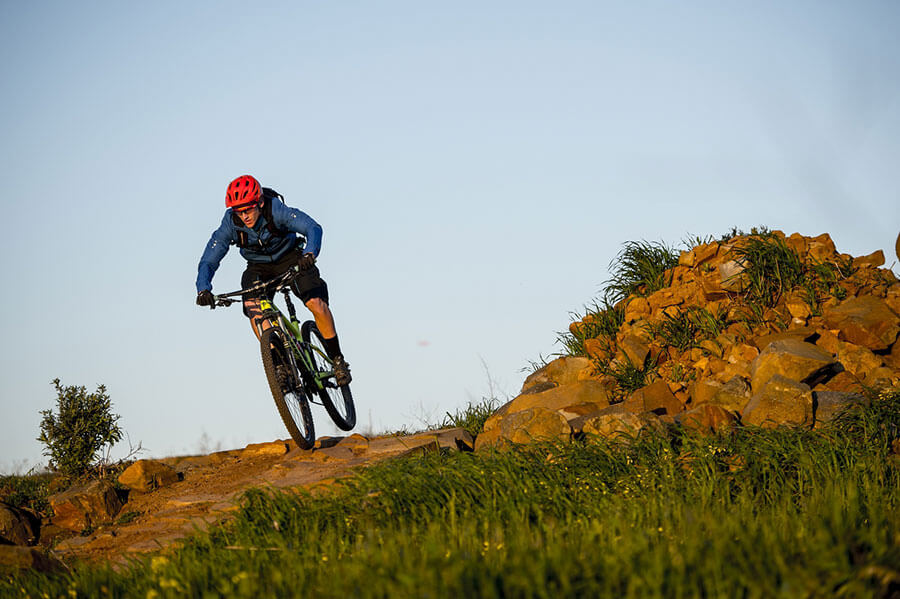 To keep the wheels rolling

"We've got some pretty good evidence that caffeine can improve endurance performance by reducing fatigue and your perception of effort," explains Adrian Penzhorn, head (registered) dietician and sport scientist at Food For Sport (www.foodforsport.co.za). "Simply put, it makes exercise feel easier to do," he says. "It may also have a small benefit on how your body uses fat as a fuel during exercise. Most studies use caffeine in pill or powder form but a recent study suggested that coffee can be just as good," he says.
According to Penzhorn, caffeine content varies significantly depending on the type of bean, the roast and the method of brewing, however. "An average espresso provides about 100mg of caffeine, most studies use 200-300mg to show a benefit. So a single shot from your local barrister is halfway there," he says.
To maximise this benefit and to give his body a chance to recover from the stimulation caffeine provides, Reid likes to stay away from coffee completely during his off-season. Tough, he admits, fortunately a pro bike rider has a very short 'off' season. "During a normal training week, I start the morning with a short black with a splash of milk," he says. "Only if I'm doing a longer day (three hours plus) then I'll have a coffee mid ride. You also don't want to have too much caffeine during the morning and not be able to sleep after lunch (a crucial part of the pro cyclist's training regime), so it's a fine balance."
For Matthys Beukes, who, with teammate Gert Heyns, dominated the 2015 Cape Pioneer Trek, a brutal six-day stage race, coffee is more of a daily must-have. Even in the off season.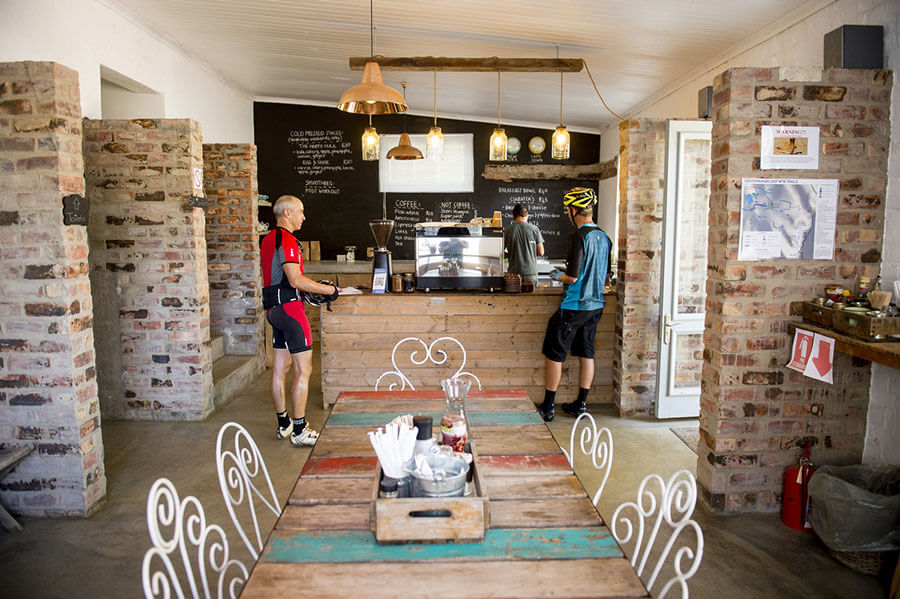 For the love
"Coffee choice depends largely on the weather for me," says the man from George. "I enjoy a nice cappuccino after training on a cold and rainy day. If it's a bit warmer I'll go Americano and, most of the time, mid-ride there's nothing that an espresso can't cure," Beukes says.
So important is coffee to his daily routine that he doesn't go to sleep at night before making sure he has enough stock for the following day. "Nothing worse than waking up and realising I've got only enough beans for a single shot!" he says.
"Upon visiting Italy earlier this year I realised that the coffee ride we all took to here has been part of their culture for almost as long as they've been riding bikes," he says, before summing up perhaps the crux of why it is so cool. "The coffee ride almost levels the playing field in a way… It is something every bike rider can do and look good doing it."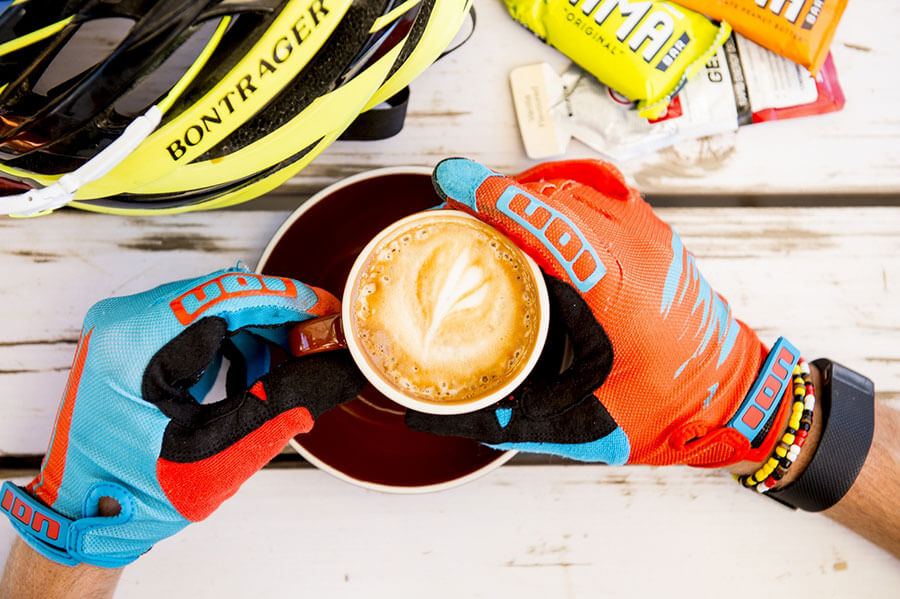 Fast Facts
Adrian Penzhorn, registered dietician and sport scientist from Food For Sport (www.foodforsport.co.za) delivers (some surprising) insights on caffeine as sports supplement:
- Caffeine can improve endurance performance by 3-4% and work rate by 7-10% at moderate doses.
- Most research uses 300-400 mg to show performance benefits.
- There are no benefits at higher doses and some people may experience unwanted side-effects.
- Caffeine does not negatively effect hydration status.
- In combination with a high carbohydrate recovery meal caffeine may assist restoring muscle glycogen (carbohydrate stores).
- Caffeine content of brewed coffee can vary from 15-240 mg per serving.
- Robusta beans have the highest caffeine content.
- The darker the roast the lower the caffeine content.
- The fresher the grind the higher the caffeine content.
- And the longer the brew the higher the caffeine content of the drink i.e. Immersion brews like a plunger (4-5min contact time) will have more caffeine than an espresso (Under 30 seconds contact time)