We had the first of a couple workshops for baristas competing at this year's Nationals last night and it reminded me of getting home from Dublin last year, all fired up and dreaming of a South African World Barista Champion. It's gonna take a lot, the things below are just a start, but I think we've got it in us!
---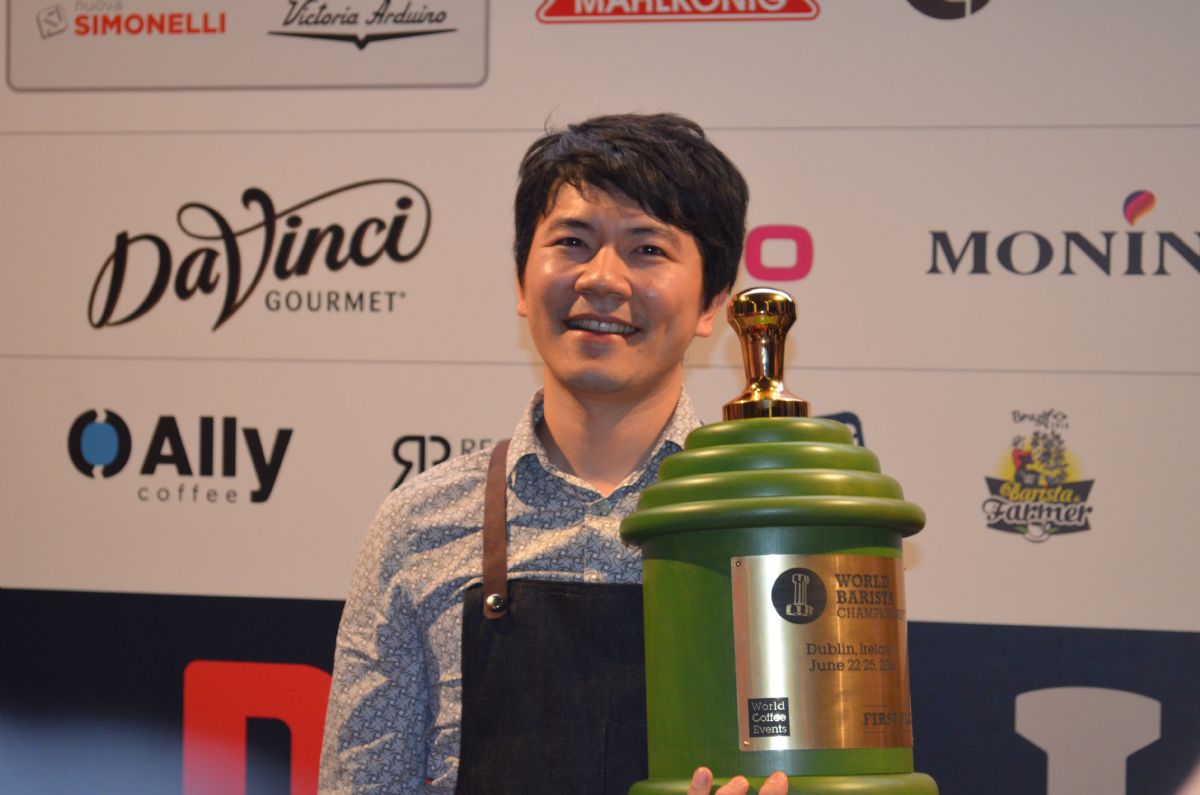 Simply the Best

What does it take to get to Number One?
By Melanie Winter
Berg Wu of Taiwan won the 2016 World Barista Championship Title. It was a long road for him to get there, it was his second time competing at the World Barista Championships and he had competed many more times in his National competition to get to this point. He has put Taiwanese coffee culture on the map with this win; do we have what it takes to do the same for South Africa?
"You could've been anywhere in the world right now, but you're here with me and I thank you for that."
Goosebumps. This was the closing line of the 4th best barista in the world, Lemuel Butler of the United States, on the world stage in Dublin, Ireland this last June. And perhaps the words don't seem that significant but the way they were delivered was simply electric.
Competition is a fascinating thing. Us human beings can't get enough of it and competition in sport, a test of skills within a set of rules, provides some of the most riveting entertainment and inspiration in this life. As we've seen this year with the Olympics, a tournament built on the values of physical fitness and mental strength, national spirit is a very important part of our South African culture. I balled my eyes out when I watched our two gold medalists rise victorious, it was bloody beautiful. Do I ever watch any other athletics in between Olympic games? Not a sausage! But that doesn't take away from the fact that the patriotism is real. We feel proud when one of our restaurants gets into the Top 50 in the World, we love medals, we love titles.
Coffee competitions may be a new blip on the radar, but I can tell you that you're experiencing trends in your local cafe right now because of something that happened on the World Coffee Championship stage. The rise of single origin coffees? Cold brew? Alternative brewing methods? All made mainstream cool after first appearing at one of the coffee competitions. As Brydon Price, a World Coffee Events certified judge says,
"I often liken the WBC to Formula One racing in the way that it leads innovation that then trickles down to the wider industry. The average consumer may not know where these innovations came from, but can still appreciate their incorporation into a personal experience."
The question is, do we, as South Africans want a Coffee World Title badly enough? And perhaps more pertinently, do we have what it takes?
I've been to three consecutive World Championships with three different SA Barista Champions and we really have come a long way, but we also still have a long way to go. The current SA Champ, Wayne Oberholzer's pain was a shared pain among not only the crew that travelled with him, but all the thousands of people who watched the performance live and supported him through his journey. We know we have the potential to do so much better and we were bitterly disappointed with 29th place. I don't count myself above the fray when it comes to that competitive spirit. I want a South African to win. I want it bad. I want the world to see South Africa how I see it, positively teeming with passion and potential and innovation. The coffee tourism of Cape Town has already attracted international attention, but the respect of a global coffee community? That needs to be forged and the most powerful way we can do that is to send a coffee ambassador all the way to number one.
Have you heard of Matt Perger, James Hoffman, Tim Wendleboe, Colin Harmon, Hidenori Izaki, Gwilym Davies, Sasa Sestic through one of your coffee geek friends? All these baristas have gone on to create platforms that have the power to increase visibility for their personal businesses as well as their country's coffee profile and to influence the supply chain. They are thought leaders and when they speak, the coffee world listens. They almost certainly wouldn't have had this opportunity if they hadn't gained credibility by their achievements on the World Barista Championship stage.
Teija Lublinkof has judged at the South African regionals and nationals for the last two years and she was one of the sensory judges of the finals at this year's World Barista Championship. This was a huge personal achievement for her and a fantastic opportunity for our SA baristas to learn and grow from her experience. She had this to say about the potential in SA
"I don't think Top 12 is that far off for South African baristas. The level of competitions across Africa seem to be improving every year and so is the enthusiasm. It's a combination of understanding rules and regulations, selecting perfect coffee, understanding their coffee from seed to cup and being able to bring that understanding through in the 12 drinks presented. Hard work: practicing, repetition of the routine and getting it perfectly right at the competition."

Experience = Big Match Temperament
All six of the finalists this year were returning for a second or third or fourth crack at the World Title, not counting how many times they would have competed in their country's competitions to even qualify for Worlds. Often the local SA community gets a bit of flack for a lack of new blood in the competitions, but the fact of the matter is, the experience is absolutely necessary. As Berg Wu, the current World Barista Champion says, "Before the WBC 2014 in Rimini, in which I won the 7th place, I though it was the stage that attracted me. But after that, I found that it was actually the atmosphere of the backstage that inspired me so much. So I decided to keep competing so that I could come back to the backstage of the world." That is where the magic really is. The idea sharing is so beneficial for the individual and for the industry. With such experience of a world think tank comes the confidence to know what's expected at the world level.
Mind-blowing Coffee
For the last three years we have had this part of the puzzle almost in place. Purely due to the determination of the baristas. They went above and beyond to source coffees of an exceptional level. The sad truth of the matter is that EVERYONE at Worlds has an exceptional coffee. Do you know what a Top 6 coffee tastes like? Not many South Africans do. We have previously had World Coffee Events certified judges, so the skill is definitely there, but none of those people has judged at a World level in recent years. How do we know where to aim if we don't even know where target is set? Hopefully in the years to come, new judges will get WCE certified so that SA champions know what is expected at a global level.
Mad skills (and tools) to crack the rules
Skills so mad that they don't even have to think once about the technical aspect on stage, so that the focus is firmly on the coffee and the performance.
The evolution of grinders and tamping has had a massive impact on the way a barista moves behind the machine. A technical judge is there to check that your grinding and tamping is consistent and so baristas that have competed previously came up with tools and equipment to lessen this pressure. Scales to make sure the amount of coffee ground is consistent and innovations like the OCD (Ona Coffee Distributor) that evenly distributes the coffee in the basket and the PUSH tamper, which sits on the lip of the basket to avoid any inaccuracy. The baristas use every tool at their disposal to minimize the room for human error (Read: The shakes because it is so flipping nerve-wracking).
Only after the skills are mastered can true innovation begin to happen and SA still needs to reach this point. Ben Put, Canadian Barista Champ, put brewed espressos into a vacuum sealer to manipulate their carbonic acid content and lessen bitterness before serving to the judges. Berg Wu went against espresso convention, which states that the portafilters shouldn't lose too much heat before you begin extraction to purposefully cool them down because of the delicate nature of his coffee.
Team work
Teija points out that "No barista walks to world champs without a team behind them, and many of the top barista's have an expert team of coffee people with expertise in judging, tasting and competing at world level. South Africa has got people like that, it's just a matter of pulling that expertise together to help the champion and it takes humility and the right attitude to ask for the help."
Your mad skills as a barista mean nothing when you don't have a support team with equally mad skills; people who can taste the coffee and guide you in the right direction when your nerves are off the charts because you're about to go on stage. The support team of the top guys is huge! For example Charlotte Malaval French Barista Champion who placed 5th had Hidenori Izaki (WBC winner 2014), Francesco Sanapo (WBC 6th 2013), Amanda Juris (World Cup Tasters Champ 2014) and Roukiat Delrue (WBC Head Judge). Yoh!
Money/Sponsorship
Without financial backing and support, a support team and coffee are not possible. Look at all the WBC Champions in recent history: Taiwan, Australia, Japan, USA. These cats have the exchange rate and first world resources and economies to fund bids to win this Title. The new Speciality Coffee Association Southern Africa board has some exciting things in store for the next couple of years that will both increase their ability to support the SA Champions in all three disciplines by investing in skills and put speciality coffee in the spotlight so that it will become an attractive space for other businesses to pledge their support.
Humility
Perhaps the most important quality that makes a champion. This is the intangible something-something that doesn't have a place on the scoresheet, but scores you points across the board. If the judges like you and your attitude, it is so beneficial. Confidence, but always coupled with humility. Each of the barista champions I spoke to said it was the most important quality along with an eagerness to learn. Lemuel said it best: "When we are able to remove our egos and get out of coffee's way, we enhance the coffee experience."
The current World Barista Champion is a fantastic example of this.
He is a humble and kind person, who always has time to share and is always looking to learn from others and is always attempting to better himself: "I sincerely thought I could do better. But I think that's the meaning of the whole competition. That baristas, producers and all people working in the industry might somehow be driven to the positive way by this competition, by thinking that all of us can do better."