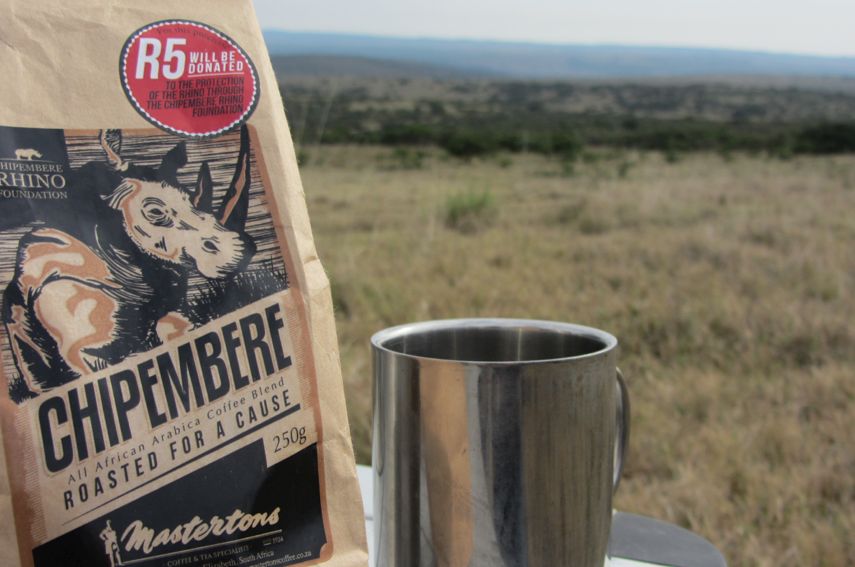 Coffee lovers can now simply indulge in a fine coffee to do their bit for a good cause, thanks to an innovative collaboration between
Mastertons
,
@home
and the
Chipembere Rhino Foundation (CRF)
.
For every 250 grams of Mastertons Chipembere Rhino Blend coffee purchased by coffee-loving rhino supporters - now available in all 128 @home retail stores around South Africa and at their online store - R5 is donated to CRF to aid their rhino conservation efforts.
Rhino poaching levels have reached crisis point, with more than 5,000 rhinos viciously slaughtered in the last 8 years, bringing this iconic species to the point of extinction. "Every South African can contribute to protecting these iconic creatures from such appalling inhumanity - and possible extinction – even by simply indulging in a cup of handcrafted Chipembere coffee," comments Brent Cook, founder of CRF, a local registered non-profit and public benefit organisation established to protect and preserve the diminishing number of rhino in Southern Africa.
"CRF's efforts include providing tangible equipment, intelligence, technology, education and relocation assistance to rhino custodians, providing the courageous anti-poaching teams with the equipment they need on the ground. We also fund tracking and apprehension rhino dogs and focus on collaboration and creating working partnerships with wildlife reserves, likeminded NGOs, as well as local and national businesses that support our efforts," explains Cook.
Among the most successful of these partnerships is the collaboration between CRF, Mastertons Coffee & Tea Specialists, and @home.
"Driven to make a difference to protect our rhinos and inspired by the conservation efforts of the passionate team at CRF, we crafted the Chipembere Rhino Blend - Roasted for a Cause," explains Ryler Masterton of Mastertons Coffee & Tea Specialists, which specialises in roasting, custom blending and supplying speciality coffee. "Sales of our 'Coffee for a Cause' went well, and with R5 from each bag earmarked for CRF, we could contribute a few thousand rand a month to their efforts. Now, with @home taking the lead among national retailers to help protect our rhinos, South Africans across the country can contribute to protecting our national heritage by simply indulging in a fine cup of Chipembere coffee. Since Chipembere Rhino Blend has been available in @home retail stores and on their online store, the funding generated through sales for CRF has increased significantly, boosting CRF's efforts to combat rhino poaching in a meaningful way."
This innovative collaboration has already funded a successful anti-poaching K9 team in the Eastern Cape, at a cost of approximately R100,000, ensuring that Sammy - a live wire German Shepherd who has been specially trained - is now available to assist Eastern Cape rhino reserves to track and apprehend suspected poachers or trespassers, and to provide invaluable assistance on poaching crime scenes. "Trained anti-poaching K9s, like Sammy, are making a huge impact in safeguarding Africa's wildlife, contributing significantly to curbing poaching through early detection and/or apprehension," comments Cook.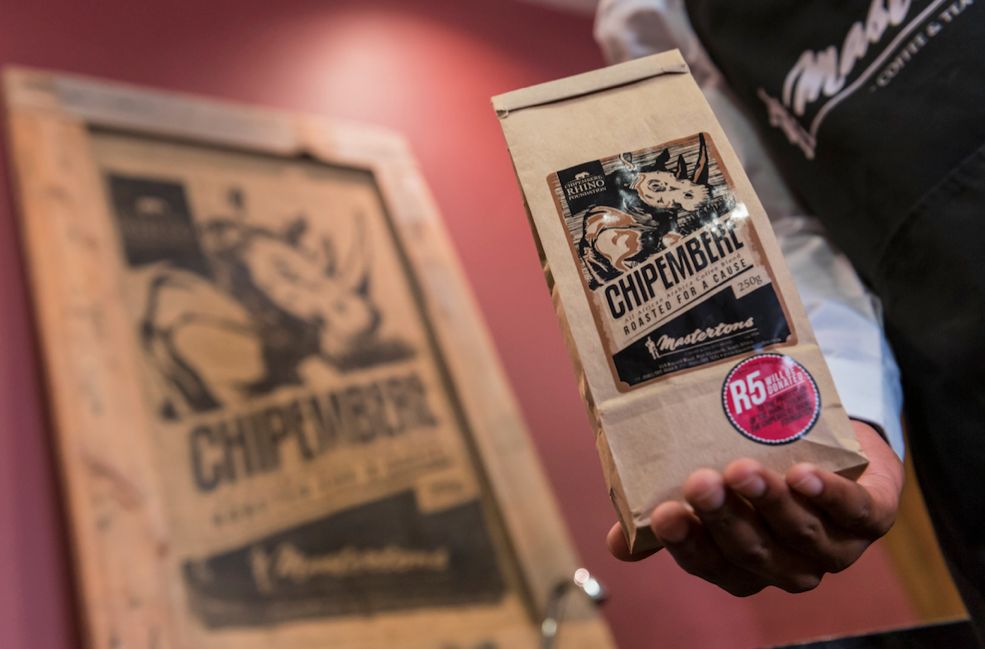 "We are delighted to be part of this wonderful initiative, providing our customers with a handcrafted coffee experience that enhances a beautiful home and lifestyle, coupled with a unique opportunity to contribute to the protection of our rhino, a part of our national heritage we are passionate about," comments Imandi Cayanis from @home, who initiated the partnership with Mastertons and CRF. "We strive to be leaders in the fashion and lifestyle sectors of the African retail industry, sourcing ranges and credible brands from around the world to inspire our customers and to push the boundaries of the retail industry in new and innovative ways. This collaboration reflects our passion for all things beautiful, functional and innovative."
"The support from ordinary, caring South Africans, no matter how small, as well as from local and national businesses, make a massive difference on the ground," concludes Cook. "The unwavering commitment and assistance from supporters and donors such as Mastertons Coffee and Tea Specialists and @home contribute significantly to the safety and security of our rhinos and empower our Anti-Poaching Units dedicated to protecting this iconic species on the front line. With the support of coffee-lovers around South Africa, we can ensure that our children and their children will be able to enjoy the magnificent sight of a rhino roaming wild."
You can join this innovative collaboration by simply enhancing your lifestyle with the top quality handcrafted All African Arabica Chipembere coffee blend, available at @home stores across South Africa and at their online store www.home.co.za.
For more information about Mastertons Chipembere Rhino Blend or for stockists details, please visit www.mastertonscoffee.co.za. We also invite you to visit the Chipembere Rhino Foundation at www.chipembere.org or on Facebook at www.facebook.com/Chipembererhinofoundation.
Chipembere Rhino Foundation: http://chipembere.org/
As an NGO run by volunteers, CRF specialises in continuously sourcing, testing and funding technology for effective monitoring of rhino; funding tracking and apprehension rhino dogs; providing anti-poaching teams with vital equipment; collaborating with wildlife reserves and raising awareness. The exceptional commitment of the CRF team, its volunteers and donors, as well as the public, ensures the Foundation provides tangible equipment, intelligence, technology, education and relocation assistance to rhino custodians across Southern Africa.