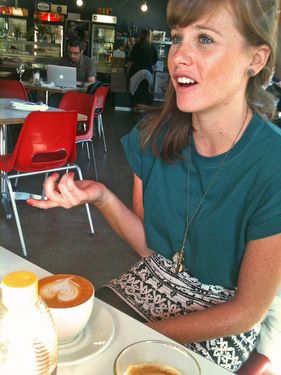 Interview by Megan Pilditch
---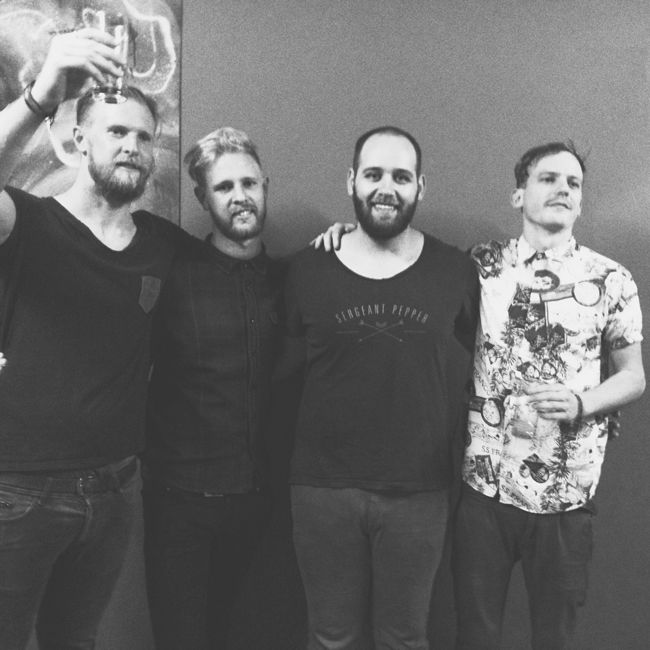 Brad, Josh, H and Jono celebrating after their first gig in Durban from their Yes/No/Grey tour.


Congrats on your new album! What has the response been like to Yes/NO/Grey so far?
We've really been amazed and are so grateful for the support the album has already been shown! I couldn't believe people were singing with us from the beginning, even at the launch shows, we love that, it's the best!

What would you like people to think of you musically, and as people?
Please like us. We're friendly folk." Haha! It's always very interesting to see if what you think you put into a song is what people get out of it. I think we try to put a lot of time and thought into our songs, and we really hope people find them interesting and of substance, musically and lyrically. I think the mark of a great song is one that can make a connection with you, and we're still young and learning but we really hope that on some level these songs can connect with people. Here's holding thumbs.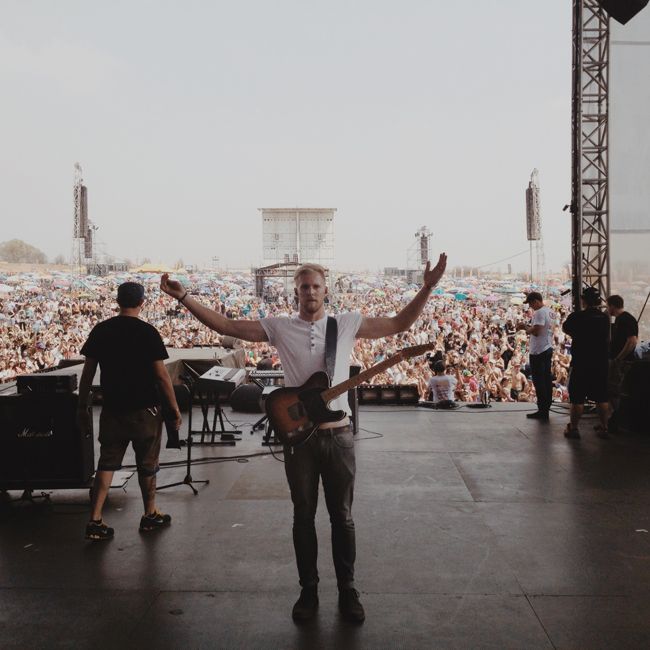 Brad standing in front of quite a crowd at Joburg Day. Apparently people fainted. From the heat of course.

As a band you have quite a unique work schedule, what's the best and worst part about it?
The best part has to be getting to do what we love, and seeing our country and meeting all these awesome people in the process. But it comes at a price, and I think we'd all agree the worst part is being away from our loved ones and families for extended periods of time
.
And where do you do most of your work from?
Well when we're not on the road or rehearsing we're doing admin hahaha! Had no idea being in a band involved an office job. But we have a really cool space in Durban. We do our planning and design and admin at an awesome creative workspace called The Sett (a.k.a. Gangs HQ), they've been generous enough to have us over there…and their coffee is the best!
Tour can be quite tiring at times, what gets you up on those tough mornings?
We should say espresso. You're coffee folk after all. But it's H's alarm. He's the responsible one. Then a stop at Fourno's for croissants and coffee
.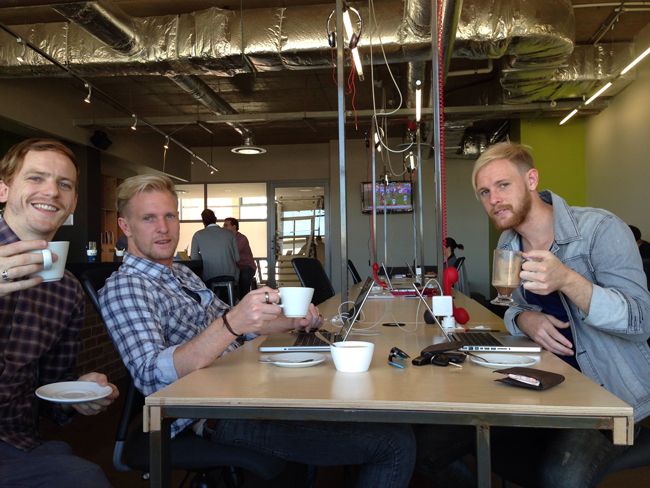 Who's the band member who takes the longest to wake up?
Haha I think we've all overslept! But as far as getting ready goes, Brad. That hair doesn't gel itself. It's art
.
Are any of you secret pranksters on tour?

Nah. We have a good time, but if we started pranking each other it would definitely escalate way to quickly! We're quite competitive. We'd have a national shaving cream shortage on our hands in two days
.
On your travels throughout South Africa you must have come across some cool spots, what's some of the best coffee shops you've discovered?
Well the coffee at 'our office', The Sett, is amazing. And there are actually quite a few new places popping up in Durban, like iwantmycoffee near Gateway and Jacksonville Coffee at the stadium. In Cape Town we spent some time at Clarke's, we mostly had milo (delicious) and cheese burgers (very delicious), but the coffee and vibe were pretty great too.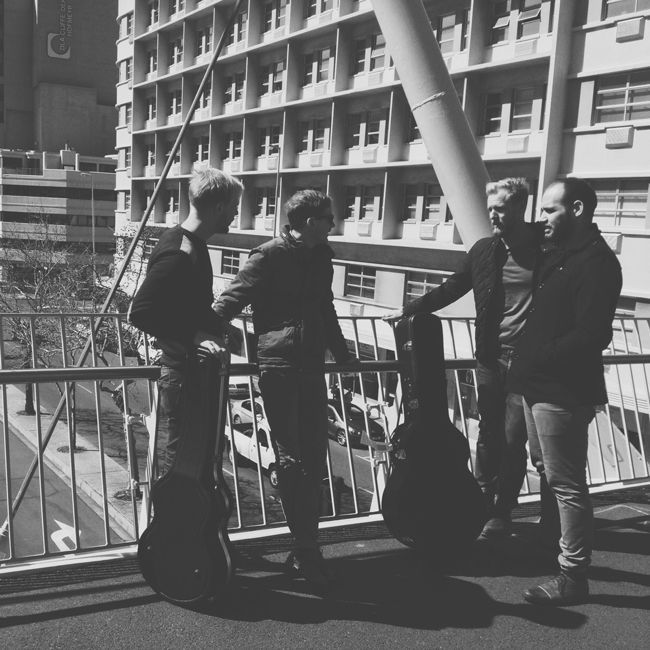 Gangs chilling out in Cape Town.

What's everyone's 'usual'?
Brad – Cappuccino or Flat White
Josh – Café Mocha
H – Cappuccino
Jono – Americano
And lastly, what is the most unexpected thing about being in a band/part of the music scene?
I
t's hard graft! From the outside it looked like a glamorous hobby – if only we knew. I think about 70% of our time is spent behind the scenes running the admin/business end. None of us have much of a clue what we're doing, but we're learning so much so quickly!!! That was a surprise, and we also had no idea how many requests we'd get from people wanting to touch our hair. Apparently it's a thing
.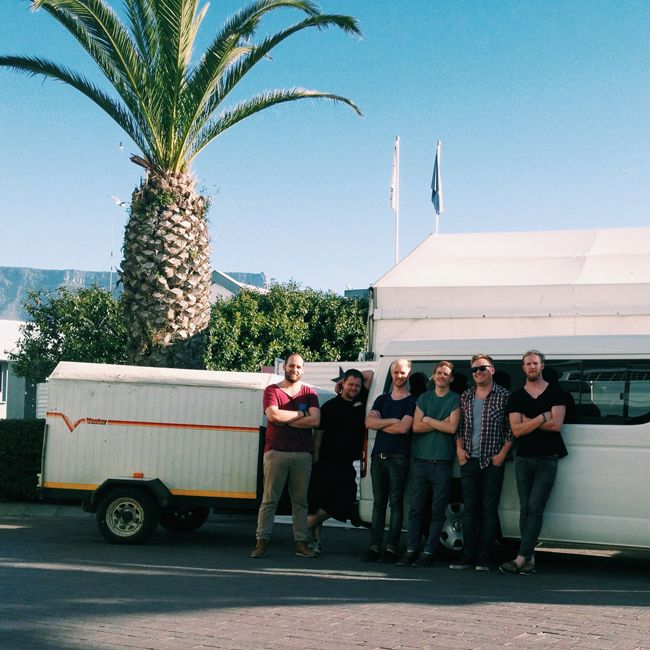 This is what life on the road looks like.