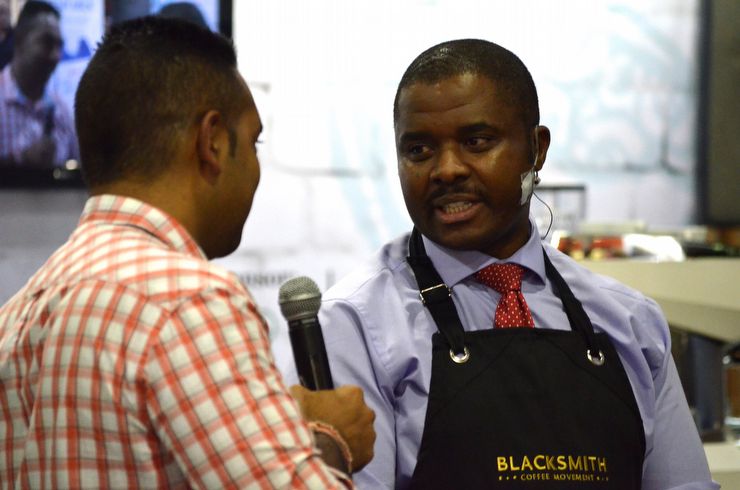 How long have you been in the coffee industry? You have certainly risen through the ranks, we have loved watching you make your mark!
I have been in the coffee industry for 16 years. I started at the Brazilian Coffee group as a Coffee Roaster and then moved on to House of Coffees, where I spent time as a clerk. I was responsible mainly for dispatching and receiving stock, so a very operational role but it taught me about the distribution side of the coffee world. From there, I moved to Wimpy (within the Famous Brands group) as their National Trainer based in JHB. I spent 10 years in this role and I loved working with new coffee enthusiasts across the various functions – from back-of-house to front-of-house training. In 2004, I launched the Wimpy Premium Blend across 200 stores nationally. For this launch, I trained specifically on espresso and espresso equipment, but I also trained on other equipment that baristas and coffee-makers could use. I then moved to Ciro in 2013 to grow more as a trainer as this company had what I needed. Ciro is all about coffee and that is my passion. I am now a National Trainer in this company and I get to work with baristas and waiters across all industries which I find very exciting and I am glad to lend my skills towards. I owe some thanks to those who have helped me along the way and have taught me much of where I started tin this industry: Lani Snyman, from the Ciro Coffee Academy; Donato Bove and Pino Piconi who I worked with at Brazilian; and Roberto Monterege from Ciro, as they taught me about roasting and all the basic skills you need to become a barista.
What is your role at Ciro?
I am currently a barista trainer – training new talent across various industries. I have also recently been appointed as the Brand Ambassador for a new coffee that we have launched, Blacksmith Coffee Movement, so I am very excited to get involved with this project and help promote good things from great coffee blends that we have developed.
Tell us a bit more about the two coffees you used at Regionals?
The first coffee was an 100% Arabica coffee from Machare Estate in Tanzania, one of the highest coffee farms on the slopes of Mount Kilamanjaro. I chose it because it has a good fruity acidity, it is full-bodied and delivers a balanced tasted with a smooth chocolatey aftertaste. It delivers well in espressos, as well as in cappuccinos so these are always great to work with. The second one was an 100% Arabica Mandhellng coffee from Sumatra Gayo Mountain. I found this coffee at Seven Oaks, who supply green coffee, and I roasted all these beans myself. The good thing about Mandheling is that it is also smooth and full-bodied but has a more complex taste (you can find an earthy tone with a sweet chocolate and liquorice combination, all delivered with a herbal aroma). I would definitely use these again!

What do you hope to achieve through these barista competitions?
To be a World Barista Champion! That is my main aim. To be the first World champ from Africa.
What is your favourite thing about competing?
Being with the other baristas and sharing our knowledge, techniques and brewing methods. I love sharing ideas on developing new coffee profiles as you have to work with the coffee and see what is can deliver and discover it's characteristics. You will find that everyone has their own opinion and this is interesting to be a part of. These competitions also help me improve my skill in coffee because you have to be at your best. You also have to be sure that your technical skills are at their best. It is important to have precision in your work and ensure you don't break the rules – I like competing against these challenges.

What advice would you give to aspiring baristas out there?
I have a quote from W. Clement Stone I love, it says "whatever the mind of a man can conceive, it can be achieved." The baristas need to be themselves in the competitions in order to achieve their goals, they also shouldn't be afraid to work and learn from others. From this competition, I trained with other baristas from Nino's and Famous Brands. You can always learn from each other as baristas, it doesn't matter where you work. If you put your mind to it, you can do it!

Inspiring words from an inspiring man! Good Luck at Nationals Johnson!