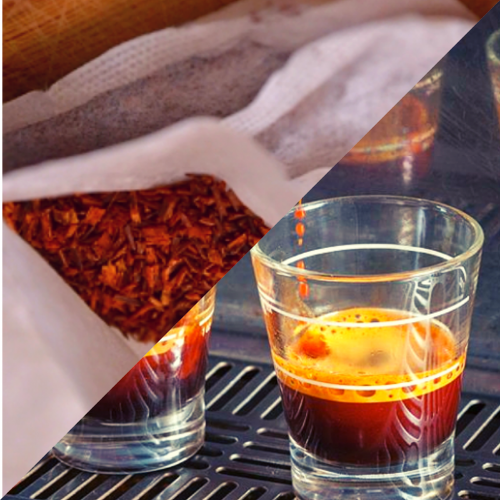 What's the difference?
Ever wondered why the rooibos in your red cappuccino® tastes so much stronger and richer than the rooibos you're used to from a teabag? Here's why…
It all starts with where and how the tea is grown
4 hours north of Cape Town lies the Cederberg Mountains, an ancient place where time stands still, best known for its craggy rock formations that have thrilled rock climbers for decades. It is here where rooibos grows in a 110km radius amongst the fynbos, and nowhere else in the world. This is because rooibos is part of The Cape Floral Kingdom and strictly speaking is a herbal infusion, or tisane, and NOT a tea. If you've ever seen rooibos, it certainly looks like it belongs with fynbos. The bushes have fine needle-like green leaves that, when cut and left to ferment in the sun, turn the reddish-brown colour you are familiar with.
Most rooibos is grown at the foot of the Cederberg Mountains in lower lying regions to make large scale mechanized farming and irrigation an option. But this is not where the red espresso rooibos story begins.
If you continue to travel further up north along dusty dirt roads, you will arrive at the top of the mountain passes and here you will find their tea lands. In this semi-arid isolated area, their tea grows slowly, as nature dictates. Mechanization and irrigation are not possible here and so, with much less rainfall, their rooibos bushes must work harder to survive and therefore grow a lot slower. It is this struggle for survival combined with traditional farming methods that holds the secret to their bolder, richer tasting tea.
After 2 years, their rooibos is hand harvested and then transported back down the treacherous mountain passes to be specially cut to size. It is then laid out on the tea courts, sprayed with fresh mountain water and left to ferment and oxidize overnight to turn from green to rich, dark red.
Carefully cut to meet the specifications of the grind
Once the tea arrives at their factory, it is carefully cut to meet the specifications of their patented grind. This is what ensures maximum flavour extraction from the tea within the optimal time to make the perfect rooibos espresso.
Every batch of the tea is analysed and sensory tests are carried out on final in cup quality.
Everything is done by hand
Hand sewn, hand harvested, hand packed and at last hand crafted into a red cappuccino® by your local café barista for your enjoyment.
An award-winning innovation
It's no wonder this incredible tea has won 6 global awards since launching in 2005. And not only did it win the SCAA Best New Speciality Product Award in 2008, but it was the first tea and also the first South African product to ever win at SCAA! A proudly South African innovation indeed.
Check out this recipe for the low-down on how to make the perfect red cappuccino®.
Discover the Crop to Cup Journey of this special tea here:
You can buy red espresso® rooibos direct from them online.