Words by Anastasia Prikhodko
Originally published in Issue 27 of The Coffee Magazine
---
From consistency to precision and control, the gooseneck kettle has become to a barista what a razor-sharp knife has always been to a chef. Over time, the kettle has essential transformed from a practical and functional tool to a premium product invaluable to a good cup of coffee.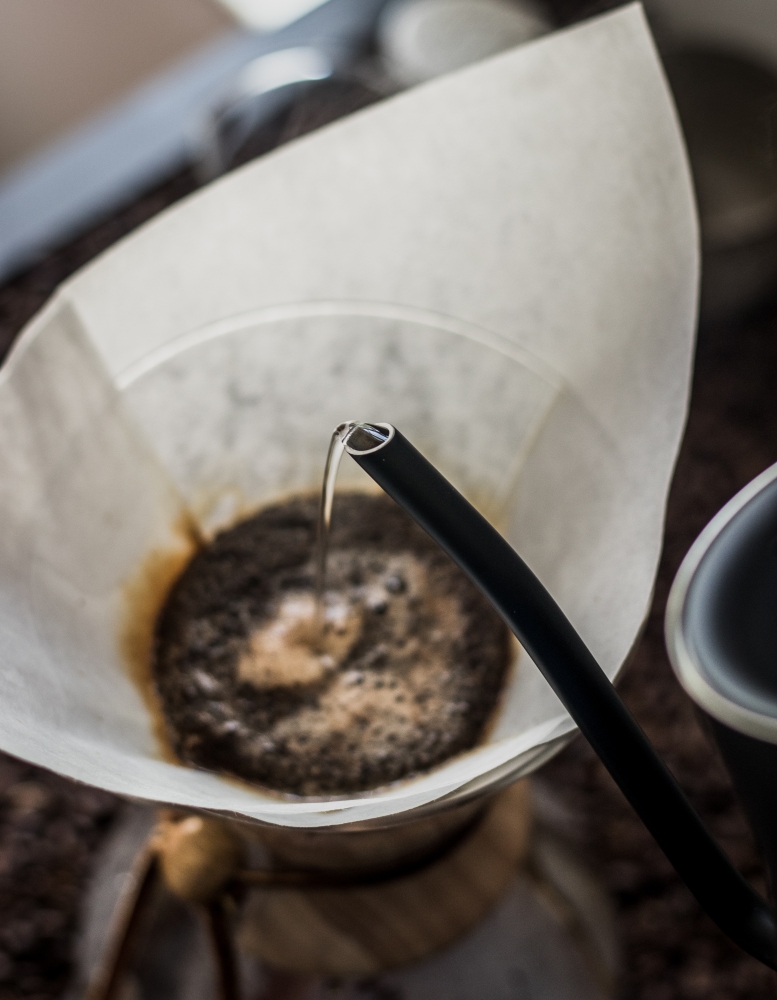 So named for its thin, curved pouring spout, the gooseneck kettle and the ensuing temperature controlled iterations, were born of a desire to control the flow and direction of water when preparing an alternative brewing method such as a pour-over.
The Hario V60 Buono was perhaps the first pour-over coffee kettle you would've seen in action. At the beginning of the pour-over boom, when a group of specialty coffee companies overseas like Intelligentsia started making pour-over coffee a menu staple, the Hario V60 Buono was the top barista tool. The kettle's sweet beehive shape made it easy to love, while its smooth stainless steel body proved durable and reliable over hours of use. The Japanese-based company now makes two different kinds of kettles, one that is a basic stove-top pot (R920) and another that has an electric heater to keep up with demand to be able to control temperature.
"In addition to precision and ultra-control over brewing parameters, consumers are looking for a statement piece," says Hannah Miller, Content Manager at Fellow, a US coffee product design company. "Brewing tools are no longer tucked away in the kitchen cabinet but are left on the counter or café bar as a miniature piece of art," she continues. "We believe that our original Stagg stovetop kettle (R1580), which launched in 2015, was the first kettle that was truly as beautiful as it was functional." Miller says "beautifully functional" has been a pillar for the company since the very beginning.
The gooseneck spout is also vital to coffee extraction, as it allows the water to be delivered methodically over the coffee bed. Miller says Fellow's Stagg stovetop and Stagg EKG have built-in flow restrictors to slow things down and provide more control and precision, ultimately, giving more agency over the extraction rate.
"Also, if you're constantly agitating the coffee with fast-moving water from a kettle, all of the coffee particles are being turned in a whirlpool," she says. "Pour-over is a delicate process and you don't necessarily want to agitate the coffee every single time you pour."
Miller says that products with "a simple on/off switch to heat water to boil" are becoming less acceptable for both home coffee enthusiasts and professionals.
"We designed Stagg EKG because we weren't crazy about the electric pour-over kettles currently on the market and wanted to make a true precision tool," she says. "We set out to make a kettle that packs a professional punch with a world of features like to-the-degree temperature control, an LCD screen, a 60-minute HOLD option, a powerful PID controller, a Fahrenheit/Celsius option, and even a secret video game."
Miller relays the significance of the design of the kettle to that of baking a cake. She says that while all cake batters can be baked at 180°C, and a few will inevitably end up with burnt bottoms and gooey middles, coffee too can be brewed at "about" boiling temperature. But, she continues, "you're cutting yourself short in producing the best tasting cup of coffee".
"The bean, roast, grind size, and brew method all factor into the temperature. Even the age of your bag matters; freshly roasted coffee should be brewed at a higher temp than an older bag of beans," she says. "A kettle that can control temperature to the degree will ultimately produce a better cup of coffee."
The Stagg EKG is Fellow's best-selling kettle. And as far as the company is aware it's "the only electric kettle on the market with a PID controller". This means that Stagg EKG's PID controller heats and maintains water temperature to +/- .3 degrees Celsius. Miller says that's three to four times more accurate than the leading electric pour-over kettle available on the market today.
"This ability to manipulate temperatures with to-the-degree precision to easily control the brewing temperature empowers users to experiment and explore all the varying degrees of extraction for coffee," she says.
Since Fellow started, the company has redesigned its Stagg stovetop kettle to meet with consumer demand. Miller adds that along with adding the fluted tip feature to their Stagg stovetop kettle, the company also expanded its colour line from just matte black and polished steel to polished copper, polished graphite, monochrome stone blue, and matte white.
"We've learned that people like to experiment with different colours for statement pieces in their kitchen and café. People also often requested natural and raw materials, so we partnered with a woodworker in South Dakota to make wooden handles and lid pulls in solid maple and walnut for our stovetop kettle," she says.
Lizé Taljaard, the administrative manager at Royal Roastery in Bloemfontein, South Africa and third place champion at the first Central South African Regional Barista Championships and the South African Aeropress Championships in Cape Town says:
"Good coffee equipment is one of the key factors to extracting great coffee."
However, she adds, "Do research before buying coffee equipment to make sure you know what you want to get out of your cup".
Her go-to drip kettles are the Hario V60 Buono Kettle and Bonavita Variable Temperature Kettle, which she mainly uses for pour-over brew method.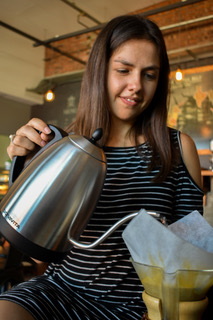 "I like using the Hario V60 Buono Kettle because of how easily it pours," she explains. "It has a comfortable grip and the curve of the gooseneck makes pouring a breeze. You have great control over the pouring and you can use your other hand on top of the lid for more control over the kettle and pour." Additionally the Bonavita is good to use due to its control over water temperature, as it holds the water temperature up to 60-minutes.
"It's also great when you want to make a Chemex for more than four people because of its 1.7 litre capacity," she says.
In terms of a successful pour-over, Taljaard says it is important to have a thin consistent water stream, without the water gushing out from the kettle. And this is precisely what a gooseneck kettle offers.
"You have complete control of your water flow rate. You don't disturb the coffee bed too much and get a more consistent and even extraction," she says.
One of the benefits to using a temperature-controlled kettle is the chance to use "different water temperature with different coffee origins" as some coffee needs to be brewed at higher temperatures than others for sweeter flavour.
"Using temperature controlled kettles helps you keep your desired water temperature till your last pour," she says. "It opens up endless possibilities of how to extract your coffee. You can be daring and try many different temperatures until you find your ultimate cup."
For Brewista, a US company which designs, manufactures and distributes products for the specialty coffee and tea industries, "time, temperature, and turbulence are the three main components to control while brewing".
"The Brewista gooseneck variable temperature kettles (R2750) allow the brewer to have better control over all three," explains Joshua Smith, who works with the company's Sales and Customer Service team.
The rate of flow of water is controlled by the size of the spout and the precision of the spout tip allows the brewer to pour the stream of water in the exact spot over the coffee grounds.
"The temperature control of the kettle allows accurate set temperatures of plus or minus 1 degree Celsius insuring consistency in every brew," he says.
The overall feel of a kettle, depending on its shape, design and weight are elements which defer from person to person. Yanina Ferreyra, the administrative assistant at Project Origin and the 2019 Australian Specialty Coffee Association Australian Brewers Cup Champion says there's not one right design that fits everybody. The spout of the kettle and it's width can considerably change the extraction rate of the coffee.
"Each person is different and that's why it is important to try a few different options to see what works for you," she says adding, "At the end of the day the best option is always what tastes the best."
"Being able to control the variables is one of the ways to achieve consistency," she says. "Creating a delicious recipe is one of the best feelings for a barista, but being able to replicate it is equally important."
Consistency and control along with great customer service and connection makes for an enhanced coffee experience for both the barista and customer. And at the end of the day, says Ferreyra, the best coffees are the ones that are shared.
If you've never tried pouring with a gooseneck kettle, don't attempt it unless you're willing to invest the money to buy one for yourself. It is such a satisfying feeling, that once you go gooseneck, you won't soon go back.