For anyone looking to kick-off their coffee shop, bar service, mobile trailer, wedding solution, restaurant or even just a good old market stall - serving great coffee...look no further than Blacksmith Coffee Movement, from Ciro.
We recently received a really cool box of goodies which highlights some of the things that make it that much easier to get your coffee solution, your staff and your customers looking good and tasting great coffee!
Here's our 5 key take-aways: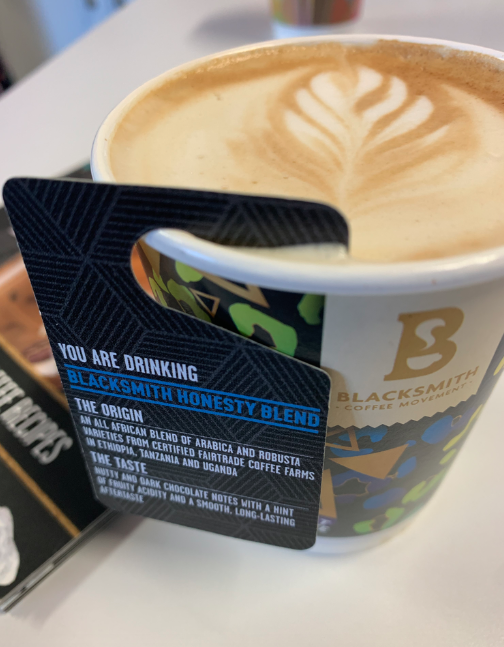 Bold, African-inspired designs across cups, packaging and customer messaging, make for a unified coffee experience.
1. A turn-key café solution
Ciro has long been known as one of the premium coffee solution companies, giving customers an easy entry into the market by offering great start-up coffee packages. This offering, a more artisanal approach using the same model, allows business owners the opportunity to not only just get cracking with their coffee, but to get cracking with an artisanal story, a unified look and feel and lots of info to help the baristas educate themselves and their customers about the coffee and the story behind the coffee.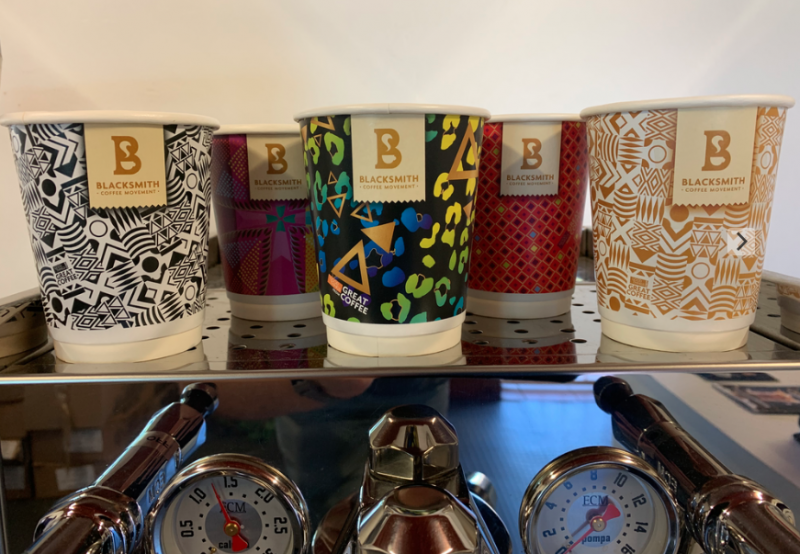 2. Beautiful African theme design
There are 3 blends offered by Blacksmith - giving Cafe owners the chance to select both a narrative and a flavour profile to suit their tastes.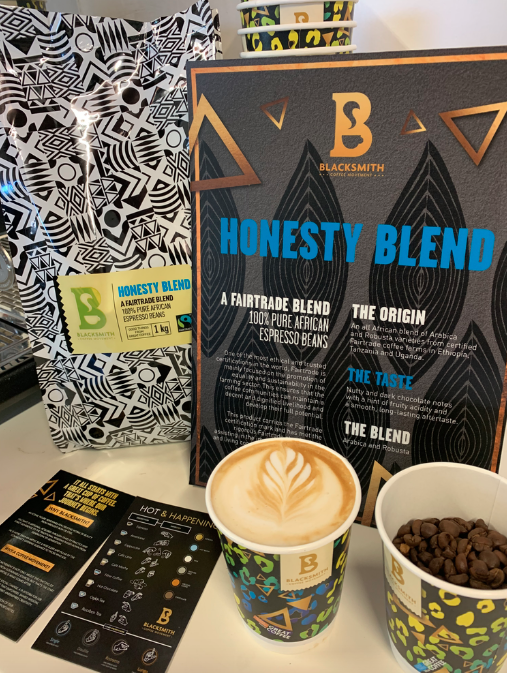 The Honesty Blend - The Fairtrade blend.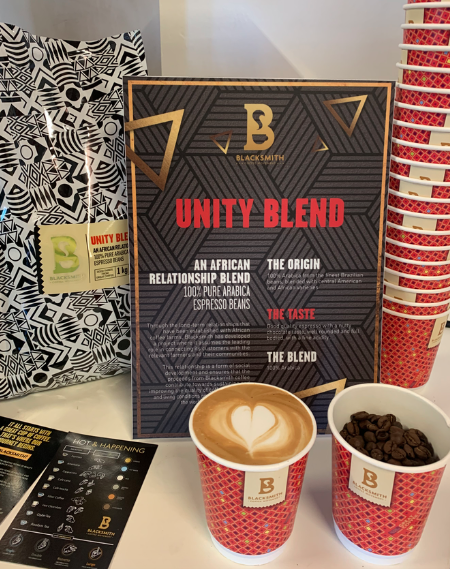 The Unity Blend - An African relationship blend.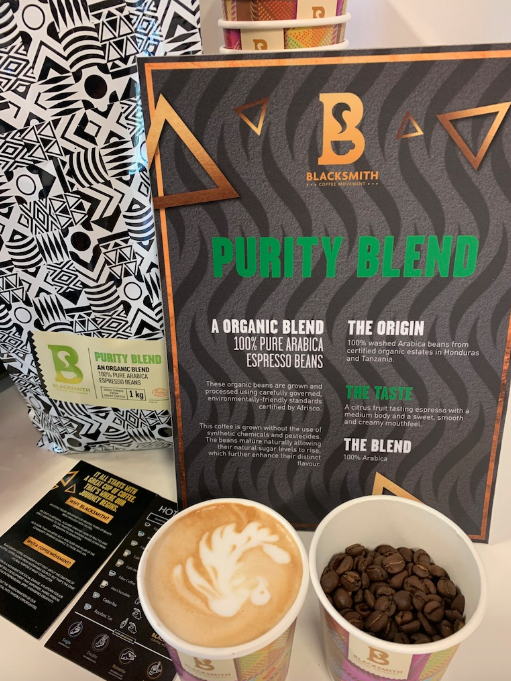 The Purity Blend - An Organic blend.

3. Lots of information collateral
As you can see from the images above, each blend has been well-thought-out and we were really impressed by how the Blacksmith team have made it easy for Cafe Owners and Baristas to understand both the coffee and the narrative behind each coffee to put forward a unified brand message - from cups, to the beautifully designed bags, the info boards that can sit on bar, information tags for each cup and table talker cards that help customers with the beverage recipes and even to order in sign -language!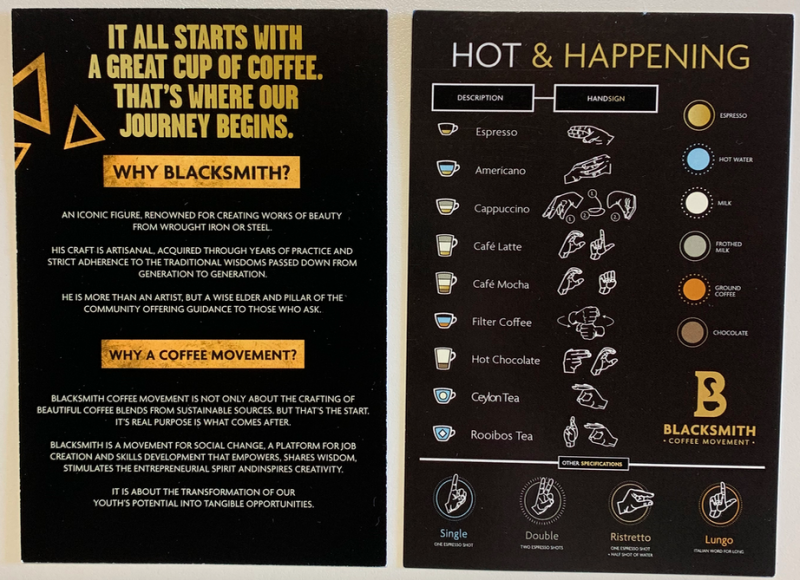 Very useful tools for baristas and customers to understand the coffee narrative behind their coffees!
(And you can learn to order in sign-language!)

4. Grow a coffee tree!
We love this little touch - it speaks not only to the origins of the coffee and the farmers that grow it (which should always be in the forefront of any cafe owner- barista and customers mind!) but also to the environmental neccessity and habit, that is planting trees. Well done Blacksmith!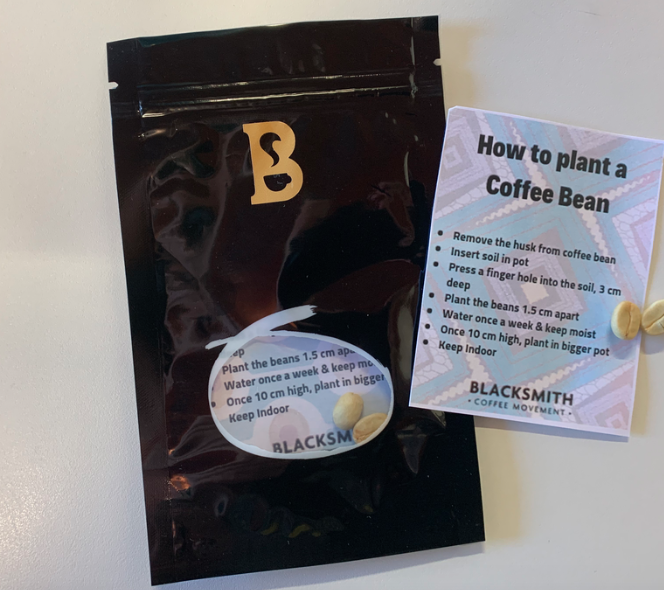 This is such a cool touch - grow your own coffee trees!
5. Baristas in mind - recipe book!
This is one of the best things to come out of the box! Every Cafe owner and barista will be inspired by the recipes inside - and they are not just your standard ones (We've re-created one of our favourites below) but also focus on iced coffee and coffee cocktails, should you have a liquor license. Very smart and beautifully produced!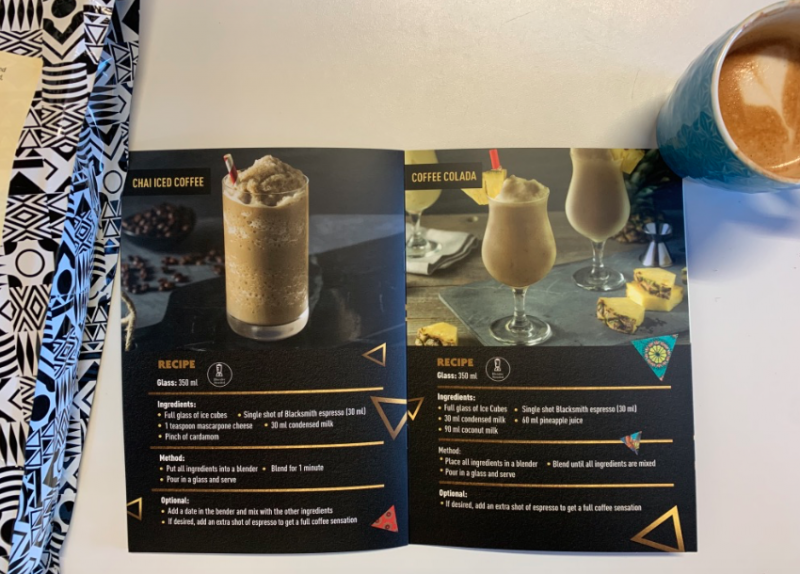 Our favourite recipe: