It has been a long time coming, but it's finally here!
Hostex 2022 is Africa's Food, Drink and Hospitality expo and is one of the key coffee industry events on the calendar.
If you want to be part of it, you can register here for free!
The venue is the Sandton Exhibition Centre, and the doors open from 9.30am - 4.30pm, from Sunday 26th June - Tuesday 28th June.
SCASA are holding the National Coffee Competition Semi Finals, so be sure to come and support all of your favourite Cup Tasters, Latte Artists and Baristas in their various disciplines.
You will also encounter the latest and greatest in Coffee Machine technology, new beverage innovation, product developments for cafes and cafe menus as well as get to meet some of the best coffee roasters, industry personalities and coffee professionals from all over SA!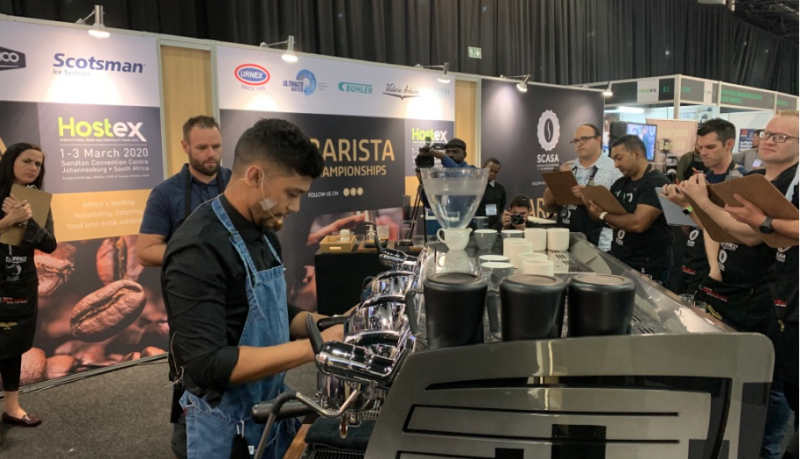 Winston Thomas, three times national barista champion, pulls 4 espressos, prepares 4 milk-based beverages and creates 4 signature beverages for the judges, all within 15 minutes!
Coffee Competitions and Community make a comeback at HOSTEX 2022
Featuring SCASA Coffee Competitions, the most innovative and cutting edge coffee brands, equipment suppliers , trends and coffee personalities, Hostex brings them all together under one roof for three amazing days of coffee discovery!
The Semi Finals of the National Barista Championship will see a jam-packed competition schedule, the first that SCASA has been able to host since the last Hostex in March 2020, where three SA Champs were crowned. These Champions are yet to represent us on the world stage, with Winston Thomas (Barista Champion) heading to represent South Africa in Melbourne in September and Jeff Stopforth (Latte Art) heading to Milan this week at World of Coffee. Wency Masawi, Cup Tasters Champion, is unfortunately not able to travel to Milan.
The competitions will be a little different this year, as SCASA has invited all five competing regions to take part in a mammoth Coffee Competition Regionals. The Finals will be held later on this year.
Besides showcasing the best coffee professionals from around the country who will be battling each other for the titles in Latte Art, Cup Tasters and Barista competition categories, the SCASA stage will be a vital access point for visitors to learn more about Speciality Coffee in South Africa.
Coffee is the second most traded commodity in the world and is one of the fastest trending food sub-cultures in South Africa, playing an increasingly vital role in Hospitality, Catering and Food Industries.
When it comes to innovation, all of the major coffee brands exhibit their latest products, services and coffee offerings which you can tap into to improve your coffee business. The latest global coffee trends will be on display, you'll get the chance to meet the leading personalities in coffee and maybe even take a guided coffee tour through the Halls to gain some impressive insights and inside knowledge.
Meet like-minded coffee owners, baristas, roasters, green coffee suppliers, coffee farmers and beverage innovators! And that's just on the coffee side of things… there is so much to explore at Hostex. Don't miss out!
If coffee is a part of your business, then make sure you book a spot at Hostex 2022.
For further information or to book your stand go to www.hostex.co.za