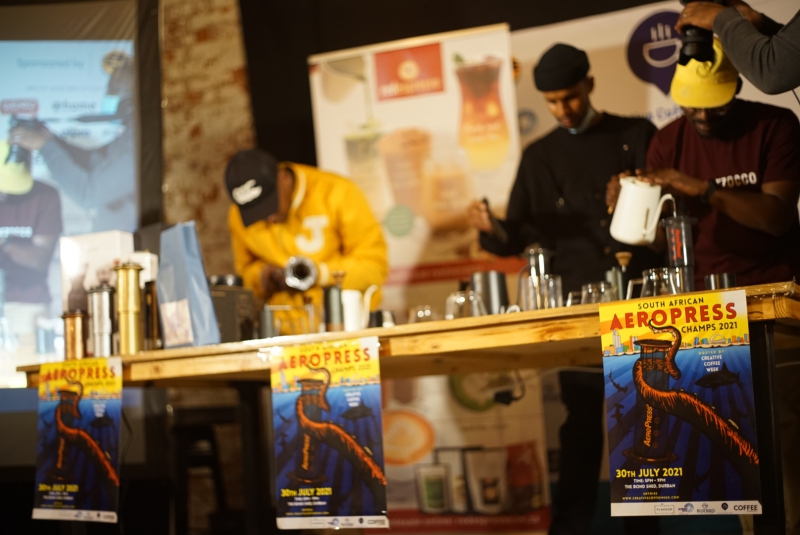 SA Aeropress Finals 2021, The Bondshed, Durban.
The SA AeroPress Championship Finals boiled down to a thrilling finale at Creative Coffee Week on Friday night. The weather had been dramatic all week and after a monkey's wedding and while the wind continued to rage outside, inside was all a whirlwind of action!
Like the rest of Creative Coffee Week, it was a part in-person, part hybrid format, with 3 of the 9 Finalists using surrogate baristas to execute their recipes using the incredible coffee supplied by Bluebird Coffee Roastery. See the best representation of how this coffee made contestants feel from the glorious Nolwazi Lekuba, here.
In the end it was Brandon Smith, from Bloemfontein, represented by surrogate barista Chad Whitby who took the title in a hotly contested final.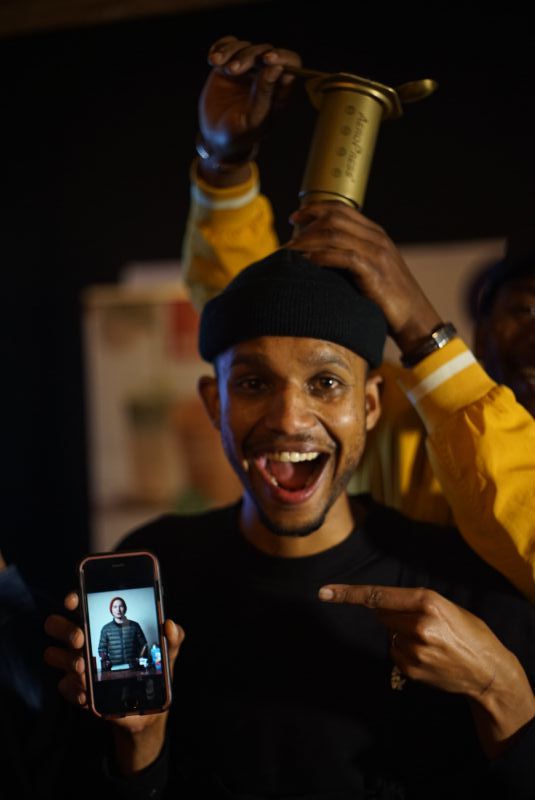 The Winner! Brandon Smith (pictured on the phone) with surrogate barista, Chad Whitby.
In typical AeroPress Finals fashion, it was a festive atmosphere - the culmination of a very successful CCW and the chance for coffee competitors and supporters to celebrate coffee events again! The sponsored cases of Castle Double Malt Lager, probably had a role to play (wink wink)!
It was tough work for the judges, Dave Coleman, Mike MacDonald and Alessandro Morrico to point to their favourite cup in a straight knock-out format, seeing just one cup advance per round to the Finals. So we had a semi-finals which eliminated six of the nine in the field, leaving Romeo Chimunye, Alex Torborg (represented by Minenhle Sibisi) and Brandon Smith (represented by Chad Whitby).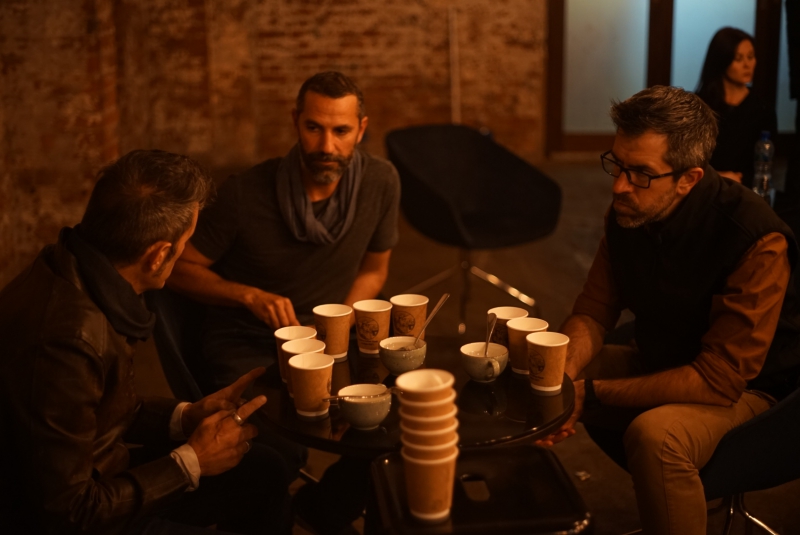 The Judges (L-R): Alessandro, Dave and Mike, getting ready to point to the winning cup!
While they gathered their wits for the Final Round, Red Espresso ran a highly charged and very festive "Something Different in your Cup" competition, with the best Red Espresso made through an AeroPress in 3 minutes. Names were drawn out of an AeroPress to see This was won by Craig Charity!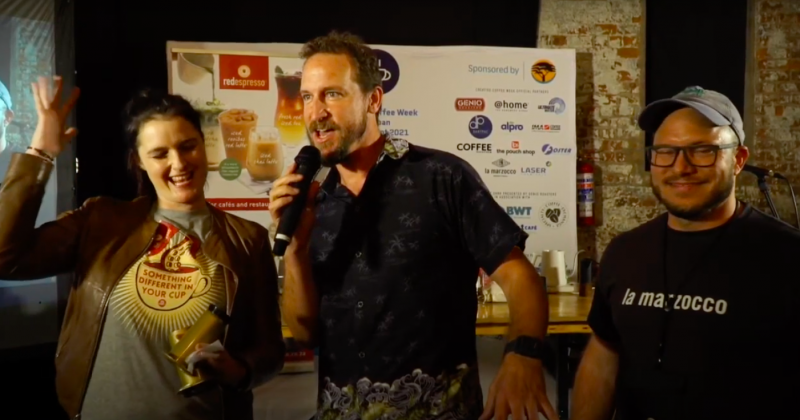 Kirtsy (Red Espresso), Iain (Coffee Mag) and Craig Charity (Lineage Coffee) in the "Something different in your cup" flash-round competition.
The recipes of local Durban coffee fanatic, Alex Torborg, Brandon Smith from Bloem (who picked up the spot prize in Round one for best video) against past SA AeroPress Champ Romeo Chimunye from Tribe Coffee (Cape Town) took the stage for the Final.
Then it was all down to the judges until the moment below. You can hear how crazy the crowd went!!!
Congratulations to everyone who competed. Final Results and Prizes:
WINNER: Brandon Smith
The Golden AeroPress! An entry into the WAC, MoreFlavour Hamper including products from Timemore, Wacaco and Baratza worth R10 000!
2nd: Romeo Chimunye, Tribe Coffee Roasting
The Silver AeroPress, MoreFlavour Hamper worth R4000
3rd: Alex Torborg, Home Brewer
The Bronze AeroPress, MoreFlavour Hamper worth R4000
Thank you to the amazing sponsors that made this possible!