"Coffee people are lekker people!"
And that folks, is the spirit of this competition in a nutshell! Dave Coleman, of MoreFlavour distributors of the AeroPress, was speaking about how the surrogate baristas and judges and organisers came together in a brave new world of World AeroPress Champs procedure at the wonderful Origin Coffee Roasting training facility in Cape Town's CBD.
The AeroPress is, as Winston Thomas, judge, former SA AeroPress Champ representing us in Dublin noted, an extremely versatile brewing device and the recipes supplied by our 45 competitors from all across the country, made for some very interesting variants of flavours from the coffee sponsored by Bluebird Coffee Roasters.
Even though we had to send SA AeroPress Champs kits all over the country, Ultimate Water made sure that everyone got the same competition grade water to brew with.
And then for something completely different in your cup, the team from Red Espresso gifted our competitors with a bag of the good rooibos stuff each to experiment with and the Top Nine will go head to head on Finals Day to win the #SomethingDifferentinYourCup Challenge.
And when is Finals Day you ask? 17 September 2021 at Creative Coffee Week.
But we're getting ahead of ourselves, first to the announcements...
Also please note the audio is muffled for the first 20 seconds or so, we're not gonna lie to you, there was a blob of prestick covering the microphone, Instagram Live broadcasts are always eventful ;)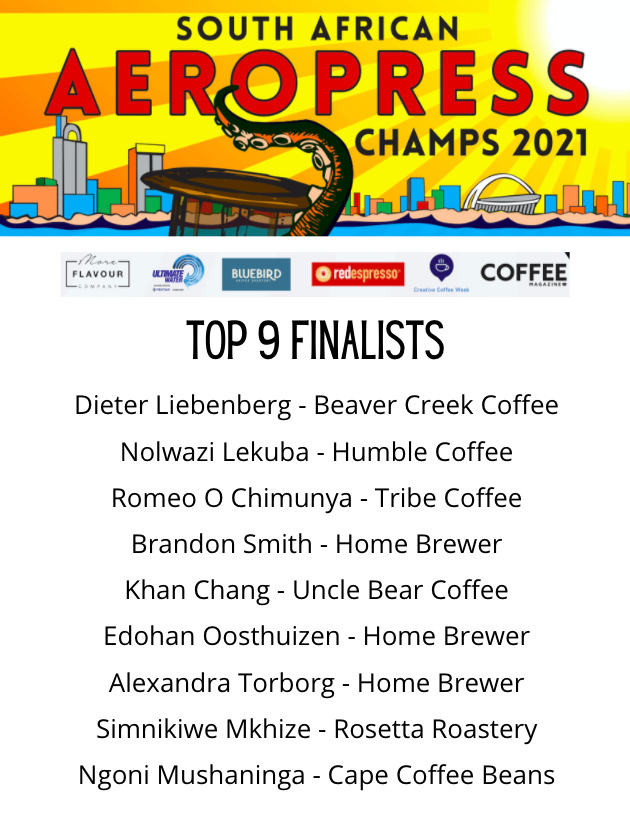 Well done to Spot Prize and Lucky Draw winners, and thanks to the Sponsors for these amazing prizes!
#SomethingDifferentinyourCup Red Espresso Viewer Prize (1kg Red Espresso and an AeroPress!):
Jackie Zhang
Ultimate Water Favourite Video (Home Water Filtration set up worth R3000)
Brandon Smith
Creative Coffee Week Lucky Draw:
Full Event Pass Winner: Ngoni Mushaninga
Event Kit: Ben Philpott
Lucky Draw Winners (WAC Book and MoreFlavour Goodies):
JP Blignaut - Millwicks Cafe & Fanie Botes - Bluebird Coffee
Most viewed video (also winning the above):
Stevo Kuhn https://www.instagram.com/p/CROzvF1Fm4O/
Top Nine Video Recipes:
| | |
| --- | --- |
| Brandon Smith | |
| Alexandra Torborg | |
| Romeo O Chimunya. | |
| | |
| --- | --- |
| Edohan (Eddy) Oosthuizen | |
| Dieter Liebenberg | |
| Nolwazi Lekuba-Sibiya | |