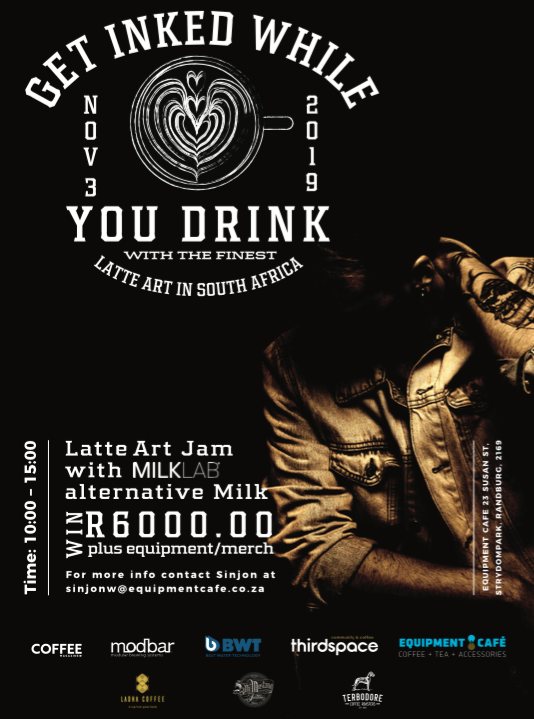 On Sunday the 3rd of November Equipment Cafe will be celebrating the sub-culture of body art within the coffee industry, and the freedom of expression that this beautiful industry allows us. We can't wait, it's going to be so much fun!

One of the most highly regarded tattoo studios in the country, Sally Mustang Tattoos will be inking up coffee professionals with designs inspired by coffee culture

They'll also be hosting a Latte Art Throwdown in conjunction with the inimitable Wayne Burrows from MilkLab and outrageously good coffee from Seam Coffee and the chaps from Thirdspace.
Baristas will compete on the beautiful Modbar to win their share of R6000 in cash prizes, merchandise and coffee.

Terbodore will be keeping us cool and caffeinated with their incredible cold brew tonic.

Ladha Coffee Baristas will be slinging espressos throughout the day.

We'll also have food provided by The Filthy Moustache

Crazy Delter Coffee Press specials on the day!

Where: Equipment Café - 23 Susan Street, Strijdom Park
When: Sunday 3rd November (10:00 - 15:00)

For any further information email Sinjonw@equipmentcafe.co.za
We'd love you guys to be involved if you can, it's something that we're really excited about and should be a lot of fun.