The 4th Annual Coffee Magazine Awards was held on Saturday night at a glitzy event in Sandton, Johannesburg, 4th December 2021.

The who's who of the Coffee Industry turned out in their finery, looking extremely glamorous at the formal celebration for the coveted awards. It rained! It was the beginning of the fourth wave. But people came, they brought their masks, they ate, they drank, they danced, they celebrated!
We are so incredibly grateful to all the amazing sponsors of this event and so happy that we got to celebrate with everyone!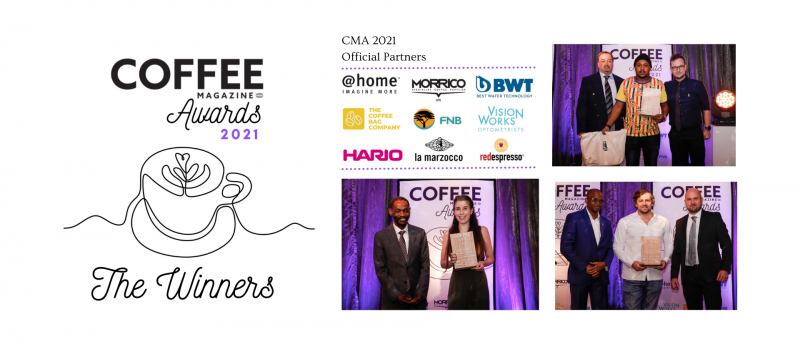 There were over 70 nominees in 18 categories, but as Mel, Editor-in-Chief, of Coffee magazine kept reminding us, "There can be only one!"
All images by Pierre van Vuuren for The Coffee Magazine

This year the top honours went to:
Best Cafe Design: The Barn Owl
Presented by Kayla Jooste of Visionworks Optometrists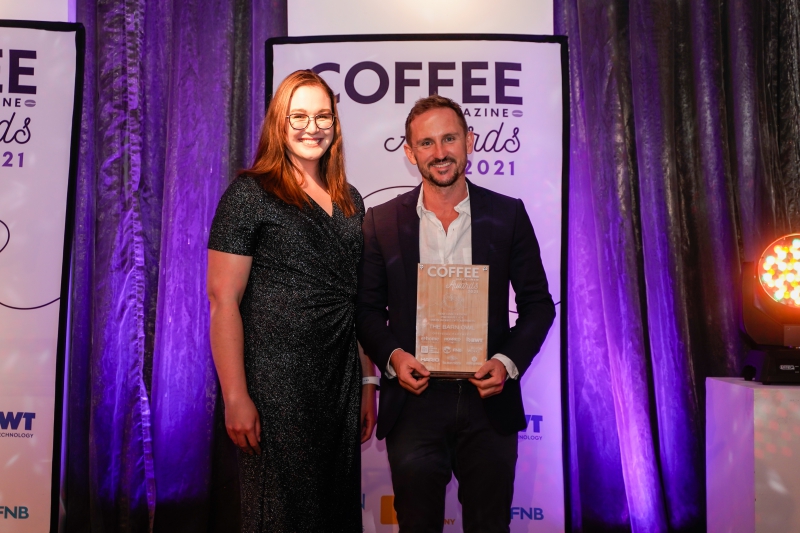 Of course the setting of this gorgeous cafe is already enough to make you breathe a little easier, nestled in the hills of the Kwa-Zulu Natal Midlands. Lovingly built from the ground up by Ryan Soloman, this space has really come into its own and is truly a cafe to remember. From walking up to the wrought-iron framed building to the soft, light wood, touches of green and comforting cream tones that await inside, to popping outside to the sun-soaked verandah with comfy couches and a view of the valley, you won't ever want to leave. Not to mention the fact that you can also get a fabulous coffee and world-class food while you take in this beautiful cafe.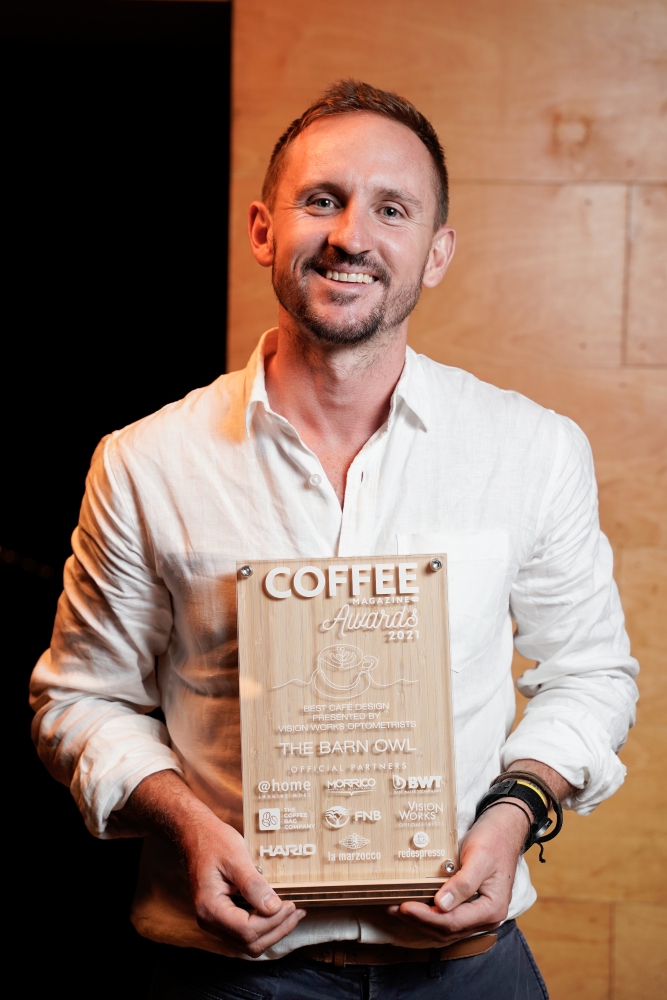 Ryan Solomon of The Barn Owl
Dedication to Education: Abby Berman
Presented by Tracey Boreham of Ciro Coffee Academy, accepted by Pete Howie on behalf of Abby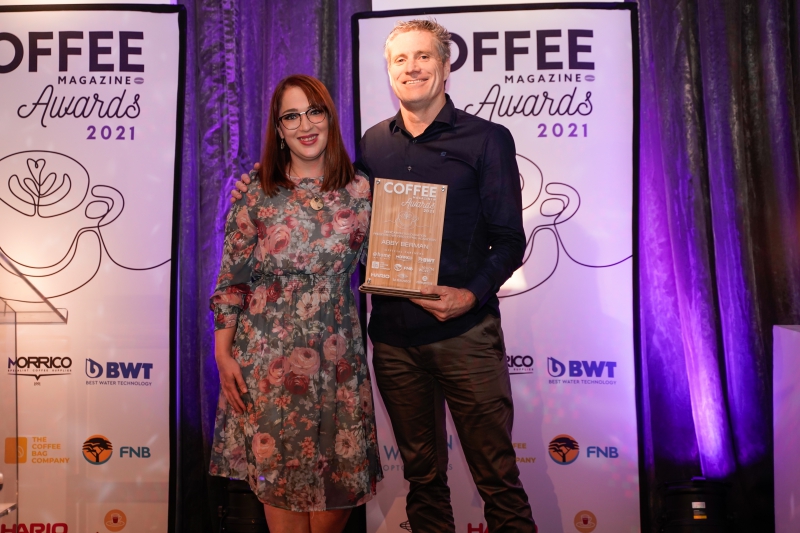 Abby has had an interesting road in coffee. From putting herself up to be a fellow at an international coffee conference and maintaining contact with international coffee professionals, it is on the academic side that she continues to investigate the issues in the value chain in hopes of making improvements in the industry. With her current role at Union Hand Roasted, head of quality for the roastery that roasts for Seattle Coffee Company, she has had the opportunity to share the knowledge she has gained with a broader spectrum of people.
Excellence in Coffee: Chad Goddard
Presented by Alessandro Morrico of Morrico Specialist Coffee Supplies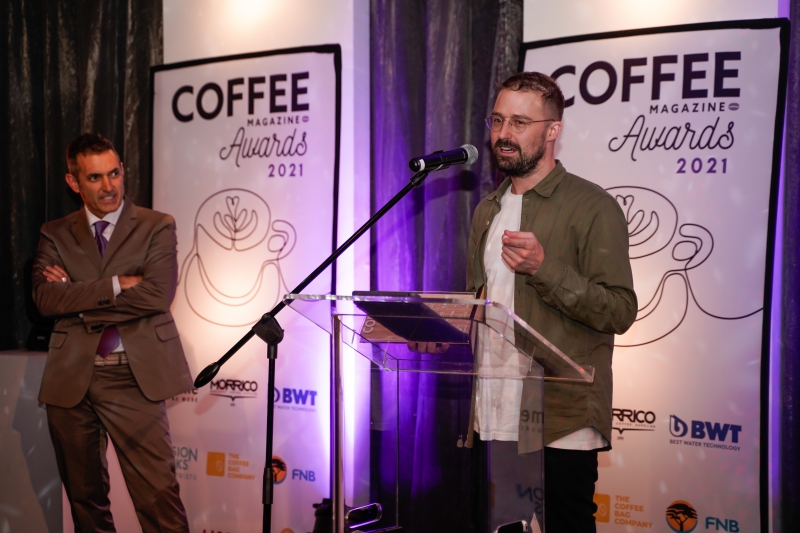 Chad is an unassuming kind of guy when you first meet him. Introverted. Bespectacled. Then you may start to talk to him about coffee. Or bread. Or Swedish Buns. And then he will blow your socks off with the amount of knowledge he has gained over the years. But we digress, this an award about Excellence in Coffee and Chad has proved again and again that he's always going to keep striving for excellence. The coffee protocols might appear pedantic to most, but consistency is an important part of excellence and with each coffee (in the impressive and lengthy line-up of coffees Father Coffee stocks) they cup and ascertain the best brewing ratios for each method. The team keeps pushing and in their new location, they've had to increase their outputs exponentially and have done so successfully, however little sleep it means in the process.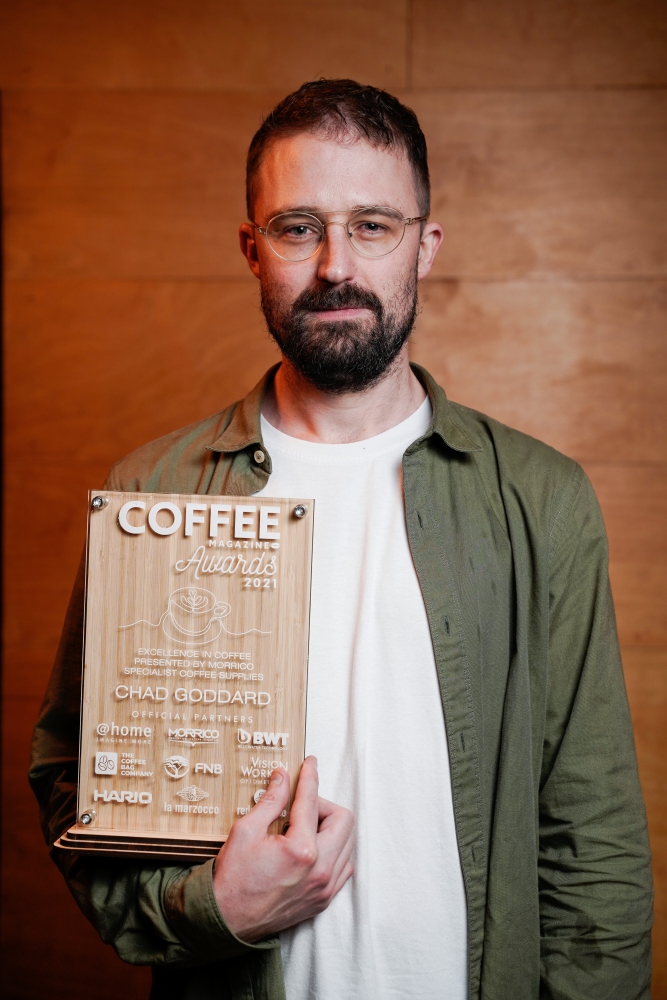 New Category: Outstanding Woman in Coffee - Carol Corlett
Presented by Kayla Jooste of Vision Works Optometrists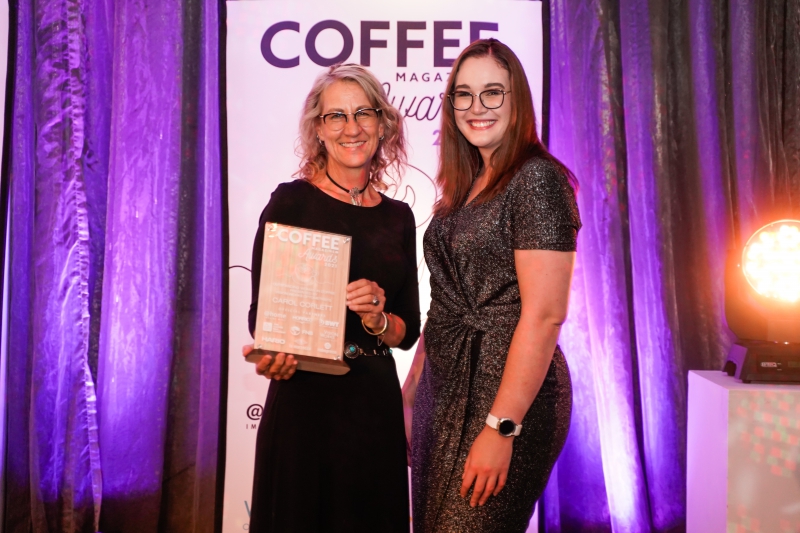 It seems fitting that for the inaugural year of this category, the winner is the woman with some of the most experience in this male-dominated industry. A leader long before most of the women on this list had even thought about getting into this business. Carol, the co-founder and current head of Sevenoaks Trading, has been breaking through ceilings from the very first moment she decided coffee was her calling and she has bravely adventured through the business world and life, while retaining all of her femininity and bringing emotion and joy to what could be seen as a cutthroat environment of numbers and logistics. The community is obviously in awe of you Carol, congratulations!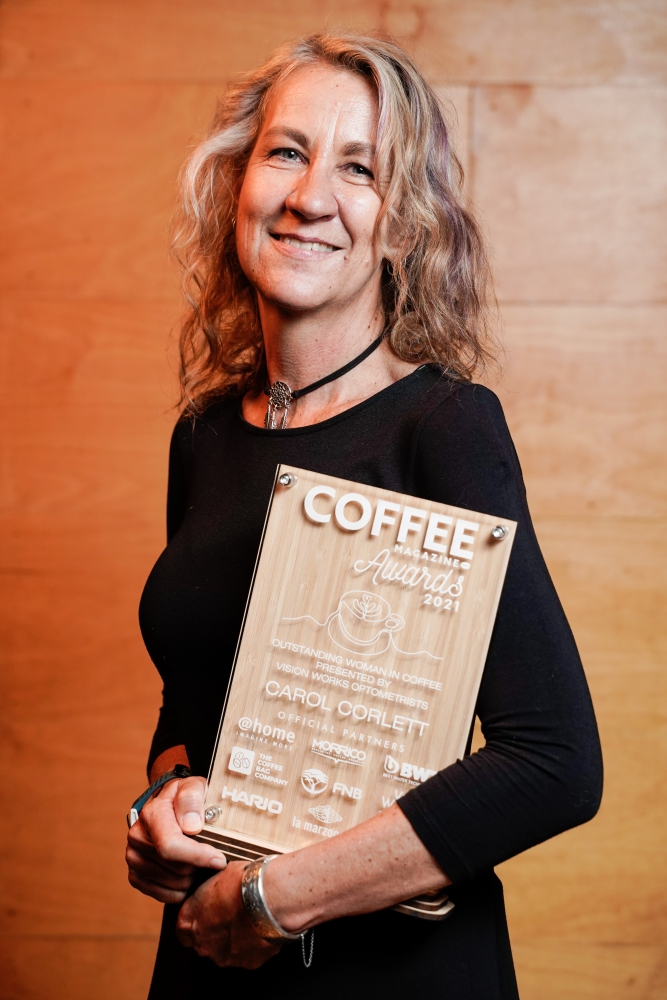 New Category: Best Coffee Packaging - Seam Coffee
Presented by Roy Faurie and Ishan Natalie of The Coffee Bag Company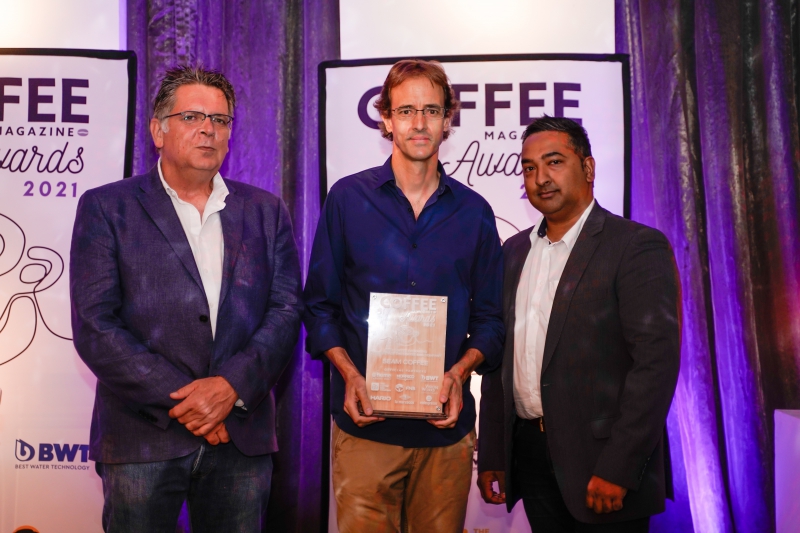 When researching the companies in the running for this award, we were very impressed by the level of care that is being in how they present their coffees to the world. The winner of the majority of the votes was the innovative and recyclable coffee cartons from Seam Coffee. They worked with local manufacturers to keep the carbon footprint low and they looked further afield to make sure that the cap and one way valve were also fully recyclable. It is touted as a world first and coffee in a carton has certainly made an impact here as an interesting and sustainable coffee packaging solution.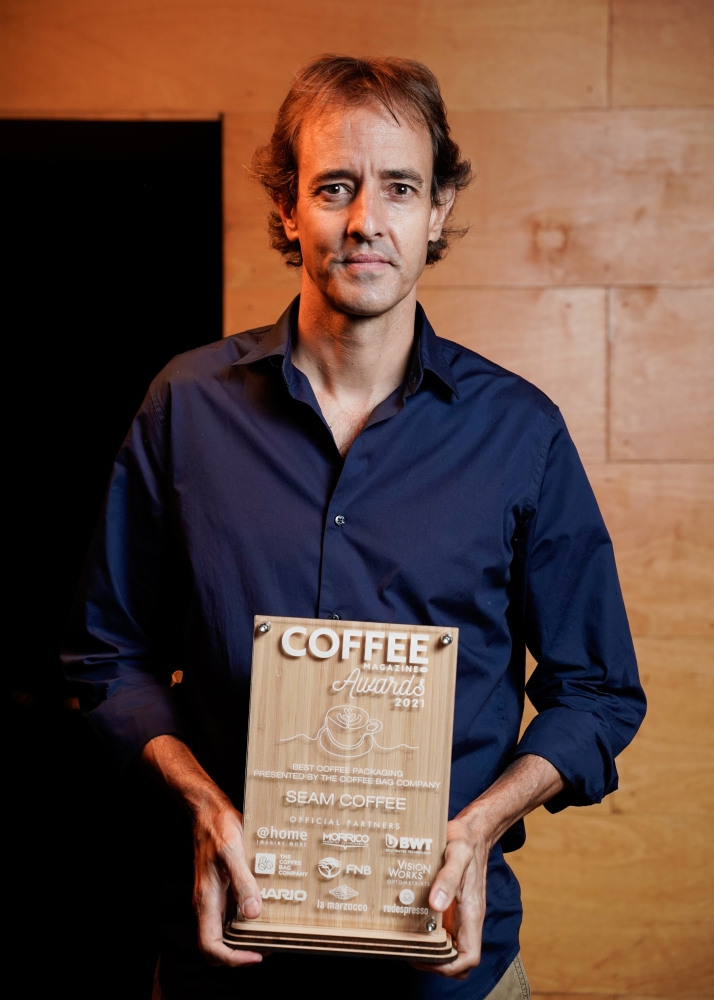 David Walstra accepts the Award for Seam Coffee
Barista Trainer of the Year: Stevo Kühn
Presented by Gary Corin and Charlene Hefer of HOSTEX 2022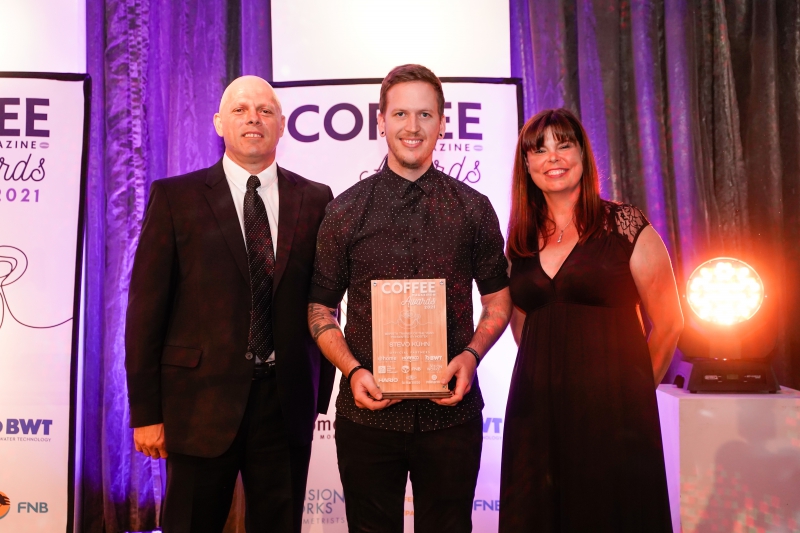 It's been a crazy year for this young coffee professional. He moved his flagship cafe, Urban Brew, not once, but twice. He had the opportunity to represent South Africa on coffee's biggest stage at the World Barista Championships. But through all the excitement and turmoil, his passion for training remained steadfast and all the experience he has gained is channeled right back into the training that he does across the country for both the industry and the aspiring home baristas. He wins this award for a second year running.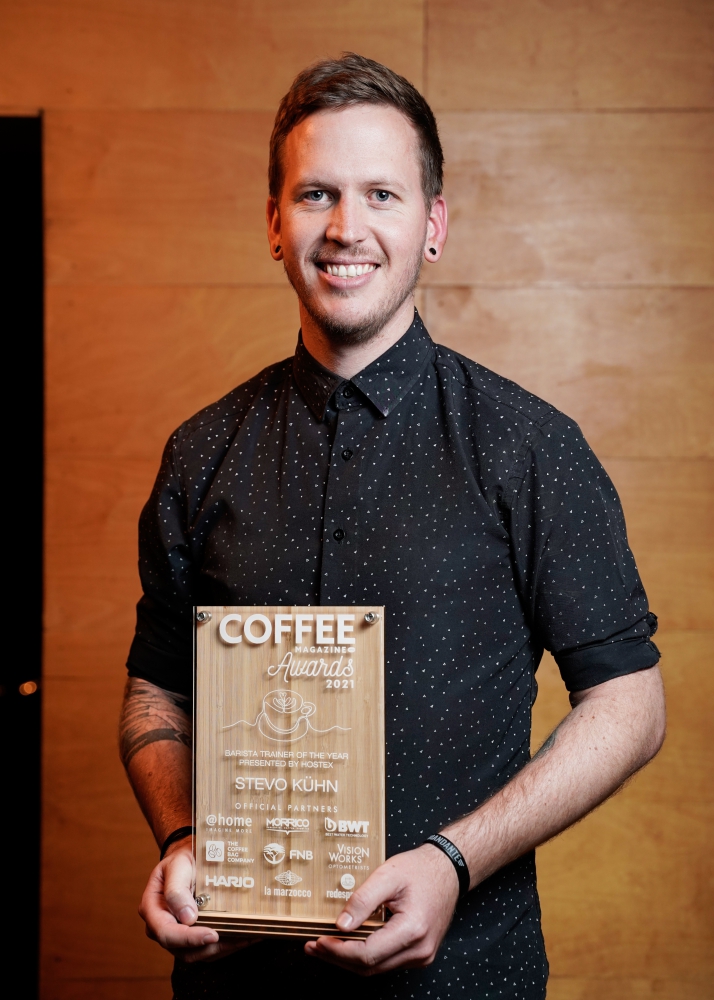 New Category: Best Health Cafe - Lexi's Eatery
Presented by Red Espresso, accepted on behalf of Lexi by Barry Weedon of Father Coffee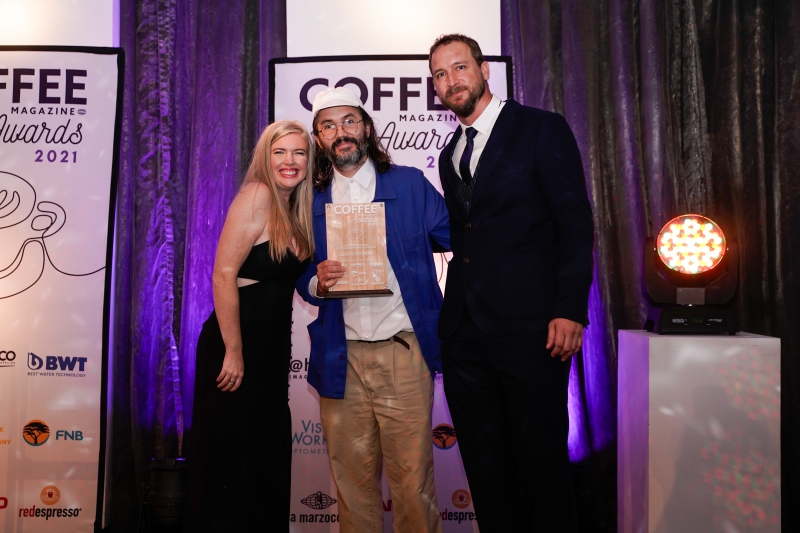 The last two years have been a necessary reminder that looking after our health is top priority and looking after our planet is equally as important. Lexi Monzeglio and her team at Lexi's Eatery (all five locations) make that so much easier with a focus on healthy eating and drinking that uses sustainable produce and is also incredibly delicious. From a selection of Super Lattes served with almond milk (and you have request dairy instead of the other way around), to the almost entirely plant-based menu, Lexi's makes healthy and sustainable fun and rewarding.

Emerging Entrepreneur of the Year: Thando Coffee Company
Presented by Selvan Govender by FNB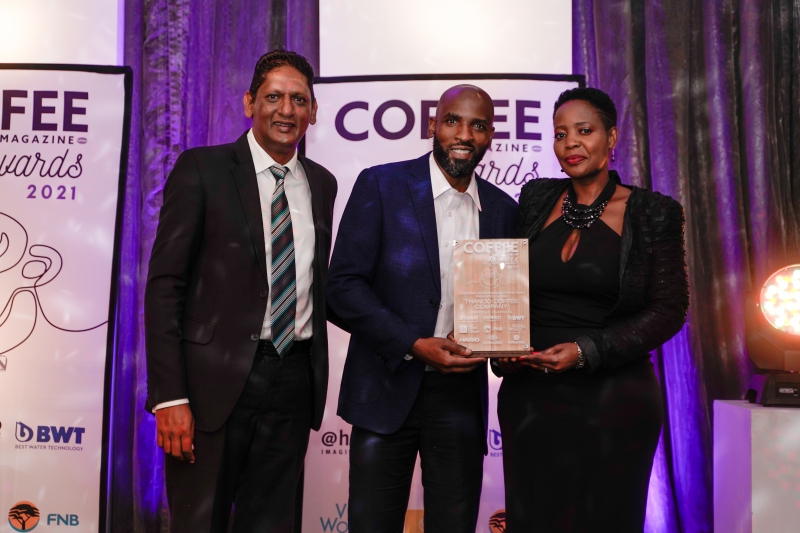 We have been very lucky to witness a few years of Khulekani Mpala's journey which spans well over a decade. With Thando Coffee Company, started in his wonderful partner's salon during lockdown, Khulekani is finding his true place in the South African coffee landscape, as a business owner. He is an inspiration and a testament to perseverance. Thando is going from strength to strength and we look forward to seeing how this business grows in coming years.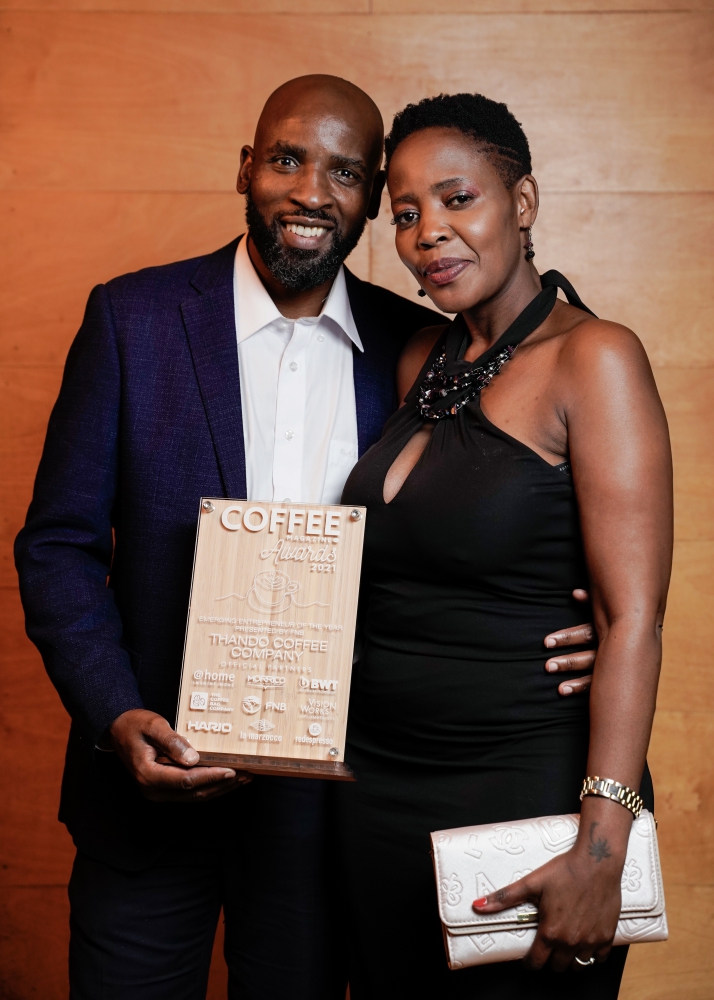 Best New Cafe: Home of the Bean
Presented by Red Espresso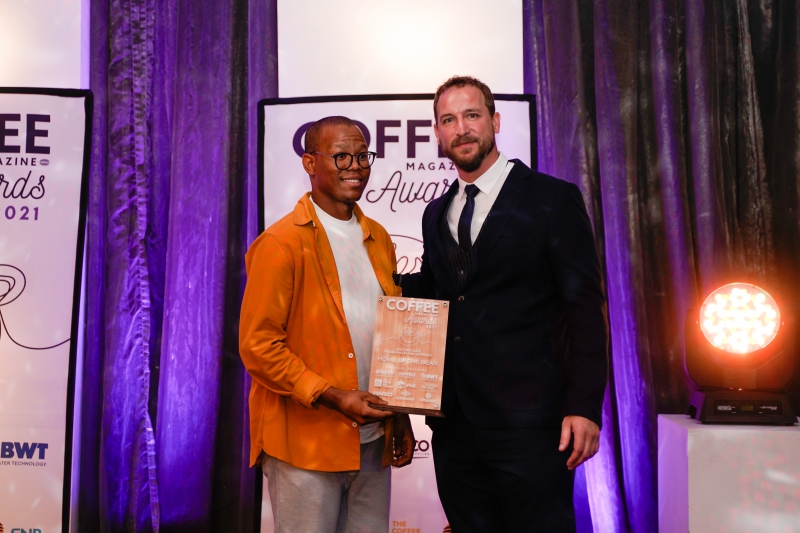 A heartbeat of coffee in the Johannesburg CBD. HoB as they're affectionately known started out as a coffee trailer, opened a small location in Maboneng and then against all the odds they opened up the cafe in a new location in the middle of a pandemic and it is beautiful. More than that, they've created a community of people who appreciate the space and the culture and art that this cafe brings to Fox Street.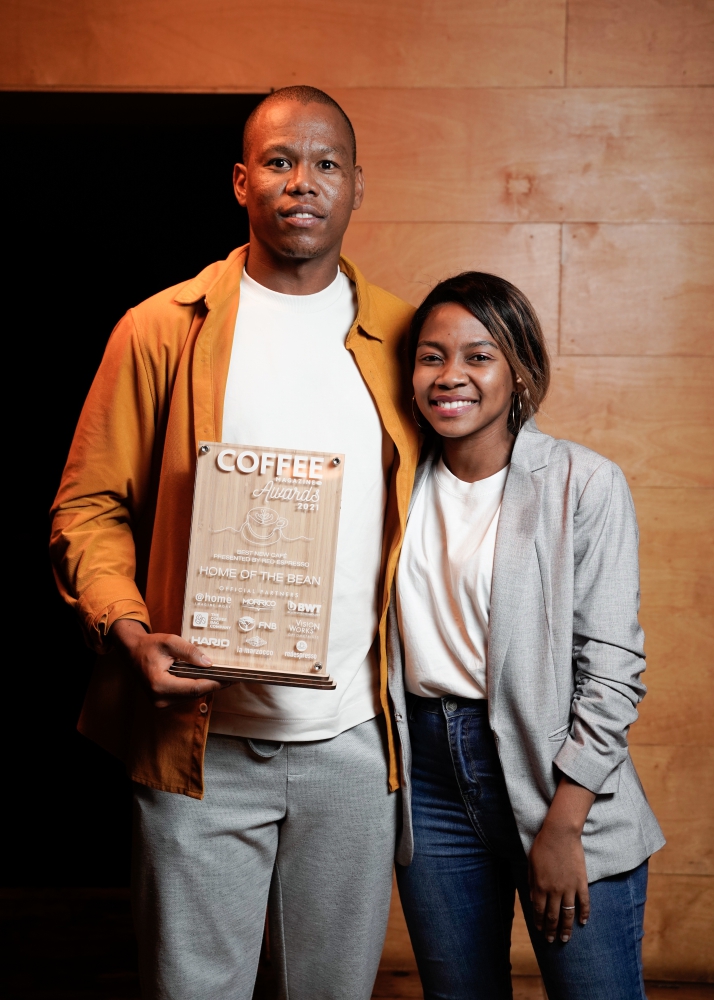 Best New Roastery: Lucky Dice Coffee
Presented by Andrew Boltman of Sevenoaks Trading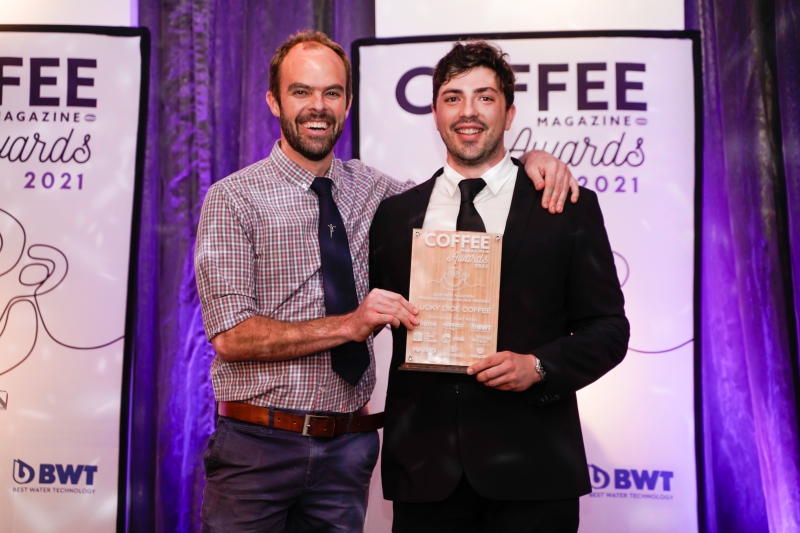 Starting out as a coffee cart in Stellenbosch and blossoming into a fully blown roastery in a little over three years is quite a feat and Chris Green and his team have done it with a sparkling sense of humour. These young guns are passionate about flavour and they are determined to do it in style. The roastery part of the business only kicked off a year ago, but they have made an impression, watch out for these cool kids, they're shaking it up and roasting up a storm.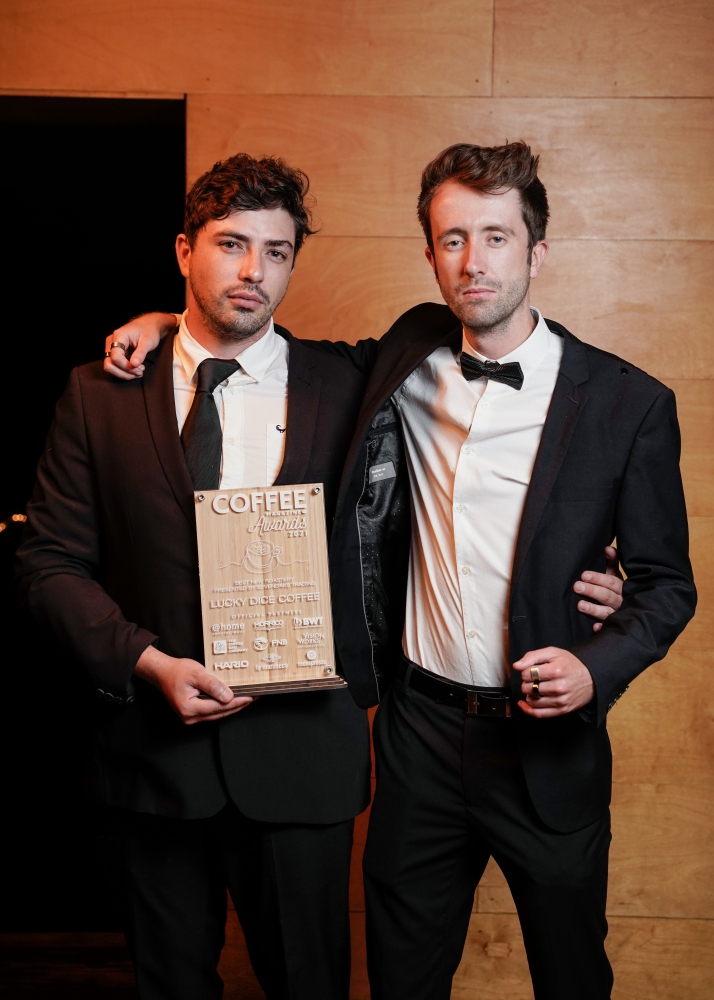 Chris Green of Lucky Dice with Byron Keet
Best Franchise: Seattle Coffee Company
Presented by Roy Faurie and Ishan Natalie of The Coffee Bag Co.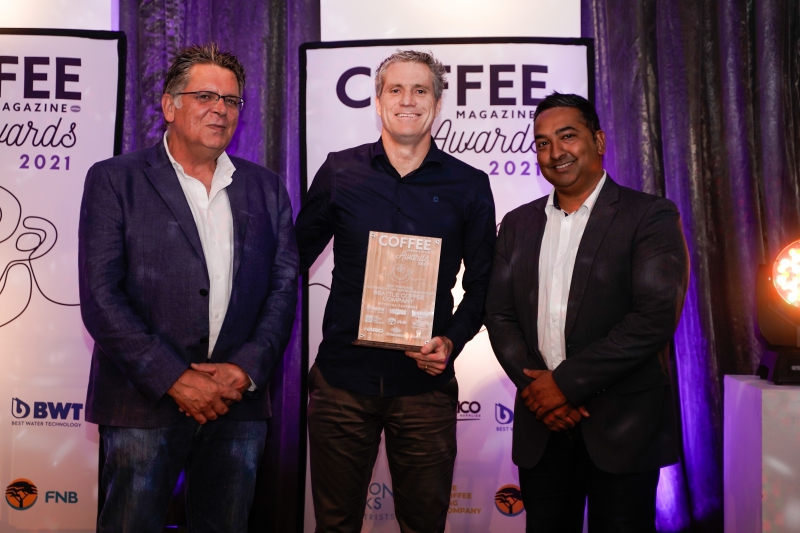 Seattle Coffee continues to grow, to open new stores and to serve quality coffee to the masses. All this in the midst of a Pandemic. Seattles are a familiar, habitual, necessary community meeting point for thousands of South Africans, every single day. The Baristas work extremely efficiently, a testament to their training - staff turnover is low. The beverages are consistent across the 260 stores and served with speed and accuracy. Voted for by the coffee community, Seattle won this Award in 2019, then narrowly lost out in 2020 to vida e caffe and this, year, have once again won the popular vote.
New Category: Best Supplier to the Industry - Equipment Cafe
Presented by Selvan Govender of FNB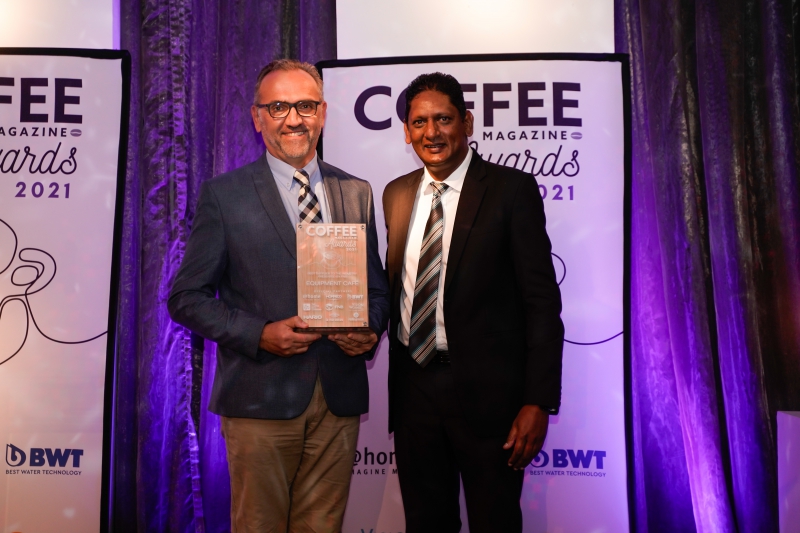 Spearheaded by one of the coffee industry pioneers, George Karatzas, the team at Equipment Cafe do an incredible job of problem solving and coming up with solutions for their customers. From sourcing the right equipment for their customers needs, from the high end espresso machine to the simple tamper, the after sales-servicing, the spares they carry, their involvement in Coffee Community events, hosting International experts, doing roadshows to connect with Baristas, Cafe Owners and Roasters, Equipment Cafe have supplied not just equipment and services to the Industry, but passion and commitment.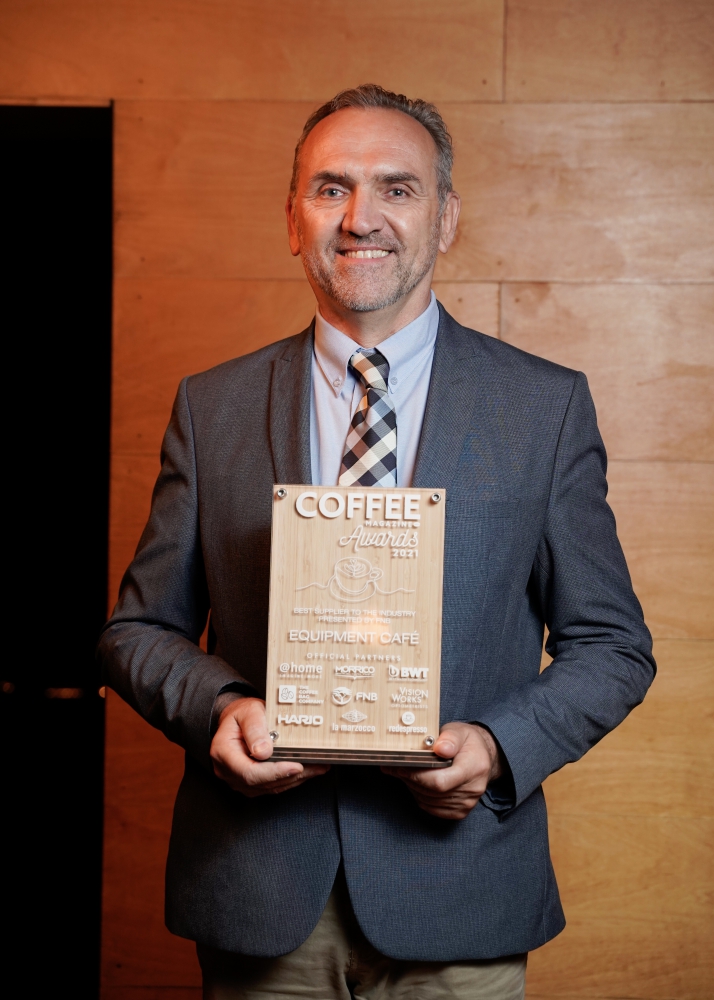 Best Alternative Brewing Experience: Rosetta Roastery
Presented by Hario, accepted via video by Rob Cowles and Simnikiwe Mkhize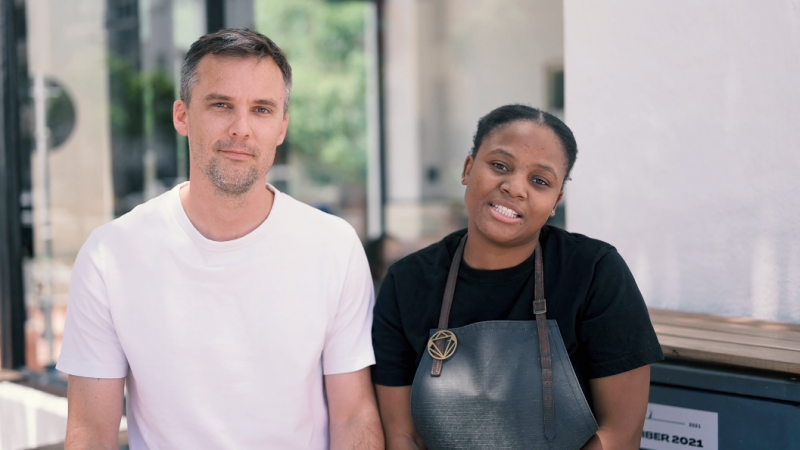 In the presence of green marble, matte black and elegant touches, you can sip on some of the most delightful coffees from the batch brew set-up, request an excellent pour over from the experienced team at the bar or enjoy a Kyoto-style cold brew coffee painstakingly prepared the traditional way. All of these served in curated ceramics that elevate the moment even further, you are always assured a beautiful experience and a supremely interesting coffee when visiting Rosetta.
New Category: Best Cafe Community Award - Bliss Coffee Roastery
Presented by Thabang Matemane of @home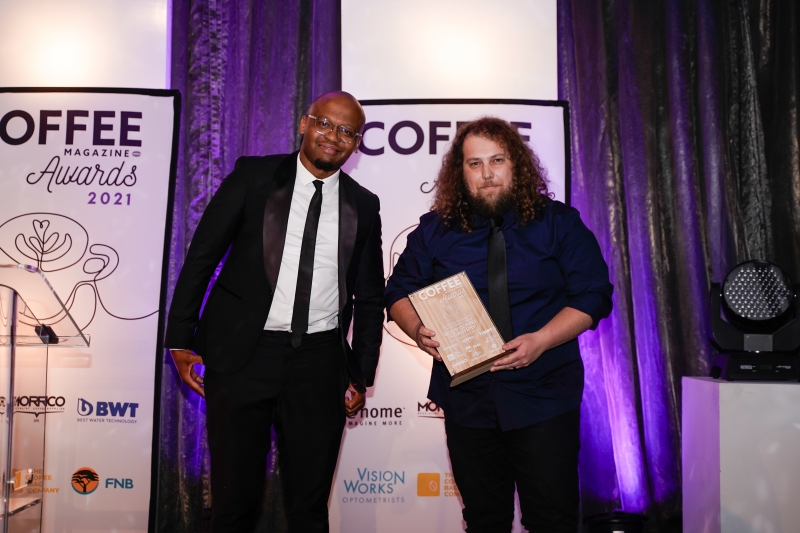 We were overwhelmed by the flurry of support from fans of the establishments in this category. You could tell the votes were from fans, because they voted for their favourites across all the categories (even if they were not really eligible in the particular categories! We had a chuckle at the wonderful levels of enthusiasm). So we tallied the data of these votes and team that came out on top was Bliss Coffee. They are based in Kimberly and they have obviously wormed their way into the hearts of everyone in that town with great coffee and positive energy. Thank you for being such wonderful ambassadors for coffee!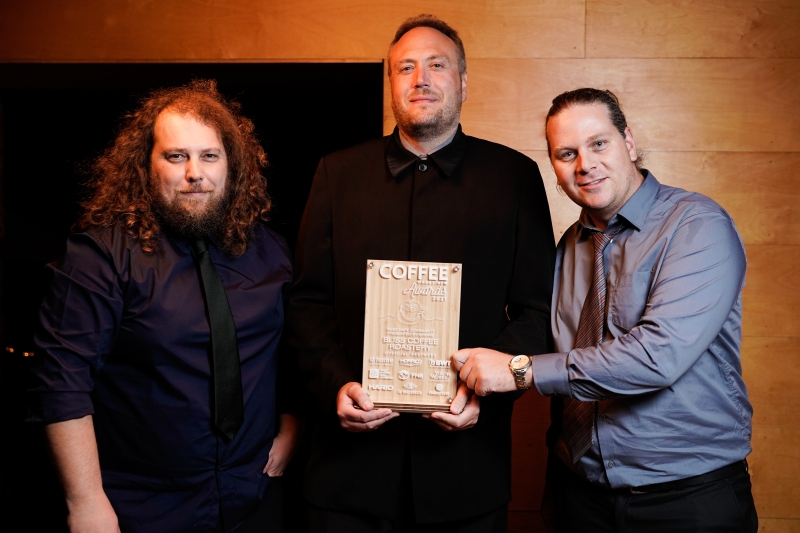 Coffee Team of the Year - Sevenoaks Trading
Presented by Wendy Phumo and Daniel de Kock of BWT Africa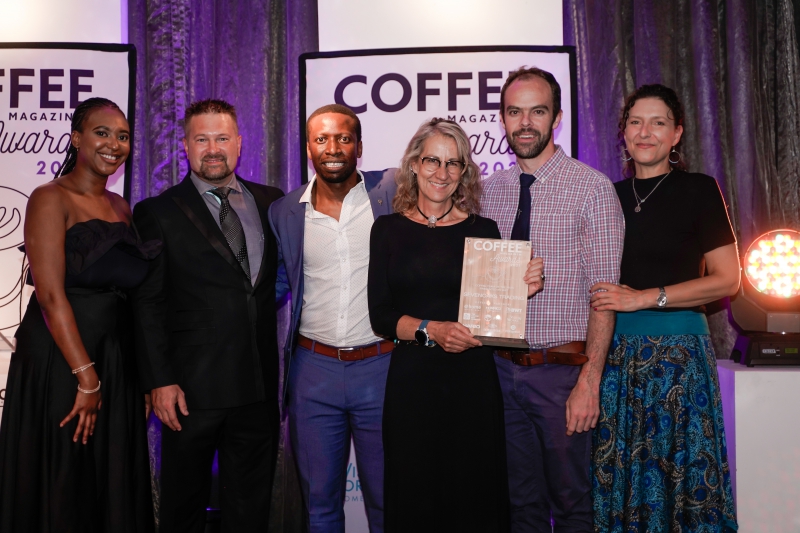 This a green bean importing business that supplies many of the roasteries that you buy your coffee beans from. There are a lot of frustrating logistics that go into a business like this, but this team impresses at every level. On a recent visit to this hard-working factory based in Johannesburg, we witnessed an entire team, from finance to warehouse crew to training to sourcing, in joyful tears over the arrival of two containers of coffee. Everyone in this team really cares about what they are doing and they really care about each other. The votes reflected that the coffee community can see from the outside that the people that work at Sevenoaks Trading are valued and that is what exemplifies a successful team.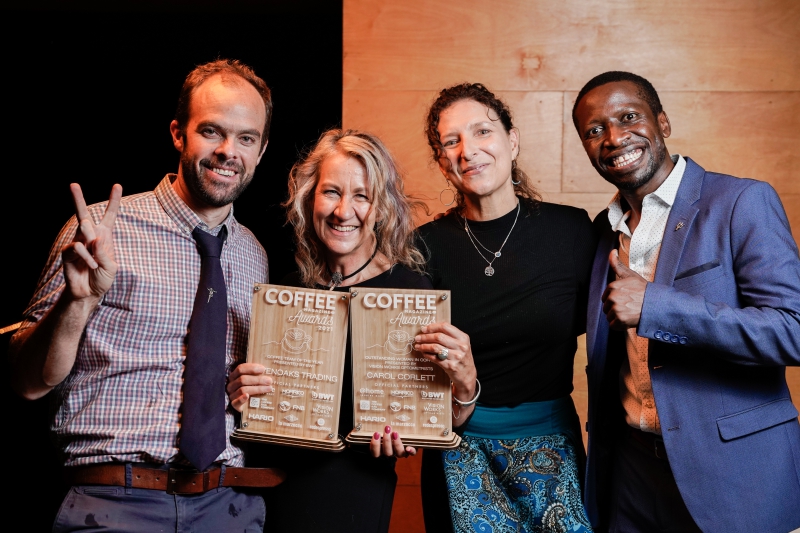 Roastery of the Year: Bluebird Coffee Roasters
Presented by Aubrey Pharatlhatlhe and Corne van der Merve of Bühler Group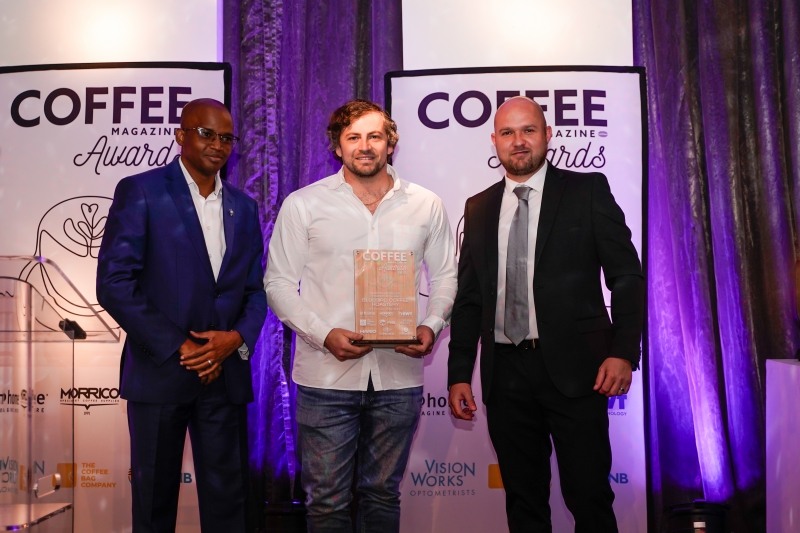 This young and cutting-edge crew are pushing the boundaries of coffee. This year they roasted the coffee that was presented by Stevo Kühn on the world stage, they worked towards impressive transparency goals and from a small roastery in the KwaZulu Natal they built a successful subscription following that send specialty coffee all across the country. With no expense spared on equipment, like their new custom Genio roaster, a nitrogen flusher to keep their coffee as fresh as possible and the top-notch equipment on the bar, they've got their sights set on greatness. They are always curious and always asking questions of themselves and that's what keeps them at the forefront. From winning Best New Roastery in 2018 to claiming top honours in the Roasting Category this year, they're not about to slow down. Keep an eye on this roastery!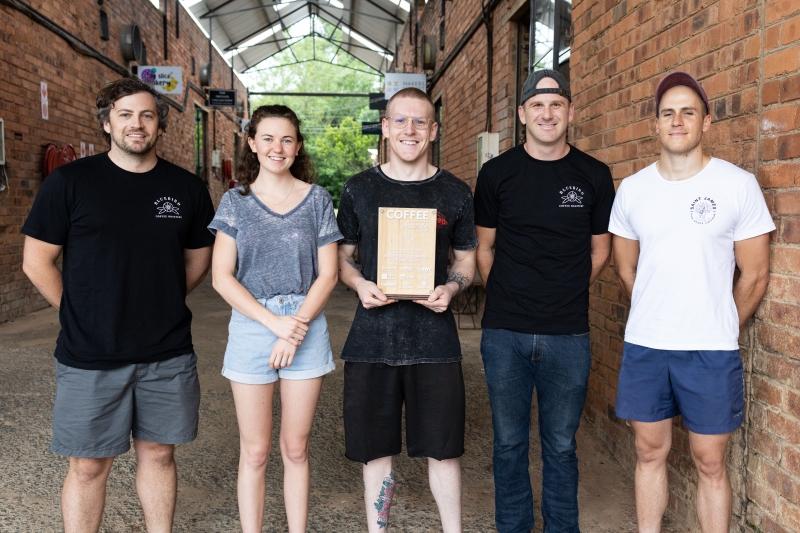 Barista of the Year: Marcus Tlhomelang
Presented by Mike Khan and Sinjon Wicks of La Marzocco South Africa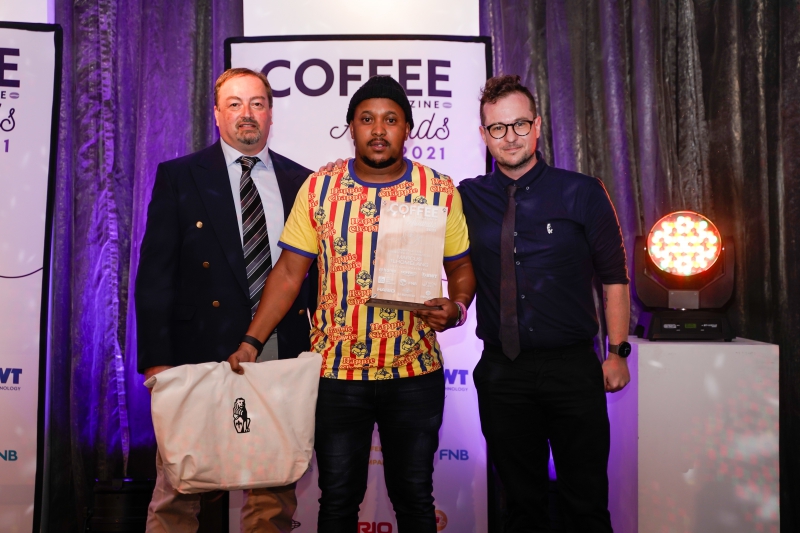 Marcus is a complete joy both behind the espresso machine and in making his customers and fellow baristas feel like rock stars. He is a part of the wonderful Bean There Coffee Company team and has a gentle calm that brings order to even the busiest rush at an event or in the morning trade at Bean There's HQ at 44 Stanley. And with that infectious smile, you can't help but eave his presence feeling that much lighter, with a perfectly brewed African direct trade coffee in your hand.
"I've learnt so much - l've learnt how to make coffee, about the history of coffee and a lot about people. When you're in the coffee industry you need to put your soul into it. Coffee has made me curious about the world around me and the people I serve and train and I learn something new every day. There's no chance to be bored."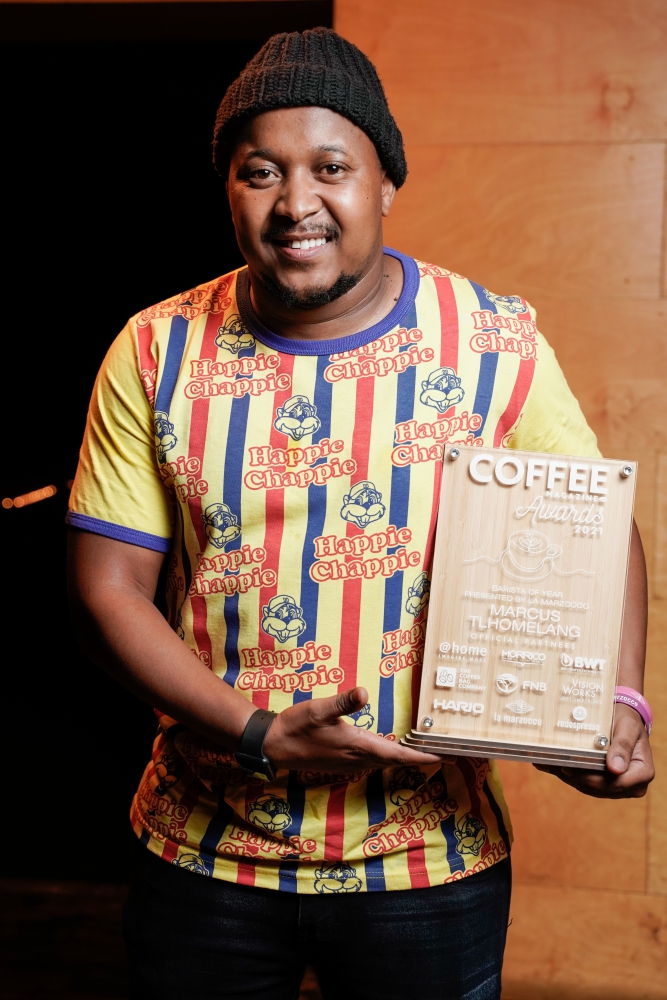 Cafe of the Year: Humble Coffee
Presented by Paul Lukhele of Morrico Specialist Coffee Supplies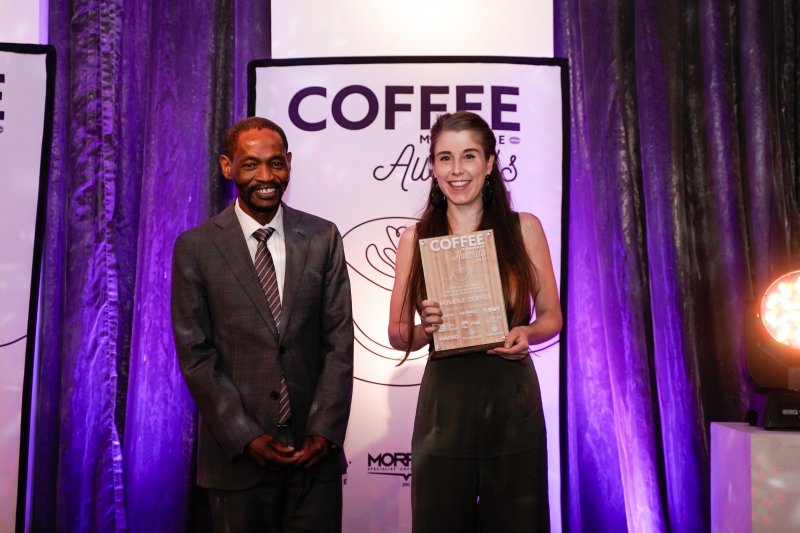 From a hole-the-in-the-wall first physical space selling coffee beans to a vibrant and ever expanding destination cafe in an unlikely location, Amy Gardiner and her team of mighty women have made their mark on South African cafe culture. There is a kindness and sparkling energy in this space that makes each person who walks in feel like they're a regular. The menu is always under seasonal construction, they have their eye on being sustainable in all areas of the cafe and roastery and Amy has very intentionally grown her team with inclusivity in mind. Humble Coffee is a fantastic example of a successful specialty coffee cafe.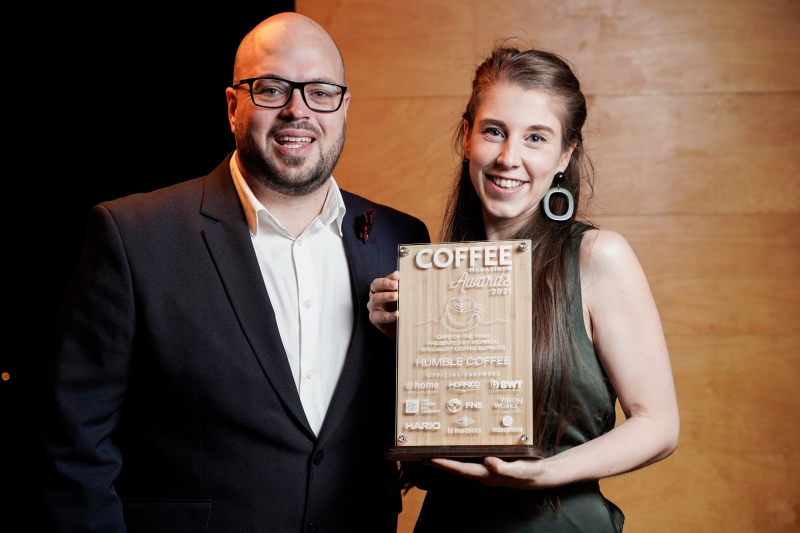 Scotty Meston with Amy Gardiner, founder of Humble Coffee