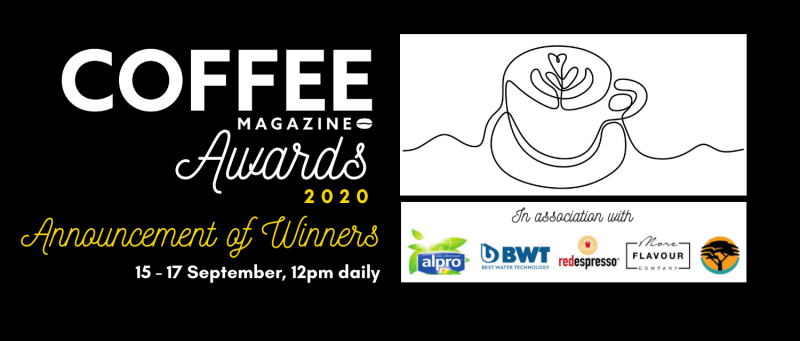 We are thrilled to be able to publish the dates, times and the format for this years highly anticipated Coffee Magazine Awards 2020 - in association with Alpro, BWT, Red Espresso, Moreflavour and FNB!
Usually we celebrate these awards at Creative Coffee Week's Gala Dinner, but with COVID-19 not allowing this to happen in 2020, we have gone online and will be hosting the CMA's in a virtual series of broadcasts.
The platform we have chosen is Instagram "live" a video format that allows people to tune into our broadcast and watch the announcements live! We will also be giving away some spot prizes to the audience, so make sure you tune in and follow the prompts to win!
1. Make sure you have an Instagram account.
3. When we "go live" at 12pm, there will be a little circle on the top of your screen where the "Stories" are
4. Tap the circle that has @thecoffeemag "live" on it
5. You will then start watching the live broadcast
6. Comment on the proceedings to support your favourite nominee!
7. Instagram "live' is strictly 1 hour per broadcast, so check the schedule below.
(Check out all of the 2020 nominees at this link!)
Date

Time
Category
Tues 15 Sept
12pm
Go Live - intro and welcome
12.05pm
Sponsor: BWT + spot prize for viewers
12.15pm
Dedication to Education
12.20pm
Excellence in Coffee
12.25pm
Sponsor: Red Espresso + spot prize for viewers
12.35pm
Best Cafe Design
12.45pm
Best New Cafe

- presented by Red Espresso

12.55pm

Closing remarks
Wed 16 Sept
12pm
Go Live - intro and welcome
12.05pm
Sponsor: Moreflavour + spot prize for viewers
12.15pm
Best New Roastery
12.20pm
Best Alternative Brewing Experience
12.25pm
Sponsor: FNB + spot prize for viewers
12.35pm
Barista Trainer of the Year
12.45pm
Township Coffee Award - presented by FNB
12.55pm

Closing remarks
Thurs 17 Sept
12pm
Go Live - intro and welcome
12.05pm
Sponsor: Alpro + spot prize for viewers
12.15pm
Coffee Team of the Year
12.20pm
Cafe of the Year
12.25pm
Sponsor: Alpro + spot prize for viewers
12.35pm
Roastery of the Year
12.45pm
Barista of the Year
12.55pm

Closing Remarks
Fri 18th Sept

All winners published on www.coffeemagazine.co.za
Linked to coffee magazine weekly email newsletter

including:

Readers Choice: Favourite Cafe for 2020 (Independent):
Readers choice award: Favourite Barista 2020
Readers choice award: Favourite Coffee Franchise:
---
Thank you to our CMA 2020 Sponsors: