Rwanda Cup of Excellence: The Second Part
All words and pictures by Michael MacDonald

---
The following day( Thursday 30th August) we had one round to do the top ten against each other. This was exciting for everyone involved. The only problem was discerning excellence between excellent coffees. It was fun, intense, stimulating, and slightly stressing. After one long hard hour had passed, Sherri ( the head judge)announced that time was up.

We all went into the discussion room and the usual happened but with a great deal more talk going on. These would be the top coffees in Rwanda for 2012 and flavour profile descriptions had to be written for the auction which would take place near the end of September. All the judges chipped in enthusiastically with descriptors they thought stood out for them.
All this was done 'blind'. We had no idea who's coffee we were tasting .
The Awards Ceremony took place the next day. We took about 2-3 hours by bus getting to a large open field in the northern province ( quite close to Musasa Cooperative) probably about 1600 metres above sea level. 'Important people', farmers, friends, judges, local TV news reporters, kids, performers, etc.: all amassed in this beautiful space to await the results of what is now Rwanda's 4th Cup of Excellence competition.

It started with a very energetic song and dance play of sorts-not sure what it was actually- I did however hear the word 'Ikawa'( coffee in Kinyarwanda) a number of times sung with such fervor, that it made me realise just how serious the Rwandans are about coffee. It was a great show and was followed by lengthy acknowledgements and an introduction by Grant Rattray ( managing director of Alliance for Coffee Excellence).
The awards were then announced in ascending order, and I managed to see Epiphanie, who owns BUF cafe get awarded 7th position with a scoring of 88.22, jump up out of her seat near to the front row in a mustard-yellow dress ,uncontrollably waving her arms in the air shouting with joy.
It was a beautiful sight.

1st position was awarded to
GITESI in the Western Province, with a scoring of 90.19.
An Elder was chosen from the small group of farmers involved and dedicated to this particular lot to represent GITESI- his name was Gahizi Alexis. He held the trophy high above his head, dancing and singing with the other farmers while cameramen, judges, government officials and everybody else who wanted to partake in this unique scenario encircled the winning farmers.
In the background....another coffee song was brewing. This time, I'm sure I could understand what they were singing about.
"The Cup of Excellence® competition cycle was conceived with the purpose of finding masterpiece lots of coffee from hundreds of entries. This requires a dedication to key details and an unrelenting repetition in the cupping search process that has become the unique signature of the Cup of Excellence experience. Three overlapping juries inspect and cup samples in an ever narrowing field of better and better coffee until the last day- with a mere handful of exemplary coffees- is experienced to the elation of every judge who participates. It is not a matter of reaching casual consensus; it is a matter of reaching unanimity of vision on that last morning thanks to the very hard work and ironclad integrity of the process. We all become students again and share in the rejuvenation of the true discovery of quality".
-George H. Howell co-creator of The Cup of Excellence and its first head judge.-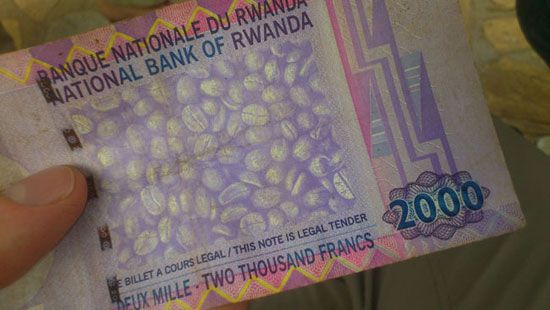 Rwanda is a country steeped in coffee, even the National Currency bears the beans!


---
Have you tasted a coffee that has been awarded the Cup of Excellence?
At the beginning of next month, Burundi holds their first ever Cup of Excellence auction and Ben Carlson is there to catch all the action. It's history in the making! Keep your eyes on TheCoffeeMag.