Have you ever thought about doing a course in coffee? We've been impressed to see the way businesses have had to innovate to survive during this time and while everything has found a new life online, we asked Christopher Abrahams, two-time SA Latte Art Champion, nominee for Barista Trainer of the Year in the Coffee Magazine Awards 2020 and Senior Trainer at Ciro Coffee Company, to tell us what that means for barista trainers.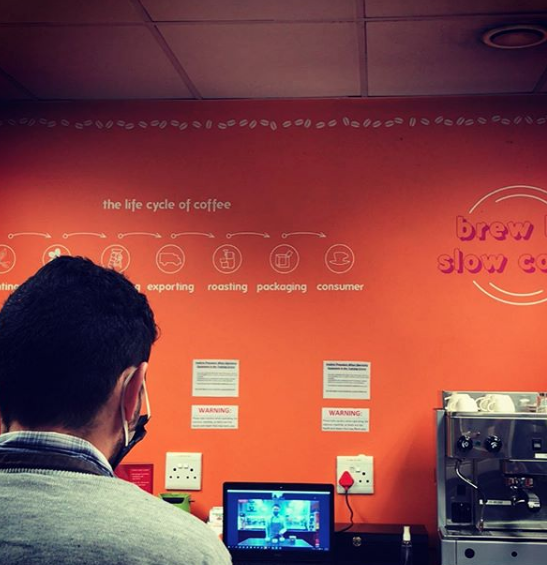 Barista Trainers across the world have had to adapt their courses to be run online during this time, how have you found this? Has the shift been difficult?
It has most certainly been an adjustment. During this time the CCA Training Academy was forced to innovate in order to ensure that we maintain training support to all our customers. We developed short coffee training video content and made it easily accessible to both our customers, as well as all the relevant staff.
We also looked at conducting all our sessions via Zoom, which I believe most trainers also did around the world. This definitely was a bit of a challenge in the early stages, however, it became easier later on as we incorporated practical skills development activities and assessments, by sending each student a coffee training pack, which allowed the student to interact with the trainer during each session. We found that it had a huge positive impact on the student's growth and increased the student's level of eagerness to engage and learn as each course progresses.
It has most definitely caused myself as a trainer, to think outside of the box and make use of a variety of new training techniques. This has allowed me to explore my skills as a barista trainer and has made me more aware of how value can be added to a department through innovation.
It has most definitely had a negative impact on the training department from a financial perspective, but has generated enough income to add value to the business and department as a whole.
In some ways it makes the courses more accessible, correct? Do you think learning to run the skills program online will be useful for the future?
I definitely believe that it is exceptionally useful for the future! The world is focussed on constantly working towards innovation and technological development. We have found that people from all sorts of professions have found interest in attending our online courses, ranging for IT specialists to auditors. This makes it easier for people to attend courses in their spare time, wherever they may be in the world. Access to specific coffee brewing tools/equipment, may limit a student's ability to take part in specific courses.
During this time, we've focussed mainly on SCA Introduction and Foundation courses, which has picked up quite a bit.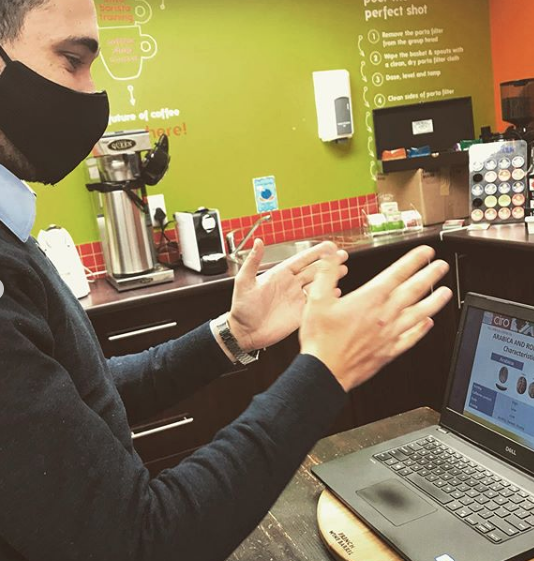 How do you deal with the practical and sensory aspects of coffee when doing online training?
This is a very good question! And in fact, my favourite part of online training, especially when it comes to foundation courses and for people who are new to the industry. I usually take students through a few exercises of how to develop and identify their sensory skills, focussing on levels of saltiness, sweetness, acidity and bitterness. I usually do this by tasting certain ingredients simultaneously, through instruction, discussing the experience. It is truly amazing to see how unique each individual's sensory experience differs from one to another and is surprising when the interpretation of the sensory experience becomes more accurate as the student develops.
Are you running in person training courses again now?
Unfortunately, we have decided not to run any course in our training centre for now, however, this may change from the month of September 2020. We do, however, offer onsite training at our customers, as long as all the COVID-19 protocols are adhered to.
What is your favourite part of being a trainer?
My favourite part of being a trainer is to see how a student utilises the training given and generates even better skills. I love seeing individuals progress into the coffee industry and it is most certainly an honour being part of each student's road to success.
What did you find the most difficult skill to master when you were starting out?
It would definitely be latte art :) I actually found a few latte art photos on my laptop a few days ago and was absolutely shocked, considering that I may have thought it was good at the time. Fortunately enough, this all changed as soon as I became aware of the actual expectation of what perfection is when it comes to the visual aspect of latte art.
Do you think it's important that baristas who are already working and employed do further training? If so why?
I strongly believe that one can never be knowledgeable enough. It is therefore important to continue learning even if you're the best in the industry or have years of experience. Coffee has endless variables, allowing us so many opportunities to explore the possibilities of what it has to offer. Through a variety of coffee education programs and accreditation, we have the opportunity to develop more skills in order for us, as coffee professionals, to reach our full potential within the industry.
This often has a positive impact on an individual's financial situation, as well as the level of confidence and ability when working within the industry.
How can our readers and baristas book a course with you?
This can be done by visiting www.cirocoffeeboutique.co.za , by sending an email to TrainingGP@ciro.co.za or by connecting with us via Instagram at ciro_coffee_academy