Jesús and the team at Vulcan Coffee, through our partners Sevenoaks Trading, have supplied the incredible beans being used in the Preliminary Round of A Shot in the Dark sponsored by Genio Roasters.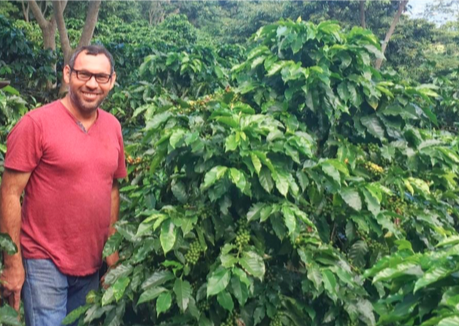 Name of Farm: Vulkan Coffee
Name of owner/head Farmer: Jesús Recinos
How long have you been farming coffee?
I'm part of the 5th generation. Personally, all my life, I come from a family that has dedicated is entire lifetime growing coffee. At least 120 years.
In what region is your land and how many hectares do you look after?
It's located in the Eastern side of Guatemala. The farm is segmented in several blocks distributed around our town: Moyuta, Located in Jutiapa prefecture. We care for about 150 hectares.
What is the focus on your farm? Commercial/specialty?
Our focus is taking advantage of the climatic and particular soil characteristics we have in Moyuta to produce high value/quality coffee in order to inspire all of our collaborators, workers and family. For example, big part of the farm is located around the slopes of the inactive Moyuta's Volcano which offer coffee plants high number of different substrates and minerals to create exceptional coffee profiles. Linked to this focus is always protect, preserve and develop our life business being conscious with the nature, working around ecological sustainability of our lands and the nature that surrounds them. Aggregate to this that the beach (Pacific Ocean) is 45 minutes from Moyuta. So, we want to improve the economic development in the region as well using the advantages of the lands. Our mainly focus thus is Specialty.
Which varietals grow best on your land and have you had any issues with leaf rust or pests?
No questions that it is Geisha, however, all varieties are threaten by leaf rust.
How have your processing methods changed over the years? What is your main method of processing?
Barely has changed over the years. Recently we have taken several coffee lots to try and sell different processing methods (Natural and Honey) but currently the market demand on us in considerably focused on the full washed method. About specific considerations of washed processing, I may say this processing method has been improved over the years in our region, all the machines and flow process in our wet mills have been optimizing around water usage. Our main coffee processing method is washed.
How many people are supported by producing coffee on your farm?
In harvest season about 150 people. And off harvest season 40 people.
Have you been affected by the drop-in stock market price of coffee?
Yes. No questions that our productions depends on that unfair C-Market.
Has the trend of more green buyers and coffee roasters visiting farms helped your business?
Yes. This one of our best selling tool now, been known by good buyers who really understand the importance of let us survive in this agricultural activity.
What do you wish coffee consumers knew about what it takes to grow coffee?
Teach and show them all the hard work it takes to bring coffee from our lands to their cup. In my personal opinion, specialty coffee shouldn't be value /linked in the commercial coffee market.
What does coffee mean to you, personally?
Simply: Life, my family sustainability, a modus vivendi. My life turns around coffee. I consider myself a coffee addict in the good way.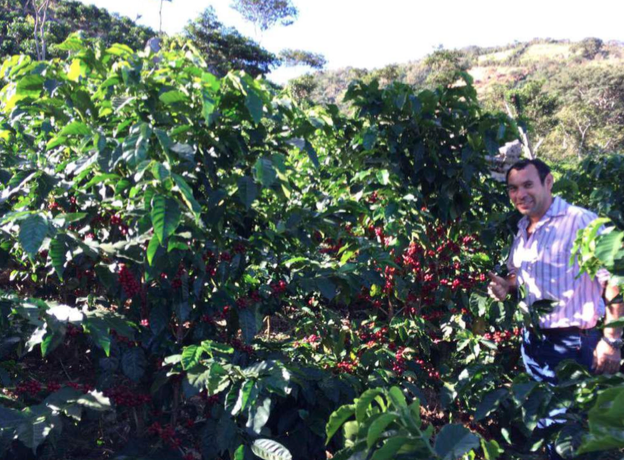 History of the Farm
Located on the mineral rich slopes of the Moyuta Volcano, the Recinos family has owned and operated a few coffee farms since 1880, carefully studying and improving the agriculture, and passing it through the generations, the fifth now, enabling them to produce this exceptional quality coffee.
Papa Lencho, who was the precursor and first generation of all of the family history, came to Guatemala from Italy in 1880. Nowadays, most of our small collective of family farms are located on the non-active Moyuta Volcano, just 140km south-east of Guatemala City. In the late 1980's (100 years after the farms were founded) Jesus was recognized as the leader in the field of estate grown, single origin, specialty grade coffee. He is an agronomist with a special knowledge of soil fertility and plant nutrition.
Jesus is very proud of what he has inherited from the family, and is committed to continue everything at the highest level, and offer the best of Moyuta.
The Recinos family feels a sense of pride, and has been working all of their lands for five generations now, and want to keep this feeling for future generations. They have a deep care for the land's wellness and its surroundings. They show special care for the environment, applying an ecologically friendly and sustainable way of production, especially responsible pest, disease and weed control.
All of the farms receive a good dose of morning sun, and because of the proximity to the Pacific Ocean, they also receive a permanent cool wind that makes the coffee trees blossom evenly, and allow for a perfect ripening. In the early 1940's Pedro Ibanez, a poet born in Moyuta, referred to the town as 'The Nereid of the Pacific'. The influence of the nearby sea makes for consistent rainfall patterns during the rainy season (around 1000mm per year) and during the dry season the coffee trees get moisture from abundant amounts of dew at night.
The elevations make for slow development of the beans, and concentrate the flavours from bloom to harvest, which takes approximately 9 months.
Finally, the volcanic soil contains a wide range of nutrients not found naturally in other places and is abundant in phosphorus, which is a key element for root development.