"Coffee smells like hope, you know. You just know you can get things done."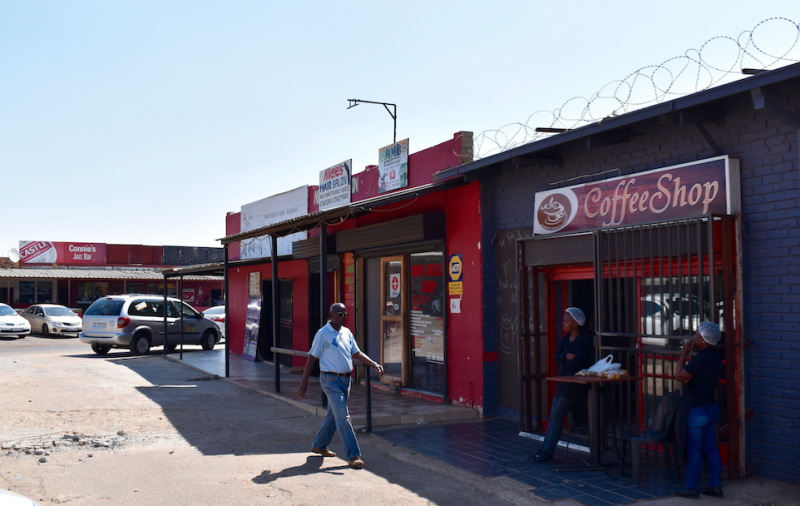 "Coffee smells like hope, you know. When I was starting this journey, I kept a bag of beans by my bed and in the morning I would squeeze the bag a little and that smell would keep me going. You just know you can get things done."
Sibongile Mbatsane-Rakgatjane throws out this pearler phrase as our visit to Mamelodi is coming to an end and we're driving back to her business, Mo's Bakery and Cafe. "Oh I should've told you, keep right, the taxis stop in the left lane." While stuck behind a taxi, Momo, as she is affectionately known, points out other local businesses and stories of Mamelodi. Momo is passionate about her community. It has been a joyful experience to spend time with someone so actively using her business to make a difference in people's lives. We pull up outside Mo's, the dust lingers in the dry air as we step out. The first coffee shop in the township of Mamelodi.
In a vibrant strip of local businesses at a busy roundabout in Mamelodi West it stands. A hair salon, a health shop for medical supplies, Connie's Jazz Bar. Momo exudes a quiet confidence in her classic Converse and her bright red African continent earrings. It's relatively quiet at midday around here.
"We're not too busy during the day, so I mostly focus on the cakes then. You know, people in the townships have to go to work in the day! So we're busy early morning and late afternoon."
"I wanted to create a space where people can come to work and read. There was no where to do that in our community, so I thought someone's got to do it and it might as well be me. We have a Children's Story time on some weekends for the same reason, I wanted somewhere to take my daughter on weekend that was here, in Mamelodi. If I was feeling that way, then others were too."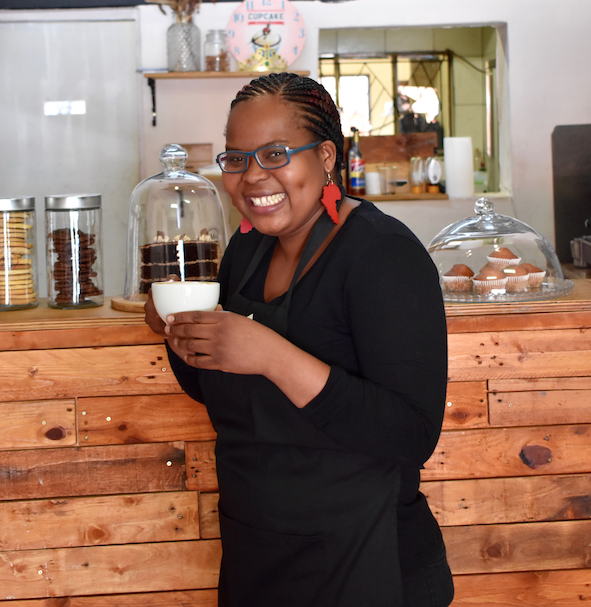 She left a job with Microsoft to pursue her dream of being a baker and the café followed on as an extension of that idea. At the beginning of August 2019, Mo had to expand her operation to move the bakery offsite to a bigger premises. The woman is an incredibly talented baker and cake decorator. Self-taught, she has a dazzling array of designs in her portfolio. Momo has been very realistic about the trajectory of the business and knows that it's still early days, but she's optimistic. In the process, she found something strange was beginning to happen, her tea drinking ways were beginning to change…
"Coffee has got me! You know I used to look at coffee as just an add on to my cake business, but I can feel myself getting sucked in deeper and deeper to this coffee thing. In the baking industry people are not so open to collaboration, not so open to sharing and getting together, but the coffee industry is different. Also a huge turning point was discovering that I'm lactose-intolerant so I've switched to a lactose-free option and can now enjoy a delicious cappuccino without any concerns about how it affects me!"
Mo's Bakery pours TriBeCa's espresso blend and the support she has received from them has been wonderful. "You know, I'm a small customer. I don't go through a lot of coffee in a month, but everyone in the coffee industry has been so generous with their time and their help. Harry (Mole, current SA Barista Champion) gave me advise on equipment when I was starting up and directed me to Koldserve. I was expecting to have to hustle to get them to come help me in Mamelodi, but the Koldserve team were so professional and helpful, they sorted out my coffee set up within my budget. Recently the whole crew from TriBeCa came through to do a tour of the township, now Matt(Carter) just pops in sometimes, he loves the food just down the road!"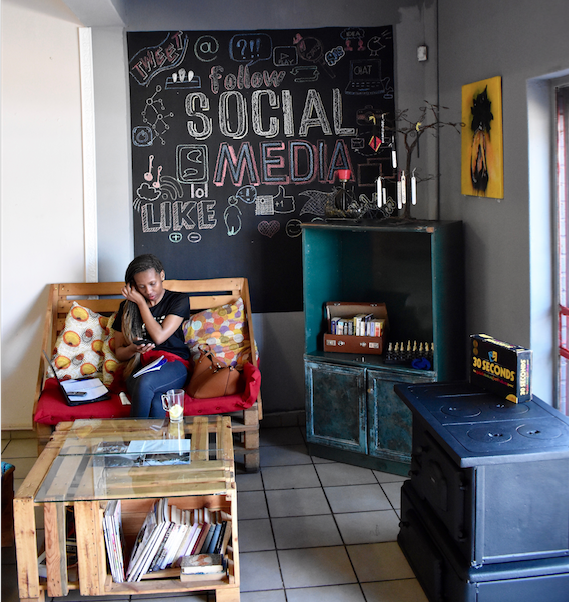 Every day is an education of converting people to try their first cappuccino, but the ritual is starting to stick. Momo is also dedicated to continuing her own education, she is a regular at coffee shops around Pretoria like Afro-Boer and Red Truck Coffee Roastery and she loves to try all the new places. "I've got trips planned to Cape Town to check out what's going on down there and I'm visiting a friend in Spain next year, I've already told them we will doing a coffee shop tour."
"And I strongly believe the township market is catching on to the coffee scene. It's my goal for our Financial Year 2019/2020 to at least get to a standard where we can make a sizeable contribution in the coffee space from a township perspective. We need to be more intentional on buying black. More buying and less talk. We are busy transforming our business processes and buying black is at the top of the agenda."
"We stock coffee from Jabulani Thumbuni on our shelves, he does all our barista training too. These earrings [pointing to the ones she's wearing] are from a local jewellery designer which we sell here, the art on the walls is all from Mamelodi artists."
"Maybe if we give the community more spaces that are not Taverns, we can change the culture."
She offers a book exchange platform, where regulars can take a new book and leave one on the shelf in return and she is holding events more and more often, like Brews&Tunes and Coffees of the World, a coffee tasting event.
"You know, the interesting thing about the townships is that here, people have money, they may not have a lot of it, but they have disposable income to spend and maybe if we give them more spaces that are not Taverns, but are also fun places to spend their time, we can change the culture. A second coffee shop has just recently opened up. We'll go visit them."
Our mini road trip to the second official coffee shop in Mamelodi takes us past the government building that was supposed to be the site of Mo's, now abandoned after it was declared structurally unsound. We also pass a massive construction site that will be the new shopping centre and touted to one day be a Gautrain station stop. Big things are happening here.
The Good African Bistro is set up in a container on one of the busiest streets in the township. "We were doing events, moving around a lot and we thought it might be a good idea to have a base of some kind and why not have they base in the place where we live? So here we are!" Dumisani Mpangani tells us. The team are supported by roasters, Doubleshot in Braamfontein, but in the heat of the day Dumisani instead offers us his homemade ginger beer. It is crisp and stings the back of the throat, the sign of a good ginger beer.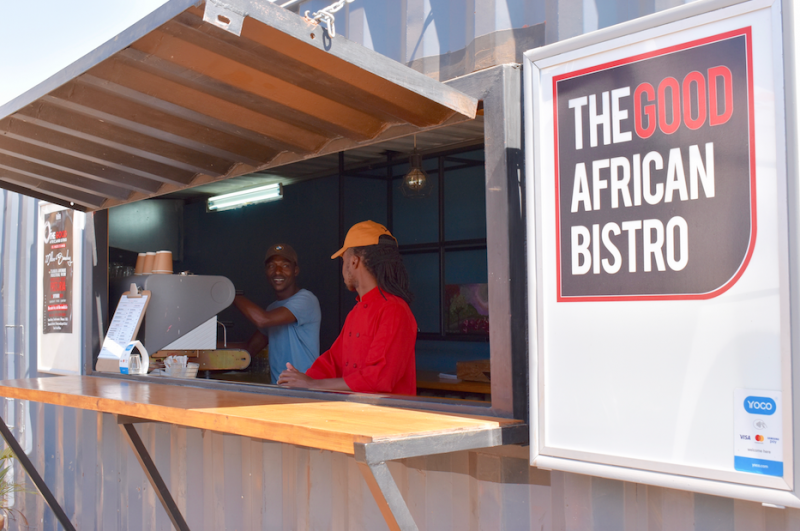 Local entrepreneurs investing back into their community. So is there enough space in the township for more than one coffee shop?
Mo and Dumisani share a laugh at my ignorant question, "Have you noticed how many people live here? We're not competition to each other, we're neighbours, it's a community. People come to me if they want to work, meet and feel inspired in a calm, cosy space and people, including myself, come to The Good African Bistro when they want to listen to great music, chat, watch the busy street traffic."
So the future looks bright for coffee in Mamelodi with people like Momo leading the charge. Coffee smells like hope. We couldn't agree more.