Make it your own way: The rise of the Seasonal Beverage with Michalis Dimitrakopoulos
As we walked through the streets of Harlem, New York, Spring-time, and with it the cherry blossoms, was blooming. And every new cafe was celebrating in their own way with a unique, seasonal beverage. A vanilla and lavender cold brew fizz. A rose petal and cardamom latte. Don't they sound delightful?
We are constantly amazed and surprised by the variety of syrups and ways to accentuate natural flavours in coffee. Many purists balk at adding other ingredients to quality coffee, but with a dash of creativity and some out-of-the-box thinking, magic can happen. Taking inspiration from the changing seasons and using locally sourced flavours can bring a little something special to your cup. The Blue Crush Latte we tried in Tokyo used blue ginseng syrup for it's startling blue colour and local Japanese maple syrup to cut the espresso and let me tell you, it was DE-licious.
Even for those people who can't handle a lot of caffeine, but still want to hang out in the beautiful cafe spaces, cafe menus have expanded to include a selection of comforting flavours. One of our recent favourites was a beetroot and almond latte with a sprinkle of cinnamon. And the coffee industry is making it easier than ever for cafe owners to have these weird and wonderful drinks on the menu, so you can look forward to the variety growing steadily.
A whole section of the World Barista Championship is dedicated to the Signature Beverage, a coffee cocktail that creates synergy between the coffee and basically any other ingredient you can think of, with the exception of alcohol. But don't worry, there's a whole competition dedicated to just the alcoholic beverages!
An individual who has played both games and won is Michalis Dimitrakopoulos. He was the World Coffee in Good Spirits Champion 2016 and Runner Up at this year's World Barista Championships. Not bad!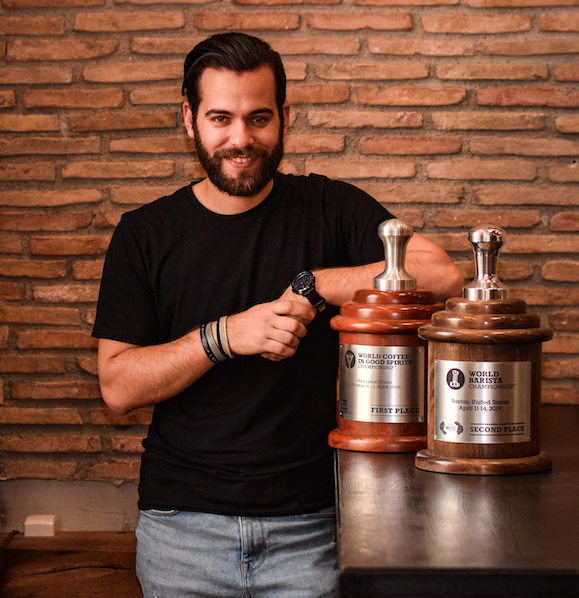 He is part of the team of a couple cafes that are on our global café bucket list. The Underdog has been helping Athens learn about specialty coffee since 2015 and near the end of last year the team started The Rabbit Punch, a bar/café showcasing fine spirits and coffee.
Tasos Delichristos explains their philosophy, "We all have been or felt underdogs in our life. And that's why people love the underdogs! The Underdog is a specialty coffee roasting company and we invite all of you to visit our third-wave coffee shop in Thissio (Athens), Greece. Our world revolves around the journey, driven by the pursuit of perfection. Along the way we forge relationships as we work to bring our coffees from the farm to your cup."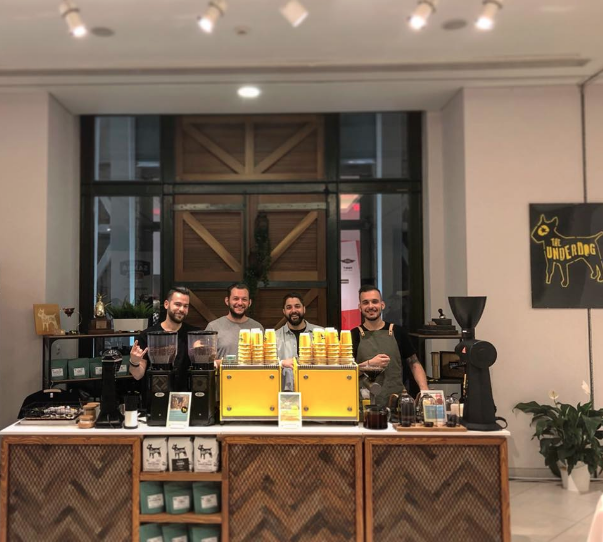 Attacking the field of coffee with vigour and constantly re-inventing their menu inspired by new coffees, always willing to learn and grow.
"Michalis Dimitrakopoulos is not afraid to fail" says Sarah Allen of Barista Magazine, "He based his 2019 World Barista Championship routine around the idea that encountering failure—and then pushing through it—is a healthy process that allows one to make new discoveries and grow as a person. In his WBC routine, Michalis related this discovery process to both the innovation required to produce the Gesha he used in his routine, and his own growth as a coffee professional."
We caught up with him after his incredible performance in Boston, USA in April 2019.
How did you decide to dedicate your life and passion to coffee?How did you begin?
I was studying as an electrical engineer but when I tried to work as a barista, from the first moment I felt in love with coffee! So one day I realized that this is what I love! This makes me happy and I would love to do it every day!
I stopped with my studies and start study about coffee. A lot of seminars and a lot of love about coffee!
What is your philosophy when it comes to creativity with coffee?
My philosophy is that, we are all the same no matter the nationalities no matter the languages no matter anything! just follow your dreams like i do, try your best every day and experiment a lot to create something new! Not a copy! Always in this journey be humble and kind! At the end of day always remember who has been there and how were you since day one and go forward with your team for the best result!
What makes a good seasonal beverage?
It all starts from the coffee you are using! You must know everything about the taste profile and the aromas of your coffee and then you must find ingredients that can be combined with it! If you have citrus flavour and aromas on your coffee, you must find ingredients that combine with this! That's the best way for coffee lovers, they should get a cocktail with their favourite coffee! An Irish coffee is a great place to start. The first thing to do [when learning about coffee cocktails] is to make an Irish coffee. The most common coffee cocktail of all. Once you can make a good Irish coffee then you can search for your own to discover the combinations of coffee and alcohol.
Who is the team behind The Underdog and Rabbit Punch and how did they come about?
Team, or rather family as we call it! For all of us The Underdog team is like a family!Is not only the people that they are working there,but also the fans and the people that support us all these years!like farmers, staff, our customers etc! Tasos and his wife Elisabeth the owners of The Underdog and my partners at the rabbit punch are two of them! Tasos(World Coffee in Good Spirits Champ 2008) our coach and our friend all these years support us for every competition! That's the point for us! We are always working as a team with all the guys and we are trying to support each other! Coffee is about people and the land they live on. We believe in a meaningful and honest coffee trade. Not only do our methods ensure the maximum quality of the cup, we also ensure the greatest benefit to the local environment, and to a more transparent and sustainable coffee trade. We focus on serving a unique coffee experience by bringing out a delicate and dynamic clarity in every coffee we produce. We are forever curious and always uncompromising in our quest for quality products and services.
Tell us about your regular customers, how would you define them as a group? What sort of customer do your locations attract?
Our customers there are really in love with specialty coffee as much as we are! We support a lot of coffee shops with our coffees not only in Greece but also around the world! Our daily customers in Greece usually drink Freddo Espresso (double espresso mixed with ice) in the summer period but in winter they are drink espresso bad beverages, normally a flat white! They are always looking for good quality of coffee and they are always asking as about the varieties, the flavour profiles and the origins!
One of the things we always notice when we travel is the attention to detail with seasonal drinks/signature beverages at different cafes. How do you come up with signature beverages? Do you have a particular process? What inspires you?
My inspiration comes through the process of the coffee that I use! For example, for my Barista Championship set, my friend, the farmer of Finca Deborah in Panama, Mr Jamison Savage, helped me to understand everything when I visited the farm and together we had a lot of conversations about processing. After that I am always re-thinking processes and I am trying to create something new! Something that pushes the level up! My espressos had notes of blackberry, grapefruit, and raspberry and so I chose to place a natural fermented Gesha cascara into a syphon along with dry ice, which pushed the liquid into the top chamber, mimicking the anaerobic environment the coffee was fermented in. This was for sure a first in competition and helped to highlight the flavours in my coffee.
What is your ultimate favourite coffee cocktail (one alcoholic and one not)?
My favourite is Irish coffee! A true classic and as I said, the basis for exploring more flavours. Without alcohol I like mostly an espresso and tonic over ice!
What do you do to keep improving your palate?
We are always doing cupping with new arrivals, with new roast profiles to get always the perfect result for our customers!! this helps me a lot to find the differences! I am always looking to evaluate new coffees and new processing methods to find something new!
What is your favourite flavour/ingredient/product to work with at the moment (except coffee, of course!)?
At this time my favourite is passion fruit! I am always enjoy this flavour at the summer period!
In all your years in coffee, who has the most influential person been in your journey?
Tasos Delichristos is one off them! All these years work with him, I learned a lot of things, not only about coffee! He is one of my best friends now! But to be honest I don't to be like someone, I don't want to copy things, I like to have my personality and just learn from people like him!
How different was it to prepare for Barista Championships compared to Coffee in Good Spirits?
Both of these competitions are really difficult. We have a lot of things to adjust and to continue growing. Coffee in Good Spirits is just a bit different because you have to prepare three different presentations for each round - this is a challenge! But at the end of the day, both of them are based in balance and coffee!
I'm sure you get asked this question a lot, what is the one thing you would recommend beginners do to make better coffee at home.
My recommendations is to always look for good quality of coffee! Do not be afraid to ask about recipes for brewing and about information for coffee - baristas are generally so excited to share about coffee. Then try to find the best balanced cup at home!
Tell us something about yourself that isn't coffee related. What is your favourite thing to do in your spare time? What are your other passions?
I really enjoy going to the sea! I love to be with my friends relaxing or free-diving in the sea! I really love classic cars and classic motorcycle and then I like sports like football!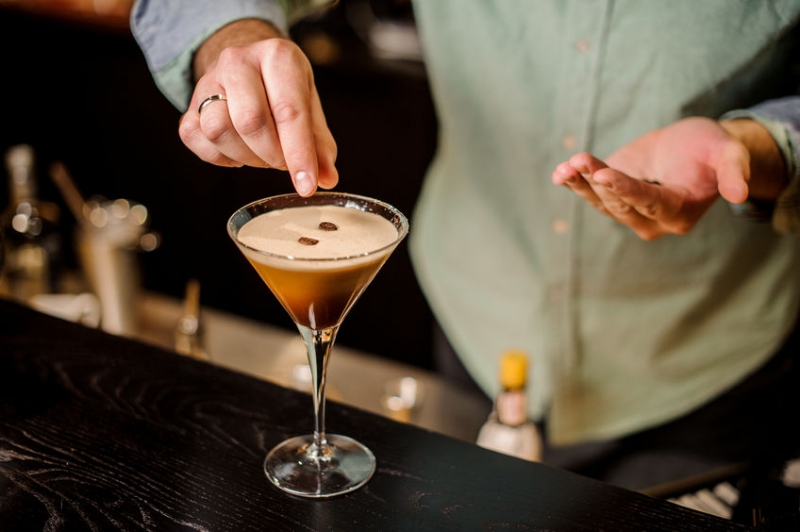 How to Make an Espresso Martini
An espresso martini is traditionally made with coffee liqueur and vodka, but we'll be swapping the liqueur for actual coffee. It may be over ice, but it'll certainly warm you up from the inside!
You will need:
• Double shot espresso (around 50grams)
• 20 ml of a sugar cane syrup (or a similar unflavoured syrup of your liking, such as agave or simple syrup)
• 60 ml of a beautiful vodka
Try using a sweet and fruity coffee, as this makes for a great cocktail. But the beauty of making coffee cocktails is that you can experiment with all sorts of beans and brewing methods. Try a few different things and see what you prefer.
Okay, so let's move on to how you make your cocktail:
1 Fill a shaker with ice and add all your ingredients to it.
2 Shake that shaker.
3 Double strain it into a chilled martini glass.
4 Garnish your cocktail with some coffee beans or some refreshing mint.
And that's it – four quick steps to one impressive specialty cocktail. Talk about a chilled drink