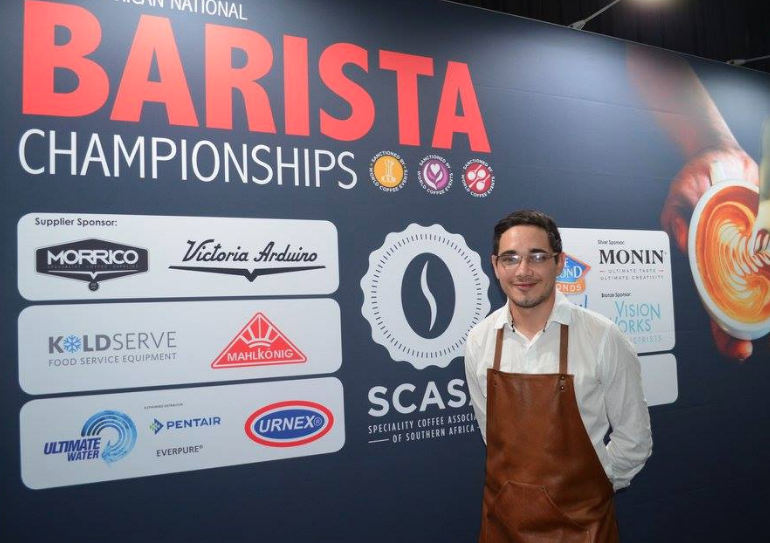 How are you feeling in the build up to the World Latte Art competition?
I am truly excited and slightly overwhelmed that I've got the opportunity to participate in the World Latte Art Championship this year. It has always been a dream of mine to reach this point, as part of my journey in the coffee industry. I've been experiencing a world of excitement, along with a level of stress, as I'd like to do everything I can to do well.
What is your training schedule like?
My training schedule at the moment has not been as strict as I would've liked it to be, but have been pouring daily. I have been fortunate enough to have the opportunity to spend most of the week and weekends training, within the Ciro Coffee Academy's training facility.
Have you decided on your patterns yet?
Over this period I have been experiencing a creative block. Knowing that I'll be competing on such a high level, has added an immense amount of pressure, as I have realised that it may even be a once in a lifetime opportunity. I have s a number of hours drawing in my sketch book, hoping that there would be an outburst of creativity. Unfortunately, this approach hasn't been as simple or successful as I thought it would be. I have come to the conclusion that creating things on paper wasn't easy to replicate in the cup. It has certainly tested my ability to explore a wide range of pouring techniques. I have recently been lucky enough to create most of my designs and look forward to presenting them on them to the world.
What do you think your biggest challenge will be at Worlds?
I think my biggest challenge at Worlds would be the milk. I have heard that this may have a huge impact on one's overall performance on stage. My personal challenge, would be to stop shaking while pouring latte art on stage. I have been working on quite a few techniques, in hope that I would finally be able to overcome this.
Are you excited to go to Brazil?
I am truly excited to go to Brazil, knowing that it is the largest Arabica supplier in the world. This would also be an amazing opportunity to visit one or two coffee farms. The trip will also be significantly special to me, as It would be the first time I'd be travelling abroad with my wife and will be treated as our honeymoon.
What do you hope to learn from this experience?
I am sure that I'll learn quite a bit from this experience, and I hope to learn more about the lifestyles of competitive baristas. I believe that this will assist me in future and allow me to be even more prepared when competing.
What advice do you have for other Latte Art competitors?
I feel that it is important to remind ourselves as baristas, that it is all about the passion for coffee. This is the key driving force that will allow any barista to succeed within the industry. Each individual has goals, and it makes things easier if they're aligned with what you're passionate about, as this will allow you to work even harder at achieving it!