"I love food! And coffee is part of the synergy of great food."
As we perched on the side of the barista champs stage in the shadow of the Aurelia Nuovo Simonelli, I knew Stephan and I were going to get along just fine. The Good Food and Wine Show played host to the National Coffee Championships this weekend and Stephan proved a fierce competitor, making it through to the finals of both the Latte Art and Barista Champs.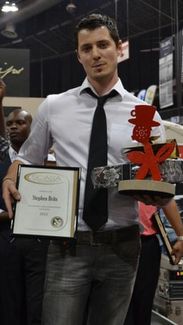 Standing proud with the spoils of his amazing performances
.
A Cape Town native, he was in the hospitality industry for many years, but when Dale of Tribeca offered him the opportunity to run a restaurant and he saw the chance of respite from crazy hotel hours, he took it with both hands.
Thus his introduction to specialty coffee, that seductive mistress.
There was no turning back from there. With a natural attention to detail he took to making espresso like a cheetah takes to running, fast. Soon he was a barista trainer at Tribeca, now working with the Woolworths baristas specifically.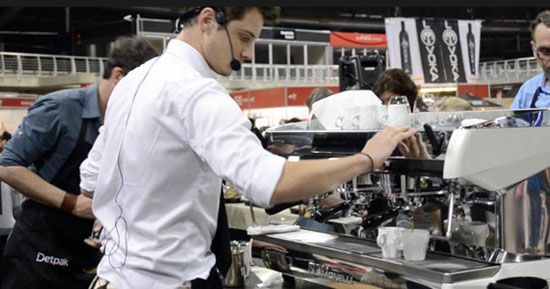 On the road to two lip-smackingly good cappuccinos at the competition this weekend.

When asked what he's most proud of in his work, he instantly replies the way he leads his team of baristas.
"It's so important to motivate your baristas. I try to build camaraderie, so that the baristas respect each other and support each other in the learning process, it becomes like a brotherhood."
His passion and skill are evident in his confident performance technique on stage, the baristas of the future are certainly in good hands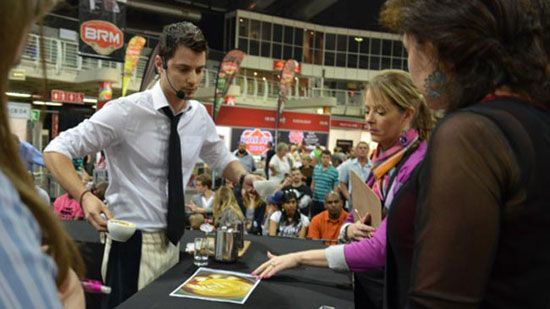 Stephan chose to present a Cupid's Rosetta at the Latte Art Competition this weekend - he doesn't mess around!
He is a very busy man and that's the way he likes it. He is currently studying an IT degree part time and also invests a lot of time into experimenting with foodie delights making everything from scratch like relishes and pastes, a selection of pickles, he even cures his own olives! A palate to be reckoned with.
We chatted to him after the results were announced:

"Though a little disappointed at my position, I think Lovejoy is a master and I am very happy for him. I have had a great first run in the Nationals and I will certainly be back! Not just to compete, but to hang with best folks in the SA coffee industry."
He may have been disappointed at being placed second, but only because he has such incredibly high standards for himself.
We at TheCoffeeMag would just like to congratulate you, Stephan. We recognise that you're doing inspiring work in coffee, thank you!