There are so many facets to the world of coffee and Manus and Christo have tapped in to a market where people are absolutely DESPERATE for a quality cup of coffee - the office environment! Millions of people who need coffee to survive but don't have the time to think about it, enter The Coffee Co!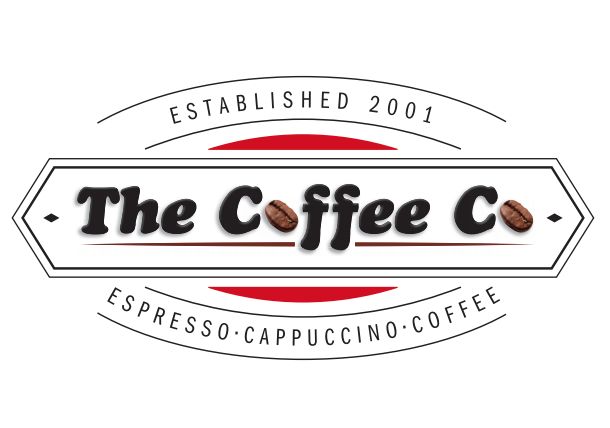 The Coffee Magazine: Hi Guys, Welcome to The Coffee magazine! Tell us about The Coffee Co and how your business started way back in 2001?
Manus:
It all started with a simple objective of providing great coffee in offices. We both experienced kettle+ricoffy solutions at our old employers, and just wanted to fix that!
TCM: What was coffee like back then, 15 years ago, especially in the office?
Christo:
​Our first "automatic machines" were really ugly square boxes (Saeco P5) with coffee beans and Ellis Brown​ to make cappuccino's and Shell HO in CTN was our biggest client but it was the beginning of our journey into the super-automatic world of coffee machines. We modified those machine to froth better and started playing with better milk powders etc. eventually developing our own brand to produce really great beverages as that was our goals. Bean-to-cup coffee and cappuccinos in your office that are really great.
Manus:
Ja it was mostly instant stuff back then, with a kettle. Very few automatic machines around, and those that were around were mostly also using instant product only. It was kind of acceptable that good cappuccinos could only be found in coffee shops, not in the office!
TCM: What has been the funniest/ craziest / shocking Office Coffee story you've encountered.
Christo:
​Quite a large company called me one morning and complained that the coffee machine is not working and it is a cold winter in Cape Town...after a few questions to check this and that I asked the lady if the microwave is working and she said no we have load shedding...​
Manus:
Well I'll be honest with you at some point, up till about 5 years ago, I thought I was never going to stop explaining to people that an espresso is supposed to be only 35ml of coffee...hahaha. Luckily that has changed now.
TCM: What makes The Coffee Co such a great solution for Offices and Corporates.
Manus:
Funny enough, as much as we know our coffee is great quality, it is actually not our coffee, nor our wide range of machines...it is the service part. We grew our franchise business model to a countrywide network of franchisees, all giving that personalised service to each client. Clients do not have to phone a call-center and get a reference number and hope someone come out in the next few days to sort out a problem, they phone Billie or Zonja, or Heleen, or Deon, or Gift, or Thea, or Ant, on his/her cell phone and they try their best to get the issue sorted out immediately. I cannot tell you how far our franchisees will go to help clients. This is the difference...it is really as simple as that.

TCM: Tell us about the B1G1 initiative?
Christo:
​B1G1 is our way of saying thank you to our clients and instead of corporate gifts in November we give back to our community through a trackable system with international standards and reach. We also invite our clients to join B1G1 in their own way and give back.​
Manus:
Buy 1 Give 1 is a simple, project based, community support program, specifically designed for the corporate world. It is best explained with how we apply it in our business: For every KG of coffee clients buy from us, they contribute directly to an impact we make on a project of our choice. This impact can be as simple as a marmite sandwich made for kids at a school where they do not have any food to eat during school time. So you buy 1 KG from us, you contribute 1 marmite-sandwich directly, no deductions or percentages or anything like that. On our website home page clients can track every month via the B1G1 link, our contributions in the form of "impacts" and see exactly where the impact goes to. The B1G1 website is transparent and very informative! We do not use this as a "sales" tool. We simply tell clients after the sale and it is great way of getting our client base involved in real contributions to real projects that makes a difference.
TCM: You guys work with some great brands....Jura, Saeco, WMF to name a few... tell us about these brands and why they are so important to your customers.
Manus:
Since 2001 we have been on a quest to find a solution for every problem or request clients come up with. So our range of machines grew as we got more requests, more problems to solve. A small office of 5 people need a small cheap solution that makes great coffee. A large office with many boardrooms, a training center, a canteen and 5 pause area's need different solutions for each of those. In many cases it is not just "great cappuccinos" that is needed, but also "speed of service", "ease of use", "control of consumption through payment/card systems", etc. We like to believe we have a solution for all of these type of offices, from small to large/complex, and hence the wide range we have.
TCM: What is your favourite coffee that you supply to your Customers?
Christo
: ​I developed all our blends and it is roasted in Cape Town since inception and I believe a good blend gives the consistency, quality and flavour one need in an office so that is what I tried to create. Great drinking blends, which is quite different from the typical coffee roasters and coffee shops that plays with intense flavours and single origins. That works in a coffee shop but in your office you want a great cup of coffee or more per day. I love our Barista Blend, it is one of the very first blends as well. All our roasts are designed with automatic machines in mind, so no dark roasts or oily residues.
​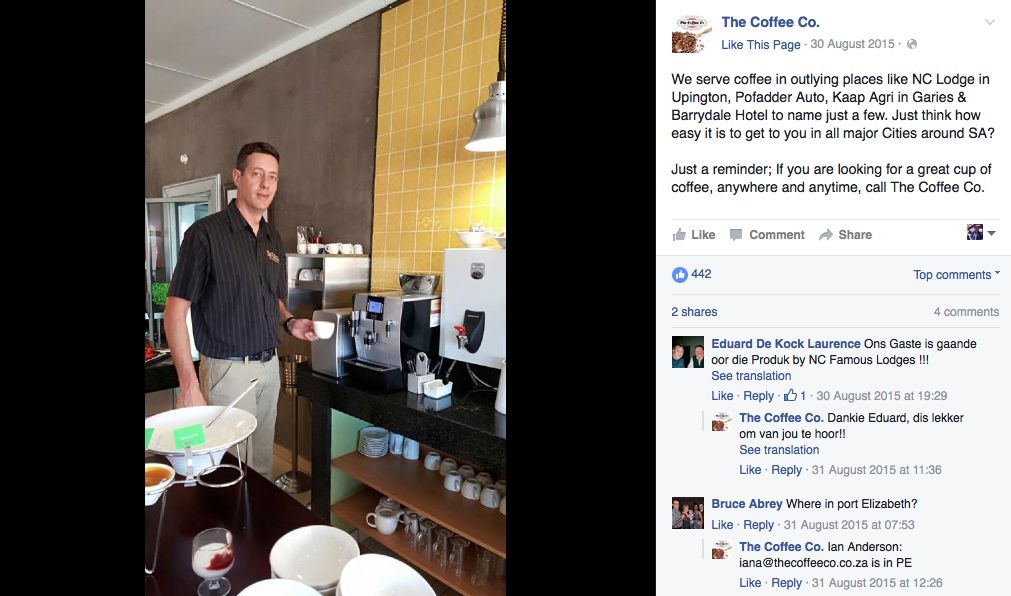 The Coffee Co has reach to the furtherest corners of the country!
TCM: Give us some insight into the scale of what you do in coffee terms...from the little entrepreneurial hot-desk office to a large Firm? Give us some prices and ranges of what The Coffee Co is capable of!

Christo:
​When I opened my little 50sqm office in Monte Vista in 2003 we were 3 franchises in Cape Town only and turning 150 - 200 kg of coffee beans per month. Now we are more or less National (in the big centres anyway) and our network is 35 franchises and two full offices and workshops and just started our Roaster in JHB as well this month.​ We roast our own coffees, make our own vending milk powders, hot chocolates and vending teas (and rooibos) and we are agents of 8 brands of equipment so we offer a wide veriety to clients.

Manus:
In terms of equipment, we have right from R8500 up to R200 000 worth of equipment, with rental options as well. However, we often tailor make solution for a client (especially larger clients), even including an on-site assistant (tea girl) for them so we manage the machines, cleaning, filling, etc. So the cost can vary. We do not like fixed-price deals, but rather deals where clients buy or rent the equipment and then they pay for the consumption. If we provide great coffee with great service, then the consumption goes up, and we make money and everyone wins.
TCM: Last question...what is inspiring you in the world of coffee right now?
Manus:
The fact that more and more people now appreciate good coffee and actually know more about coffee than ever before. More and more people are also now aware of the bigger picture behind where coffee comes from. People are asking relevant questions these days about fair-trade coffee and if that premium you pay for fair-trade is really going back to the farmer for example, and now even about capsules filling up land-fills and so on. This is inspiring, as the bigger picture is hitting home. I love that!