We can't say that there weren't a few surprises in this scoreboard, but what we can say is a huge congratulations to everyone who competed. These are 21 of the Top baristas across the nation. They are all part of amazing coffee teams, making coffee, training people to make coffee, roasting coffee and lifting the standard of the cup we drink everyday. We are so proud of each of you.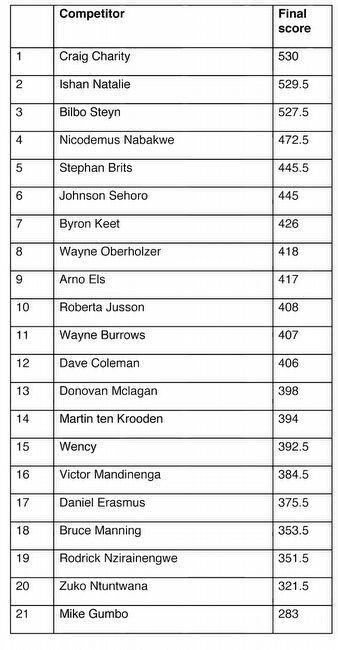 If you click on their names below, it will show you where they work when they're not on stage. And if you want to go find them, you should download The
DIscover Great Coffee App
.
Craig Charity of
Lineage at Stretta Cafe
Ishan Natalie, Stephan Brits, Martin Ten Krooden and Bruce Manning all belong to
TriBeCa
Bilbo Steyn of
Origin Coffee Roasting
Nicodemus of
Avanti Coffee
Johnson of
Ciro Beverage Solutions
Byron Keet and Donovan McLagan of
Urban Espress
Wayne Oberholzer of
Deluxe Coffeeworks
Arno Els and Daniel Erasmus of
Colombo Coffee & Tea
Roberta Jusson of
Lavender Blue
Wayne Burrows of
Rebel Coffee Consultancy
David Coleman of
Ours Cafe
Wency Masawi of
Nino's
Victor Mandinenga of
InFood
Roddy Nzirainengwe of
Union Hand Roasted.
Zuko Ntuntwana of Wimpy Boardwalk PE,
Famous Brands
Mike Gumbo of Kohu, a branch of
Kauai.
The Top 6 looked a little something like this after Finals: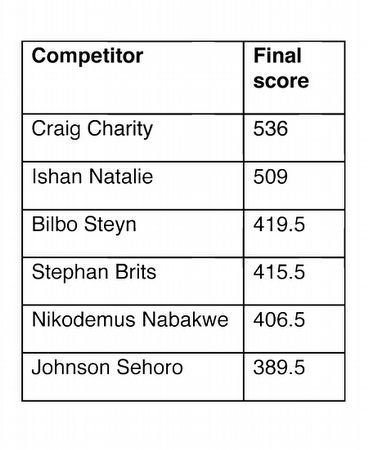 ---