WIN, with TheCoffeeMag!
Fill in the poll and stand a chance to win a Discover Great Coffee box worth R450 and a limited edition CoffeeMag tee, as modelled by Ishan Natalie in the pic below.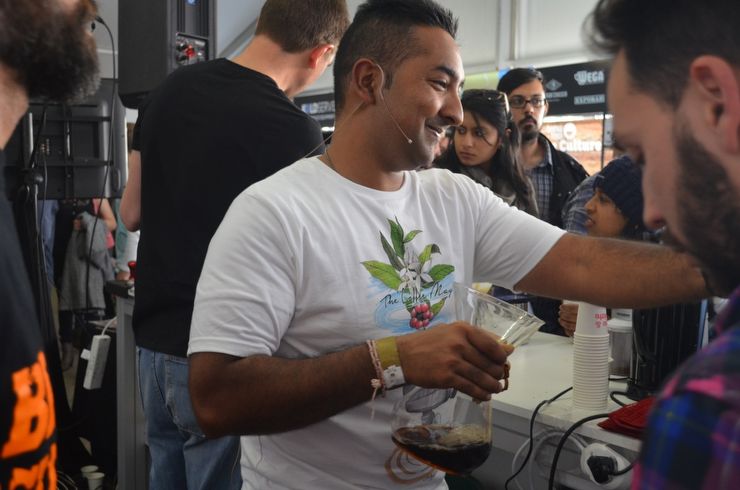 ---
Starbucks....
What do you folks think about Starbucks coming to SA in 2016? We've created a poll which we invite you to fill in based on your own views.
We will compile the results and publish them in next issue of the magazine...
Here is the link to David Donde's opionion on Daily Maverick
on the topic and below is the Official un-edited press release from Starbucks, so you can read what they have to say before you answer:
Starbucks Coffee Company and Taste Holdings announced a licensed partnership that will see Starbucks stores open across South Africa. For the first time in Southern Africa, Starbucks will open full-format stores bringing the entire range of its food and beverages, including its ethically-sourced Arabica coffee, to South African consumers.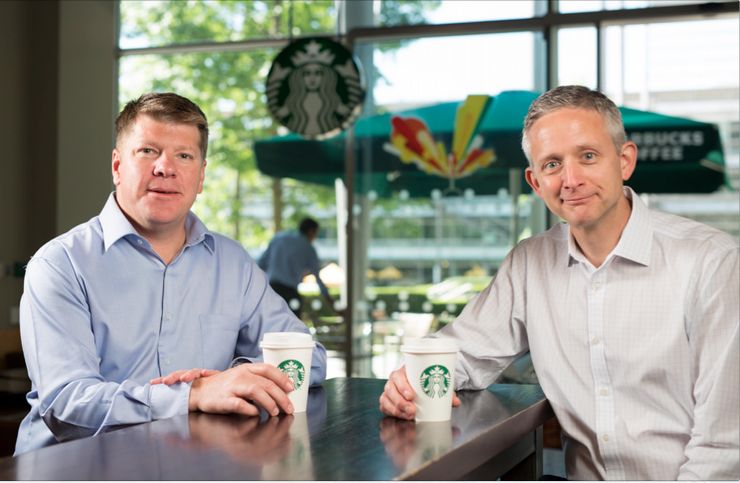 Starbucks announces an exclusive licensed partnership with Taste Holdings for the opening of stores in South Africa, the first in sub-Saharan Africa. Pictured above are Kris Engskov (right), president, Starbucks Europe, the Middle East and Africa (EMEA) and Carlo Gonzaga (left), CEO of Taste Holdings.
"We are proud to be bringing Starbucks to South Africa next year," says Kris Engskov, president, Starbucks Europe, the Middle East and Africa (EMEA). "Working with Taste, our partner, we're going to deliver a great Starbucks experience. The coffee market here is vibrant and growing fast – we want to be part of that growth, bringing the passion and energy of this remarkable country into the design of our first store and our first barista team. We can't wait to get started."
The license agreement sees Taste owning the exclusive rights to develop Starbucks retail outlets in South Africa. As Taste is the licensee, it will own and operate the stores directly.
"We are very excited to be Starbucks partner in Southern Africa. As we've visited numerous Starbucks markets and partners around the world we've come to realise that we share similar core values, including a commitment to localisation and uplifting both direct and indirect partners," explains Carlo Gonzaga, CEO of Taste. "Starbucks supports the development of local suppliers and is fully committed to our Changing Lanes program wherein we have provided employment to previously unemployed people and expose them to global training initiatives and skills. Overall we're a good partnership match."
The partnership will see direct job creation opportunities as each Starbucks store opens, in addition to opportunities at the Taste support office in Johannesburg. Taste expects that the indirect impact of skills transfer into South Africa, and the localisation opportunities in the supply chain will be material. In addition, Starbucks and Taste have committed to continuing Taste's Changing Lanes program, employing predominantly from currently unemployed youth directly from the communities in which they trade.
"Young people are the key to our success. The majority of our workforce is aged between 17 and 25 so talented youth has always been a priority and we will equip our new partners with the skills necessary to succeed in today's economy. We look forward to using our partnership to leverage Taste's strong track record of creating jobs and developing great people," says Engskov
"Starbucks sources a considerable amount of its global, high-quality coffee from farms in sub-Saharan Africa, in partnership with our network of farmer support and agronomy centers in Ethiopia, Rwanda and Tanzania. We are proud to be able to offer some of the best African coffees in the world to more customers in the region."
"We're looking forward to bringing the entire Starbucks experience to South Africa for the first time. That includes 100% ethically sourced Arabica coffee, Starbucks full menu offering and of course beautiful coffee houses," Gonzaga concludes.