Are you drinking good coffee? If you buy this box, you certainly will be. We have curated 6 different bags of beans from roasters across the country to try. Read all about the amazing beans below.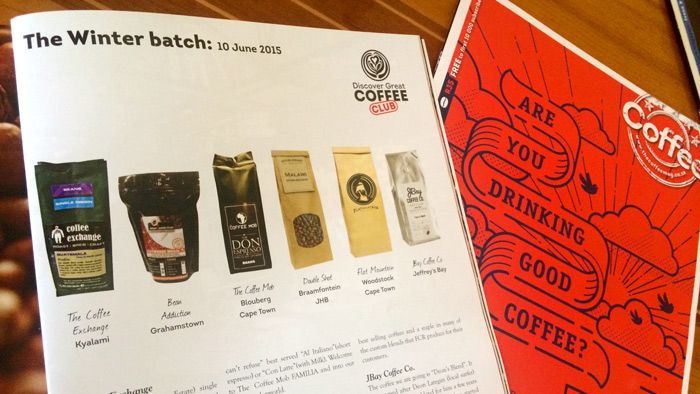 TheCoffeeExchange (Kyalami)
Guatemala (Finca El Morita Estate) single origin. The coffee is a medium (city roast) roast which preserves the origin characteristic of the coffee. This central American coffee has a full, sweet aroma. The cup is bright with hints of dark chocolate. There is a pronounced caramel sweetness in the finish.

Bean Addiction (Grahamstown)
The signature blend from Bean Addiction coffee roastery. Specialty-grade arabicas from the top coffee-producing extremes of the world. A well-balanced blend for all-day enjoyment. Locally roasted & freshly delivered.
Bean Addiction Artisan blends now sold online. beanaddiction.co.za

The Coffee Mob – The "Don" Espresso
Blouberg, CAPE TOWN
This 100% African blend boasts rich hazelnut flavours, which melts into a deep dark chocolate affair, CAPICHE!
Biagio, our frontman delivers a "coffee you just can't refuse" best served "Al Italiano" (short espresso)OR "Con Latte" (with Milk). Welcome to The Coffee Mob FAMILIA and into our coffee underworld.
www.thecoffeemob.co.za


Double shot - Braamfontein, JHB
Direct trade from seed to cup! Direct from Alex's estate in Satemwa Malawi, this reserve lot is exclusive to Doubleshot. A firm favourite and the backbone of Doubleshot's offerings. The bean is big, bold and chocolatey with mild acidity and makes extremely punchy cappuccinos!


Flatmountain - Woodstock Cape Town.
This Ethiopian Sidamo is a full rich bodied coffee with distinct floral and wine notes. It is one of Flatmountain Coffee Roasteries best selling coffees and a staple in many of the custom blends that FCR produce for their customers.

JBay Coffee Co. - Jeffries Bay
The coffee we are going is "Deon's Blend". It was named after Deon Lategan (local surfer) after we created the blend for him a few years ago and as his mates tasted it, they started asking for it as Deon's Blend. Now its one of our best sellers. It is a blend of Ethiopian and Costa Rican Single Origins. A bold coffee with nice fruity/winey tones from the Ethiopian and a sweet bright tangy aroma from the Costa Rican.