So starting a coffee website and magazine has made it very clear to all our family and friends that we love coffee. This has meant an outpouring of coffee related gifts, especially beans. It has been delicious so far. One such wonderful gift was this bag of beans: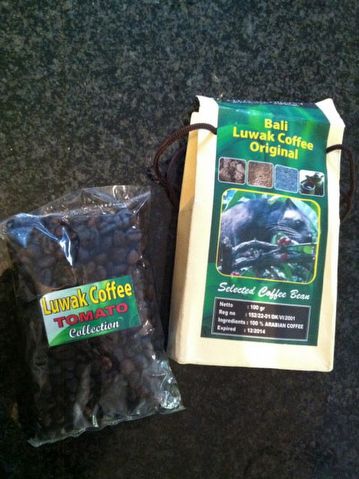 Tomato Collection? Interesting...

Now, we're not experts, but we fear that something has happened between Balinese and English here. A choice quote from the back label:

"Luwak has been known as very selective animal to eat cereal, especially the very overripe coffee bean."

Read it again. It doesn't really help make sense of it, but try. I'm imagining cornflakes and muesli sprinkled across the Bali jungle for the Civet cat's pleasure.

Apart from the strange language, what can be said about the beans themselves? You can see the colour of them; as dark as the granite they were photographed on. We knew we would be expecting the bitterness that a dark roast brings. The aroma was slightly sweet, a dead giveaway the coffee has perhaps been in the packaging for too long (which is fair having travelled from far afield to get to us), but I've also heard that the Kopi Luwak bean is generally syrupy in aroma so perhaps we were getting some original flavour. We ground them for our Aeropress and forged on. The result was extremely earthy and it left quite a lengthy scratching at the back of the throat. Add a splash of warm milk though and it was remarkably pleasant. Definitely a satisfactory morning fix.

So can we trust that they are the real deal Kopi Luwak? Perhaps not. The legend may have eluded us, but it was still an exciting taste experience nonetheless.

---

Any comments from the bean gallery? Has anyone tasted the Kopi Luwak recently?