Words By Shannon Jenkins
Photos by Luke Schilling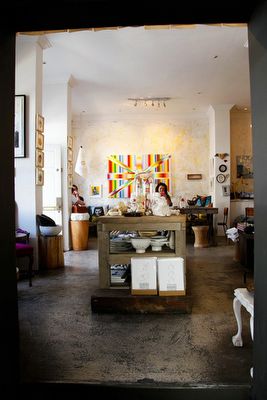 Haas Collective
is a visual feast of a space - from the multitude of detailed & unusual art & decor pieces on show to the top-hatted waiters strolling around! Originally imagined by Francois Irvine & Glynn Venter as an art/design shop, they soon realised that people who visited the shop also wanted a good cup of coffee while they browsed the store. When the adjoining space became available, Francois decided it was time to make some improvements.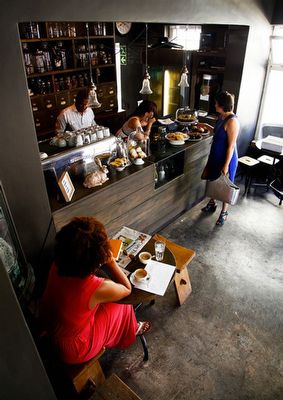 "I joined forces with some dear friends of mine who roast their own coffee in Robertson, called
Strictly Coffee.
In my opinion Hanu Schwartz and his team are making the absolute best coffee and I felt it was the perfect partnership for us. I had zero knowledge of coffee so Hanu had to teach me fairly quickly. Just before the coffee shop opened, our roaster was installed and Hanu came around one evening so we could do our first roast together. It was an intoxicating experience and one I've grown to truly love."
Haas currently uses a Has Garanti Roaster - a Turkish hand-roaster (People often read the label & ask if there's a spelling error," laughs Francois)"It's been amazing learning from Hanu. Each roast is so different because it's so dependent on climate, moisture, the beans..."
As far as beans go, Haas is mostly using African single origin from Ethiopia, Kenya and Burundi but also some Brazilian. They do sell two blends, the Haas, which is proving hugely popular with their locals and the New Haas - they're still working on a name for this one!
But the star of the Haas show is undoubtedly the Kopi Luwak. The rarest and most expensive bean in the world, you'll pay up to R100 for a cup of this precious liquid. A small civet native to the plantations of Indonesia eats the coffee fruit and then excretes the beans. Coffee plantation workers who were forbidden from drinking the coffee they farmed in the days of colonisation, started collecting the beans left over by the civets and using them to make their own.
It turned out the digestive juices of the animal give the resulting beans an incredible flavour that became highly prized by coffee aficionados world-wide. It's a strong earthy flavour that lingers throughout the palate long after the tiniest sip.
But supplying this kind of product doesn't come with controversy. When Haas first started selling Kopi Luwak, Francois was mortified to find the Carte Blanche crew on his doorstep one day, determined to prove that their coffee had come from civets that had been caged and forced to produce the beans.
"Our Kopi Luwak is collected in the plantations where the civets live. The amount we get is completely dependent on how much the workers can collect, which means we only get a shipment every few months." The Carte Blanche team found Haas's coffee to be all above board after they showed them the correct certification for the beans, however they decided to feature the story anyway and soon after an influx of coffee-lovers flocked to the store in search of "the Carte Blanche coffee'!
The Kopi Luwak seekers caused this little shop to grow even more and soon, they added a complete menu of food, opening a kitchen across the road in an adjacent warehouse (The waiters actually walk across the road with the food!) and Haas now has three full-time baristas who prepare their coffee with love.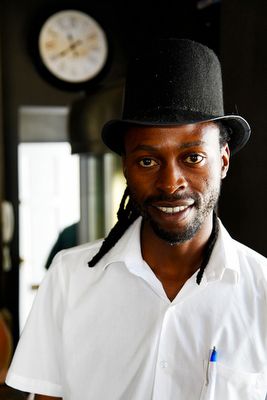 "Most of our baristas were trained before they came to us, but Hanu has overseen their work from the start and continues to make sure their work is top notch," Francois says, "That said, almost all our staff are more than capable of making great coffee. In the 2 years we've been open we've had a very small staff turnover and so our team are close-knit and familiar to our customers. First and foremost our shop is about art, but it's also a place where people can enjoy a really good cup of coffee."