By John Roff
---
Coffee adventures in the Mother City
I went to Cape Town to visit my family - and to make a coffee pilgrimage to some artisan coffee places that have received high praise in
The Coffee Mag
. Rosetta, Truth and The Creamery Ice Cream shop were all on my radar, along with a strong feeling that I would encounter good coffee almost everywhere.
Well, first off, I've got to say that I didn't encounter good coffee everywhere, and that Cape Town is no different from other places - you have to look carefully for the treasure. I looked, and I found. I've also got to say that I couldn't find an artisan dark roast easily. There's like a dark roast Taliban in Cape Town. Even medium gets a frown. In one place I asked for medium-dark and was almost laughed at (won't be going back there in a hurry). Now I like a good continental espresso every now and again, and I wanted to see what the Cape guys could do with a careful medium-dark roasting of some amazing beans, but I couldn't find it. Any of you reading this, please tell me that I'm wrong (and show me the beans to prove it).
So here are four short highlights - my coffee adventures in the mother city.

ONE
Q. You're at a fantastic food and drink market on a Saturday morning. Why not start your day with a craft beer?
A. Because within 5 metres you can get a cup of freshly-poured Blue Batak, which costs less than the beer, and tastes better.
I started my coffee odyssey at the very-cool Neighbourgoods market at the Old Biscuit Mill market in Woodstock. The place is alive with vibey people, craft beer, all kinds of pastries, fresh bread, real Bagels, snoek pate, oysters, amazing tea and teapots - it's a feast for the senses before you even taste anything.
The first stall I saw at the market was
Rosetta Coffee
, with Rob and Ollie busy working a bank of Chemex pour-overs. These men are seriously committed to giving customers what really good coffee should be. They exude a deliberate professionalism and dedication which won me over. I had a cup of Blue Batak, from Sumatra, and it was spectacular. Thanks guys. Single origin is the way forward. In fact, I had this thought about how the biscuit mill market is redeeming an old biscuit mill, and Rosetta is redeeming good coffee. Almost spiritual, man.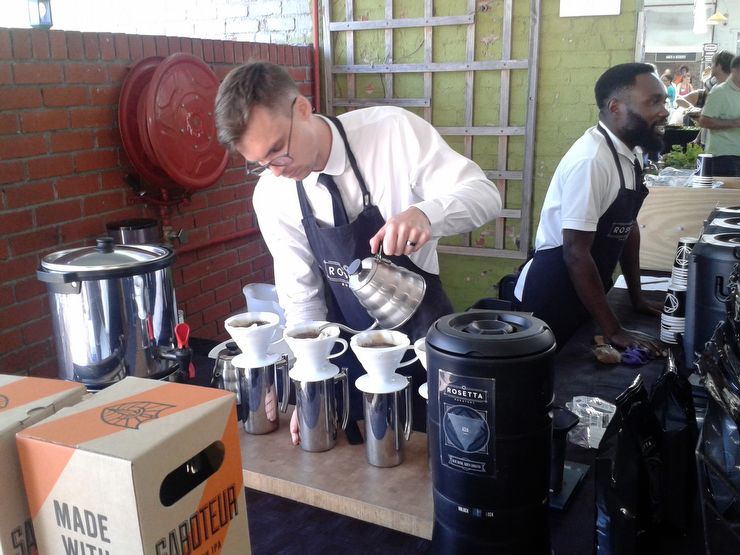 Determined to get to the
Rosetta Roastery
itself, my wife and I went there a few days later. Important background information - my wife hates coffee. Yes, the H word. She will not touch it in any form. After hearing Rob explain something of their philosophy and attention to roasting profiles, she said ' I almost wanted to have some when I heard him talk'. Believe me, that is seriously high praise. I got a bag of Zapote, from El Salvador, and of course, the Blue Batak. There will probably be a cup of it in my hand when you read this.
TWO
Truth Coffee
oozes presence. The place is a
steampunk
streetside cafe on steroids, where their coffee is roasted, served, drunk, sold and enjoyed. There's fine food to eat, a rich and genuine friendliness in the staff, and I have not tasted a finer Almond croissant anywhere. But I went there for the coffee, so what to try? I went for their signature Resurrection blend, best enjoyed as an espresso. I was served by a particularly professional and friendly young man with a magnificent steampunk hat, who organised everything, and made sure that my son (who tasted the blend and said 'it's very good') and I could have a fascinating visit with the enthusiastic and informative Neil who was doing the roasting. This happens in a huge Probat roaster which sits humming in the centre of the shop like a nuclear reactor. Perhaps that's why the Resurrection blend is so particularly good at waking you up. I recommend the whole experience.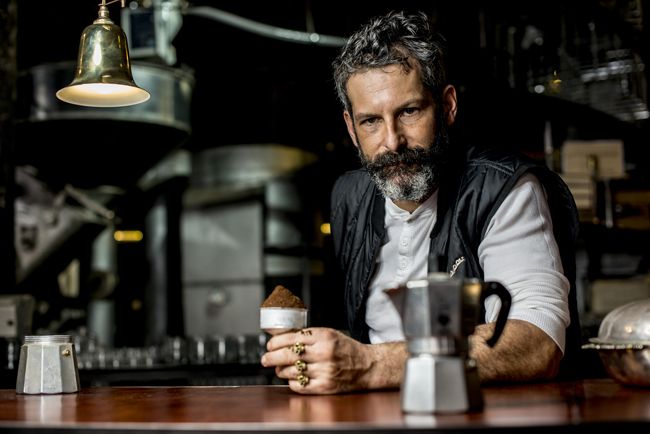 David Donde on site at Truth HQ on Buitenkant. Photo Craig Kolesky


THREE
Good ice cream is always worth investigating, and The Coffee Mag article last year sang
The Creamery's praises
so I had to go, and had planned to for months beforehand. My wife and I made the trip, and the ice cream was superb - not too sweet, freshly made, real flavour - in short, it is the real thing. Why am I talking about this? Because one of the flavours offered by these guys is a coffee-flavoured ice cream, and who they have chosen out of Cape Towns wide range of roasters - Rosetta. Need I say more?

FOUR
My other son and I went on a car-hunting adventure together, and found
Crossley and Webb
- a fascinating showroom place that sells investment cars. We went in to check out the cars, and I couldn't help noticing that smack in the middle of the showroom was a Truth coffee bar, where you can enjoy a fine espresso while surrounded by Ferraris, Maseratis and other pieces of automotive splendour. A Ferrari 458 briefly distracted me, but soon I was gazing at the coffee bar once again and thinking how innovative and cool it is to blend good coffee and good cars. I think you should go and visit it.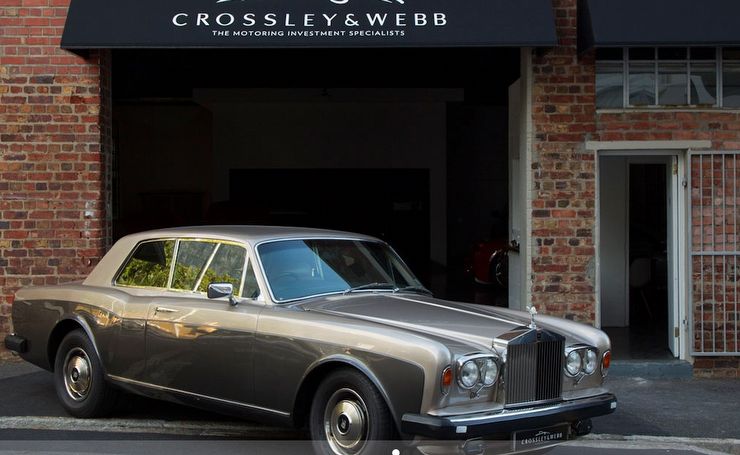 After this we went to a restaurant behind Rhodes memorial, my last Cape coffee opportunity. The lunch was great, the coffee was less memorable than the memorial, but I left feeling rich, happy and satisfied because my son was with me, the sun was shining, and I love Cape Town.
---