These are some of our favourite coffee and adventure things. They are wonderful as gifts for coffee lovers all year round.
*Please not that the prices published here are subject to change and should not be taken as fact.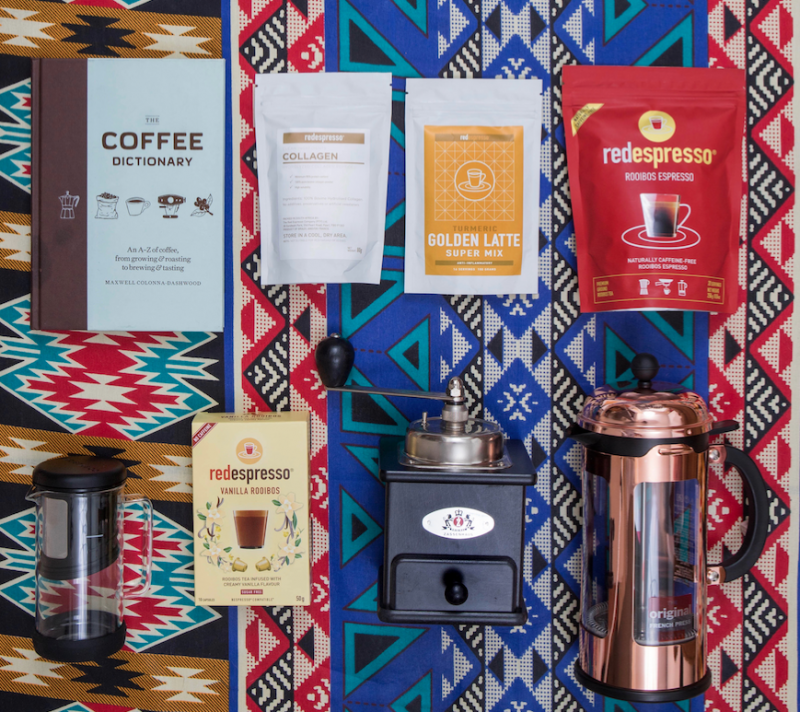 The Coffee Dictionary: R300 (incl delivery) - Order from finance@truenorthmedia.co.za (Limited stock available!)
Red Espresso Clean Ingredients Range: From R115
Red Espresso Super Mix Range (Golden Latte, Matcha Latte, Beetroot Latte): From R89
Red Espresso Nespresso Compatible Rooibos Tea Range: From R64
Find all Red Espresso Products available to order online at redespresso.co.za
Zassenhaus Coffee Mill - Nature - Order from www.krdm.co.za
Original Bodum Chambord plunger: R655 from Takealot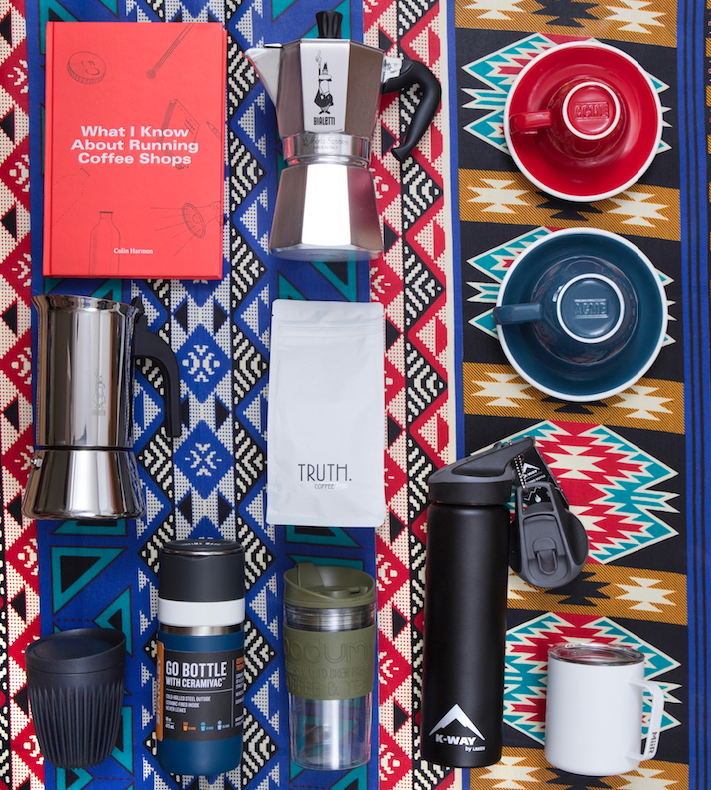 What I know about running coffee shops by Colin Harmon: R500 (incl delivery) Find it here.
Bialetti Moka Express (4 cup): R629
Bialetti Venus Stainless Steel Stovetop Espresso Maker / Moka Pot (6 cup)
from R829
From www.capecoffeebeans.co.za
Truth Coffee: from R110 https://za.truth.coffee/collections
8oz HuskeeCup & Lid – Value = R280 - Order from www.krdm.co.za
Stanley 0.47L Ceramivac Bottle: R599 from Cape Union Mart
Bodum Travel Mug DW 350ml: R285 from takealot.com
Baratza Encore Grinder R3,390.00 from www.moreflavour.co.za
Felicita ARC Bluetooth Espresso Scale R 2,199.00
Felicita Incline Bluetooth Coffee Scale R 1,499.00 both from https://capecoffeebeans.co.za
Customised Barista Apron's from Jonsson Workwear: R199 (excl embroidery) https://www.workweardepot.co.za
Ciro Coffee Academy Barista Kit - R2,705 from www.cirocoffeeboutique.co.za
Ceramic Cupping Bowl R 79.00 each and Stainless Steel Cupping Spoon R 89.00 from https://capecoffeebeans.co.za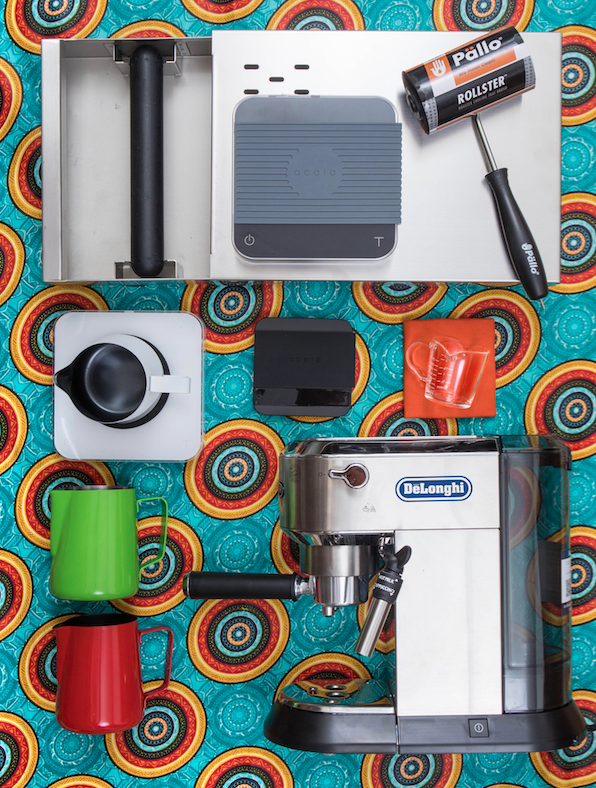 Equipment Café Stainless steel knockbox: Price on request. https://equipmentcafe.co.za/
Acaia Pearl Digital Bluetooth Coffee Scale R 3,799.00 www.capecoffeebeans.co.za
Pallo Rollster brush https://equipmentcafe.co.za/
Acaia Pearl S Digital Bluetooth Coffee Scale - R4,699.00 www.capecoffeebeans.co.za
Acaia Lunar Water Resistant Bluetooth Espresso Scale - R 6,499.00 www.capecoffeebeans.co.za
Double spouted shotglass https://equipmentcafe.co.za/
Colour coded milk frothing jugs – various sizes https://equipmentcafe.co.za/
Delonghi Dedica Style EC 685.BK Pump Espresso Coffee Machine: R3299 - www.takealot.com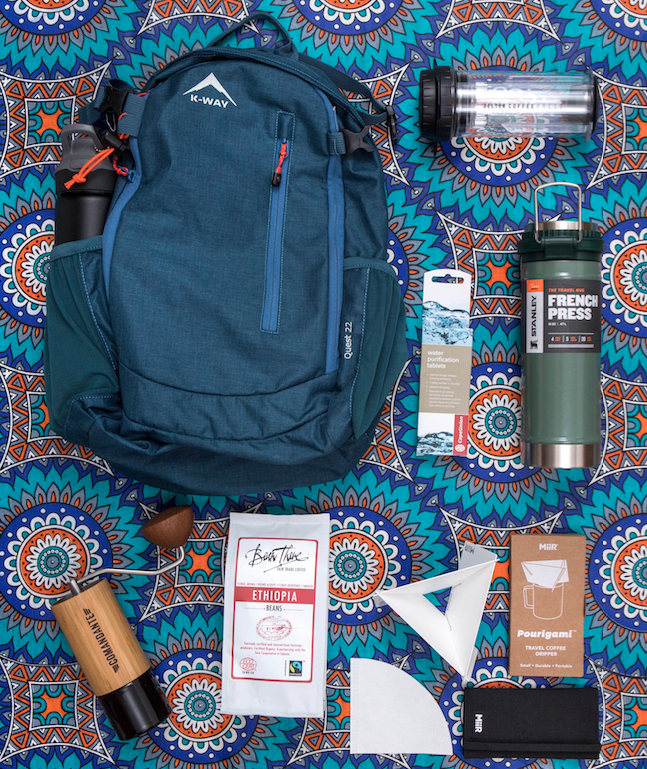 K-Way Quest 2 DayPack: R699 with K-Way Thermo bottle 750ml :R499 from Cape Union Mart
Delter Coffee Press: R 625 from www.capecoffeebeans.co.za
Cape Union Water Purifying Tablets: R45 and Stanley Classic Vacuum Travel Press 0,47L: R799 from Cape Union Mart
Comandante Hand Grinder: Price on request www.tribeca.co.za
Bean There Ethiopia Beans: R90 and MiiR Pourigami travel coffee dripper: Price on Request From www.beanthere.co.za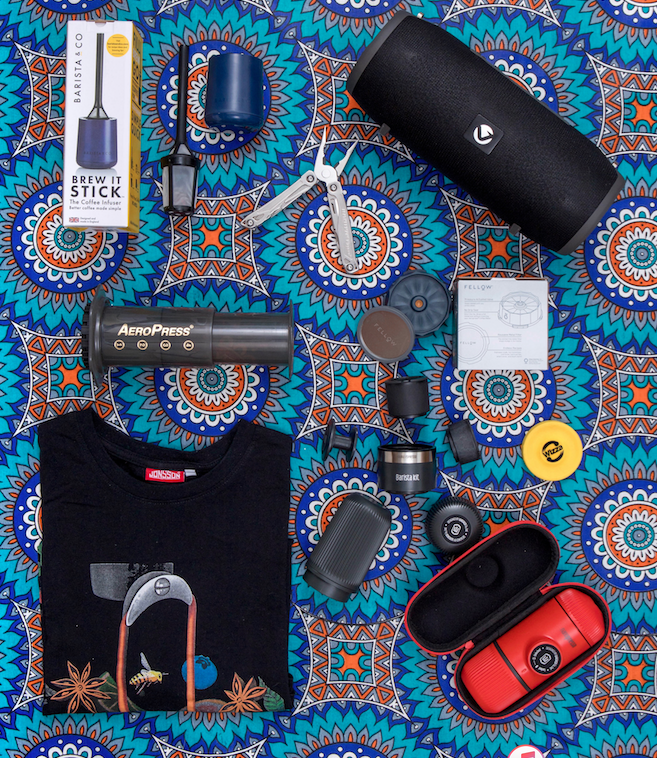 Barista & Co Brew It Stick Coffee & Tea Infuser: R299 From Yuppiechef
Leatherman Wingman Multi-Tool :R999 and Volkano Barrel Bluetooth Speaker:R599
from Cape Union Mart
AeroPress™ Coffee Maker: R695.00 and Fellow Prismo: R480.00 - From www.moreflavour.co.za
Creative Coffee tee shirt: R220
Find it at coffeemagazine.co.za/giftguide
Nanopresso Elements Lava Red & case: R1,475.00 and Wacaco Barista Kit for the Nanopresso: R425.00