Brewing Coffee at Home: A COVID-19 Series - The Clever Dripper
Friday, 27 March, 2020
Welcome to the Lockdown! Hopefully you have stocked up with enough delicious coffee from your local roastery and are ready to have some fun learning new brew methods and ways to extract your favourite coffee!
Got something to say? Then leave a comment!
---
Brewing Coffee at Home: A COVID-19 series - The Moka Pot
Thursday, 19 March, 2020
What a time to be alive!
We can't stress enough that you should continue to safely support your local coffee spots, but social distancing is necessary so you will likely be brewing more coffee at home. Have you used your moka pot recently? This is my (editor, Mel Winter) go-to method for home coffee. Consistency, ritual and history, all ingredients for a delicious home brew!
We'll be sharing videos from us and from coffee professionals around the country and world. Have fun and take care out there.
Got something to say? Then leave a comment!
---
Variety is the Spice of Life: How your Roaster's coffee selection impacts everything
Tuesday, 10 March, 2020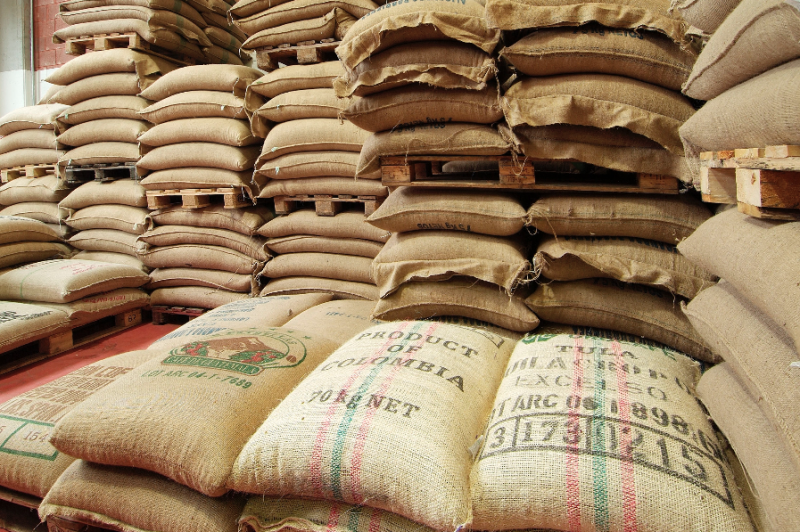 And more than that, the benefits of a diverse coffee line-up at our favourite coffee roasters reaches all the way to farm level.
Words by Jesse Dodkins
---
It is becoming more common to see coffee roasters offer more than just one flagship blend that gives the consumer the generic flavours of 'coffee'. Roasters are providing choice with a range of single origin coffees and therefore a variety of flavour profiles. This variety at your local roastery showcases the the complexity and qualities unique to each origin and can satisfy a wide range of tastes and preferences whether you enjoy "nutty, rich" profiles over "floral, fruity" profiles. Specialty coffee has something for everyone and that is its ultimate value.
It is important here, that we don't define specialty coffee as a flavour profile. I often speak to business owners and consumers alike who at the very mention of specialty coffee wince as if they have bitten into a lemon when they imagine tasting when drinking a cup that lives up to their idea of specialty coffee. So, if specialty coffee is not a specific flavour profile, then what is it? It is a grade of quality for coffee (scoring 80 points or higher according to a qualified Q-Grader) and it is made up of an industry of individuals and businesses who are all concerned with the value in this relationship chain. This includes producers, roasters, coffee shops and coffee drinkers but also includes machine manufacturers, logistics companies and even dairy and alternative milk companies.
The specialty sector has been incredibly persistent and has grown solidly over the last 10 years. According to a report by Allegra, the specialty market has been growing at 12% year on year and is expected to continue following this trend. Part of what enables this market expansion is the consistent supply of coffee grown at specialty grade. A lot of work has to go into go into increasing cherry yields at origin year on year while maintaining this quality. To do this, it means looking at often tiny and unique details that will end up making the difference. Take the development that occurred in the small region Copan in Honduras, for example. A number of smallholder producers in collaboration with agronomists from Falcon Specialty managed to increase the ripe cherries picked from 55% to 85% leading to an overall improvement in quality and saw over 60 000 USD paid in quality premiums in the region. This wasn't because of a big wholesale change but rather changes in the little details, in this case, correct ripe cherry selection. Key areas of improvement were in cherry selection and picking, processing and drying. Ripe cherry selection is key to producing quality coffee, and the standard in Honduras is generally quite poor. However, through the development of a micro-lot picking team shared by the 25 producers, they saw huge results. Falcon also provided training for the technical staff at the mill on a range of processing methods, and how to use the solar driers to control drying time and temperature in order to maintain quality and longevity. Small details like this can be repeated over and over to get the same results.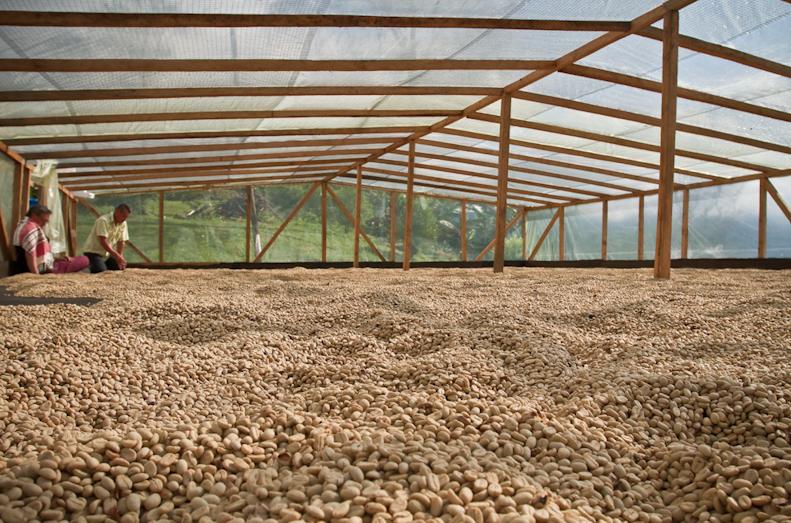 One of the incredible things about specialty coffee is the diversity of flavour profiles available which opens up a world of exploration and opportunity outside of the specialty coffee shop. Recently multi-Michelin Starred Chef, Alain Ducasse, has launched his own specialty coffee roastery so that he is able to create better continuity between the high quality food that he offers and the coffee that comes after it. You also see specialty coffee being introduced in hotels where you can really show off the diversity of specialty coffee by building a coffee program that changes throughout the day (Fancy!). For example a rich chocolatey Minas Gerais Brazil filter coffee to go with breakfast, and a delicate floral, Guji Ethiopian Cappuccino for "afternoon tea".
But the complexity of a naturally processed Gesha village is not for everyone, some crave the malty, chocolatey goodness they've come to love in their morning flat white. I would argue that specialty coffee can offer the best version of a familiar chocolatey and nutty profile that they've ever had.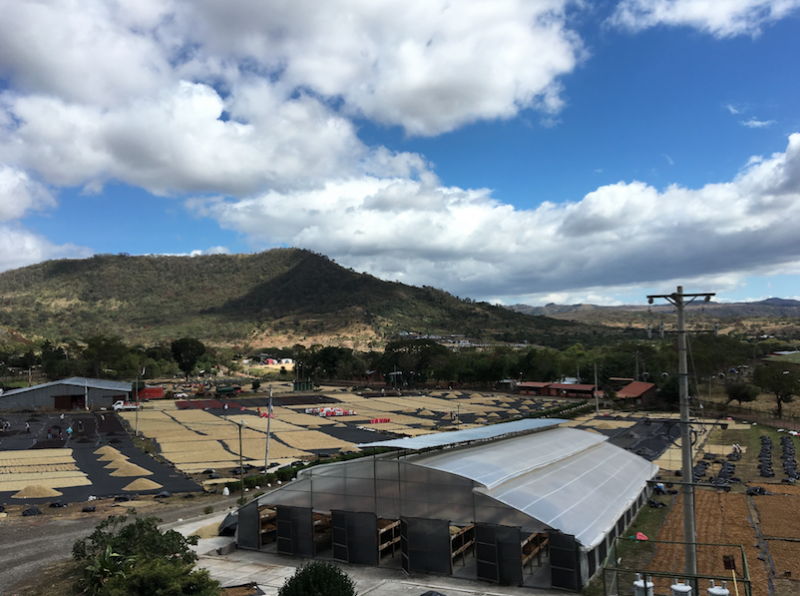 The little details between how each lot is treated is ultimately what drives differences in flavour profiles. The first time this really hit home for me was on my origin trip to Nicaragua to visit the Mierisch family. Each lot was separated thoroughly by varietal as well as harvests separated by days. Processing was extremely meticulous, including parabolic dryers (similar structure to a greenhouse) and every sorter you can think of. I tasted the effect of the tweaks in detail on the cupping table where coffees from the same lot were vastly different in their flavour profile. As a roastery, when we are sharing coffee with customers over the bar or with our wholesale customers in their own coffee shop, it is the vivid experience of the distinct flavour profiles between coffees that allow us to point to the skill and tremendous value that the producer adds. Producers have had to adapt to become strategic business people using their expertise to create value. By highlighting the valuable work that the producers do, our broad range of consumers can see greater value in the cup they are drinking and become more familiar with the idea of paying more for coffee and therefore growing value in the industry even further.
The big question recently while the coffee price crisis rages on is how can we positively impact what happens to the people within the system, most of all the farmers. I believe that by encouraging a diverse range of flavours from origin we can assist with this as consumers and roasters. This diversity in flavour profiles can only be achieved by looking at the little details as they're doing at farm level. As roasters we can measure roast curves and create roast profiles to get the best out of the beans. This also means that it can continually be improved year on year. Having a diverse range of coffees showcases the value of coffee roasters. It shows that their role is more than just making coffee consumable, but requires a thorough understanding of the mechanics of roasting that they can apply to a diverse range of coffees each requiring minute adjustments. Like with coffee production, this comes with measuring details for repeatability and improvement. This trust that comes from consumers with this value means that roasters end up becoming the gatekeeper for coffees that consumers end up being exposed to. This gives them a responsibility to showcase a range which is inclusive of all preferences (specialty coffee is a grade of quality not a preference) and showcase the value of expertise of producers.
What about the baristas (both home and commercial)? In my first few months of being a barista, I was given some great advice from a coffee professional: "Taste everything". By tasting everything I could get my taste buds on, it really accelerated my learning curve about flavour being linked to origin because the answer to every question was always backed up by taste. I wouldn't have been able to do this if I did not have a roastery in my neighbourhood that provided a diverse range of coffees. A wide line up of coffee not only grows a barista's knowledge but also increases their value to the consumer in a coffee cafe. As they taste coffees with different flavour profiles questions arise about what it is that creates that particular distinction, or why is it that the coffee tastes so delicious? Why do these two coffees from the same region in Tolima, Columbia taste so distinct from each other? Is it the altitude? Is it the processing? Is it the varietal? All of these questions lead to understanding coffee in so much more detail. This means they are able to give customers a more rich and valuable coffee drinking experience. This takes the customer out of a habitual low value consumption of coffee to a high value ritualistic consumption as they gain more than a caffeine hit, they gain new information and a connection with the value of the barista, the roaster and the producer. I'm sure a lot of baristas have had the same experience, where a customers attitude towards them changes as soon as they are able to provide them with insight into the coffee world that they didn't have before. We can play around with and perfect recipes which means that quality can be repeated and coffees appreciated. Ask your local roaster about recipes for espresso and filter!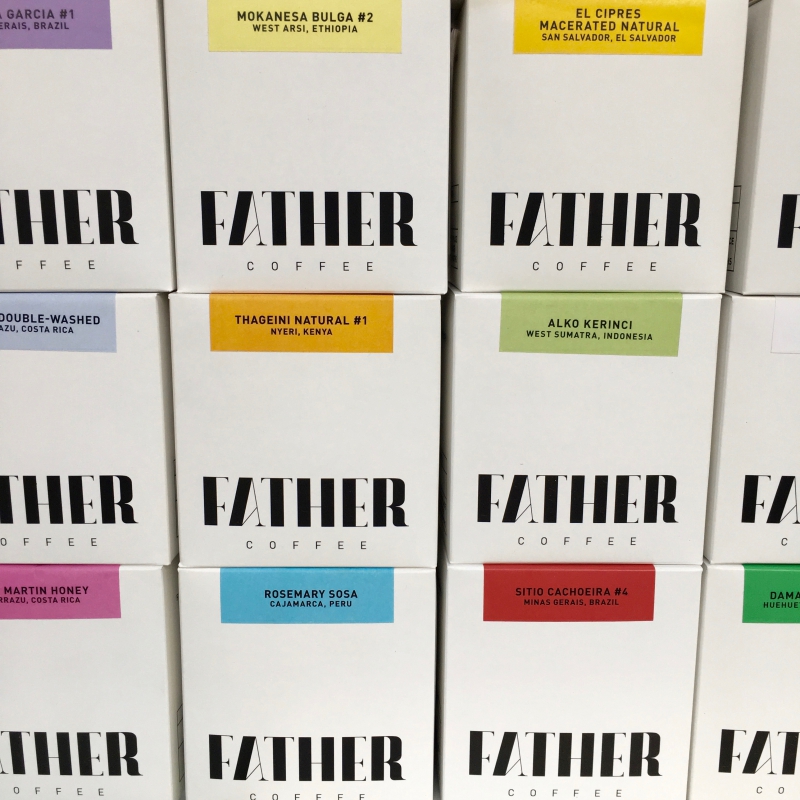 The distinction between coffees is ultimately a built in mechanism for education around coffee, as we can't explain what makes it different and unique without introducing consumers to the work of producers, roasters and baristas in a more intimate way. So the benefits of roasters having a diverse line up of coffee means producers can be promoted in the cafe space and consumers can understand their value better, roasters can showcase their skill and value and it also grows and highlights the value of baristas. Everyone wins!
Got something to say? Then leave a comment!
---
New Brewing Device: AeroPress Go!
Thursday, 13 February, 2020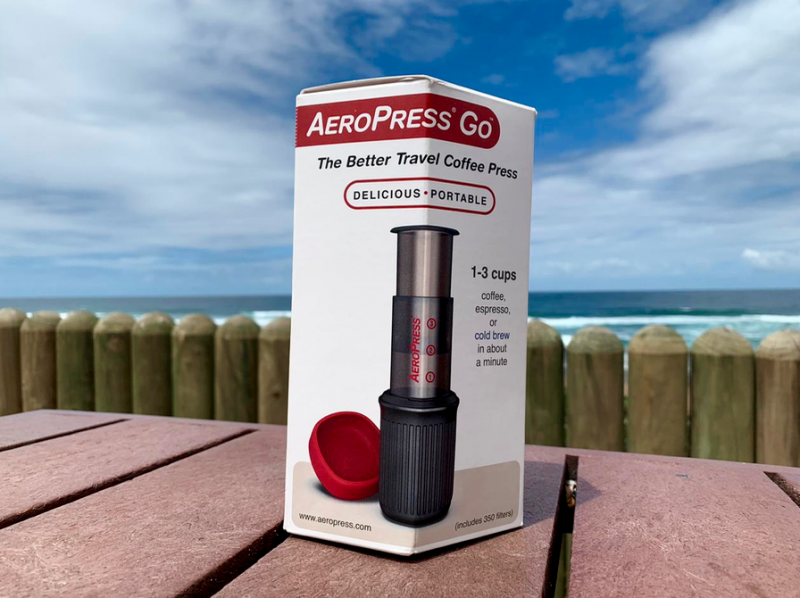 If you, like us, were wondering why and how the AeroPress Go could differ or improve on the original AeroPress, we got our hands on one from MoreFlavour to put it to the test and answer those questions.
We've taken our AeroPress all over the world and we already think it's a pretty great device for travelling because it's totally unbreakable even in the most clumsy hands (like mine). The tag line of the AeroPress Go is the 'Better Travel Coffee Press' and the reasons for it being better are that this slightly smaller brewer comes in a neat travel container that keeps all the bits together and doubles up as a cup.
What are the bits that you get?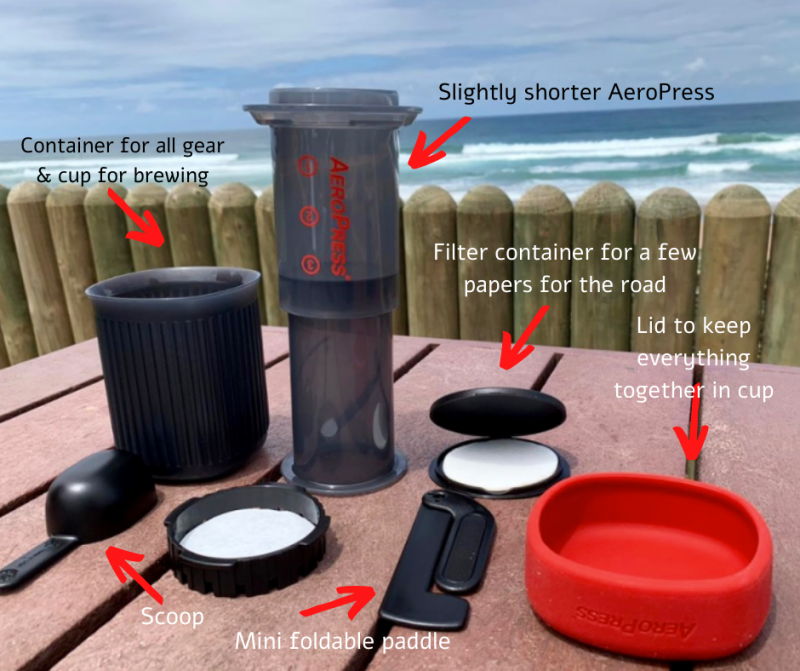 The brewer still makes delicious coffee, which makes sense because it is exactly the same but for losing a little length and the additions for travel are great. If when travelling you are like me and don't use a scale you will have to get used to adjusting the amount of coffee you usually use down a tad. I am very used to sight-filling the chamber and getting a great result in the original, so I think on my first go, I over-dosed a bit.
Quick Guide
PROS
More compact for travellers, great for hikers especially
Convenient filter compact to keep filters dry and uncrinkled
Cute mini paddle (love a good mini-me)
Funky design
CONS
Brewer does not fit perfectly on cup unless in a specific position
Cup is a bit of an awkward shape (totally preference based)
You have to finish coffee and dry cup before you can pack it all up again (but the coffee is so good, it's easy to finish quickly ;)
If you've never used an AeroPress before, then this conveniently packaged Go version, may be a great buy for you if you've always been intrigued and do a lot of backpacking. If you already own an AeroPress and are expecting something wildly different, that's not what this is, like it says on the packaging, it's just the 'Better' travel press. As always so much fun and so easy to use.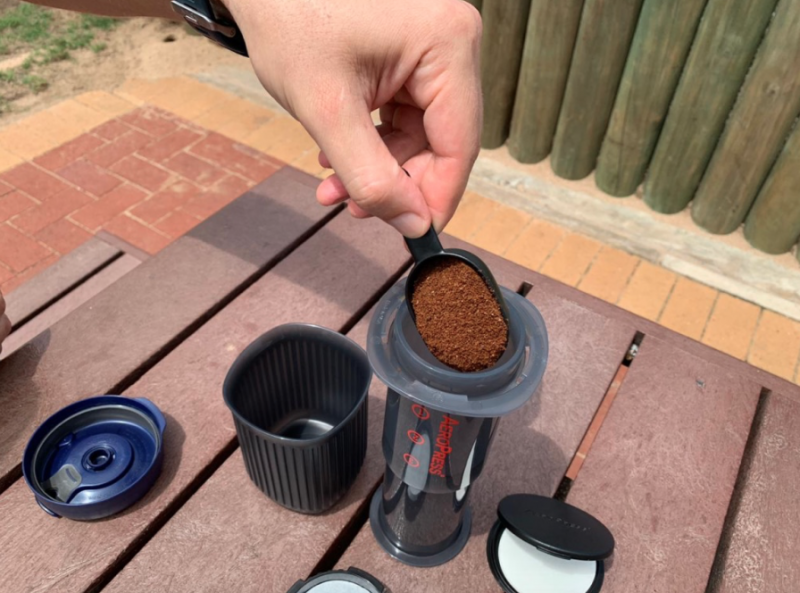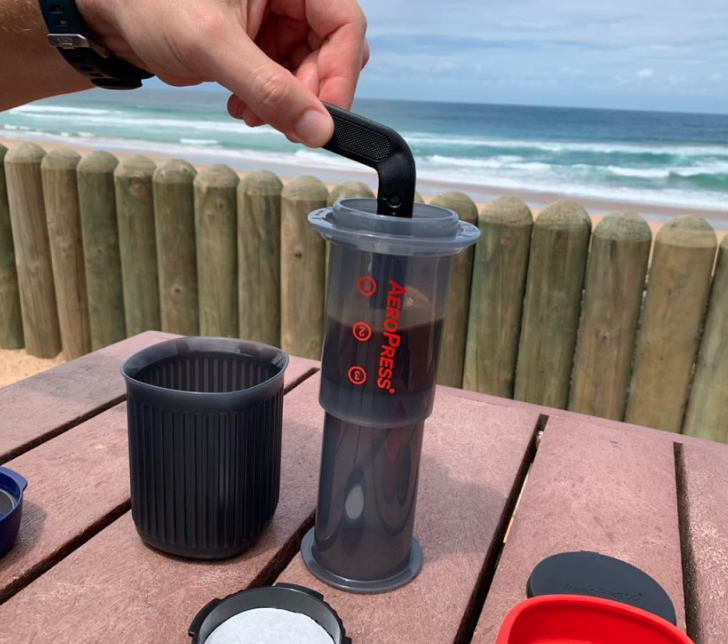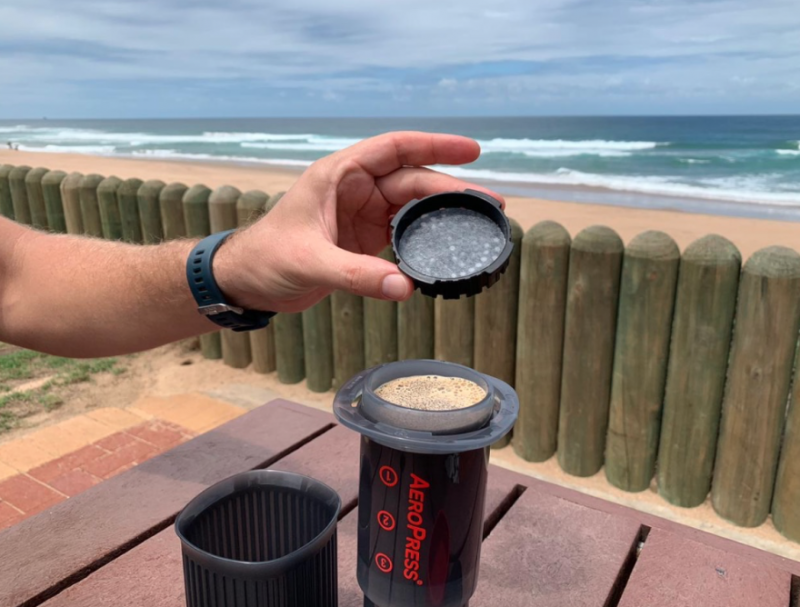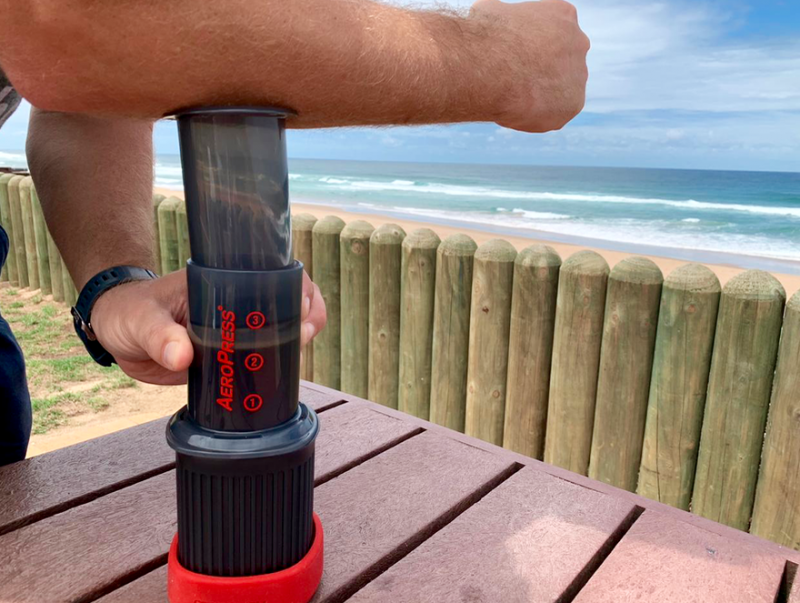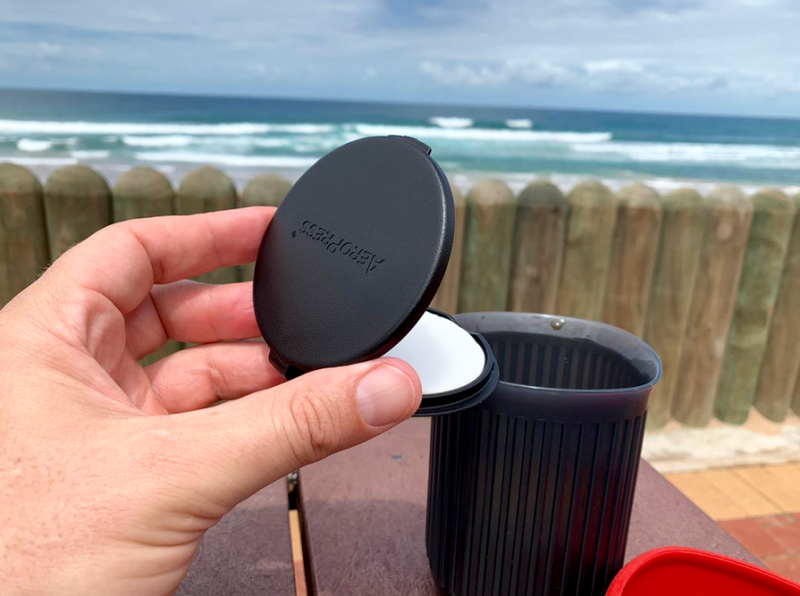 Got something to say? Then leave a comment!
---
Coffee Basics: What does 'Strong Coffee' really mean?
Thursday, 10 October, 2019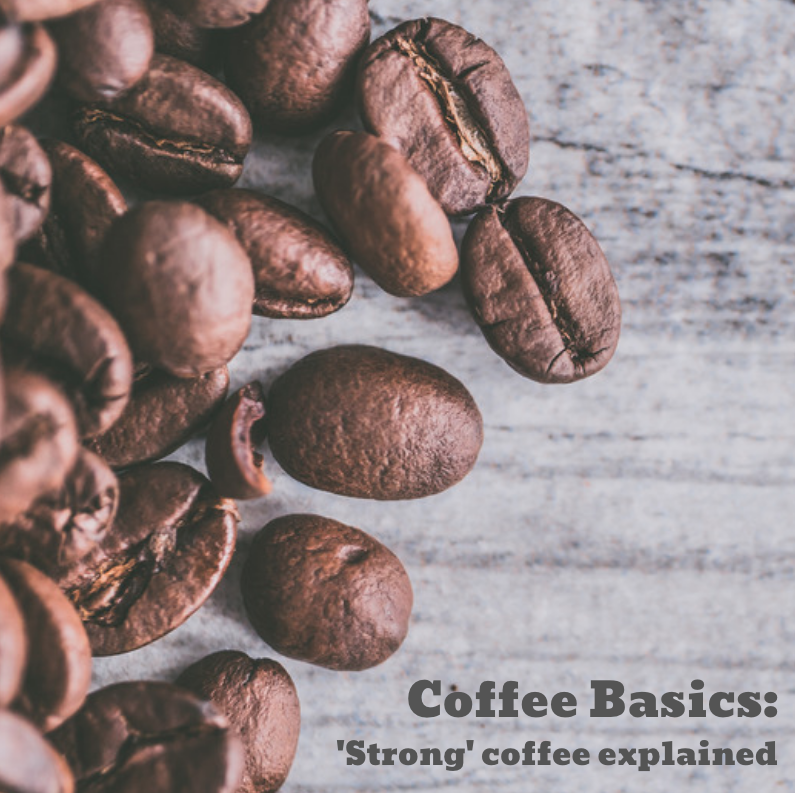 How many times have you had a really tough morning and walked up to your local barista and asked for a really strong coffee. Maybe it's the start of the school year and everyone is trying to get back into routine. Maybe you're back from a relaxing holiday and work has hit you like a ton of bricks. Maybe it's just the pace of life in general. We need our coffee to help with that!
As simple as it sounds, asking for a 'strong coffee' really is up for interpretation. So here are a few facts to help make your next order a bit more specific.
'Strength' generally refers to the kick you're going to get from your morning pick me up ie the amount of caffeine your coffee delivers, but that isn't really related to how dark your coffee beans are, but more importantly how your beans are brewed. Though dark roasted coffee beans taste 'stronger' because they generally have that bitter, eye-twitching edge, this doesn't necessarily mean you're getting any added caffeine benefit.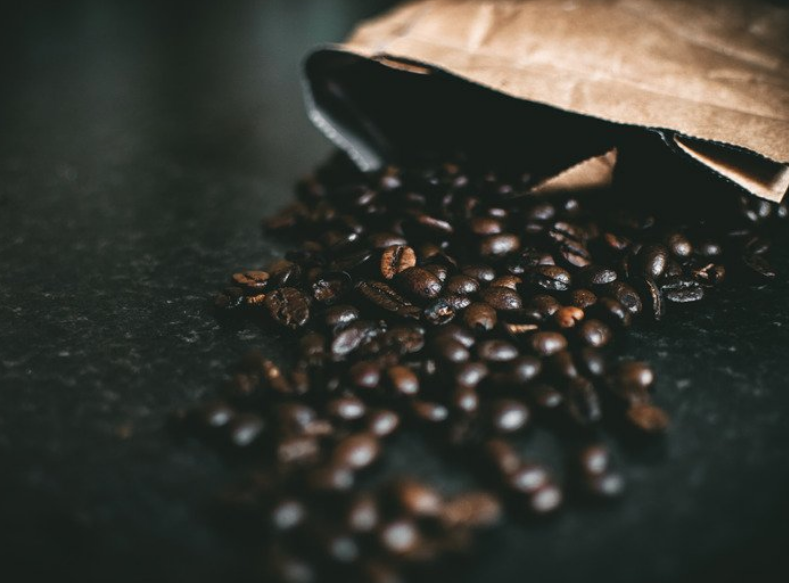 If we're talking espresso based beverages, your barista will likely add an extra shot of espresso to your chosen order to give it that extra kick. And while you may think that adding more milk is diluting caffeine, it's not! While the coffee flavour is altered to be smoother, the caffeine remains the same and as the milk fats take longer for our metabolisms to break down, the caffeine may even stay in your system for a bit longer than if you drink it black.
When it comes to filter coffee, the longer the water is in contact with the grounds, the more caffeine is able to be extracted, so full immersion methods like the French Press contain more caffeine than the equivalent amount of coffee brewed through a pour-over, where the coffee passes through the grounds quickly to the carafe below.
If you're after coffee designed specifically for caffeine strength, you're not alone, apparently there is quite a demand for the stuff! The 'Strongest Coffee in the World' title was long held by Death Wish Coffee from the United States, but over the years this title has been won by newcomers to the market. We get the jitters just thinking about the kick these coffees can administer, but whatever floats your boat! There's even an SA company in there making waves.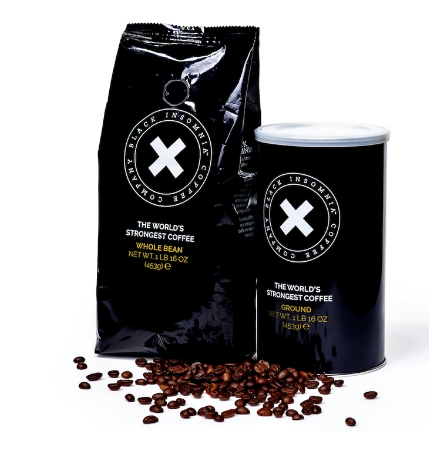 The secret to most of these extra-strength coffees is in the varietal of coffee they use. Robusta has a higher caffeine content /mg than the Arabica strain. A lot of the Italian brands like Illy and Lavazza have great success with blending Arabica and Robusta to consistently deliver crema and caffeine to their brews.
Got something to say? Then leave a comment!
---
Recipe: SA AeroPress Champion shares his secrets
Tuesday, 26 November, 2019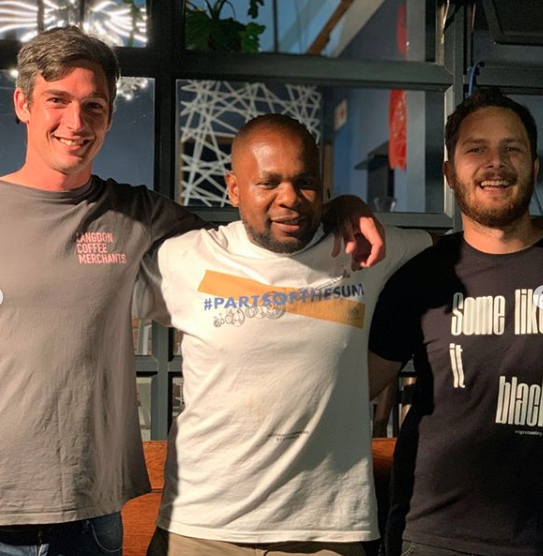 Ken is one of our favourite coffee professionals. Always ready with a smile and advice on how to brew better coffee, he recently beat out the field at the SA AeroPress™ Champs to become the National Champion for 2019! We caught up with him to hear about his journey and he reveals his winning brew so you can try it at home!
How did you get into the world of coffee?
My friend Lovejoy Chirambasukwa [former SA barista champion] introduced me to this amazing industry in 2010.
I started working as a runner at Origin Coffee Roasting. My duty was to help the waiters to clear tables and take food and coffees to the customers . After two months I had the privilege to train as a barista and that is how I fell in love with coffee.
I worked at Origin for two and half years. 1st of April 2013 I joined Tribe Coffee Roasting as a barista and their Cafe manager. That is where I got the opportunity to learn more about coffee and roasting and became familiar with different types of coffee brewing machines and methods.
How long have you been at Tribe and what is your role?
I have been with Tribe for six years. I am a Head Barista Trainer, Cafe Manager and quality control team member.
You have been competing for a long time both in SCASA competitions and the AeroPress, how does it feel when you're on stage? Do you get nervous?
I entered my very first Barista competition in 2012, It was western cape regional Barista competition. I had no idea how it felt to be on that stage. I will never forget that day. I was so nervous but the fun part of it was that I made it into the top six. It was a great moment to hear my name on top six list. This competition allowed me to develop my skills a lot, and I just kept going from there.
It's not easy to be on stage competing against best Baristas in the country. You are so nervous and especially so if the first competitor set the bar very high. Its normal to have stage fright but it does not have to stop us from doing what we love the most. Perfect practice makes it perfect.
What is your favourite thing about being in the coffee industry?
My favourite thing is meeting different people from around the world with different backgrounds sharing knowledge about this most loved beverage in the whole world.
We were gutted to hear that you weren't able to go to represent SA at the World AeroPress Champs this past weekend in London. But we hear you have a cracking recipe! Please can you share your recipe and method with our readers?
I'm staying positive and am keen to try again for next year.
OPHEN KEN MACHENJE AEROPRESS RECIPE 2019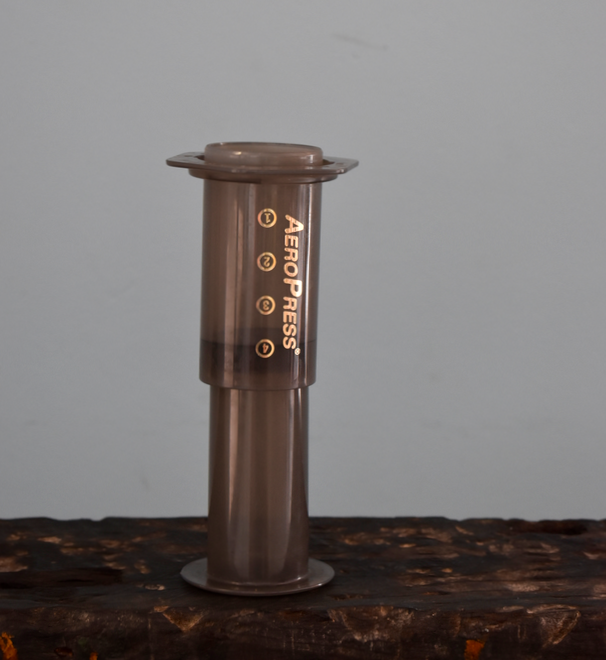 POSITION INVERTED
FILTER PAPER
PREPARATION RINSED
COFFEE
COFFEE GUATEMALA
ORIGIN MARIA ZELAYA
ROASTER TRIBE COFFEE ROASTING
WEIGHT 32g
GRINDER DITTING
GRIND [fine] 0 1 2 3 4 5 67 8 9 10 [coarse] - USE NUMBER 6
WATER
WEIGHT 250ml
TYPE FILTERED WATER
TEMP 84 DEGREES
METHOD
PLACE THE COFFEE INTO THE INVERTED CHAMBER (Inverted position as seen in photo above)
POUR 100ML WATER
STIR WITH THE AEROPRESS PADDLE
ADD ANOTHER 150ML
SCREW ON THE AEROPRESS FILTER CAP
FLIP THE AEROPRESS OVER AND PRESS
ADD 17ML OF WATER TO YOUR CUP AND STIR
SAVOUR THE FLAVOUR
Got something to say? Then leave a comment!
---
Gadget Alert: This device promises best espresso without an espresso machine
Friday, 22 November, 2019
We've always got our ears to the ground for interesting new gadgets on the coffee scene. This one, COFFEEJACK, makes some bold promises! The best espresso without an espresso machine, it claims. They also say it would replace or 'save' us from going to coffee shops. But we LOVE going to coffee shops, not just for the espresso coffee, but for the ambience. Using technology based on the hydraulic car jack for changing tyres, hence the name.
Despite our skepticism, it has been fully funded on Kickstarter by a long way, so this 'dream' product is on its way to becoming a reality.
For now, our favourite option for espresso on-the-go remains the Wacaco Nanopresso, but this idea obviously appeals to a lot of people.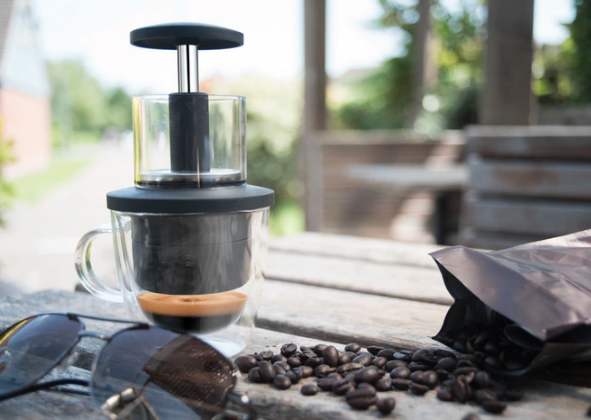 The founders have this to say of the inspiration for the CoffeeJack:
"We grew tired of investing in expensive portable coffee makers and never experiencing the same quality espresso we could only get from a coffee shop. Therefore, we would still go to expensive coffee shops every day! Second to that, we were guilty of using disposable cups, purely due to convenience (hands up!). We knew we could engineer something better, something that fulfilled our desire for great coffee and helped the environment at the same time. We cannot express the level of passion and tenacity that has been invested into this project. It is factually the smallest espresso machine on the market (only 100mm high). But most importantly it ACTUALLY produces coffee shop quality coffee. This has been no easy task to achieve and we refused to stop until it met our high standards and of those in the coffee industry.
392 prototypes, one filed patent later and we've finally done it! We are now seriously excited to make COFFEEJACK™ a reality!"
You can find out ALL the details on their Kickstarter Page
Got something to say? Then leave a comment!
---
Home Barista: Get your water right!
Wednesday, 13 November, 2019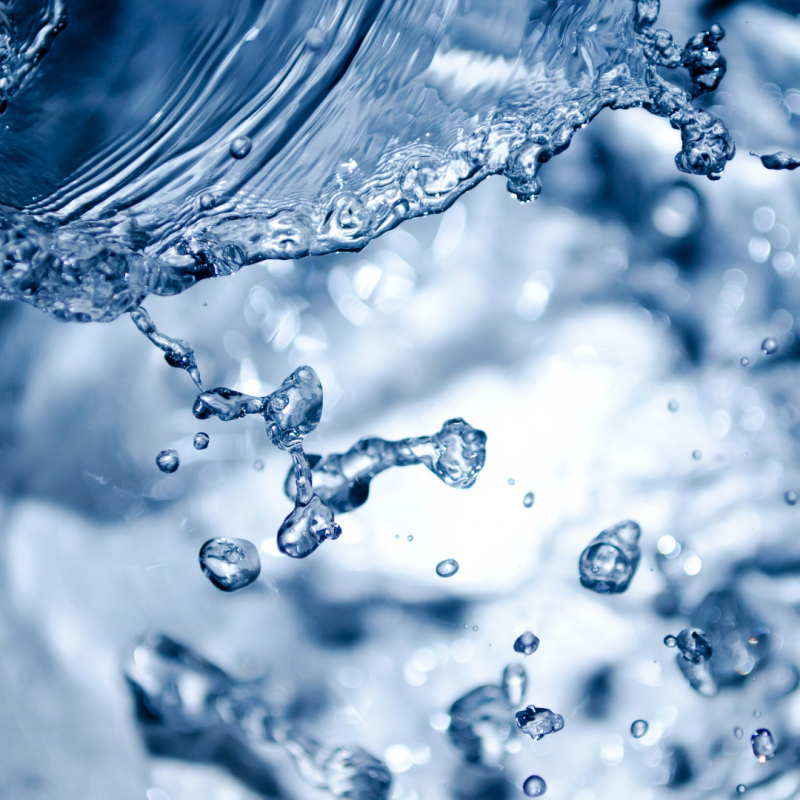 Did you know that magnesium is at the top of the list of important water-soluble minerals for brewing the best coffee?
When you get a cup of bitter coffee, we often think there's something wrong with the brewing process. Actually, it's more likely that the water has spoilt the taste. That shouldn't be surprising – a cup of coffee is 98% water after all, and water is the key extraction medium for the 800-plus aromatic components from your coffee beans.
The Paulig Barista Institute, based in Helsinki, says that "it definitely pays" to check your water quality and "even manipulate your water a bit to achieve a more balanced cup of coffee".
Sadly, our tap water contains as many as 750 different chemicals, of which only a fraction is checked during routine analytical programmes. Unfortunately, the processes and pipes that our water goes through before coming out of our taps has a marked effect on its taste and smell. But purifying your water isn't enough. Distilled water / RO Water "doesn't have any taste", says Bob Mahler, Soil Science and Water Quality professor at the University of Idaho.
This is why many of us prefer the taste of bottled water – "companies that sell bottled water will put in calcium, magnesium or maybe a little bit of salt" to improve taste, says Professor Mahler . This is because magnesium is a flavour carrier. Adding magnesium to water allows for the development of even the most subtle flavours – in your coffee and in your food!
Even the World Health Organisation (WHO) gives the top three key considerations in supplementing minerals in bottled water as "potential health benefits; taste and product stability". (WHO also estimates that 50% of South Africans are not consuming enough magnesium – and other studies have found that sports enthusiasts are particularly at risk of low levels of this mineral that is vital for over 300 cellular functions in your body).
Correct hydration is essential for good health. Ideally, we should be drinking eight glasses of purified water a day. And the easiest way to get your family to drink water is to ensure it tastes wonderful.
The good news is that the addition of magnesium balances the mineral levels in water and this is especially obvious when you make your tea or coffee with magnesium-enriched, purified water. Purifying your water and adding magnesium means you get an almost neutral pH value that makes for high-quality water with a unique flavour and delicious taste. Plus you're replacing essential minerals like magnesium that you lose through day-to-day activities. It's a win win win situation!
So, you might think this may be difficult to accomplish at home, but there are some great and easily available products on the market that can assist. Our favourite at the moment is the BWT Magnesium Mineralizer which not only produces magnesium-enriched and purified water, it reduces the limescale content of water as well as aroma- and taste-impairing substances, chlorine and heavy metals, whilst protecting your valuable coffee machine and kettle. And during the unique BWT purification process your water becomes wonderfully tasty and healthy thanks to being enriched with the precious magnesium mineral.
Got something to say? Then leave a comment!