Smart Coffee: How technology will change the way we brew
Words by Iain Evans
---
I recently watched Star Trek for the first time (yes, I know, I'm a late geek bloomer, you don't need to remind me!) Immediately a whole world of pop culture references now make sense, including the lyrics from my favourite Beastie Boys song. But I digress. I was left thinking a lot about the future – about how things will be, how we'll exist and what we'll use to survive. Other than the fact that Star Trek was incredibly ahead of its time from a concept point of view, (for example did you know it was also one of the only TV shows made in the 60s that insisted on a racially diverse cast because, well, the future!) but it created a kind of subconscious map of how technology and the things around us, would be seamlessly integrated in the future. The food and coffee delivery system aboard the Starship's are completely automated (the machine is called a Replicator) - feel like a fried chicken burger with cheese and coleslaw on the side? Just ask and it will appear. As an aside, in all the episodes I've watched, the people of the future all drink their coffee black. The 24th century is still a fair way away, but what does coffee look like in the near future?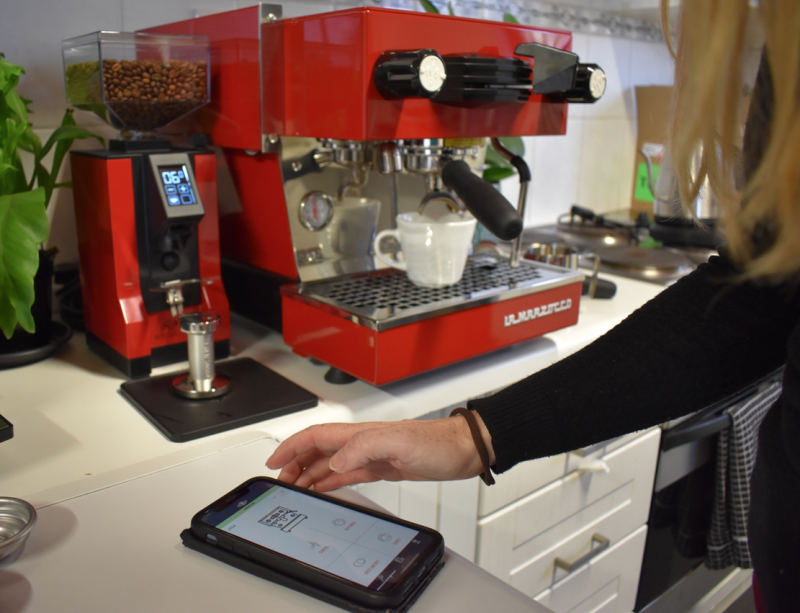 Have you ever wondered about the people who design tomorrows coffee machines? There is an actual summit for this. It's called the Intelligent Living Summit (ILS), and the last one was held in Dusseldorf, Germany in 2019, back when these things were allowed! Basically the world's leading appliance designers get together and map out the "next generation" of household appliances, including coffee machines. At last year's ILS, it was estimated that the number of sensors and devices connected to the Internet of Things* (IoT) is expected to increase from 21-billion in 2018, to about 125-billion worldwide in 2030. This equates to a year-on-year growth of a whopping 8,7-billion devices. The fact that smart appliances are maximising energy efficiency, and they are easier and more convenient to use – essentially, saving the user time, and ensuring consistent results time and again - is driving this incredible appetite for smart appliances.
We asked Liam Gawne from leading kitchen appliance manufacturer, Miele, about this prediction, "Customers no longer regard Smart Home devices as toys, but increasingly expect intelligent solutions that offer real added value."
A perfect espresso needs a good bean and optimum machine settings. Miele's latest coffee machines have "Barista Assistant" technology: "This is an application that takes the coffee aficionado through the beverage preparation process, allowing for adjustments to suit personal preferences. In the first stage, the Miele CVA 7000 prepares two different espressos for a taste comparison. The favourite goes on to the next round of sampling where settings are increasingly finely tuned. After up to four taste comparison rounds, a personal favourite will have been created, which is used as a basis for future beverage preparation. "This process is unique as it goes far beyond simply modifying individual parameters using an app. Instead, it represents an entire process of elimination for achieving the optimal personalised espresso." says Liam. What a world! You don't need to know anything about coffee, or get carried away with anything technical, you just need to choose which coffee tastes better to you!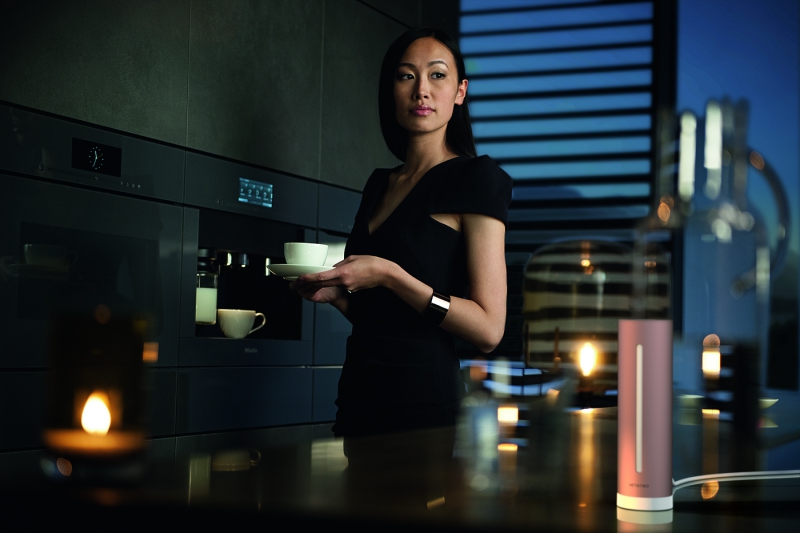 As with all things coffee, it's really about what level you're at and how the technology is going to improve your life. You might just want your coffee machine to "wake up" 20 minutes before you do and start heating up. The LaMarzocco Linea Mini is a fine example of this. It allows the screen of your tablet or smartphone to become the interface to enable seeing the temperature and flow rates and also lets you programme daily On/Off times, thus saving time and energy for both you and the machine.
Similarly the Acaia scale that came out a few years ago comes complete with an application to assist you with your manual brewing and in the process building an entire digital reference library of every pour over, bean and method. Meaning if you hit on a winning ratio, it's easy to find and replicate.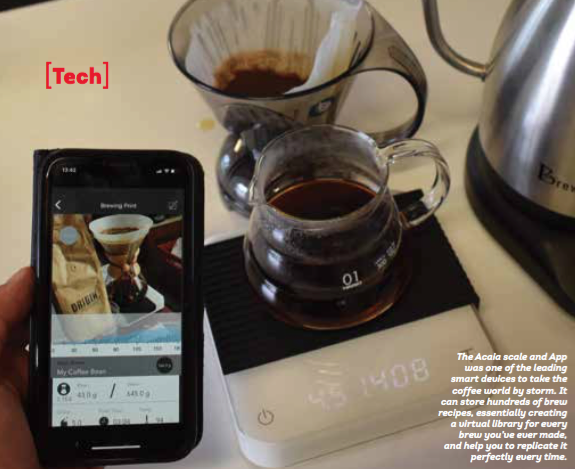 People in the coffee industry, mainly Café Owners and Baristas have loved the latest smart tech that accompanies the machines being installed in their places of work. While this doesn't mean the machine makes the coffee, (there's a time and a place for everything, but a cafe is not a place for a fully automated coffee) it does mean that one can monitor the internal workings of the machine remotely – number of shots pulled, the temperature of the boilers and other useful tools that are good for business and great for consistently good coffee.
This is all well and good, but where it becomes truly useful for me, is where these things are seamless synched, making my life easier. I heard a great anecdote from a doctor friend of mine who worked at Groote Schuur Hospital. These doctors were pulling all night shifts which means coffee was essential and running out was not an option. The doctor in charge of the coffee station took this so seriously that he programmed the digital scale to sms their order for fresh beans directly to the local coffee roastery's Whatsapp order group, as soon as they were running low! Now that's smart!
In the home, Google and Amazon are fighting tooth and nail for what is obviously a huge growth market. Through their acquisition of smart home products like smart thermostats and home speakers, smart displays, streaming devices, smoke detectors, smart doorbells and smart locks, these tech giants are tapping into making your home a seamless system from top to bottom. For example, when you wake up in the morning, Alexa can turn on the lights for you, read you the news headlines and start the coffee machine - all you have to say is: "Alexa, start my day." This is probably why 24% of Americans already own a smart speaker, according to a MediaTech Trender Survey conducted by Nielsen in 2018. It's only a matter of time before the trend starts picking up in South Africa.
In terms of café' spaces, I like the idea of applying tech to creating community. I always though a great idea would be to be able to, via our smartphones, be linked to a smart screen or smart board of services that we need in our community which is linked to our local café – a plumber, a book keeper, a carpenter or a mechanic that all use the same space – so while you're in the café, the smart screen lets you know which other regulars are there and what services or skills they are offering. If great coffee brings us together daily, then tech should connect our wants and needs in a meaningful and communally beneficial way.
Again, while these may excite some and terrify others, the fact is that none of us can escape the future. Think about your parents or even your grandparents, seamlessly navigating the internet on their smartphones right now, where a mere 15 years ago it was all science fiction. While I love the ideas that are flowing forward with all this new tech, I still want the human connection and the ritual that my coffee brings to my day. I like doing the actual coffee making. It helps me control something small and meaningful for me and the special people in my day. I want the benefits of tech, but I don't like the idea of them completely taking over. Even Captain Janeway (Voyager was set from the year 2371) brewed her coffee in a pot because the ritual was part of the experience.
"To infinity and beyond!" No, wait, that's not right, remember I'm still learning all things Star Trek, it's " To boldly go where no coffee has gone before!"
*The Internet of Things describes the network of physical objects—"things"—that are embedded with sensors, software, and other technologies for the purpose of connecting and exchanging data with other devices and systems over the internet.