The Gauteng Regional Coffee Competitions wrapped up at the Sandton Convention Centre today, with 4 new regional champions being named. The occasion was especially significant thanks to sponsorship from Nuova Simonelli, bringing out 2009 World Barista Champion, Gwilym Davies to SA for the event.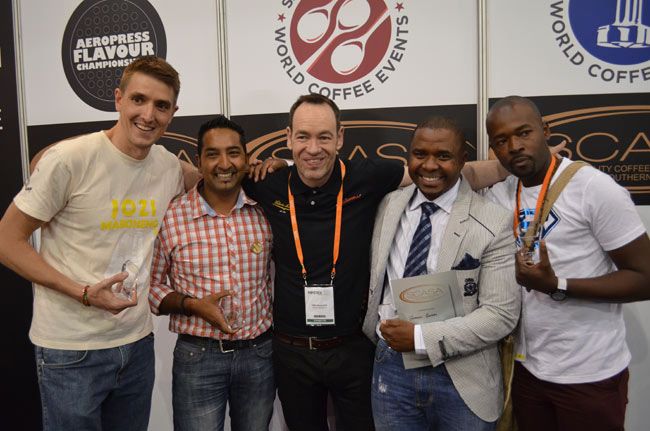 From left to right: Matt Carter (Aeropress winner), Ishan Natalie (Barista competition winner), Gwilym Davies (Coffee Celebrity), Johnson Sehoro (Cup Tasters winner) and Peter Seodisa (Latte Art winner) are the new champions for Gauteng and will (along with the rest of the GP Top 6 baristas) compete in the National finals in September.
Ishan Natalie
took to the stage first, and though a previous 2x SA champion, was still a little nervous "I'm anxious, but I'm excited too. I love competing - it feels like the old me!" Ishan moved smoothly through his routine, using an Indonesian coffee from the island of Flores for the espressos. His signature drink was a granadilla and sugar infusion, served in delicate espresso glasses. A very solid and slick performance from Ishan. "It was nerve wracking but lots of fun. I'm really happy with how it went and with how everything turned out."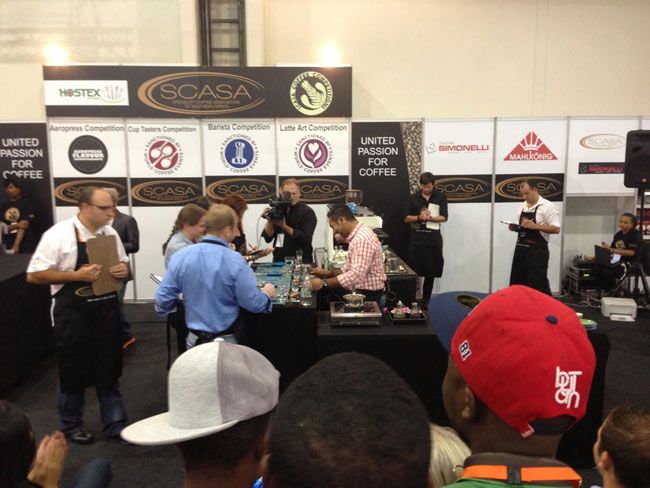 Ishan, smiling and relaxed during his winning set
Next up was the experienced
Bruce Manning
, always an entertainer, and a finalist from last year's KZN Regionals. Bruce took an unusual approach this time, playing zen music and giving the judges newspapers to read while he prepared espresso described as "Pronutro and toffee", and for a change not talking too much! Bruce, created a starchy, basmati infusion in a Bodem and paired it with a Peruvian single origin as his signature drink. "Amazing venue and organization, and I'm really happy. It's great to serve judges like these who know their coffee, and nice to perform for them. I tried to magnify some aspects of the coffee, the mouthfeel, the bitterness and the sourness, hopefully not the coffee's detriment, but to give it a proper punch in the mouth!"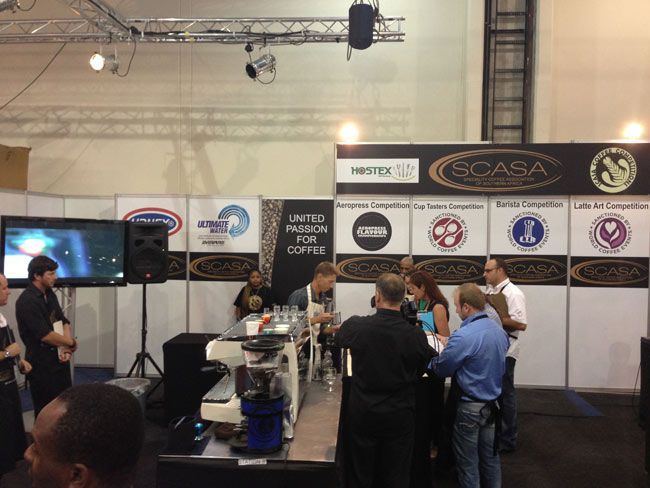 Ommmmmm. Zen music wafted through the Hostex theatre as Bruce created a unique coffee experience for the judges.
Martin Ten Koorden, looking slick in formalwear and a hat, moved quickly around the coffee station, serving up a blend of Tanzanian and Ethiopian Yirgacheffe for all his drinks. The espressos and cappuccinos looked great and despite a small cup-drop, Martin kept the judges and audience well informed through the performance. He ended his set with a smoothie type signature beverage that was designed for sportspeople and quick, on-the-go consumption. "It went alright, at the end of the day you gotta stay calm and recover if something happens and allow time for things that you might not anticipate. But, ja, I was happy, and I'm proud of myself. "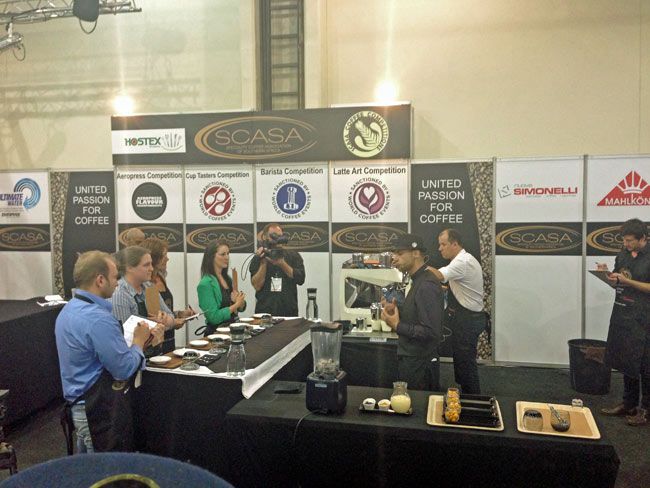 Making every second count during his set, the stylish Martin Ten Krooden aka Bob
Mike Gumbo
from Nino's, a first time finalist at regional level, took the stage next and presented the judges with a Brazilian and Colombian blend. "It was fine, but I was under pressure. I just tried to own the stage and be myself" Mike dedicated his signature drink to his wife Hazel, which he called the Hazelnut special, a caramel and hazelnut reduction, freshly squeezed orange and cinnamon based espresso drink. "My wife introduced me to coffee, so I did this for her!"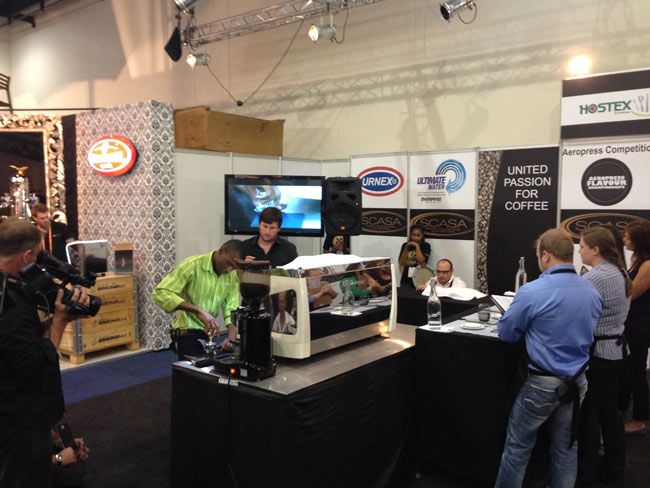 Mike made a signature drink dedicated to his wife. We love a bit of romance!
The 5th barista up was
Johnson Sehoro
- already a finalist in Cup Tasters and Aeropress this week - Johnson, the success story of the Gauteng Coffee Industry, a singing, smiling, happy man of a barista - put his heart and soul into his performance. "It was great, I was prepared, I roasted my own coffee and I had fun. It was a washed Tanzanian with an unwashed Ugandan coffee. His signature drink was a ginger & fennel, coconut and lemon grass tea, paired with espresso.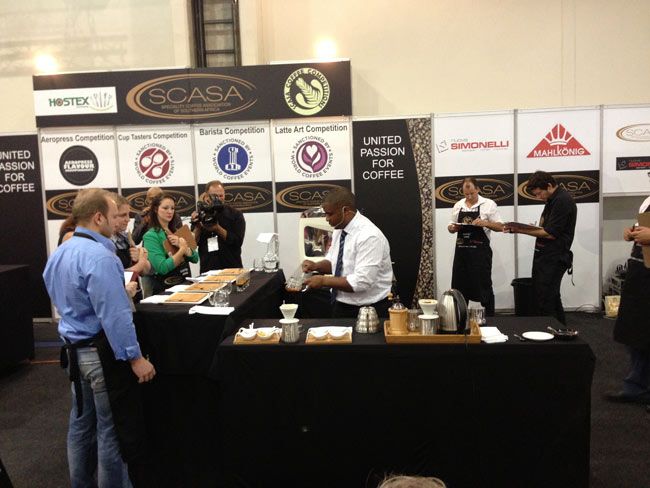 A jack of all trades and master of each of them! Johnson took this competition by storm!
Finally, seasoned competitor
Wayne Burrows
took the stage and immediately clicked into a fast paced, information rich routine. Ugandan Bugiso was used for all drinks. He was very specific with the Judges in their tasting instructions and kept them closely informed. "Sip, stir, smell. Raw tactile balance is what I want you to taste!" Wayne's signature beverage was a raw maple syrup with double thick plain greek yoghurt concoction. "I'm happy with it - the coffee came out exceptionally well. It's all about what's in the cup."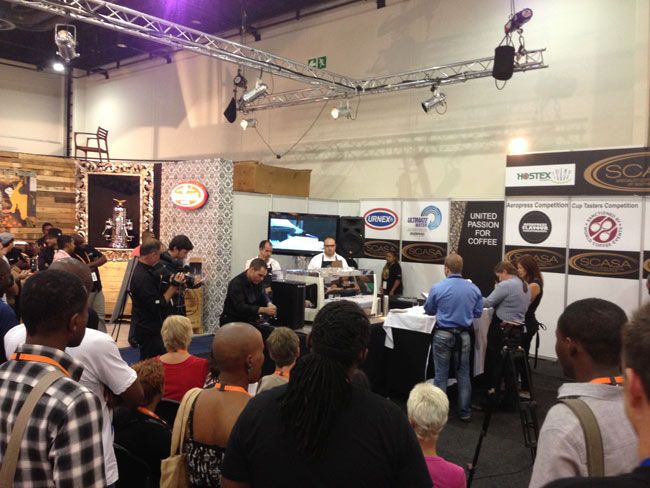 Wayne led the judges and the audience through an extremely well though out and information rich set.


What the winners had to say: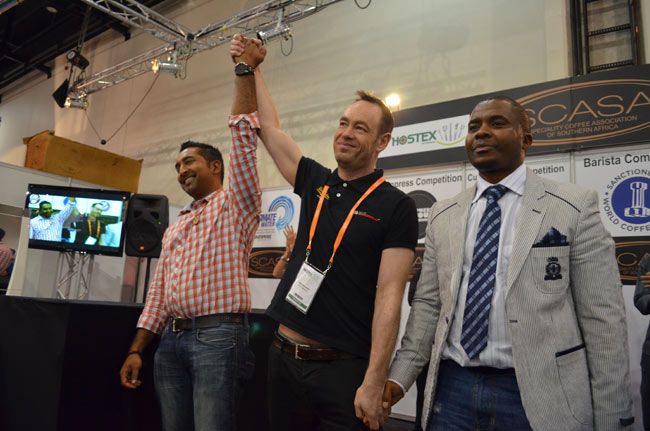 Ishan: "Its an awesome feeling to win. I worked really hard for this. Finding the right coffee was the key. From day one, tasting the Indonesian Flores, I knew it was the one and a coffee I could believe in. Then roasting it right and extracting it right on the day. There was a lot of expectation on me, so I'm glad I could rise to that and do well"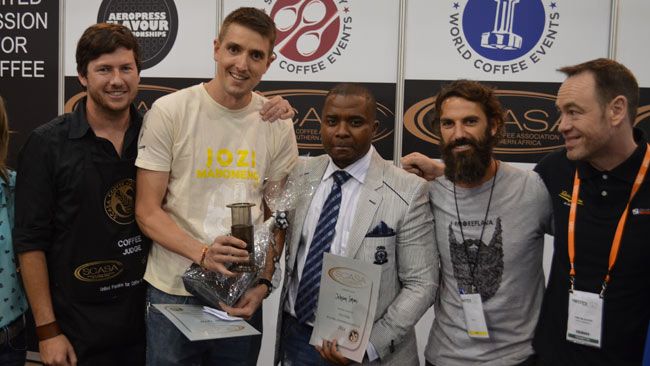 New Aeropress champion Matt Carter:"I'm very very stoked. I didn't make it through last year, and now I've won it. I'm going to go away now, come back with a new recipe, ready for Nationals. "
Zane Mattisson of Aeropress SA, Matt, Johnson, David Coleman of Aeropress SA and of course Gwilym.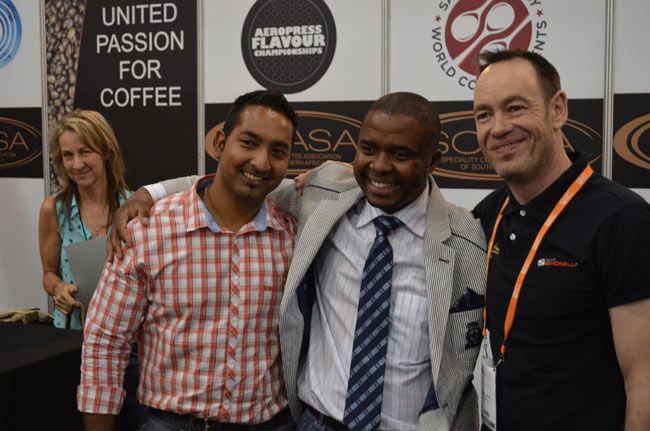 Johnson, on the Cup tasters victory: "This means a lot to me. I love tasting coffee. I'm in love with this thing!"
Ishan, Johnson and Gwilym (and Carol from the SCASA board smiling behind the scenes, she had the difficult task of totalling all those scores!)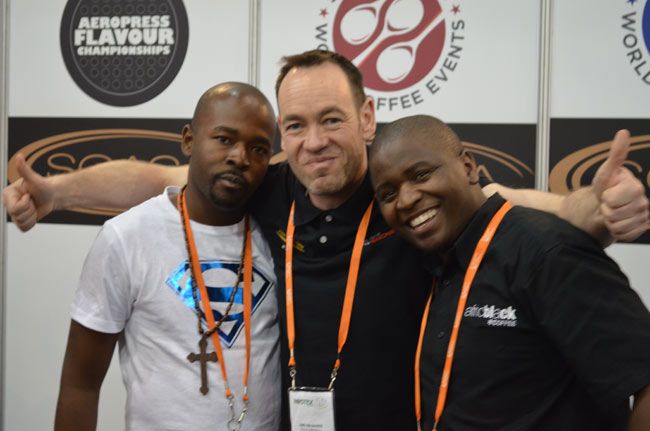 Peter Seodisa, the Latte Art winner: "Its a great feeling and I'm really looking forward to competing in Latte Art again at Nationals"
Peter, Gwilym and Phumlani