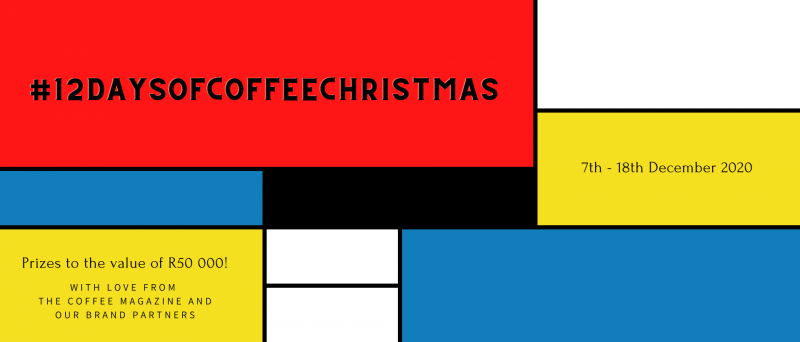 Day 13 to Day 17 Winners Announced!
Well done to everyone! And thank you so much for all the entries!
7th December: Marjorie Arnold
Red Espresso: A delightful hamper that comes to just under R2000; Instant Spiced chai tin 300g, Instant Vanilla Chai tin 300g, Instant red cappuccino box of 10 sachets, 250g ground rooibos, Wild Blossom Honey squeeze bottle, Bodum Milk frother, Bodum Kenya, 3 cup French press
8th December: Nichola English
MoreFlavour: A portable espresso kit for all your travel needs! Nanopresso hard case (R380), NS capsule adaptor (R512), Nanopresso (R1489), Nanovessel hot water flask (R535)
9th December: Leandra Vorster and Bianca Bradford
Bialetti: We'll have two lucky winners on this day thanks to Bialetti SA. The classic Bialetti Moka Express 9 Cup (R1230) and 6 Cup (R910) are both up for grabs!
10th December: Hannah Macdonald
Aerolatte: Black Aerolatte with stand (R329), Cappuccino Artist (R299), Mokavista 3 Cup (R479), Drip Coffee Brewer with Microfilter (R639)
11th December: Wikus Visser
Equipment Cafe: Felicita Square electric pour-over kettle (R2599)
12th December: Brent Knoesen and Lungile Khoza
Trappers: 2 sets of 2 Stanley Classic Bottle 470ml Flasks. Available at all Trappers stores or online, the Stanley Vacuum Flask is a small, rugged bottle that's easy to transport and perfect for exploring the great outdoors. It keeps beverages hot for up to 20 hours, cold for up to 24 hours and iced for up to 4 days.
13th December: Ann Foster
Laser Chemicals: Keep your coffee machine in perfect working order with Bean 'n Gone cleaning products. Paired with a Discover Great Coffee Club Box, two Coffee Magazine limited edition tees.
14th December: Jordan Theron
SEAM Coffee: A hamper of delicious specialty coffees, SEAM merch, some Honest Chocolate!
15th December: Nondumiso Hlope
Thule: Thule Construct Backpack 24L (R2299). Take your coffee with you when you go!
16 December: Jo-Anne Jansen van Vuuren
Ecoffee Cups: We've got a beautiful selection of reusable bamboo cups from Ecoffee Cup SA. One lucky winner will get three of the Wanderland collab cups! Exciting!
17 December: Ashley Els
Genio Roasters: Giving away a beautiful Katy Kruger denim and leather apron worth R1100 and Scott Rao's book, Roasting Best Practices worth R1500. Coffee geeks do not want to miss out on this prize!