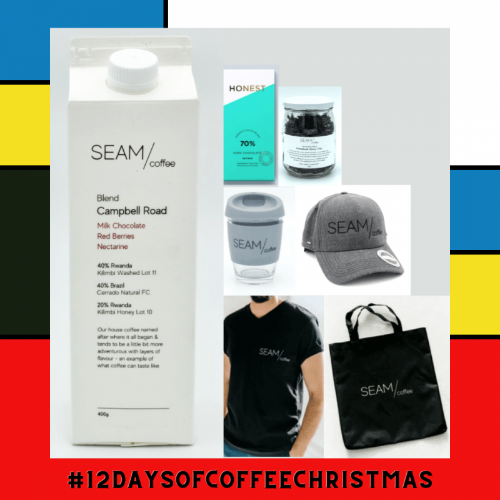 It's Day Eight and we're feeling great! And you know what makes us feel even more great? Some of the incredible work that is being done by SEAM coffee in our local industry. Not only are these guys pushing the boundaries of transparent trade to ensure that hard-working coffee farmers are getting a great wage for their coffee, but SEAM is bringing in some of the most innovative packaging ideas for coffee, amazing quality tea's, cool merchandise and most impressive of all, some of the highest regarded coffee in the world, to you, right here in Mzansi.
If you want win a hamper from SEAM which includes the following, then follow the instructions below:
SEAM coffee V-neck Tee Black - R 160.00
SEAM coffee Uflex Cap - R 350.00
70% Slab (Organic Tanzanian Cacao + Unrefined Cane Sugar) - R 60.00
SEAM coffee Reusable Cup - R 120.00
SEAM coffee tote Bag - R 75.00
Honeybush Sticky Chai 200g - R 120.00
Unite blend 200g - R 99.00
Gather blend 200g - R 110.00
Campbell Road blend 200g - R 110.00
We've tried these SEAM coffees and they are incredible! So now not only will you be able to enjoy the outstanding flavours of the SEAM coffee collection, but strut your stuff with some cool merch.
How to enter:
- Fill in the entry form below
- Head over to Facebook to enter a second time, by following instructions on the post
(If you have any questions about winners/timelines etc, please read here)