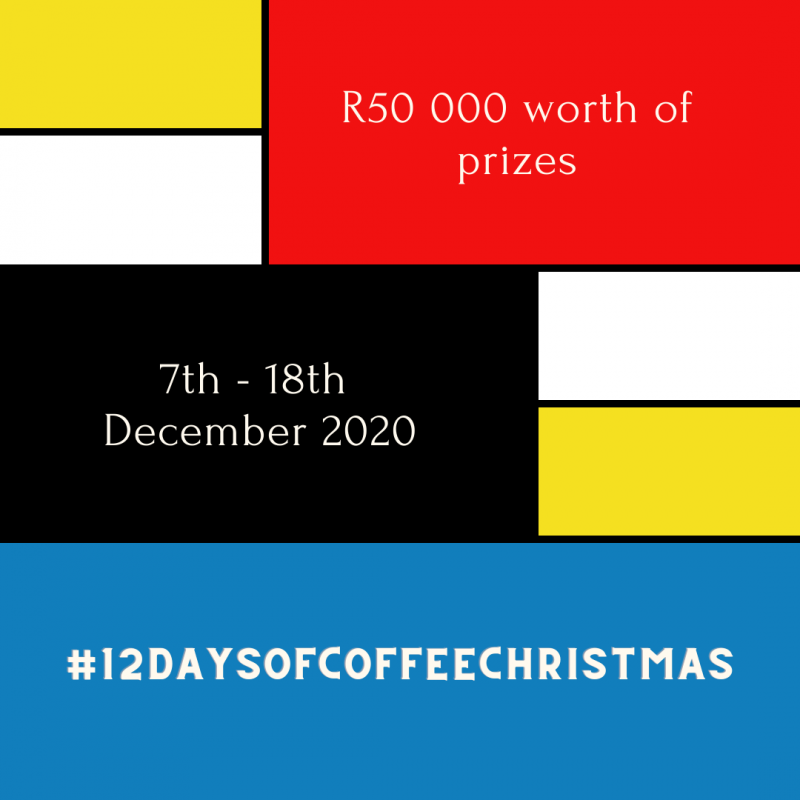 Ok kids, gather round, it's the most wonderful time of the year, it's our annual #12daysofcoffeechristmas extravaganza!
How does it work? It is easy. From the 7th to the 18th of December we will post a new product up for grabs (each day's prize is worth a minimum of R2000!). You have 24hours to enter, running from 12pm (midday) around the clock until the next prize comes into effect. There will be instructions of what to do on each post. Only entries during those 24 hours will be considered for the that days prize. The exception is the 12th day, which will run for two weeks as the prize is worth R22 000! Eek!
How many entries do you get? There are three ways to enter so you will have a maximum of 3 entries that go into each day's draw. One via Facebook. One via Instagram. And one on our website by filling in the form provided each day. Pretty please, try restrain yourselves and keep it to one per platform, we are not robots, we receive all the mails and notifications personally and we will delete multiple entries before doing the draw.
What prizes can you win? Check out the full list below from our amazing Brand Partners.
When will I be notified of the winners and when will I receive my prize if I do win? The winners will be notified every couple of days and depending on the supplier of the prize some might make it to you before Christmas, but there are no guarantees and we thank you in advance for your patience with this! The 12th day prize winner will only be announced in early Jan 2021.
If I don't win, where can I find these incredible prizes? Why not check out our Ultimate Coffee Gift Guide 2021 to see where you can purchase all these awesome goodies!
7th December
Red Espresso: A delightful hamper that comes to just under R2000; Instant Spiced chai tin 300g, Instant Vanilla Chai tin 300g, Instant red cappuccino box of 10 sachets, 250g ground rooibos, Wild Blossom Honey squeeze bottle, Bodum Milk frother, Bodum Kenya, 3 cup French press
8th December
MoreFlavour: A portable espresso kit for all your travel needs! Nanopresso hard case (R380), NS capsule adaptor (R512), Nanopresso (R1489), Nanovessel hot water flask (R535)
9th December
Bialetti: We'll have two lucky winners on this day thanks to Bialetti SA. The classic Bialetti Moka Express 9 Cup (R1230) and 6 Cup (R910) are both up for grabs!
10th December
Aerolatte: Black Aerolatte with stand (R329), Cappuccino Artist (R299), Mokavista 3 Cup (R479), Drip Coffee Brewer with Microfilter (R639)
11th December
Equipment Cafe: Felicita Square electric pour-over kettle (R2599)
12th December
Trappers: 2 sets of 2 Stanley Classic Bottle 470ml Flasks. Available at all Trappers stores or online, the Stanley Vacuum Flask is a small, rugged bottle that's easy to transport and perfect for exploring the great outdoors. It keeps beverages hot for up to 20 hours, cold for up to 24 hours and iced for up to 4 days.
13th December
Laser Chemicals: Keep your coffee machine in perfect working order with Bean 'n Gone cleaning products. Paired with a Discover Great Coffee Club Box, two Coffee Magazine limited edition tees.
14th December
SEAM Coffee: A hamper of delicious specialty coffees, SEAM merch, some Honest Chocolate!
15th December
Thule: Thule Construct Backpack 24L (R2299). Take your coffee with you when you go!
16 December
Ecoffee Cups: We've got a beautiful selection of reusable bamboo cups from Ecoffee Cup SA. One lucky winner will get three of the Wanderland collab cups and another two lucky people will win two sets of three cups! Exciting!
17 December
Genio Roasters: Giving away a beautiful Katy Kruger denim and leather apron worth R1100 and Scott Rao's book, Roasting Best Practices worth R1500. Coffee geeks do not want to miss out on this prize!
18 December
Jura: This is the big one! We're giving away a Jura ENA 8 Nordic White (R22 400) to one lucky coffee enthusiast. Yup you read right. A R22 000 fully automatic coffee machine could be yours!!!