Need espresso on the go? No problem! Meet the Wacaco Nanopresso and his best friend, the Wacaco Barista Kit. Win a set worth R2000!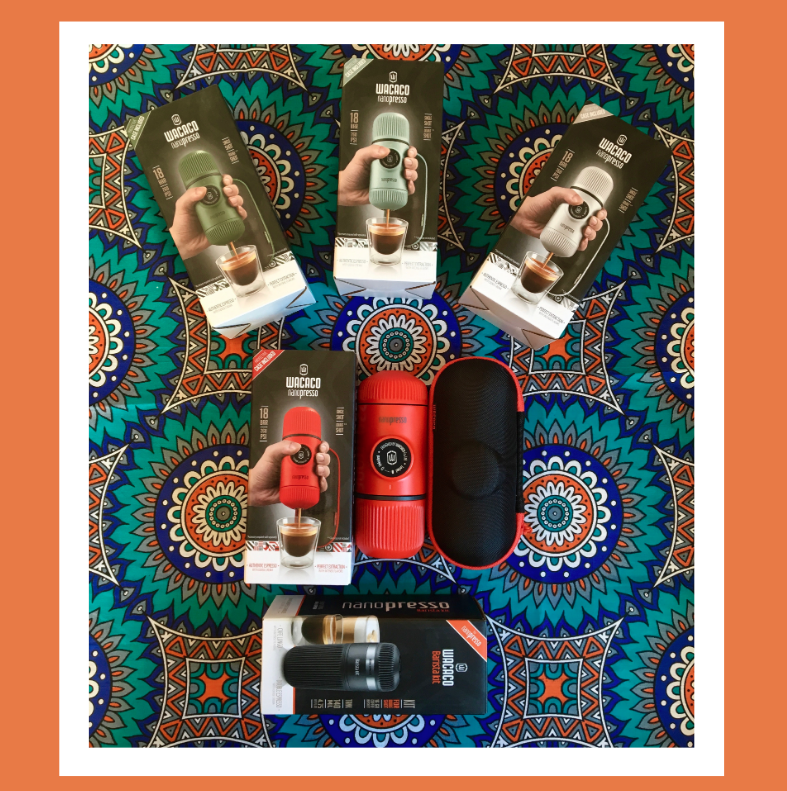 With a new range of funky colours, there's only one thing we love more than the Wacaco Nanopresso and that's the Wacaco Nanopresso with the Wacaco Barista kit. Let us explain:
The Nanopresso is delightfully easy to operate and simple to use. It requires 15% less force to pump compared to previous models (1st generation Minipresso). With Nanopresso, the power is in the machine, not in your hands. We used this little beauty extensively on our travels ensuring we got rich, perfect espresso shots while on the road. However, making coffee for more than one person is a little fiddly and time consuming. Until now that is!
Enter the Nanopresso's traveling buddy: The Wacaco Barista Kit. The Barista Kit is a full set of accessories packed in a small container. It expands the Nanopresso capabilities by giving you the possibility to prepare double espresso (16 grams of ground coffee) up to 120ml. Thanks to its high pressure extraction of 18 bar, Nanopresso takes full advantage of the larger filter basket.

The Barista Kit allows you to make a double espresso with your Nanopresso! Perfect for sharing with a friend, enjoying double the coffee, or making any wide range of cafe favorites from lattes to cappuccinos.

Shop online @ https://moreflavour.co.za
Win a Wacaco Nanopresso and Wacaco Barista Kit! All you need to do is fill in the entry form below and tag a fellow coffee traveler in the comments.
Want to buy these items?
https://moreflavour.co.za/products/brands/wacaco/
#12days competition T&C's apply:
The competition runs from 12pm today until 12pm tomorrow. Only entries during the 24 hour period will be considered. Only entries from South Africa will be considered. The prizes may have been used as demo models for our Ultimate Coffee Gift Guide, otherwise they are brand new. Please keep your eye on the website for more prizes and to see the winners announcements. Please note, only one entry per person will be counted. We will contact you directly if you win. Please note, the prizes may not be sent out before The Coffee Magazine closes on 20 December. You will definitely receive your prize in the New Year if that is the case. Only one winner will be chosen per day across entries from all 3 platforms. The winner will be chosen at random.