This incredible hamper from Red Espresso is full of goodies to the value of R1600. We couldn't fit them all in the photo so we're just showing a small selection of the delicious range of products in this prize!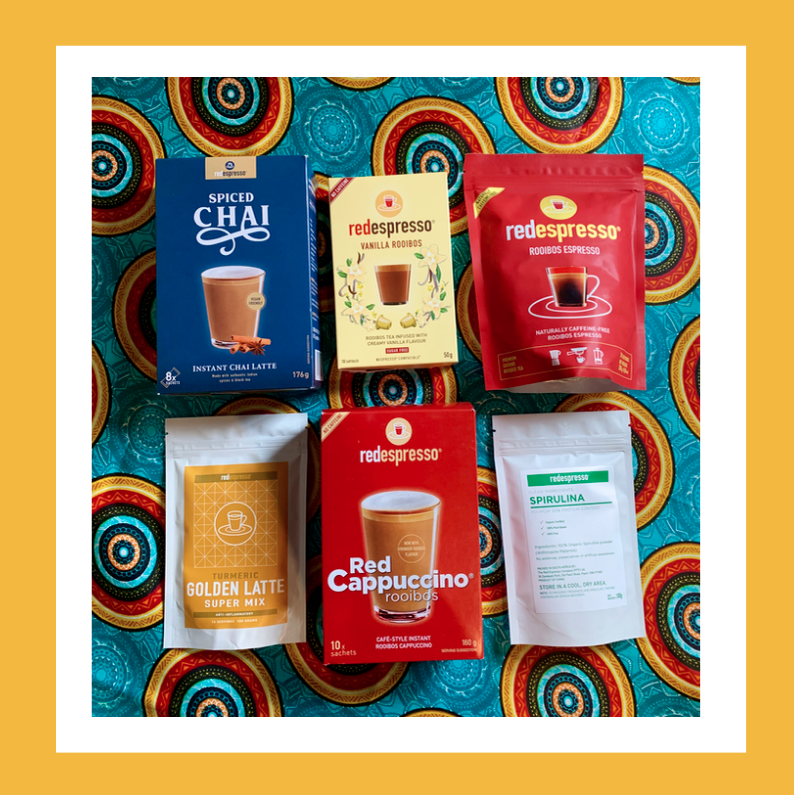 To enter all you need to do is fill in the entry form below, easy peasy!
So what's in the box, you ask?
1 x Red Espresso Rooibos Espresso
6 x boxes Red Espresso Flavour Collection Capsules
1 x Box Instant Red Cappuccino sachets
1 x Box Red Espresso Instant Chai Latte sachets
Thanks to Red Espresso, this authentic Indian beverage can now be made in the comfort of your own home by just adding hot water and a milk/milk substitute of your choice. The Red Espresso Chai Latte Sachets are made by blending black tea with authentic Indian spices such as cinnamon, ginger and cardamom.
Range of Clean Ingredients (including Pea Protein, Spirulina, Collagen) which are great for smooties and Superfood Latte mixes (Beetroot, Matcha and Golden)
Want to buy these items?
Visit Red Espresso to purchase any of their amazing products and you'll also find a treasure trove of recipes and different applications of these award winning treats.
#12days competition T&C's apply:
The competition runs from 12pm today until 12pm tomorrow. Only entries during the 24 hour period will be considered. Only entries from South Africa will be considered. The prizes may have been used as demo models for our Ultimate Coffee Gift Guide, otherwise they are brand new. Please keep your eye on the website for more prizes and to see the winners announcements. We will contact you directly if you win. Please note, the prizes may not be sent out before The Coffee Magazine closes on 20 December. You will definitely receive your prize in the New Year if that is the case. Only one winner will be chosen per day across entries from all 3 platforms. The winner will be chosen at random.