All words and photos by Christopher Gevers.
Constant traveler. International Man of Law. Can't survive without specialty coffee.
---
Oxford is a dull, semi-feudal place without much to redeem it. There is a local technical college, and apparently a film about a pothead who thought he was wizard-boy was filmed in the area recently. However, its only real historical value lies in its claim to be the birthplace of the 'coffee shop' (at least in England): 'The Grand Café', established in 1650.
A local watchmaker by the name of Richard Dawkins is a modern-day disciple of the pseudo-science of 'evolution', which (according to Wikipedia) posits that 'complex creatures evolve from more simplistic ancestors naturally over time'. Arriving in Oxford, I was interested to see what this magic 'evolution' had worked on the 'coffee shop'. I must admit I didn't hold much hope upon seeing the local architecture, it seems there hasn't been a building erected in Oxford for about a 1000 years, its all castles and meadows. My doubts were compounded when I arrived at 'The Grand Café': the descendent of the origin coffee shop does little justice to its 'simplistic ancestor', or its name in fact: Grand it was not, café…maybe but only just.
Discouraged but not defeated, I decided to look around for a more evolved 'complex creatures'. Evolution being a progressive, linear process, I decided to walk up Oxford's High Street. As I approached the top of High Street I came across what might be considered a more evolved coffee shop in the form of a Starbucks. However, while this coffee shop was undoubtedly a more 'evolved creature', objectively superior to its evolutionary antecedent, I couldn't help but feel that the process had gone awry at some point. Dejected, I decided to retrace my steps back down the evolutionary continuum – High Street – to see where this once-promising species had gone wrong. About mid-way down I spotted an alley to the left called Turl Street, and ventured down in an act of blind faith. To my great relief I discovered what I was looking for: The Missing Bean.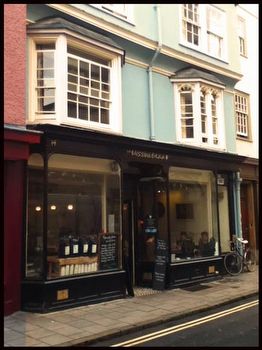 At The Missing Bean, the friendly and eclectic staff serve a range of espresso-based drinks. They use a yellow bourbon bean, sourced from the Mogiana Region of Brazil, and hand-roasted on a weekly basis to their specifications by Ue Coffee Roasters. This, remarkably, makes it the only independent specialist coffee shop in Oxford. I began each day with a dry, flat white with an extra shot: which the staff affectionately called an 'Ori' after the proprietor who takes his coffee the same way. They sell all the usual espresso-based coffee – nothing brewed – at very reasonable prices. There are also light foods on sale. The shop is populated by passers-by, 'freelancers' and students tapping away on laptops to an indie soundtrack (they also welcome music suggestions upon threat of playing Nickleback). Unlike its more evolved counterpart, the Missing Bean does not have the modern trappings of wifi or an on-site toilet or pumpkin-flavoured lattes.
Starbucks may well win the evolutionary race, if not on merit then by sheer force of numbers (there is another one lurking ominously just down the road), and The Missing Bean will be recorded as an evolutionary sidenote. However, if you make it to Oxford before that dark day, go to The Missing Bean, ask for an Ori and enjoy the simplicity of a coffee shop dedicated to serving good coffee and little else. You might even bump into local patron Thom Yorke, an evolutionary anomaly in his own right.

---

Follow Christopher on his coffee adventures as he hops about the globe. Better yet, go have your own adventures and let us in on the journey.