Originally published in Issue 37 of The Coffee Magazine
---
The Slowtown Way of Life
Building a brand and growing a family in Nambia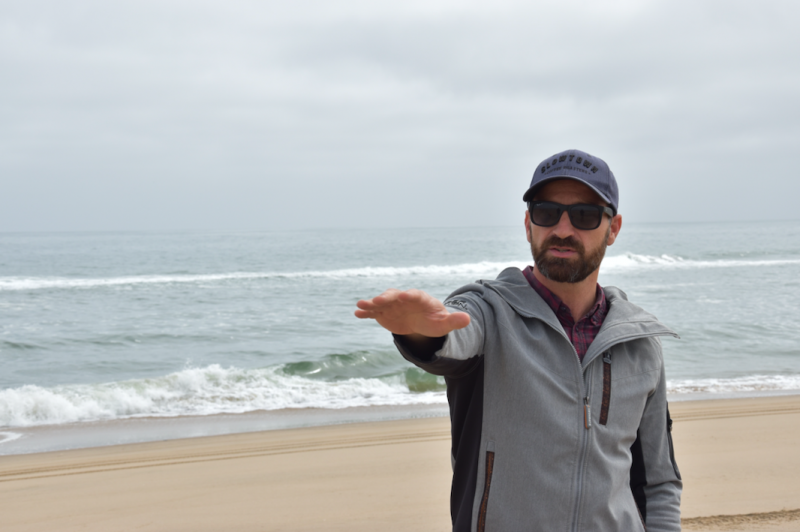 Sand. Hundreds of thousands of years of wind against rock creating desert and dunes. In inhospitable places, very little survives, but the things that do, seem to have a special energy about them. A resilience to adversity. A strength in the face of what many would view as impossible conditions. They gain a kind of legend. Like Christine Mboma, Olympic silver medalist, up against prejudice from global rules, but at the World u20 Champs had all her countrymen cheering her on together in a crowded Swakopmund bar. Like a wave only accessible by 4x4, across salt pans and of course, treacherous moving sand, that when it's working stretches for kilometres and breaks so hard against the shore that few have ever ridden it, but many have travelled to see. To stand in front of it and either accept defeat or paddle out and accept that victory, although glorious, will be scarce and fleeting and probably look quite a lot like defeat, by those who don't understand. Namibia has a lot of places and people that inspire legend. Dennis de Wet happens to be one of the few people that has ridden this particular beast. Which makes sense, because he is born and bred in Swakopmund, Namibia. Proud both of his heritage and following in his father's footsteps as entrepreneur, the coffee business that started in a room adjoining an engineering firm's offices ten years ago has expanded throughout the country and beyond. It quickly became clear in discussion with Dennis, that the adventure of Slowtown Coffee Roasters has been anything but one surfers charging dreams; this is the adventure of a family.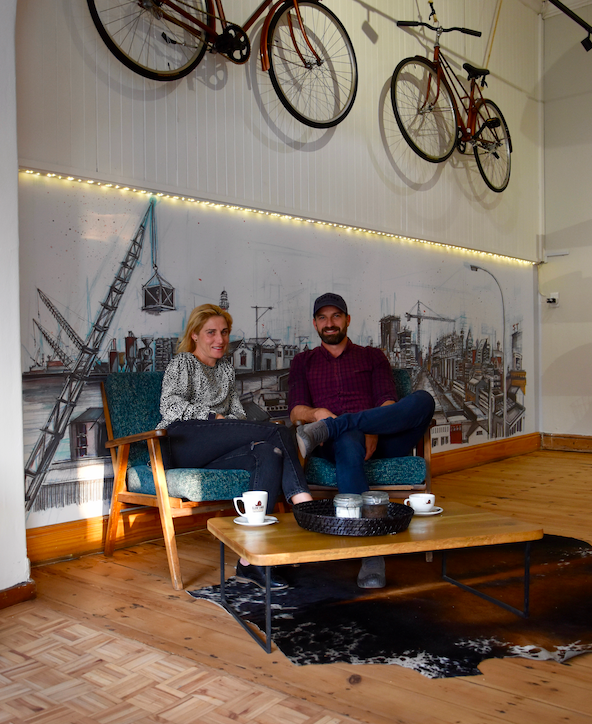 Rechia de Wet is refreshingly honest and she has the tenacity of a competitive sports person. "None of the locations we've opened over the years, were part of the plan. Opportunities came along and we decided together to go for it, even though the timing never seemed exactly right." The mother of their four young boys, Daniel, Benjamin, Max and William-Beau, and partner in creating and building Slowtown with Dennis, she is the first to admit it has been a wild ride. She has the passion and convictions to keep the family together and talking. An educational psychologist by trade, she is behind the decor and look and feel of each of the six, and counting, Slowtown Coffee Roasters locations. Ten years both passes in an instant and when looking back seems to be a very long time, reflecting on all that has happened. In the De Wet's case, ten years has meant 4 gorgeous children, 6 stores, over 100 wholesale clients and 65 employees.
"I love creating spaces where people can just slow down," Rechia tells us. "My dad loved coffee. Went from coffee shop to coffee shop soaking up the atmosphere, the communities built, the different personalities." The legacies of both their father's live on through Slowtown. "Dennis' dad, who passed away in August this year, loved building businesses and was always a huge support and inspiration to Dennis."
On returning from a stint in the Isle of Mann, living the successful corporate, but unfulfilling lifestyle it had to offer and on the back of the financial crash of 2008, Dennis looked at his options. He took the advice of one of his surf industry idols, Al Merrick, and looked to work in an industry that was already part of his lifestyle. Short of becoming a Formula 1 driver, he decided coffee was the way to go! Namibia had yet to experience any sort of modern coffee culture. A gap in the market was identified! And the call of home had taken hold.
As has become a theme in the coffee industry, the community element is strong. Having studied at Stellenbosch University, he still had very strong connections there. He contacted Regardt van Tonder of Legado Coffee Roasters, who had started a roastery in Stellenbosch. They spent a week together, Regardt consulting to give Dennis some insight into the industry and by the end of that time, Dennis had decided to buy the 12kg Diedrich Roaster that got them through eight years of roasting.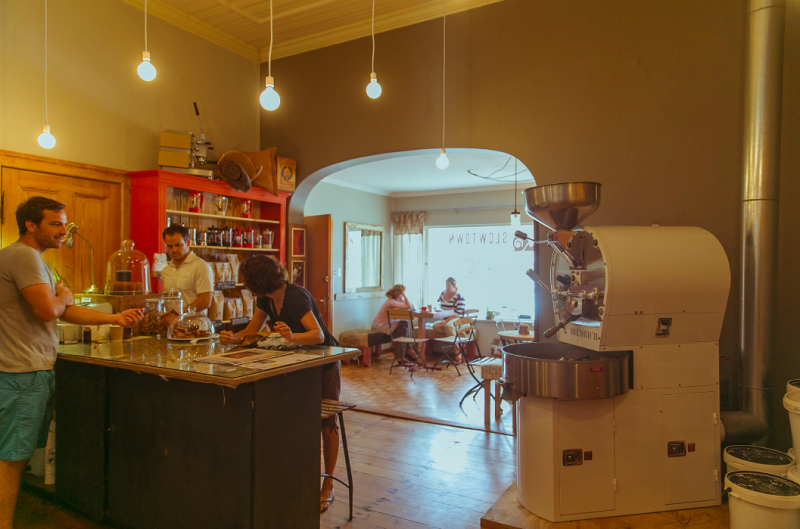 Now, Swakopmund is an interesting town. A cultural mix of historic Germany, Namibian pride and a splash of South African. Quaint buildings, but a world-class sports centre. A beautiful promenade and an unexpected daily fog that rolls off the ocean which is integral to sustain all the life in the desert, and also makes every morning perfect coffee drinking weather.
"We wanted a name that reflected the town and also what we wanted the cafe to mean to people. A chance to slow down, respect the process, stop rushing and enjoy the moment. The Slowtown way of life. And our iconic snail was our designer friend's idea and beat out the lion option when we opened it to a poll from all our friends."
There are the facts of how a business is built, but the many moments that really make it significant are evident in the way Dennis reflects on it. He's a businessman and he makes shrewd decisions, but the joy and light of the journey are what make Slowtown meaningful for him.
"Everything has a story. In the first iteration of the Swakop shop, we had a fraction of the space that we have now. An engineer friend of mine wanted to play his guitar in a cafe - and they happened to have a bit of extra space. And everything just fell into place from there. It was also one of the engineers who was also the first to slide a $20 note between the glass on top of our counter made out of an old door. Next thing we knew, a US dollar appeared, then a Euro and then we lost track of al the countries lying beneath that glass. Whatever changes we make to this store, that piece of history will always be a part of it."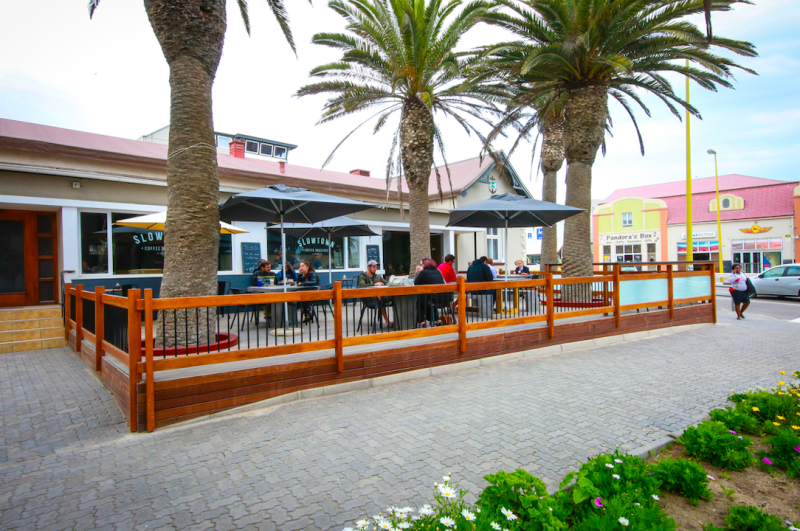 The coffee culture in Namibia has evolved to a number of local roasters since 2011 (there's only 2 million people flung across the huge country), including Two Beards also based in Swakopmund and Namibian Coffee Roasters, but it is safe to say that Slowtown has become synonymous with good coffee in Namibia.
"I recently read Shoe Dog by Phil Knight, creator of Nike, and obviously the scale is very different," he chuckles, "but it was one of those moments where you do realise that we're not building a business, we're building a brand and that is an important distinction. Is it going to hurt or enhance the brand? That's how we make decisions. We were approached to partner with a garage forecourt, but we decided against it because it goes against the entire ethos of the Slowtown life. At the beginning of this journey, if you'd told me that we would have two outlets in malls, I would've laughed at you."
But as the mafia saying goes, he was made an offer he couldn't refuse.
"We knew that there was money to be made in Windhoek and the way the city is built means there are very few street locations that would get the footfall necessary to sustain a coffee business."
Apart from The Grove and Maerua Mall that Slowtown now call home, the only other possible location was the CBD and when FNB revamped their building a coffee partner spot opened up and they were invited to fill that role.
And in fact creating a place of peace in a mall environment or a store in the middle of a bustling city, proved a challenge that Rechia quite enjoyed. Even though, they had three kids and she was heavily pregnant at the time of opening both Grove and City locations.
"Best laid plans, hey! They ended up opening two weeks apart, very much against what we had intended. We planned to open the FNB store in April 2013 - it was delayed. Grove had to open in September or there are penalties by the mall. So we lived in Windhoek for a month. I had the three kids with me, then we'd switch so I could carry on decorating."
They got it done and seizing the chances paid off. The Grove is far and away their busiest store and the CBD location has a fantastic energy and is part of the fabric of the city, a sneaky favourite of the dynamic team that keep the Windhoek stores running smoothly.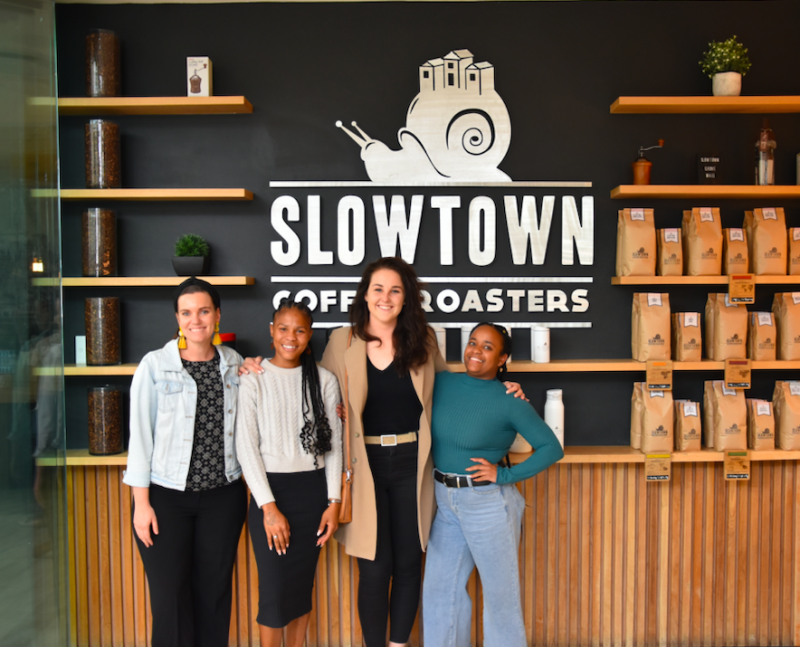 Ama-e Naruses leads a team of wonderful women who bring light and structure to the Windhoek stores. She is the Shop Manager of Grove Mall and CBD and she has a zest for the brand that is infectious. She helped to mentor Christel Wasserfall into her role as Maerua Mall manager and she has taken the opportunity with both hands, so proud to show off her "baby." As the team has expanded, new roles have emerged. Elzaan Otto, an accomplished chef is dreaming up new and delicious options across the stores as Food and Beverage Manager and Geena Prior, Marketing Manager makes sure everyone hears about all the good things happening in the Slowtown team.
When an opportunity presented itself in Walvis Bay, it was quite a different story to the big, city lights of Windhoek.
"I have an extremely soft spot for Walvis and I had always dreamed of opening a Slowtown there, but our growth has always been organic and I knew I couldn't force it. My dad started a ration pack supply business based in in Walvis and us 5 kids and mom and dad lived above the factory in those first years. I have some very happy memories there and I think it's where my entrepreneurial spirit started. So when the exact building I had pinpointed as a possible location became available, with the option to buy the building, I knew it was meant to be. Everyone says Walvis is just a harbour town. But I love the people here. They work hard, they don't moan."
"And while Walvis is very industrial, we wanted to create something special for the hardworking people here, a place they can also feel proud of and enjoy spending time in," Rechia tells us.
"Oh and tell them about the couch!" Dennis chimes in.
"You'll see in each of the shops that we have this beautiful mural that encompasses all the locations, from Walvis to Windhoek created by Elke le Roux, but in each store there is also a piece of furniture or focal point that inspired how I decorated the store. We don't have a ton of options when it comes to decor and I've spent a lot of time at auction houses over the years, taking pieces and making them our own. But this green couch was at a local place called Mirror Mirror. I had to have it. Dennis was very skeptical."
"I mean, it's a huge, velvet, emerald green couch, can you blame me?"
"Anyway, I convinced him and even he has to admit that it is the soul of the place and everyone is always fighting to sit there!"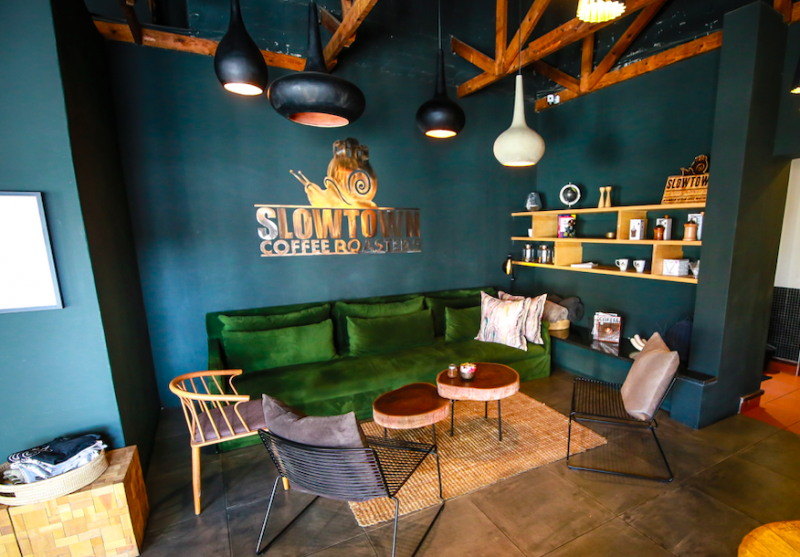 This store is also different because Salomie Franken, the Walvis Bay Coffee Shop Manager, has a flair for food. Her Friday pregos have people lining up out the door and along with the team of passionate baristas and staff make every one feel like they could be at any top class cafe around the world.
The final piece of the location puzzle (for now!) is the new location for the roastery. Home to the 25kg Diedrich roaster, that after sitting in storage for two years, has been put to work properly! The culture is still geared towards enjoying the blends, with their Slowtown House Blend holding strong as the number one seller. But the single origins, also sourced through Sevenoaks Trading, are gaining in popularity.
"You know, it's quite a thing, celebrating ten years. We're also celebrating partnerships, like the one we have with Carol (Sevenoaks), that has spanned the entirety of our business."
The roastery and espresso bar location is now the operations and administration hub of the business: finance, wholesale fulfilment, roasting. Dennis has a desk there, but by the lack of things on the desk, it is clear that he spends very little time behind a desk and most of it in the stores and with his team. "Helping the staff to be excellent, build their character and bring out the best of them, is something I'm very passionate about. People don't always believe in themselves, when you believe in them, that can start to change."
And it shows in the stories of the team. The Slowtown roaster, Leonard Hoxobeb, affectionately known as Lennie, began as a shelf-packer at Spar where Dennis first met him.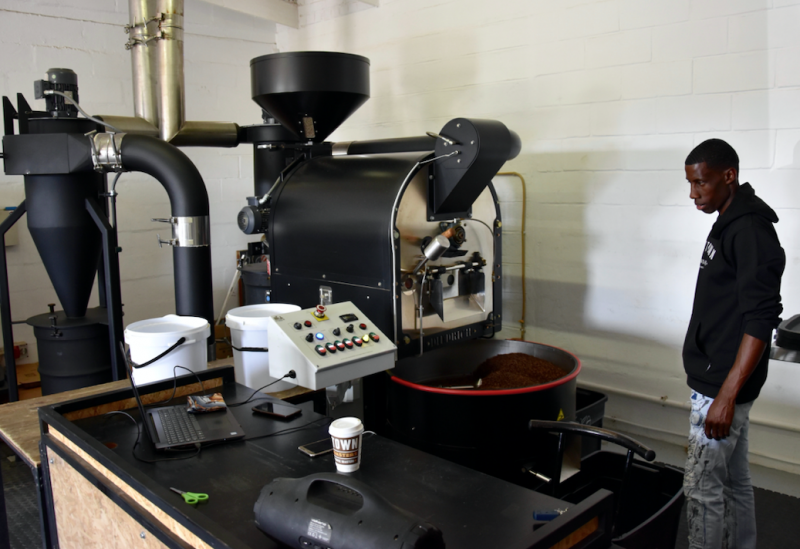 "The only way I know how to describe it, is that when I met Lennie for the first time, I knew he was an honourable man and that there was a place for him at Slowtown."
In a theme that Dennis describes as "very Namibian," Lennie also has a side hustle to feed his love of beautiful sneakers. He started a shoe cleaning business to help keep the sneaker heads in town happy and now has three employees of his own.
From the first year of the business, wholesale and retail have always been important to the operation. They were asked to stock the biggest Spar in Namibia and started them down a track they've never looked back on.
"I'll be honest with you, I hate sales. I take it far too personally. After two cold calls I gave up. We made a call at that point to have an option for every kind of wholesale outlet, lodges, retail, hotels, corporates and give them really good service in whichever option they choose. For example I've spent a lot of money on water filtration with the team at BWT. Our water is hard out here, we have to soften it, a lot. We've learnt the hard way at far flung lodges and equipment that doesn't last because the water destroys the internal workings."
And even through the success of an established brand may seem like enough for some, there always seems to be a new challenge on the horizon for this team. The latest project is a revamp of the packaging, the attention to detail of which is phenomenal, encompassing the history beautiful.
"We like the process behind building this brand and still feel extremely passionate about it, because it's creative." Rechia tells us, "We don't like sitting still. We like to be busy. As long as the motivation is pure, then we're happy!"
"We've done it together, our boys have been part of it and haven't compromised our principles along the way. Our faith is very important and everything always comes back to that," Says Rechia . "Dennis doesn't get flustered, he's always kind and very consistent. The only two times I've seen him stressed was 2014, a hellish year for us, personally and business wise. And then the second time was lockdown. So worried about our employees and the community. But something special also happened. We could be part of the hope and people could still afford it. The space and daily experience has become so important to people. Even through the personal turmoil we were going through, it was our regulars who came to support us through all the lockdowns and helped to lift our spirits too."
"Ten years on, the original Swakop store has recently had a makeover, and one of the most heartwarming as well as occasionally frustrating things," Dennis laughs gently, "has been to see the regulars grapple with changes to their beloved 'home.' They all have their place here. They're all proud to be part of the Slowtown way of life."