This week was International Woman's Day and we couldn't think of a better way to celebrate than highlighting on of the most respected women in South African (and beyond!) coffee, Carol Corlett.
Interview with Carol Corlett
Carol Corlett is at the helm of local coffee importing and distribution business, Sevenoaks Trading. The importing and transportation of this valuable commodity is a complicated process, so we thought we would shed some light on one of the companies that makes this happen from all the coffee growing countries to South Africa.We have been lucky enough to work with Carol and her team through the years and it never ceases to amaze us just how big the operation is. Walking into the warehouse is a jaw-dropping experience, 60kg hessian coffee bags stacked high, tonnes of coffees from all over the world all in one place, ready to go to roasters big and small around South Africa. Carol's experience has been gained through her unending curiosity and years of hard work. She is an inspiring figure in the coffee community and has so many stories to tell. We asked her to give us some insight on what her the team do to get the good stuff to your cups!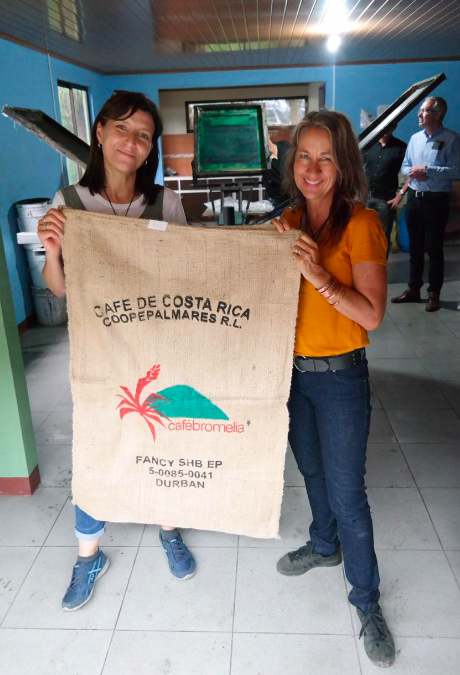 How did you get into the coffee business and how did Sevenoaks get its start?
I have an accounts background - I did my BCom degree and articles, and then did some auditing as an international treasury auditor. From there I joined WM Cahn as bookkeeper/accountant. I worked with Trefor Evans (who sadly passed away a few years ago), the financial director at that stage, and David Wishart, the MD. They are the most amazing people, and I shall always be grateful to them for giving me that opportunity. I was very happy, but I started getting curious about coffee and eventually took a trip with Konrad Brits to Zimbabwe to meet the farmers I had been dealing with for a long time. I met Jeremy Wakeford, an internationally recognised green coffee consultant, who is my absolute coffee idol, my mentor and the one person who must have taught me the most about coffee, as well as about life and business. From there on it was a quite a whirlwind! Konrad started Sevenoaks Trading in June 1999 and I joined him in September 1999. That's how our journey began.
Can you give us a bit of insight into who the major players were in the beginning and what the market looked like back then?
It looked a lot different from what it is now. Back in those days you had to bring a full container of coffee into South Africa, either directly from origin or a full container with mixed origins from Europe. With those limitations there was no way the smaller importers or roasters could afford to bring in coffee for themselves. They had to try and import small quantities (at really high prices) themselves or buy from the bigger players like Ciro, Nestle and House of Coffees, these were the really big roasters who could bring in containers. The medium-sized roasters used to bring in mixed containers from Europe. In my first year of running Sevenoaks Trading, I was happy when I sold a full container per month, which was the equivalent of about 18 tonnes. I was selling to about 15 roasters, mostly medium to bigger sized roasters. The main reason for starting Sevenoaks was to bring the opportunity to the smaller roasters to buy 1 bag, 2 bags, 10 bags or 100 bags. The guys who were bringing in mixed containers which lasted three months decided it was better on their cash flow to just buy one month's supply from us, as and when they needed it. This was a new concept, but it opened up the market to the smaller roasters.
What is the market like today compared to what it was when you began?
Obviously the change has been phenomenal. SA was way behind and we had no real coffee culture, but I think in the past 20 years we have moved forward in leaps and bounds. Even though we follow the US and European trends, we have also figured out our own unique coffee culture truly South African and the community that I have been a part of has become like a second family. For many years I was on the board of the Speciality Coffee Association of Southern Africa (SCASA) and helped with Barista competitions. If I think back to the very first competition we had in Cape Town, it's almost unbelievable to see where we are today. The highlight of that first competition was George Bertolis nearly killing the judges with his Cinnamon signature drink, let's just say he may have overdone the cinnamon!!! What stands out to me now is when new roasters start exploring the world of coffee and find out how much more is involved and how intricate coffee really is. The wonderful thing is that I have made true friends – too many to mention – and I could never do anything else than trade/drink/live coffee.
Have you seen an increase in speciality demand and consumption?
The market is always hungry for more and in the coffee industry "more" is represented by the demand for speciality (coffee that scores above 80 points on the grading system). As the roasters and coffee connoisseurs are learning and evolving, so are their clientele, always looking for the next "best" coffee. So the demand is there, but it still doesn't supersede a good, solid, commercial grade coffee. So in essence I would say it's an evolving niche market. But you never know how big it may become. We focus on having something for everyone. And nowadays it's quite an art with the challenges of climate change, sustainability for farmers and selecting the right crops at the right time to ensure they arrive at our warehouse in time to replace the previous crop. It's quite the balancing act.
What does an average day in the life of a green coffee importer look like? Can you give us some insight into just how many logistics go into getting green coffee into your warehouse from around the coffee growing world? (We are always trying to keep consumers educated and understand why the coffees they are buying cost what they do and should be cherished) I think it is important (and interesting) for people to know exactly how their coffee gets here.
We are part of a group called CTCS (Continental Trade and Commodity Services), based in Sevenoaks, Kent in the UK. Our main aim is to supply the South African market with coffee, both commercial as well as premium lots. We offer advice with regard to blends and cup profiles and host The Basic Green Bean Course to educate the coffee roasters/suppliers in SA. We have teamed up with Donovan McLagan and together we host the SCA Roasting course in Johannesburg and Cape Town. There's a lot of planning that goes into ensuring that we always have enough stock. Our Coffee Trader, Paul Cooke, who has over 30 years of experience, is situated in the UK and we are in constant communication with him, discussing stock levels, future crops and pricing. As everyone knows, coffee prices are based on the New York Futures exchange and then if you are in SA, the other variable is the $/R exchange rate. There is a lot to consider. Over the years we realised that managing our own warehouse makes our lives a lot easier, but we also outgrew the space we had and in 2016 we moved to our current premises. In 2019 we opened a warehouse in Cape Town to service our ever-growing customer base in the Cape more efficiently.
Basically what we need to do on a daily basis is asses our stock level and predict what we need in the coming months. With Covid appearing, all our forward planning flew out the window and worldwide shipping issues and delays have caused chaos to our planning and timelines, but we've overcome many hurdles over the years and we'll manage this as well.
How many tonnes of coffee are we talking here? On a monthly basis for example?
Let's just say from when we began almost 22 years ago we have grown annually! We did start off with 15 customers and about 18 tonnes a month. We currently have an incredible variety of customers, some of them buying 5kg a month and some buying 5000kg a month. Our mantra at Sevenoaks is that we treat every customer who purchases from us as if they are our most important customer, and we pride ourselves in going the extra mile for them.
How have you and Sevenoaks as a whole adapted to the Direct Trade model employed by an increasing number of modern specialty roasters? Has travelling to origin become more of a priority over the years? Or has it just become more of a priority for roasters, but has always been a priority from your side?
Sevenoaks was actually started on a direct trade model, selling Zambian and Zimbabwean farmer's coffee in South Africa as well as for export. We had transparent transactions, where farmers received a percentage of what we could end up selling the coffee for. What was great about this model is that risk was shared. Over the years we have fostered many relationships with farmers, producers and exporters in producing countries, and have used various trade models to supply the demand in the local roasting industry. There is definitely a growing demand for direct trade, but I don't think a lot of guys know that it does come at an increased cost and some risk. CTCS has an office in Tanzania, so we have been visiting and doing a lot more direct work in that country, and have most recently been building washing stations in the Tarime area. We also had the privilege of going on a Central American trip in 2018, and we got to visit many of the farms and mills that we have been buying from for many years. When you have great partners on the ground in origin countries trips out there aren't as necessary, but when you do get the opportunity then it is definitely worth going.
You must have some crazy stories from your vantage point in the coffee value chain, can you tell us one or two?
So many stories to tell, but I'll not bore you with the details. What I can say is that it's not the best idea to travel with me. I have a reputation of getting stuck, lost or broken down. We ended up getting lost in Rwanda, after being told we had to make it to our destination before nightfall. In the end we arrived after midnight covered in mud as we had to get out and push (we got stuck as well). Adele and I broke down in Malawi and that was after we had to spend a few days extra as rains had flooded the area and we could not get out. Our rescuers came in a truck that transported tea and I think the driver was a Formula 1 wannabe as he towed us up a mountain at 120km/h…..or that's at least what it felt like!!! I can go on and on, but yes I am an expert at getting out of sticky situations. Just another day in Africa I guess.
What skill set or qualifications do you need to be in the green coffee business? Part Finance, part sociology, part anthropologist, part philanthropist, part Q-grader? We're just guessing!
Haha, all of the above and more, BUT that is why we have put the team together that we now have. In the beginning it was easy to manage everything, but then you realise to grow you need hand over to experts in their area. There are so many angles to consider in this business, and it's best to have the right folks in the right areas, flourishing in their strengths. Some of the staff members, Adele de Villiers and Nicky Williamson have been here since 2006 and from there we built the business by finding the fabulous team that we now have. Tess Schmidt runs our Cape Town office and one less headache for me as she's such an incredible lady. Without the team we have, Sevenoaks would have still been the small, 18 ton a month business it was in 1999.
You have a coffee farm named after you?! Please may you tell us the story of your namesake farm.
Well, not a whole farm, but a lot on a farm. This is probably one of the most special moments in my coffee career. I started talking to Ramiro Ortiz about two years before I actually met him. He came to Cape Town for a business course and stayed on one of the wine estates. We started talking and he went around to some of the roasters with his samples. But most people didn't know who he was and were quite dismissive of him at that stage. But he left his samples and started talking to me, and we built up an amazing relationship across the miles. Then two years later, maybe even three, I went on a trip of a lifetime. I'd been waiting to visit Central America for almost nineteen years. A group of us went- our Director Tom Snoek, our trader Paul Cooke, Adele de Villiers, myself and some of our customers. We left for Central America and visited Costa Rica, Guatemala and eventually Nicaragua. So I finally met the man I'd been speaking to for so long and he is unbelievable. Ramiro is the most coffee obsessed person I know. He doesn't stop, he doesn't stop trying to improve, he doesn't stop putting in the effort, he doesn't stop caring about his farmers and their families and making things better for them and the plantations. He puts in every single minute of the day to be better, he's got such energy and passion.
We visited a few the farms over the next three days and then on the last day we were brought to Rajuanse. All the coffee is marked off into lots, and there was a big sign board put up that was still covered. He called everyone together and introduced me to one of his workers who manages this plot. Then he asked me to pull down the cover, and there was the sign 'Lady Carol'. That I didn't break down in tears was a miracle, but it touched my heart more than anything else in the world. I feel so privileged and will cherish this day forever. Each year I get the coffee milled from this plot and it's called Lady Carol and it's packed specially and the most amazing things have been done with this coffee. Arabikaz in Hermanus has sold it to get some funds together for amazing charities, they've done such good things with this coffee.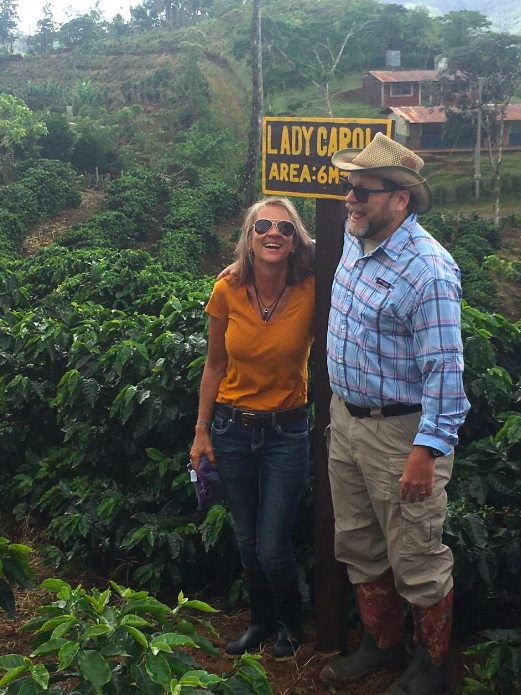 Work aside, we'd love our readers to get to know you a bit more.
It's very difficult for me to say things about myself, but I'm not the average, sit behind the desk coffee person. I am very energetic, I'm very adventurous, I love a challenge. I told someone the other day that we need to do something every now and then that scares us. That's my motto, to keep on challenging myself and keep on doing things that scare me. I've managed, with the relationships I've formed within the coffee industry, to have the opportunity to climb Mount Kilimanjaro. This was one of the most amazing moments and we formed such a strong bond in those difficult circumstances with the people we were with during this experience that I doubt it will ever be broken.
Where is your favourite destination to take your vintage, green Landrover?
I actually had another Landrover before this one, it was kitted out with every single gadget you can think of, and I set out on a solo trip through Botswana and Namibia in 2011 for a few weeks. I did about 5000km by myself and it was one of the most fantastic times of my life. I fell in love with Namibia, I've been back once since then but I'd love to go back again. The wide open spaces, the remote beauty of it is just unbelievable, the desert is a very stark reality. No coffee trees of course but it was quite amazing.
You were recently awarded your Black Belt in karate. Please can you tell us a little about this journey with martial arts and how it influences your day to day life?
I started karate 20 years ago last year, I trained for 10years, but due to unforeseen circumstances I had to stop. Ten years later I decided to revive my passion for karate in 2020 and didn't know Covid was going to mess with all my plans. So that was quite a disaster after only two months, we did most of our training online which was not easy, but we did eventually get back to the Dojo. I decided to take my karate very seriously. It means a lot to me although it does still scare me every time I go, as it's not an easy sport. I actually told someone it's one of the most difficult things I've ever had to do. It doesn't only require physical strength but mental tenacity too- you have to prepare, you have to train, you have to think. It's made me a stronger person, it's made me a more dedicated person and it's given me more confidence!
Last year on the 12th of December I passed my grading it was one of the proudest moments. I still train four times a week. It keeps me fit, it keeps me strong, keeps me healthy, keeps me focused and keeps me motivated. They say you will never ever know everything about karate, and I know I only know a portion of it, but I've made so many friends and I'll probably do it until the day I fall over and can't anymore.