There's more to The Boxer than knock-out coffee. At the small Cape Town based coffee shop's heart lies a truly inspiring story of courage in the face of adversity and the perseverance to keep following your dreams no matter what.
Words by Annette Klinger
---
Every Wednesday afternoon at 4pm, George Tamfuri locks up The Boxer. Joined by three employees, the team walks about 100 metres across the sprawling business park where the coffee shop is situated to the roasting room. It's an unassuming space, except for a hulking cast iron coffee roaster named Tyson standing in one half of the room, and an Everlast punching bag dangling from the ceiling in the other.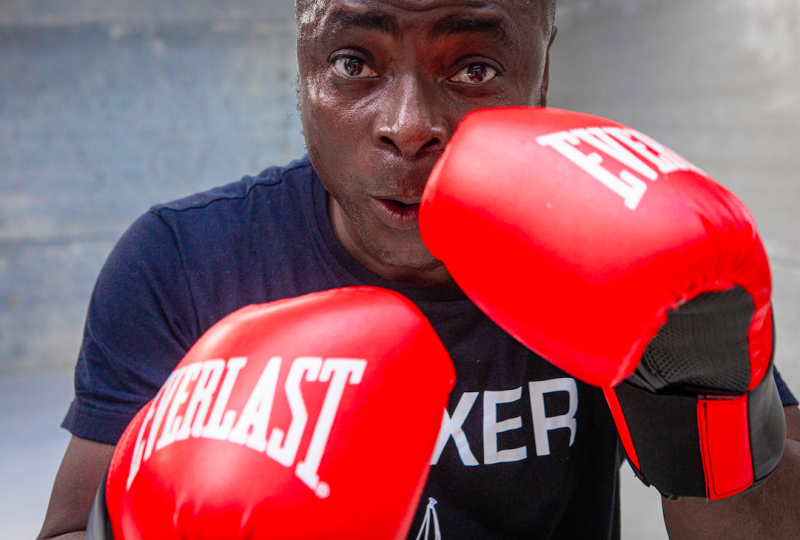 For the next half an hour, George heads up a very unique team-building session, teaching his employees the fine art of boxing: footwork, balance and, of course, perfecting their one-two jabs and uppercuts. Most importantly, he drives home the sport's principles, as they were instilled in him by his childhood coach. "Boxing isn't about fighting people, it's about treating people with love, compassion and respect," says George, who took up the sport as a seventeen-year-old in his home town of Lubumbashi in the DRC.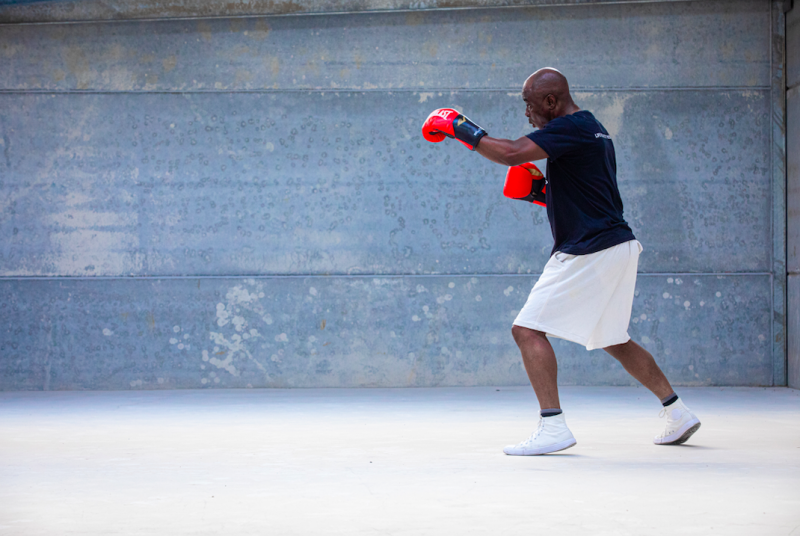 "There was a bully at school and every day, you just knew he'd want something, whether it was your lunch or money," he continues. "Eventually my father told me that I had to end this thing and suggested I start boxing like him and my uncle."
The ending of the bullying saga isn't as predictable as you might think. Yes, George successfully defended himself and the bully backed off from him and his friends, but George also ended up talking to him, getting to know him, and ultimately becoming one of his best friends.
When George was at university, tragedy befell his family. George's father, a prominent politician, spoke out against the president of the time; an action which ended up endangering the entire Tamfuri family. George's mother was unlawfully detained for two weeks and his brother, also a politician in the opposing party, was assassinated. The family fled to the UK, where they applied for political asylum, but George had to stay behind in the DRC due to issues obtaining a residency permit. "I had a friend who lived in Johannesburg and owned a big gym," says George. "He convinced me to come and work for him as a boxing trainer, but once I arrived, it soon became clear that it wasn't going to work out." Finding himself at a dead end in a foreign country with no money, George met a Congolese congregant through a local church who said that there might be more opportunities in Cape Town.
Sure enough, once he arrived in the Mother City, his luck slowly started to change. "I had space to sleep at the church and soon got a job as a security guard at an apartment block in Sea Point, right next to the sea," recalls George. "I befriended one of the residents, who learnt my story and offered to pay for me to train as a barista."
A whole new world opened up for George when he walked through the doors of Origin Roastery in Green Point - one of the first artisan coffee roasters in the country. Up until then, his only association with coffee had been the memory of childhood December holidays spent with his grandfather, who preferred his coffee beans roasted an almost pitch black.
Legendary barista José Vilandy took George under his wing, teaching him all the intricacies of making the perfect cup of coffee: getting the grind size just right (too big or small, and the grounds won't saturate the hot water properly), pulling the perfect shot (it should take five seconds before the espresso emerges from the portafilter) and finally, heating milk to exactly 60 celsius (too cold and your cup will taste insipid; too hot and it will burn the coffee).
The initial learning curve was steep, not to mention exhausting, since George was still working the night shift from 6pm to 6am and would have to clock in at barista school again at 7am. "As soon as I got my first barista job, I quit the security company," laughs George.
Over the next eight years, George put in the hours at some of the best coffee shops and roasteries in Cape Town, including Kamili and Deluxe, slowly but surely making a name for himself and expanding his skill set to include roasting and blending beans.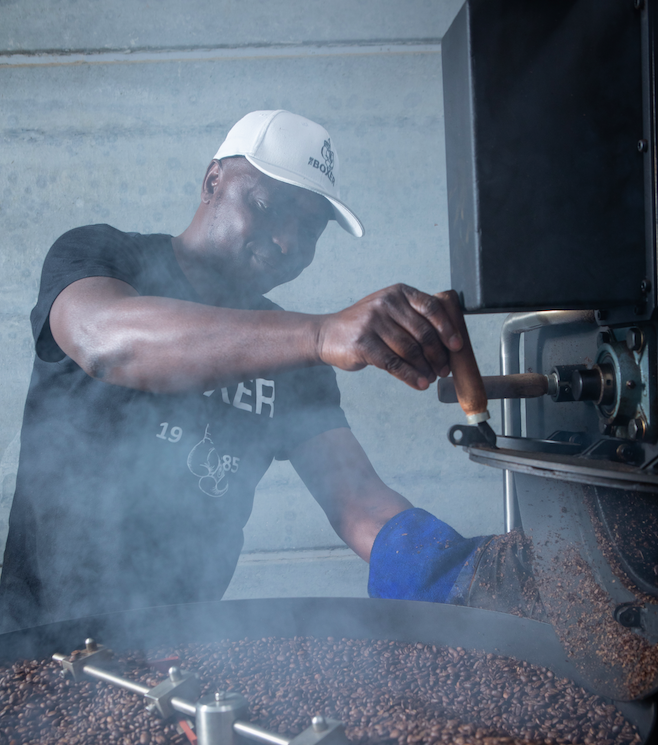 While George maintains that The Boxer was established in 1985 ("Your story doesn't start the day of your success, it starts the day you were born," he says), it found its first brick and mortar home this year, with the help of his long-time-customer-turned-business-partner Dewald Müller. They knew from the outset that The Boxer was going to be the kind of establishment where customers didn't have to know their cortados from their lungos, but merely had to answer the question: "How do you take your coffee?" Thus, they can choose between a dark roast, a medium roast and a decaf roast. That said, should devout coffee nerds make the pilgrimage, George is more than happy to enthrall them with everything from the beans' origins to how he coaxes out their unique flavour profiles during the roasting process.
The coffee shop's aesthetic is accordingly unfussy, yet contemporary cool. Perched at a jaunty angle at the entrance of a new business development in the industrial area of the Cape Town suburb of Brackenfell, the diminutive hatch-doored spot is adorned in accents of black, white and warm woods, and features a red chalk-board menu wall. The axle around which the whole operation turns is a gleaming Wega Atlas espresso machine, from which George and his colleagues pull the perfect flat whites, day in and day out. He describes his dark roast, which is a blend of Colombian and Guatemalan beans, as chocolatey and smooth, while the medium blend, which is composed of Ugandan and Costa Rican beans, offers coffee lovers an earthier, slightly more acidic cup.
The Boxer is so much more than a space serving consistently good coffee, though. It's a place where you're warmly welcomed and asked about your day. "Asking such a simple question is a way of making people feel like human beings, not just customers," says George. "For me, it's not just about making coffee. It's about loving people."