A Tale of Two Coffee Cities
One on the cutting edge of the culture and one in its infancy, both with a lot to offer.
We talk to Shinsaku Fukayama also know as 'Samurai Shin', a name so given for his precision skills with a milk pitcher. He mastered the art of coffee in the coffee capital of Melbourne and is bringing that flair back to his home country, settling in the well-known foodie city of Osaka. But coffee, particularly the specialty kind? Well, they're just getting started…
---
In the taxi on the way into Melbourne, Australia from the airport, I had the strangest feeling of familiarity. It's felt a bit like Durban actually. Well, if Durban had a plethora of world-renowned cafés, restaurants and bars, that is! But the landscape, the height of the buildings, the colour of it, a laid-back quality; I had a sudden understanding why some South Africans feel so comfortable there.
I experienced the exact opposite when we high-speed zoomed into Osaka, Japan on the bullet train: wonder at how everything was fresh and foreign and unfamiliar, how so many people seemed to be operating successfully in what presented to me as colourful chaos. All I can say is, thank goodness for Google Maps! In one of the most densely populated cities in the world, you could wander the streets for weeks and never have a dull moment, every inch of space is covered: a convenience store, a street vendor (takoyaki - octopus balls- for the win!), a dive bar, a restaurant serving some of the best beef in the world, a brand name café, high fashion, whatever you can imagine, there is a tiny shop in Osaka that has it. However, we had to search pretty hard and travel very many of those streets to find the specialty coffee spots. One of the favourites was a small café called Lilo Coffee Roasters, owner-run, beautifully designed branding and packaging and a delicious array of coffees!
In Melbourne you could fly a flimsy paper aeroplane and whichever direction it went, you would still find another gorgeous café with an incredibly high-standard of specialty coffee. It was damn-near unbelievable. One of the 'must-visit' locations recommended by many different sources was ST. ALi Coffee Roasters. When we walked into this Melbourne coffee institution, all we could do was observe as the machine worked its magic. It's not on a main street and it doesn't look like much from the outside, metal roller doors in the wide windows, graffiti on the brick walls, but inside, its an explosion of well-oiled activity. The pace was insane, but everyone made it look so easy. From the Front of House manager who found us a seat to the team of baristas pumping out a crazy amount of coffees, the experience was flawless. We spied some coffee legends, including Shinsaku Fukuyama, among the busy yet relaxed team. He wasn't behind the bar at that point because it was the Melbourne International Coffee Expo in a few days, where he would be crowned Australian Latte Art Champion 2018. Now after making his mark in Australia, he is taking his hard-earned accolades and numerous coffee skills back to Osaka, growing the specialty coffee scene, one coffee at a time. We chatted to this world-renowned coffee professional.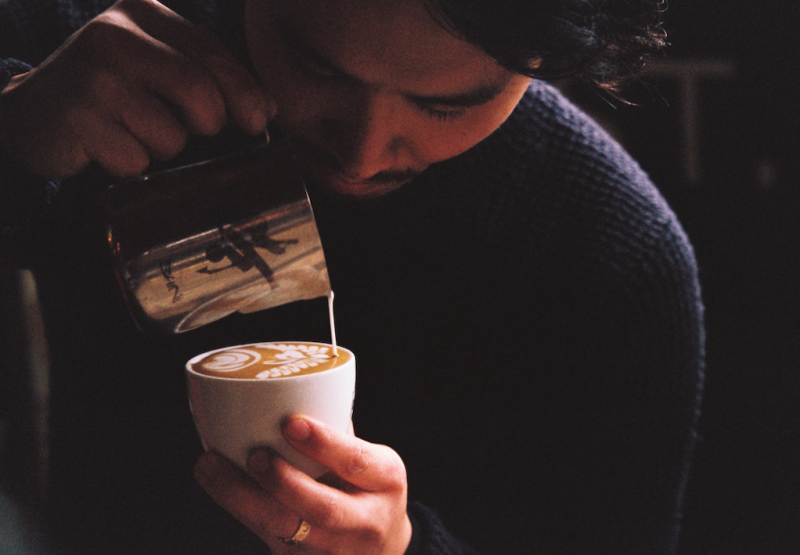 Can you please introduce yourself and tell us how you got the nickname 'Samurai Shinsaku'!
I was a chef in Japan and I really wanted to become a barista, so I moved to Melbourne, to the heart of café culture. I started making coffee when I came to Melbourne, and I've been working in the coffee industry for almost 8 years. When I came to Melbourne I didn't have any experience, and I didn't know how to speak English, but I had a passion and motivation to become a barista. It was very hard to find a job when I was a beginner and made a lot of mistakes, but improved a lot as well. I studied and trained hard almost everyday to become a barista. In 2016, I became the Coffee Fest World Latte Art Champion and I became the first ever person from Japan to win the Australian Latte Art Championships in 2018. Also, I got 2nd place in the 2019 Coffee Masters in the USA. So I guess you could say, my nickname came from my attention to detail and carrying out my latte art pours with precision and passion. It's my privilege to represent both Japan and Australia and I would love to share my passion and motivation with everyone!
Tell us a bit about your move from Melbourne to Osaka? What does your business do?
I want to bring Melbourne coffee to Japan. In Melbourne, the coffee tastes good at every café. The quality level is so high, and I really like Australian customer service. It's so friendly and focuses entirely on the customer. We will focus on education and building a roastery and café that embodies those values. We will open in early April in Osaka, Japan.
If someone was visiting Osaka for the first time, which coffee spaces would you recommend they try?
I would love to say "Barista Map Coffee Roasters" which is our new café!
What is the difference in coffee culture between Melbourne and Osaka?
Both countries have an amazing coffee culture, however, Japan has many convenience stores and vending machines for different consumers. Sometimes people go to a café and drink coffee, but often they buy coffee at a vending machine if they don't have time.
In Melbourne, consumers like to drink coffee at cafés at a slow pace and they usually drink 2-3 cups of coffee every day.
You had a long and successful career at ST. ALi, can you tell us about what it is like to work at this prestigious coffee business?
I was really lucky to work with the ST. ALi Crew for almost 8 years, because I could learn about all the parts of coffee there. They had many talented baristas, including Matt Perger (Founder, Barista Hustle), Ben Morrow(Founder, Manhattan Coffee Roasters) who have gone on to do amazing things in the industry with the help of the platform that ST. ALi gave them. I learned so much about coffee skills, knowledge and mental skills from them. ST. ALi is open 365 days, they are really busy cafés. I would make literally thousands of cups of coffee a day. This situation is pretty hard to manage and make consistent coffee for customers at a busy café. It was an absolutely amazing situation and good to learn how to build career before I started my own company.
It's my pleasure to continue working with them.
For the baristas who need some motivation, can you tell us about what it takes to become a Latte Art Champion?
As I said, l love coffee and love competition. Keep learning and keep going. That's my motivation for everything.
What is your favourite part about being in the coffee industry?
Talking with customers and becoming a friend over coffee.
You are an extremely well-rounded coffee professional, what was it like learning to roast coffee?
I really enjoy working in the coffee industry. Now I am starting my own roastery and café in early April. I have experience as a barista, trainer and ambassador for ST. ALi, then I moved to roasting coffee by myself. I learned the roasting skills and knowledge from ST. ALi and Craig Simon (Founder, Criteria Coffee) in Melbourne. This is absolutely such an important skill to build a career as a barista. After learning to roast, I now understand so much more about a coffee and how to get the best out of it.
What is your next big dream?
Of course, I want to be better and better. I started my own company and will open a new roastery and café in Osaka. I want to build a new coffee career here in Japan. I also started a new coffee farm project in Okinawa, in South Japan. This is really exciting! I will share this experience soon! Lastly, I am preparing a new project which is ST. ALi Japan.
Can you please tell us what your favourite way to brew coffee is and what your recipe is for that particular brew method?
I love every coffee, it depends on mood or situation. However, I usually drink pour over and my weapon of choice is the Kalita Wave.
Here is my recipe:
12g of coffee
200ml of water
25 clicks (Commandante Grinder) - This is a medium coarse grind
90° C water, 40 ppm - This means he uses fairly 'soft' water with not a lot of mineral content, so probably best to use filtered water, we recommend the BWT Magnesium Mineraliser Jug
Method: First pour - 40g, Second Pour - 40g, Third Pour - 120g
Total brew time is 2:15sec
Have a wonderful coffee experience!