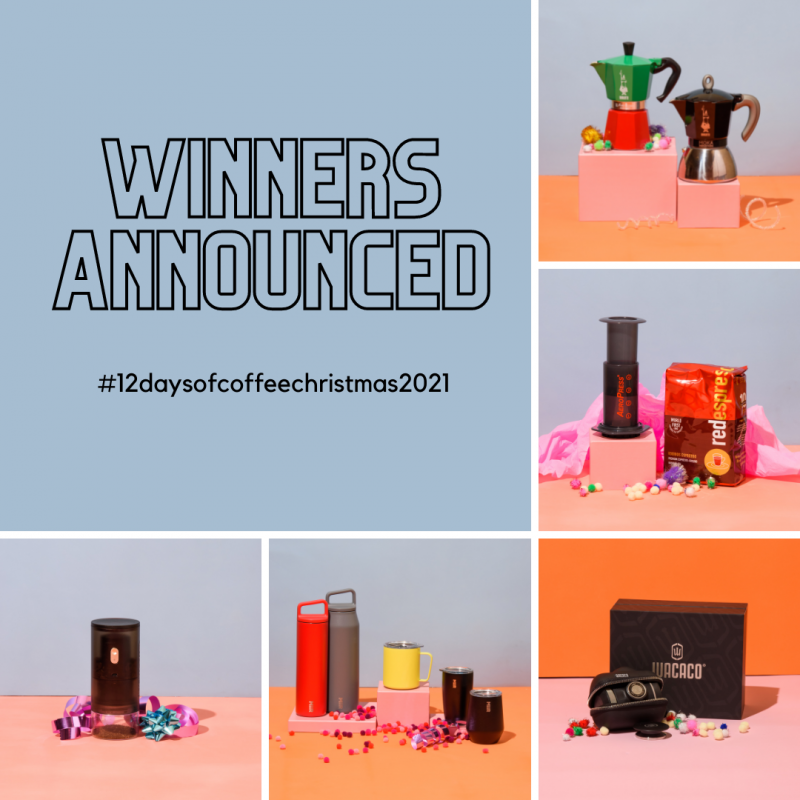 Congratulations to all the lucky winners and thank you to everyone who entered over the last two weeks. One of our favourite parts of running this competition on social media is hearing all your coffee stories and adventures, always reminds us how much coffee impacts people's lives!
Day One - December 10th: 1kg Red Espresso + Aeropress + Spiced Chai x2 + Instant Red Cappuccino x2 sponsored by Red Espresso, valued at R1500
WINNER: Sara Essop
Day Two - December 11th: Home Barista Next Level A Shot in the Dark Kit: Genio Barista Apron + BWT Filtration Jug + Lizzard ASITD Branded Flask + Coffee! Valued at R2200
WINNER: Ciska Smit
Day Three - December 12th: Mastertons Christmas Hamper worth R1700 sponsored by Mastertons Coffee
WINNER: Raymond Antoncich
Day Four December 13th: Wacaco Picopresso, compact, portable espresso maker, sponsored by MoreFlavour
WINNER: Lentheric Williams

Day Five - December 14th: TWO WINNERS - Bialetti Italian Moka Classic and Bialetti Moka Induction sponsored by Bialetti SA, each valued at R1000
WINNER Italian Moka Classic: Linda Chernis
WINNER Moka Induction: Christel Botes
Day Six - December 15th: Coffee for a Year + Coffee Mag Subscription sponsored by Discover Great Coffee Club, valued at R2400
WINNER: Kathryn Pelser
Day Seven - December 16th: Hario Pour-Over Set and Skerton Mill Grinder, sponsored by Equipment Cafe, valued at R1700
WINNER: Schalk Van der Westhuizen
Day Eight - December 17th: TWO WINNERS - MiiR Assorted Flasks, each prize valued at R1500, sponsored by MiiR SA
WINNER: Nonceba Lushaba
WINNER: Stuart Strang
Day Nine - December 18th: Go Grinder - Electric portable grinder from Timemore, sponsored by MoreFlavour valued at R2500
WINNER: Mark Hughes
Day Ten - December 19th: Exclusive Tasting Experience for Two + A Trio of Colombian Coffees with Winston Thomas 3xBarista Champion of Cedar Coffee, valued at R2500
WINNER: Tessa O'Halloran
Day Eleven - December 20th: The New Nespresso Vertuo Next valued at R3500
WINNER: Jacques Jacobs
Day Twelve - December 21st: Ratio 6 Filter Brewer sponsored by Electrical Industries, valued at R6500
WINNER: Fathima Simjee!!!!