It's obvious that you love coffee. Enough to possibly funnel a great deal of money into building your own coffee business? The first question you must ask yourself is if you are in the correct place in your life to start a coffee shop. Now, this doesn't mean you must be a retiree with a large pension to start, but you do need some capital, time and patience.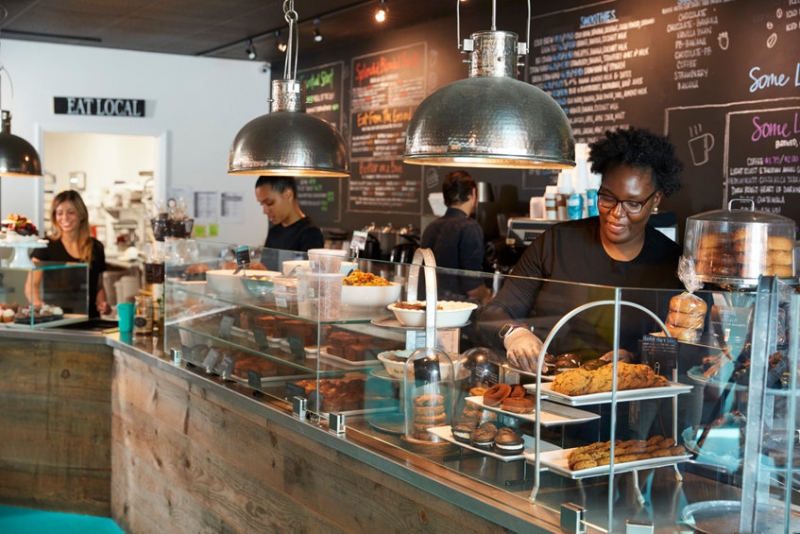 DO YOUR RESEARCH
If you're reading this, you're on the right track. Reading multiple articles on the coffee industry will help you better understand what you're getting yourself into. Coffee consumers are becoming more and more discerning. By doing your homework and gaining some experience, you can become a coffee expert yourself and fulfil the demand for knowledge. Research your local cafe scene to see where you fit in. Ask yourself: "How will I stand out? Who am I making coffee for what is the best way to approach my customers?"
The first step in starting a new business is to define what it is that you will be doing. I always laugh at restaurants who call themselves "The Grill Shop – fine sushi and artisan bread" or "Jake's Bakery – Pub & grill". These entities are confused and do not convey a clear message of what it is they are offering.
Will you be focused on serving food, or are you hell-bent on becoming an in-store roastery? If so, you should visit our Products page to see which roaster best suits you. The best thing is to go out and chat with your potential clients, other shop owners whom you look up to.
Get off Google and onto the streets and speak to experts like us to see what the right tools and approaches are to build your dream around. If roasting coffee is your thing, you should contact Genio so we can help determine your coffee roasting needs. But not all coffee shops need to roast coffee. In fact, only a very dedicated and committed few should think about roasting their own beans. For the rest of the coffee world, focusing on your strengths (like making or presenting good food, marketing, coffee brewing or even just interacting with your customers) is a much better way of achieving success than spreading yourself too thin in trying to be everything at once.
WHAT MAKES YOU DIFFERENT?
The café industry is growing in South Africa, people are turning away from mass-produced franchises and are looking more towards unique cafes with great coffee and an inviting atmosphere. First of all, you need to provide a high-quality product.
Making your own products (like bread, pastries, coffee or even cheese) allows you to build a close relationship with your product, your insight will help you sell your product to discerning customers.
FINANCING YOUR DREAMS
Having a business plan is not only a good idea when you're seeking funding, but it can put planning into perspective for you.
Professional equipment suppliers will often have some idea of what makes a business successful when it comes to planning and should be able to give their customers some guidance when it comes to financing their dreams. At Genio, we will gladly sit down with you to determine your needs. But we also have example business plans that you can take straight to the banks to help you get the right financing for your needs.
There are many ways of financing a new business. You can use your personal funds if you have them, or tap into your connections, friends and family in exchange for shares to help make your dream become a reality. Do not be scared to share your success with others whom you trust. Just make sure that everyone knows their roles in the business and definitely have it on paper. In my mind, the notion of 50/50 is silly. There is seldom a situation where all partners do equal amounts of work. One partner will always get stuck doing the heavy lifting and will feel under-appreciated or worse, underpaid, in a 50/50 situation. Rather stipulate exactly what you and your partners' roles are and divide this commensurately in terms of ownership.
The other way of financing a business (apart from the rich daddy approach) is to go to the banks and get financing or a loan. In our experience, most of our existing business clients can very easily get financing for their roasters even if they are in other countries. Go see your bank to see what they can do for you, and be sure to build up that relationship well before you need them. A good track record makes a big difference when it comes to the banks.
Here are some bullet points you can use to guide you in creating a business plan:
Executive Summary
Business Description – The Concept
Development To Date Details
Ownership & Management
Structure Details
Your Objectives
Your Products and Services (Your Menu)
Your Vision and Mission Statement
Your Unique Sales Proposition
Marketing Details
Location and Pricing
Market Research
Competitors
Equipment Details
Financials
Sales Projections
Net Income Projection
Balance Sheet
Permits and Regulatory Issues
Your Timeline
Risks
Exit Strategy
Ongoing Market Analysis
LOCATION
Location is highly important when finding a premise for your coffee shop. Ensure you have enough people flowing through the area. A popular area does not necessarily mean it's the best area for you. Busy places such as a mall will have high rent costs which can prove to be a financial burden. Being close to people who require coffee regularly may benefit you, such as being close to an office park or university. Location is a personal choice and may rely heavily on the atmosphere you wish to create.
ATMOSPHERE
A question you should ask yourself is why do people visit cafes? Why do people leave the comfort of their home or work to get a cup of coffee? Most people are looking for a change of scenery so your scenery must be enticing. Coffee shops can be a great place to work, study or catch up with friends. Your premise should be inviting and unique to you.
Draw up a floor plan to help you design your interior and exterior. If you are roasting in the shop, your machine should be showcased to your clientele without them being able to interfere with the process. Your shop may become very busy and you don't want a noisy roaster to interfere with important meetings and Skype calls. You can of course have your roaster in a backroom to ensure undisturbed roasting but in my mind having a front and center roastery can provide an interesting focal point for your guests. As we've already mentioned coffee consumers are becoming more informed about their favourite beverage and many may be interested in seeing behind the scenes of coffee production.
Many people enjoy a snack with their cup of coffee. Additional food items can be a great selling point. Again, avoid mass-produced items. Consumers appreciate different or even homemade snacks. Provide healthy or vegan alternatives to tap into a growing health-conscious population.
MARKETING
Spread the word of your new business venture long before it opens. You'll want to drum up excitement about your cafe so that opening day is a rousing success. Marketing doesn't have to be an expensive expenditure, but it is vital.
One way to promote your business for free is through social media. Many social media platforms including Facebook and Instagram are free to start, they can include paid or sponsored posts down the line.
Another inexpensive form of marketing is networking. Rubbing shoulders with other coffee professionals in your area can not only help increase your coffee knowledge but can also increase the number of people that are aware of your cafe. Insert yourself into local cafe culture and watch people flock to your coffee shop. Join your local Specialty Coffee Organization (like SCASA) and attend the barista championships, even if it is just as a spectator.
CUSTOMER SERVICE
You're producing fantastic coffee and customers are enjoying the environment that you have created, what about the service you provide? Customer Service can make or break a company. It doesn't matter how delicious your coffee is or how beautiful your place is, if your customers are not happy with how they are being treated they won't return. As we've stated before, you do not want to mimic a big franchise, one way to prevent this is to be on the front line as the owner of the café. Greet your guests, get behind the espresso machine and make yourself available. Not only is it nice for the customers to see your friendly face, but it helps you keep your finger on the pulse of your business. See what's working, what isn't and change accordingly.
Make sure you have a trained barista, this can either be yourself who has undergone a barista training course or hire a professional. Baristas elevate the experience of the customer, who doesn't love receiving a heart or rosette on their morning cappuccino.
Hire staff that believe in your vision and fire those who do not live up to the expectations. Poor customer service is a hard thing to correct, so try and get it right from the beginning. This may result in you being a bit more demanding in the early days for you to achieve the level of service you wish to provide.
We hope you found this article. If you are interested in taking steps towards opening your own coffee business, Contact Us for information on our roasters and whether purchasing a roaster will be profitable for you.
Neil
#Genioforlife
*This post was originally posted by Neil on Jan 17, 2019