Words by John McCarthy
Find an ocean adventure with this wonderful waterman here.
---
This lockdown did strange things to people. As an addicted surfer I lasted about two weeks before paddling out alone on a full moon just to get my fix. I returned to shore shortly before sunrise and felt reborn. Normally I have my coffee before I go surfing, but in that case my post surf coffee was, in a word… biblical.
I'm a shameless coffee snob and have been for years. My preferred way to make coffee is with a moka pot. The beans usually come from Ethiopia and are ground finely to release the flavour as the steam pushes through. I only ever drink my coffee black, no sugar, no milk, sometimes half a teaspoon of coconut oil. I drink three coffees every day of my life. One shortly after waking. The second after breakfast and the third after lunch.
Thank god coffee sales weren't locked down along with cigarettes and booze or I'd have been in real trouble. As it was I was having a tedious time feeding my surfing addiction while dodging law enforcement. The 'stolen' sessions at out of the way back beaches were exhausting. Clearly some high ranking official on the upper south coast had decided that surfing was a serious NO NO. One morning we had four vehicles on the beach with Metro Police, SAPS, Ezemvelo and the Toti lifeguards as surfers scattered into the bushes around Greenpoint. I'm approaching 50, and there I was running away from the cops like I was sixteen! We all have our vices, I guess.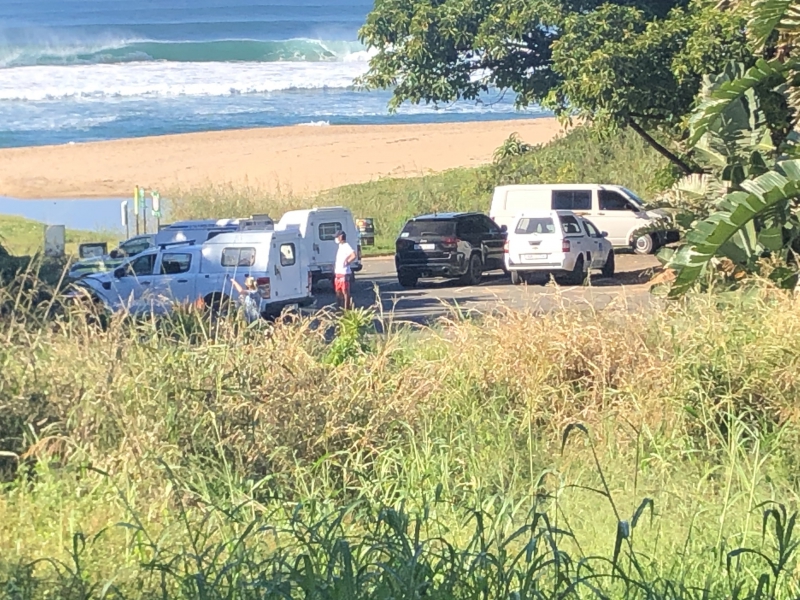 Heavy police presence at a quiet South Coast spot.
After some soul searching and making my peace with the fact that I wouldn't be able to surf my favoured home pointbreak for a while, I decided to venture a little further south into the tribal trust areas around Mtwalume and Mfasazane. This was like falling through a trapdoor into the parallel universe. The lockdown hadn't affected these self-sufficient towns with no contact to the spreading virus and best of all, no one was even trying to enforce it. You could wander around, stroll into a spaza shop buy two Styvie Red Loose, wander a little further down the road to the shebeen and buy an ice cold quart of Carling Black Label and then watch a full game of soccer on the field in front of the surf spot, which had eager fishermen all over the rocks.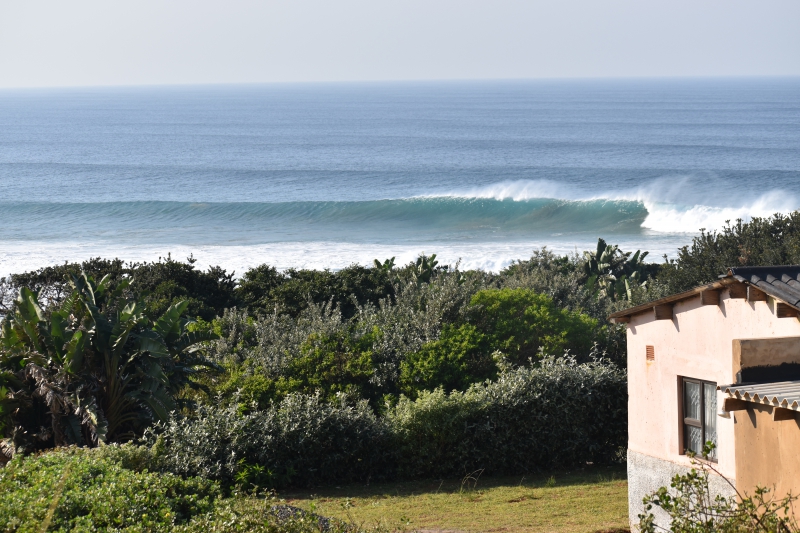 "Sibhekolwandle" - We watch the sea.
As lockdown ground on, I quickly fell into a routine and my trips to the parallel universe became a very important part of my day. As fate would have it, the surf cooked and I drank deeply from the big blue cup. I started to engage with the local fishermen and some of the soccer players. With nowhere to go in a hurry with my work on hold like millions of others, I lingered and had conversations about the fishing or which soccer team would win tomorrow's game. I found myself enjoying more and more my time with both the people and the place. I parked my car at one of the local's houses. Gogo Ncube is the wife of my late friend Roy. I know the family historically as I've been parking there for years, but with this unexpected time on my hands I really got to know them well. I had conversations with Gogo, and her daughter, Yvonne and Yvonne's two boys Wandile and Thuba. Wandile is the same age as my daughter, Jessica and Thuba is the same age as my son, Guy. We spoke about school and careers. Wandile is a great baker, but he wants to study engineering and Thuba is an amazing composer who is known in music circles as 'Slaggy T'. My kids love his music.
One day the surf was really good. I'm talking one of the best days we'll have all year. I surfed from first light until after midday.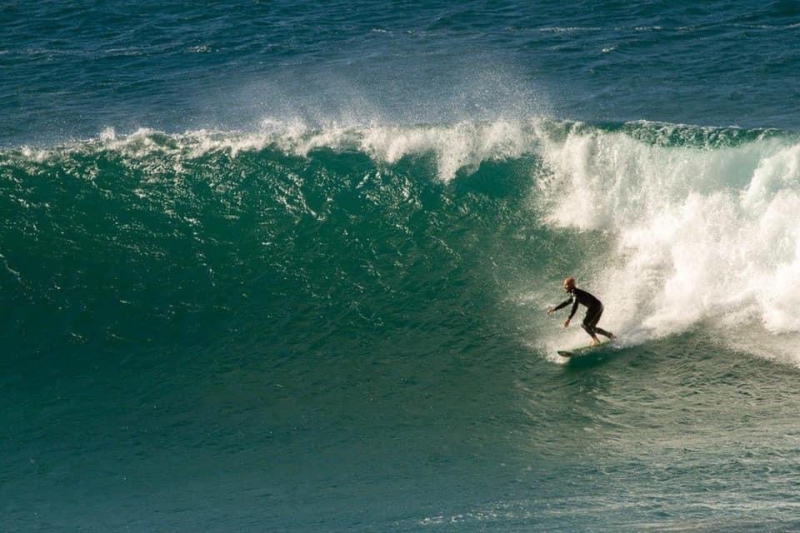 One of those better days! The author slots into a good one.
I left the water exhausted. I was chaffed but stoked. I was also starving. I had got into the habit of enjoying a post surf sandwich and coffee on the viewing deck, while soaking in the glorious KZN winter sun. On this day in my rush to get to the waves, I'd forgotten my carefully prepared flask and lunch box at home. Co-incidentally Yvonne wandered past and saw me without my customary refreshments.
"Would you like a coffee, John?" She asked.
"Gosh Yvonne, thank you, that would be lekker!" I replied.
A short while later Yvonne reappeared with a tray which she gently laid on the tailgate of my bakkie. On it was a beautifully prepared wrap along with a jar of Jacobs Kronung instant coffee. As previously mentioned, I'm a bit of a coffee snob. I haven't tasted instant coffee in fifteen years at least. I don't even consider instant coffee to be coffee, rather just a bitter tasting brown drink. I opted for the wrap first. It was delicious. Chicken, salad, cheese and mayo. My body cried out for the nourishment after so much exertion. I tried not to inhale it all at once while pondering my coffee options.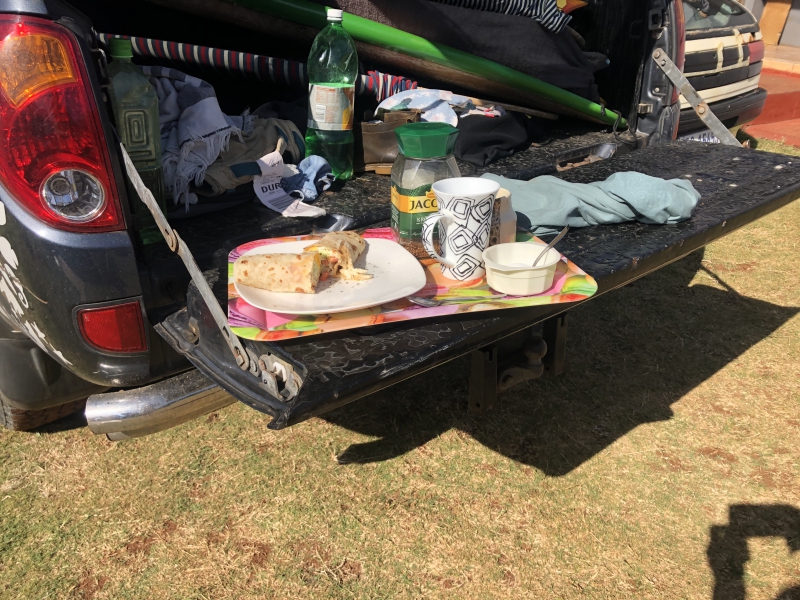 Post surf munchies - a dilemma.
To not drink the coffee I'd been offered would be disrespectful. Yvonne and her family had been so hospitable to me over this period especially, I just couldn't do that to them. I carefully placed two teaspoons of coffee into the cup and filled it with hot water. I stirred it, then sniffed it. Before I even tasted it, I put it back down and added two teaspoons of sugar and a wallop of milk for good measure. Then I strolled over to the viewing deck.
Far out in the ocean the first Humpback whales of the season were jumping creating blazing smears of white on the blue ocean. Perfect waves ran down the point unridden as the warm winter sun shone on my bare back. I felt a deep sense of contentment from my time in the surf. My belly was full with the thoughtfully prepared meal and I was humbled at the generosity of Yvonne's family. Through my mind ran the lyrics of Bob Marley and the Wailers song, 'One Love.'
One love, one heart
Let's get together and feel all right
As it was in the beginning
So shall it be in the end
Let's get together and feel all right…
As I took my first sip of the coffee and the creamy sweetness flowed around my mouth I savoured the taste. As long as I live, I'll now associate the taste of instant coffee, two sugars and milk as the taste of freedom.